Last Updated on April 7, 2022 by Victor Queiroz
Other than Christmas, Easter is probably the second most important religious celebration in Portugal. First off, a huge number of Portuguese are devoted Catholics, therefore, it would make sense for Easter holidays to be this important to them. There are plenty of activities that go around the Easter period which makes it a great time to visit Portugal. Let's discuss more about Easter in Portugal.
Read also: 10 things that make you fall in love with Portugal
How is Easter in Portugal?
Easter is a much-respected celebration for people in Portugal. The symbolism alone during this period is what makes it very important for the population. In fact, devoted Catholics celebrate Easter rather intensely. The Portuguese people attend church during Easter and only feed on fish during Lent just like Jesus did.
Portuguese Easter traditions to celebrate
Easter is a public holiday in Portugal and is celebrated on two different days depending on where you are in the country. In the north of Portugal, the Easter public holiday is on Monday while in the southern part it is on Friday.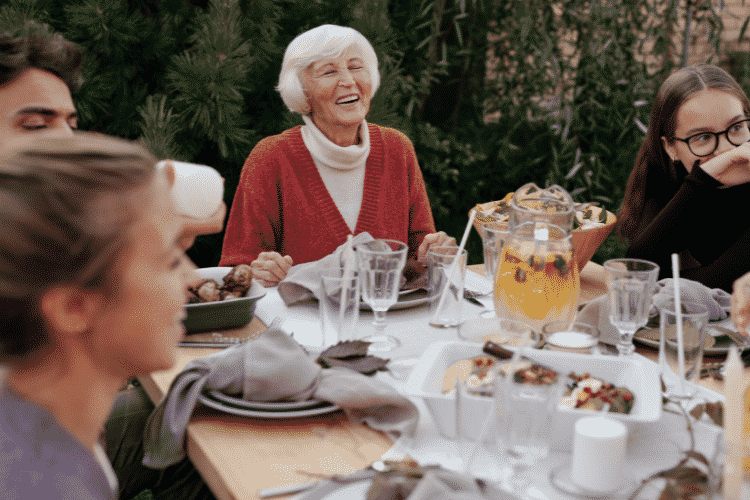 During this special time of the year, processions, Easter visits, and godparents sharing gifts with their children are what this time is all about. It's a family holiday! Other than that, other traditions are celebrated during this time as well. Let's discuss!
Easter almonds
If you visit Portugal during Easter, then you are bound to see many stores with bowls full of almond candy. If you have a sweet tooth, then this will be your perfect excuse to indulge in all the tasty almond chocolate treats.
Almonds, better known as amêndoas in Portugal are more than just a treat during Easter. They represent resurrection or spring fertility therefore, godparents gift their Godchildren. Amêndoas are available in many variations, for instance, the cláudias which are covered with chocolate, or the tasty and toasted caramelized sugar amêndoas torradas. 
If you happen to be in Portugal during this time of the year, a bowl full of almonds is just the right gift for your Portuguese friends and family.
Easter Sunday family lunch
Sharing a meal on Easter Sunday is a very important activity in Portugal. Several delicacies are common during Easter Sunday's family lunches in Portugal.
One staple that you won't miss during this time is the Cabrito. This delicacy is the roasted lamb that is served with some roasted potatoes, and roasted chestnut on the side. Cabrito is delicious yes, but you need to find out about Folar.
This traditional meal might be easily be mistaken for your regular bread if you ignore the fact that it is better looking and also way more delicious. Folar is made from a special flour which is later filled with different types of sausages.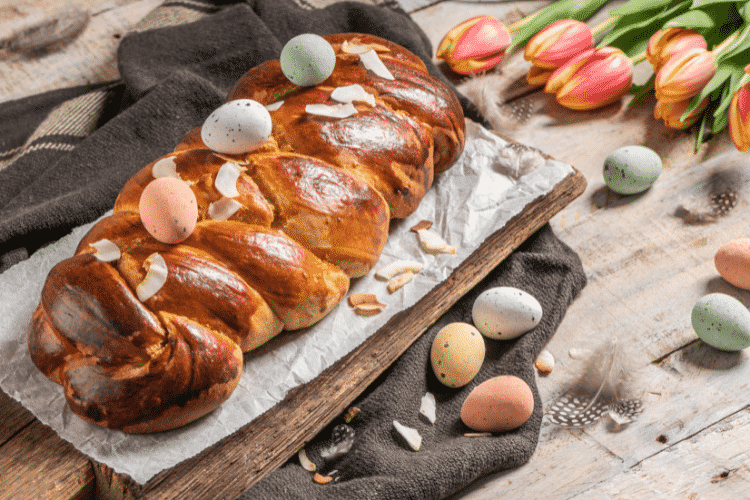 The cooking techniques vary from one region to another. You will find some type of Folar with eggs atop. Also, Folar is often accompanied by a hard-boiled egg that symbolizes resurrection and a cross to represent the crucifixion. 
Easter celebrations won't be complete without the traditional Portuguese Easter dessert. Pão-de-Ló is a type of Cheesecake made from flour cinnamon, eggs, orange zest, cinnamon, and sugar.
Depending on the region, this dessert is made either dry or moist. While Easter is a common tradition across Portugal, food varies from region to region.
However, for Easter Sunday lunch, it is common to get families to enjoy these traditional delicacies that also hold a significant meaning during Easter.
Read also: Portuguese people: what they are like and how to fit in
Domingo de Ramos religious celebrations
While food is an important part as far as Easter celebration tradition in Portugal is concerned, Domingo De Ramos is an equally important event as well.
This Sunday which happens 1 week before Easter Sunday (Domingo De Ramos) is quite special both for children and their godparents.
During this time, children share bouquets among other gifts with their godparents. During Easter Sunday, it is now the godparent's turn to return the favor and gift their godchildren with gifts.
This event is celebrated to commemorate the offer made to Jesus by his followers after 40 days of seclusion. Usually, the Domingo De Ramos celebrations signify the beginning of the holy week in Portugal.
What is there to do during the Easter holidays in Portugal?
The sunny days during Easter are always a good reminder that summer is just around the corner. The warm temperatures during this time of the year make Easter a good time to visit Portugal. 
There are plenty of activities that you can do during this time of the year. To begin, when the sun is out in all its glory it is the perfect time to go out to the sea for a dip or sunbathe on the beach.
What's more, nature walks also make perfect sense during this time as well. Nature renews and rejuvenates itself during spring in Portugal. Flowers are blooming and the aromatic air is waiting to be discovered in the various parks around the country. 
Easter also provides a lot of opportunities of learning more about the rich Portuguese culture. You can take advantage of the Easter celebrations to enjoy the traditional gastronomic delights, for instance, almonds or the famous and savory Folar. 
Is Easter a good time to visit Portugal?
Absolutely! The best time to visit Portugal is during the months of March to May. Easter coincidentally happens during this period as well.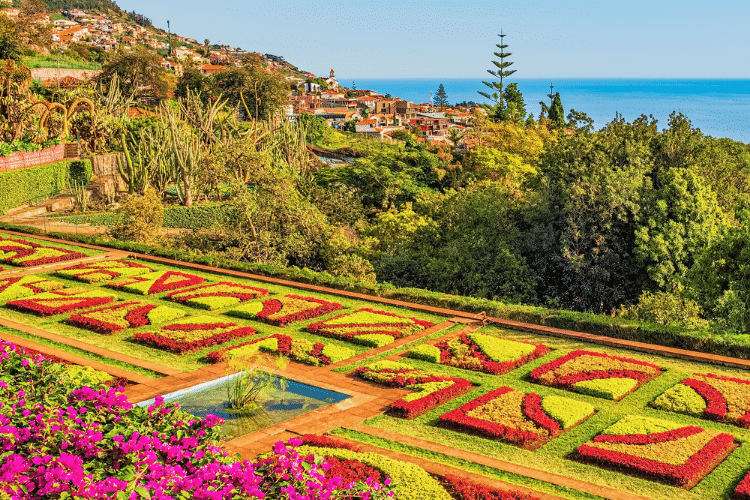 Spring presents a lot of opportunities for site seeing and on top of that Easter offers the unique opportunity to engage with the local's traditions.
Also during the Easter holidays, the number of tourists visiting Portugal is not as many as during summer. So crowding is less which means you get a better experience as compared to other months.
The best Portuguese Regions to visit during Easter
Wondering what cities to visit during your visit to Portugal during this Easter festivities? Well, this decision is entirely dependent on the activities you have planned out for yourself. Here are some ideas on the cities you can visit during Easter.
The Algarve and Madeira– These cities are known to have the best beaches and are ideal to visit if you want to have a good time at the beach.
Azores Islands and Alentejo – Again, Spring is always blooming and nature is beautiful and vibrant. There is plenty to be discovered in the different national parks both in the northern and central regions of Azores and Alentejo.
Lisbon and Porto – Easter is also a good time to upgrade your closet and get the new trends. There are plenty of good shops in Porto and Lisbon where you can do all your shopping as you please. 
Braga- Visit Braga to be part of the catholic processions during the holy week.
When is the Easter in Portugal in 2022?
This year, Good Friday, which is the beginning of the festival, is on the 11th of April, and Easter Sunday will be on the 17th of April. If you are looking to schedule your visit to Portugal during this Easter festivities, then you have enough time to make it happen. Easter is an important festival in the traditions of the Portuguese people making it a good time to experience the rich culture.
Is it worth celebrating Easter in Portugal?
For anyone looking to experience the culture and traditions of the Portuguese people fast hand, there is no better time to visit Portugal than during Easter.
What's more, at this time of the year the weather is ideal for most outdoor activities including swimming in the sea.
Moreover, the streets are not overrun with tourists as compared to other months, especially during summer. Go ahead, schedule your visit this Easter, come experience the food, and learn more about the Portuguese culture.
For all your travel arrangements to Portugal, be sure to check out what we have to offer at Viv Europe.