Last Updated on May 3, 2023 by Maryam Siddiqui
In the middle of the Atlantic Ocean, Madeira Island is a Portuguese jewel. With a pleasant climate, fascinating natural landscapes, and some of the lowest prices in Europe, living in Madeira is an object of desire for many foreigners.
Portugal has long been known for its excellent hospitality, but now, it's also home to retired expats, families, and investors. In this article, we'll tell you all about living in Madeira, the cost of living, the best neighborhoods, and much more. Follow the text to the end!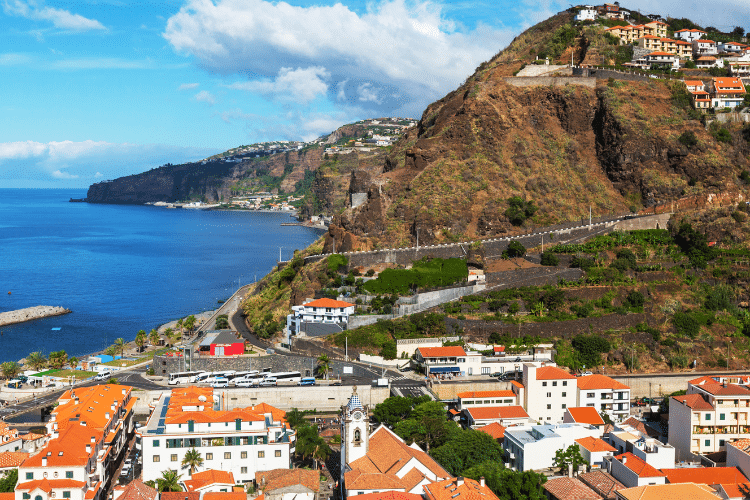 Living in Madeira: day by day
Have you ever thought about living on a tropical island with the security of Europe, affordable prices, and a relaxed pace of life? No, it's not a dream; it's Madeira Island!
This little Portuguese paradise is 1077 km (669 miles) off the mainland coast, in the middle of the Atlantic. Home to Cristiano Ronaldo, the island has received increasing worldwide recognition in recent years as a luxury destination.
Living in Madeira is quite like living a dream of peace, nature, and calmness – without losing the comforts of modern life. The Portuguese are friendly; the expat community grows daily, especially the British. And the days go by in pleasant temperatures with delectable outdoor meals.
Who lives on Madeira Island?
As the largest island in the Madeira archipelago, the island of Madeira has around 250,769 inhabitants. Of these, 105,000 live in the capital, the city of Funchal.
In Madeira, 67.3% of the population is of working age, and foreigners form 3.7% with legal residence status. However, in reality, this number tends to be much higher than on paper.
Why are expats moving to Madeira?
The attractions of the island of Madeira, as already mentioned, are quite obvious. It's a fantastic place to live with quality of life to spare.
But beyond that, some things make Madeira an even more attractive destination for foreigners to relocate.
For example:
Residency programs that make relocation easier
Tax Benefits for Non-Habitual Residents
Buying a house as a real estate investment
Lower cost of living than European cities
It's halfway between the United States and the United Kingdom
So, as in most regions of Portugal, the question should be: Why not move to Madeira?
What is the cost of living in Madeira?
People living in Madeira, especially expats like you, find that prices are much lower than in major European cities or islands.
Check out the table for some estimates provided by Numbeo:
| Expenses | Costs |
| --- | --- |
| Apartment Rent (one-bedroom) | €450 |
| Apartment Rent (three-bedroom) | €650 |
| Groceries (monthly) | €180 |
| Utilities | €80 |
| Public Transport | €30 |
| Gasoline (per liter) | €1.76 |
| Leisure/Sports | €40 |
Estimates are from Numbeo (as of April 2023).
In case you're wondering, the cost of living in Funchal is, on average, 14.7% lower than in Lisbon. Likewise, rent tends to be around 19.7% cheaper.
What are the best neighborhoods to live in Madeira?
Although the entire island of Madeira is a great place to live, get to know the areas that most attract foreigners to relocate. Before we go any further, discover Madeira better by exploring the map below.
According to official data on Pordata, the following neighborhoods in Madeira have the biggest percentage of foreign population.
Calheta
The parish of Estreito da Calheta, southwest of Madeira, is the expats' #1 area of choice to live. In the last few years, it has attracted many investors in the tourism sector, thanks to its beautiful settings and one of the few sandy beaches on the island. 
It's located 35 km from the capital, Funchal, which is not too close and not too far from a bigger city.
Calheta has a calm lifestyle, surrounded by nature, surfing beaches, and non-invasive tourism. A great place to live after retirement; here's why:
Resident population is 12,000 people
8.4% of the inhabitants are foreigners
A 50 m² 1-bedroom apartment rental costs on average €400 per month
Ponta do Sol
Living in the south of Madeira Island, in the village of Ponta do Sol, also has its advantages. Here, as the name indicates (point of the sun), it's the warmest part of Madeira. 
Ponta do Sol is another very charming coastal village, surrounded by agriculture and some tourism companies, which is worth considering when establishing a new home.
Ponta do Sol is really a fantastic place, 24 km from Funchal, that invites visitors to stay forever. Why wouldn't they?
Resident population is 8,862 people
6.2% of the inhabitants are foreigners
A 50 m² 1-bedroom apartment rental costs on average €350 per month
Funchal
Capital and largest city on the island of Madeira, Funchal is also a fantastic place to live. It's here, in the heart of Madeira, that you have the greatest purchasing power on the island and can find the main services. Schools, universities, hospitals, and airports are all here.
To reach the island, Funchal is the gateway. Flights to Madeira frequently depart from Lisbon, London, and Paris. It's not a bad place to live at all. In fact, it makes perfect sense to be at the top of your list!
Resident population is 105,943 people
5.7% of the inhabitants are foreigners
A 50 m² 1-bedroom apartment rental costs on average €600 per month
Porto Moniz
The small village of Porto Moniz is home to one of the most emblematic settings of Madeira. Located in the northwestern part of the island, this remote area has natural lava pools that attract some tourists. 
Even so, everyday life in Porto Moniz is marked by tranquility, where everyone knows each other, but you still have privacy.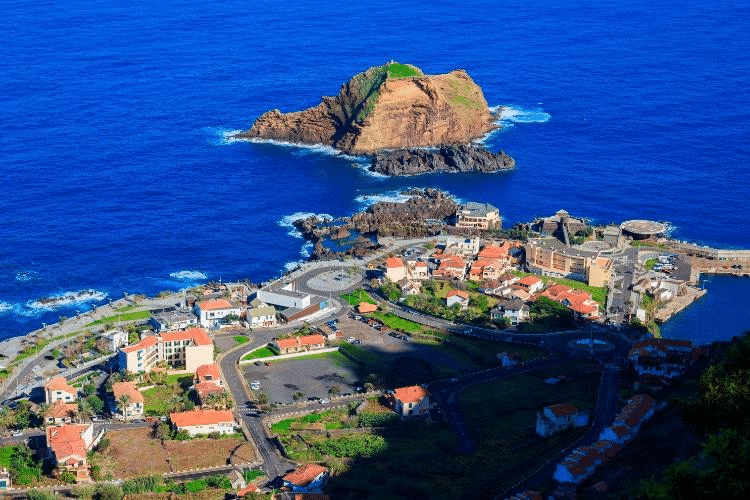 Access to Porto Moniz from Funchal, 50 km away, is via cinematographic roads, with occasional waterfalls and sections of tunnels. A little paradise is hidden at the tip of the island.
Resident population is 2,711 people
4.2% of the inhabitants are foreigners
A 50 m² 1-bedroom apartment rental costs on average €350 per month
Câmara de Lobos
At only 9 km from central Funchal, Câmara de Lobos is the second-biggest city in Madeira. It was the first village built on the island by its Portuguese discoverer in 1420, and is very important for the locals.
The city is, therefore, mostly made up of Madeirans. To survive here, one must know how to speak Portuguese and understand the local accent. Some say that this is where the authentic Madeiran experience is.
Resident population is 35,666 people
1.4% of the inhabitants are foreigners
A 50 m² 1-bedroom apartment rental costs on average €400 per month
How much does it cost to buy a house on Madeira Island?
See the average prices to buy a house in different areas of Madeira Island in the table below:
| Municipality | Price/100m² |
| --- | --- |
| Calheta | €259,400 |
| Funchal | €289,700 |
| Ponta do Sol | €201,000 |
| Câmara de Lobos | €199,700 |
| Machico | €144,300 |
Table data is taken from Idealista (as of April 2023).
How is the public and private healthcare in Madeira?
On the island of Madeira, there are several public health centers that serve residents and tourists, mainly in the Funchal area. Emergency cases are referred to the Hospital da Cruz de Carvalho in the capital.
Although the Portuguese public health service is recognized for its quality, you may want faster and more targeted care, so that's where it's a good idea to have health insurance. 
There are many quality private hospitals on the island, such as the Hospital Particular da Madeira and the Hospital da Luz.
With Viv Europe your plans for Portugal
will finally come to a reality
How is the labor market in Madeira?
The labor market in Madeira is almost entirely linked to tourism. The hotels, restaurants, and tourist experiences in the region are top-notch. Likewise, with the advancement of real estate developments on the island, civil construction is also on the rise.
The region's traditional agriculture, viticulture, and fishing remain strong and part of the Madeiran identity.
Here are some estimates of salaries in Funchal and the respective professions (via Salary Expert as of April 2023):
Accountant: €38,108 per year;
Architect: €44,843 per year;
Electronic Engineer: €53,503 per year;
Waiter: €14,914 per year;
Doctor: €88,060 per year;
Teacher: €29,655 per year;
Fisherman: €12,179 per year.
Not only that, but the island of Madeira has attracted many digital nomads to live and work from paradise.
A Digital Nomad Village was even built-in Ponta do Sol for remote workers through Startup Madeira and the local government. That means you can take your job with you to the beautiful Madeira!
Can foreigners study at the University of Madeira?
Good news for foreigners who want to do an undergraduate or graduate degree in Madeira! The University of Madeira accepts international students in both mobility programs and degrees.
Take a look at some of the main disciplines offered at the University of Madeira:
Communication, Culture, and Organizations
Visual Arts and Interactive Media Design
Civil Engineering
Business Studies
Electronics and Telecommunications Engineering
Hotel Management
A tip is to know the university's offers in advance and plan from the application to the Student Visa Application. A great setting to learn, isn't it?
If you'd like to enroll your children in an English language school, there are two international schools on the island. The International School of Madeira and the International Sharing School of Madeira.
Safety in Madeira
One of the worst things that could happen to you while living in Madeira is sunburn. The islands have a very low crime rate, and travelers can mostly live carefreely. Portugal itself ranks as the sixth-safest country to live in, according to the Global Peace Index 2022.
Whether you're a solo traveler or spending the summer break with your family, you're bound to be safe. Hate crimes are unheard of, and street crimes are extremely low.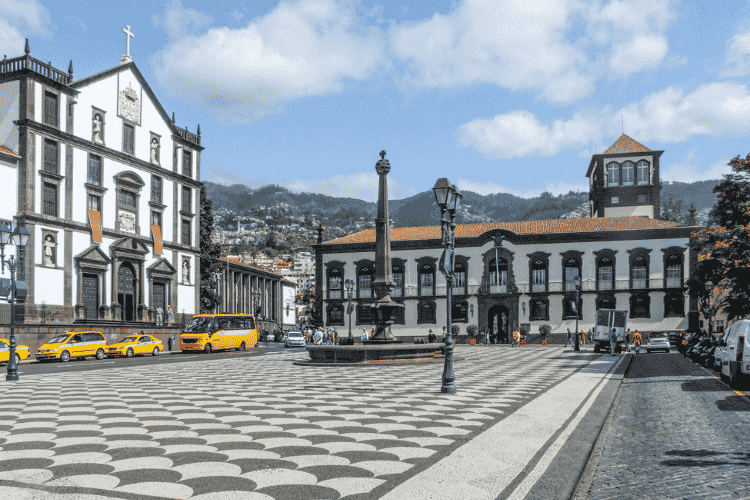 Nonetheless, it's always better to be vigilant, never leave your belongings (and drinks) unattended, and know your way back to your residence.
Unfortunately, as with all tourist destinations, pickpocketing, and taxi-fare scams can be a possibility. So, it's best to keep your belongings near and double-check taxi meters.
What can you do for leisure in Madeira?
Outdoor lovers will love Madeira. Not only are there incredible views of the sea, but the island has an impressive interior, full of Atlantic forest, levadas (aqueduct specific to the Portuguese Atlantic region of Madeira), and history. Check out the Visit Madeira official video:
Among the most unmissable destinations in Madeira, here's a list of the best things to see:
What's the weather like in Madeira?
Madeira Island is marked by warm and temperate climates and pleasant days throughout the year. The days are humid, as you would expect on an Atlantic island, but pleasant. It's never too hot or too cold.
Take a look at the table below with the data provided by the Climate Data website.
Data
Spring
Summer
Fall
Winter
Average temperature
14.6 °C
(58.2 °F)
20 °C
(68 °F)
18.2 °C
(64.7 °F)
13.7 °C
(56.6 °F)
Average Rainfall
35 mm
(1.3 in)
11 mm
(0.4 in)
62.3 mm
(2.4 in)
70 mm
(2.7 in)
What about the other islands of the Madeira archipelago?
The only two of the four islands in the Madeira archipelago are inhabited, Madeira and Porto Santo. The latter, however, has only about 5,000 inhabitants and has an entirely different landscape from the former.
Living in Porto Santo is also not a bad idea, but it's especially suggested to those looking for absolute quiet and isolation. Sailors are a frequent apparition on this island, located in the middle of the route from Europe to the Caribbean.
Pros and Cons of living in Madeira
We love the Madeira Islands, but are they perfect? Of course not. There's no such thing as perfection, and we'll always be honest with you.
Take a look at the most common pros and cons that expats living in Madeira come across:
Pros
Natural beauty all around
Digital Nomad friendly
Year-round sunshine
Secure & Safe
Low-population density
Less bureaucracy
Cons
Finding a job isn't easy for everyone
The laid-back culture might not be for you
Public healthcare lacks adequate funding
Although the pros definitely outweigh the cons, there might be some cons that may matter to you more, and that's okay. Ultimately, the decision is yours to make.
However, if you're able to work your way through the cons and find your happiness in Madeira, you won't regret it.
What should an expat think about living in Madeira?
The first doubt expats usually have is whether Madeira is a good place to live in or not. The truth is, the mild climate is one of the top reasons why people prefer to live here. Madeira has also won the "World's Leading Island Destination" Award at the World Travel Awards 2021!
Portugal is where people come to escape the hustling lifestyle of other countries. Living in Madeira, you experience a laid-back lifestyle, low crime rates, and beauty all around.
If you've ever thought of living in the Algarve, but are put off by the number of foreigners there, Madeira is your best bet! It's got all the benefits of living in a region such as the Algarve, but fewer expats.
Expats looking for peace and serenity, whether retirees or digital nomads, can live comfortable lives in Madeira. You might not have as many entertainment options as you would living in Porto or living in Lisbon, but Madeira's beaches will keep you hooked.
Is it worth living in Madeira
Living in Madeira presents, as you now know, a world of possibilities. Of course, moving here is your choice, and only you can tell if your case is valid. If your ideal lifestyle includes quality of life, safety, low prices, sea breeze, and mild temperatures – you've hit the jackpot!
Connect with expats and locals in Madeira and get to know their thoughts too. Join our Facebook Group – All About Portugal For Expats and ask as many questions as you'd like. Portugal has something for everyone, so if it's not Madeira, you'll surely find another ideal place. 
Whenever you're ready, get in touch with professionals to make your dream come true. Relocating to Portugal has never been easier!