Last Updated on November 3, 2023 by Maryam Siddiqui
It's no longer a surprise that the Algarve region is one of the most popular destinations in Portugal. The Algarve has plenty of beautiful destinations, making it quite hard to choose where to live. However, if you are looking for a laid-back town with plenty of nature and beauty, then living in Lagoa might be ideal.
This small town in central Algarve meets every expectation. Not only is it beautiful, but it provides the rare opportunity to escape the chaos that is quite common for a tourist region like the Algarve. We'll hold off on some information for the rest of our article. Here's a quick guide about what to expect as far as life in Lagoa is concerned. Happy reading!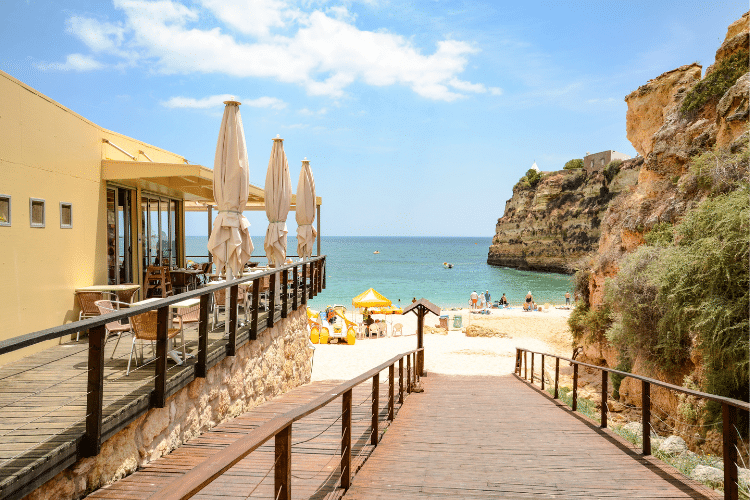 What is living in Lagoa like?
If living in the central region of the Algarve region piques your interest, then you will enjoy your stay in Lagoa. It is a municipality in central Algarve known for its scenic views and close proximity to many beaches.
Living in Lagoa can be quite pleasant as it offers a mix of natural beauty, a mild Mediterranean climate, and a relaxed lifestyle. Like the rest of the Algarve region, Lagos promises over 300 days of sunshine per year, which is why many tourists and expats love it here.
When it comes to beauty, it is hard to beat the charm of Lagoa. Other than the well-preserved beaches and crystal-clear waters, you will also love the rolling hills, lush green forests, and sparkling lakes. In a nutshell, Lagoa provides a unique and well-balanced experience perfect for expats.
Who lives in Lagoa?
As mentioned earlier, this destination is quite popular and is home to plenty of expats and tourists. To give some context to this statement, foreign presence in this municipality is about 23.0% of the population, which is quite impressive considering the national average currently stands at 6.7%, per Pordata. 
Thanks to the huge foreign presence, Lagoa is quite multicultural, making it relatively easy to blend in and hit the ground running. Something else worth noting is that English is widely spoken among the young and middle-aged population, which makes up about 62.9% of the population.
You will find it relatively easy to get by even if you don't speak Portuguese. While this is true, keep in mind that the older folks, who are about 23.3%, often only speak their native tongue. You might need a digital translation dictionary to help you with the lingo.
Why are expats moving to Lagoa?
Clearly, expats love this municipality in the Algarve. However, the big question is, what is the main draw for foreigners to Lagoa? Here are three reasons why expats are choosing to call this destination home.
Culture and the cost of living
Lagoa has a rich cultural heritage, and you can experience traditional Portuguese culture in its local festivals, cuisine, and events. This is particularly ideal for anyone who wants to immerse themselves into the authentic aspects of Portuguese culture, for instance, cuisines and general way of life.
Culture aside, another big draw for expats to this destination is the cost of living. The Algarve region is not the cheapest destination in Portugal. However, compared to other major economies, particularly in Western Europe and North America, Lagoa is quite affordable.
One more factor that attracts expatriates to Lagoa is the tranquil ambiance, which is noticeably absent in bustling urban centers such as Lisbon, Porto, or Faro. And the town's relatively small population contributes to its peacefulness and affords individuals a sense of privacy.
Scenic beauty and expat friendliness
Lagoa is well-known for its beautiful and breathtaking beauty that is unlike most places in Portugal. While the beaches in this destination are something to marvel at, Lagoa has plenty more to offer.
The town features dramatic sandstone cliffs that line the coastline, providing panoramic views of the Atlantic Ocean. These cliffs are not only visually stunning but also create secluded coves and beaches.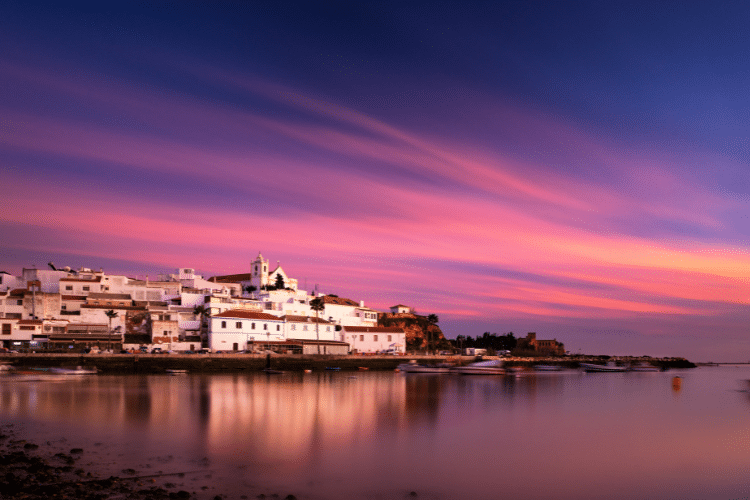 If you are not a fan of the beaches and the cliffs at the coast, consider moving further inland to the rural part of the town. Inland from the coast, Lagoa offers picturesque rural landscapes with vineyards, orchards, and traditional Portuguese architecture.
The contrast between the coastal beauty and the tranquil countryside is striking. Lastly, this region is home to several natural reserves and wetlands, making it an ideal place for birdwatching and nature enthusiasts. The Ria Formosa Natural Park is not far from Lagoa and offers a rich ecosystem.
Besides beauty, something else that is often a major draw for expats is the community. The Algarve, including Lagoa, is a popular destination for expatriates. There are expat communities and support networks in place to help newcomers adjust to life in the area.
Prospects of D2 Business Visa or Digital Nomad Visa
Lagoa offers promising opportunities for entrepreneurs! As a renowned tourist destination within a country that annually welcomes millions of visitors, specific industries are consistently seeking skilled professionals.
With the D2 Business Visa, you can nurture your entrepreneurial ambitions or become part of the thriving tourism sector. To do so, you'll need to present a well-structured business plan and demonstrate sufficient financial resources to support your venture.
While this path may not appear to be the simplest one, it encourages business owners to expand their operations to Portugal and access a broader market. Applying for a D2 Visa is a straightforward process, and Viv Europe is here to assist you.
Lagoa also proves to be a highly attractive choice for digital nomads seeking a place to reside. In the past, digital nomads had to secure a passive income visa to work in Portugal legally.
However, the recently introduced Digital Nomad Visa has completely transformed the landscape, allowing digital nomads from around the world to stay in Portugal for up to a year! 
The exciting part is that digital nomads can now partake in the advantages associated with living and working in Portugal, including the relatively affordable living costs and the freedom to travel within the Schengen zone countries.
Buying a property in Lagoa
Lagoa presents a wide array of options if you're considering purchasing your new residence or office in the area. The real estate market in the region is diverse, offering everything from charming historic townhouses to contemporary apartments with captivating ocean views.
Moreover, the buying process is straightforward, and expats can benefit from legal support at every stage. For expert guidance on your investment choices, reach out to the real estate specialists at Viv Europe.
On average, the cost of acquiring property is approximately €3,420 per square meter. The cheapest neighborhood within the Lagoa municipality is Estômbar e Parchal, where the cost of buying property is about €3,010/m2. 
On the flip side, the most expensive neighborhood is Ferragudo, where the cost of buying a similar property is approximately €4,297/m2. Other good neighborhoods that you can choose to buy property in this municipality are Lagoa e Carvoeiro and Porches.
Renting a flat in Lagoa
Renting a flat in Lagoa is a popular choice for both tourists and expatriates who are not yet comfortable buying a house, especially since they are new to the destination.
This city offers excellent accommodation options such as apartment rentals, condo rentals, and villa rentals facing the sea for those who enjoy sinking their toes into the golden sand.
However, rental prices are still quite cheap. Like buying property, the cost of rent is also relative to factors like the size, location, and condition of the apartment. The cost of renting a flat in Lagoa is about €12.6/m2.
With Viv Europe your plans for Portugal
will finally come to a reality
Is it better to live in Lagoa or Albufeira?
To begin, these two towns are all in the Algarve region, so the choice of living in either of the two destinations in Portugal ultimately depends on your personal preferences and priorities.
Remember, these two destinations offer unique experiences; therefore, take your time to find out what works best for you.
That said, Lagoa is quite different from Albufeira; it offers a quieter and more peaceful atmosphere, making it suitable for those who prefer a relaxed, less bustling environment.
Albufeira, on the other hand, is one of the Algarve's most popular tourist destinations, and it offers a vibrant atmosphere with a wide range of restaurants, nightlife, and entertainment options.
If you enjoy a bustling, lively environment with numerous entertainment choices, Albufeira might be more suitable. Something else that is unique to Lagoa is its proximity to nature. Lagoa is close to several natural reserves and outdoor activities, which can be a major draw if you enjoy hiking, birdwatching, and exploring nature.
Since Albufeira is primarily a touristy town, the focus is on offering a wealth of tourist amenities and services, including water parks, golf courses, and a range of leisure activities.
Is living in Lagoa better than living in Lisbon?
It all comes down to your individual needs and wants. But when you are presented with these two choices, which way do you go? Well, if living in a natural and beautiful environment tickles your fancy, then consider living in Lagoa.
Lagoa is known for its stunning natural beauty, with scenic coastal landscapes, beaches, and a more tranquil environment. If you appreciate living close to the ocean and enjoying a quieter, more nature-centric lifestyle, Lagoa may be a better fit.
The capital, Portugal, on the flip side, brings a totally different experience. It offers a bustling urban environment with a wide range of cultural events, restaurants, nightlife, and amenities. If you thrive in a cosmopolitan setting, Lisbon might be more suitable. 
One of the main advantages of living in the capital is access to more job opportunities. Lisbon is the economic and business hub of Portugal, providing more diverse employment opportunities in various industries.
Lagoa, on the other hand, is smaller, which means that there are fewer job opportunities, and it could be pretty competitive sometimes.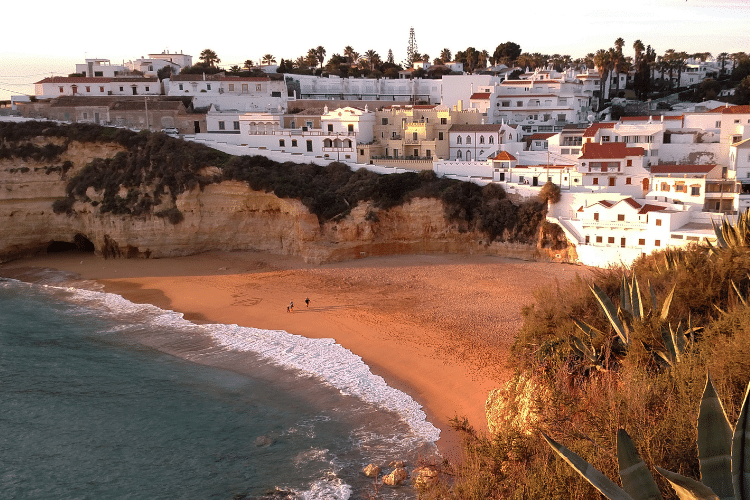 What is the cost of living in Lagoa?
As mentioned earlier, living in Lagoa, in the Algarve, is often more expensive than in the rural and less popular towns in Portugal. However, if you are immigrating from first-world nations, particularly in Western Europe or North America, you will be surprised by how affordable living in this destination is.
Similar to other popular towns around the world, the cost of rent is often a significant expense. On average, you can expect to pay around €2,000 to €3,000 per month for a three-bedroom apartment or villa. 
However, if you opt for a smaller and less luxurious house, the cost of rent will drop significantly.
The cost of groceries is generally reasonable. A typical weekly grocery bill for a couple might range from €40 to €70, depending on your eating habits and dietary preferences. Monthly utility costs (including electricity, water, heating, and cooling) for a standard 85 m2 apartment are around €120.
That said, you need to keep in mind that the cost of living is different from one individual to the next. Your spending habit is often the determining factor of exactly how much you will need for expenditure every month.
Safety living in Lagoa
Lagoa provides a secure environment for both expatriates and residents. Portugal is ranked 7th on the global safety index, making this region inherently safe. 
Moreover, the low crime rate of 26.78, coupled with the reputation of the local community for being friendly and vigilant, ensures that occurrences of theft or incidents like mugging are exceedingly rare. 
In case of unforeseen events, the town has a dependable police force to manage such situations. We advise practicing the same level of caution you would exercise in any location, especially in tourist areas.
Access to health care in Lagoa
The healthcare system in Portugal is globally recognized for its quality. While Lagoa itself may not have a major public hospital within its immediate boundaries, it is served by nearby healthcare facilities.
The closest public hospital to Lagoa is often considered to be the Hospital do Barlavento Algarvio, which is located in Portimão, a short drive from Lagoa.
Healthcare services in Lagoa are free for Portuguese citizens and registered legal residents. To access these free services, one must enroll in the Portuguese National Health Service (SNS).
Apart from the long queues, public health care in Lagoa is good; private hospitals would be ideal if you need specialized attention quickly.
Work labor in Lagoa
In Lagoa, the unemployment rate is relatively low, with the primary employment sectors being services such as tourism, banking, and insurance.
However, it's encouraging to note that jobs in Lagoa generally offer higher pay than the minimum wage, especially in skilled industries, averaging above €1,000 after taxes, which is in line with the European Union recommendation.
Expats who work remotely are finding Lagoa quite welcoming. There are enough coworking spaces within the town and stable internet to boost productivity.
Education in Lagoa
Education is one of the most important aspects that drive expats to Portugal. Like the rest of the major cities in Portugal, public and private schools are available for primary and secondary education.
While there are not a lot of international schools in this region, you will be glad to find out that the prestigious Nobel Algarve British International School has a campus in Lagoa where your kids can enroll. 
However, in the Algarve region, including nearby towns and cities, you can find several international schools that cater to the expat community.
These schools cater to expat families and often follow international curricula. It's common for families from different countries to send their children to these schools to ensure continuity in their education.
For higher education, the University of the Algarve, located in Faro, is the nearest public university. It offers a variety of undergraduate and postgraduate programs.
How can a foreigner move to Lagoa?
Relocating to Lagoa is a straightforward process. The first order of business is to determine the purpose of your move. Are you planning to establish a business, pursue an education, work remotely, or retire in Lagoa?
Next, it's essential to review the documentation necessary for each visa application. Here is a quick guideline.
Evidence of Steady Income: Demonstrate a consistent passive income that can cover your living expenses in Lagoa.
Minimum Income Threshold: The D7 Visa requires meeting a minimum income threshold, which varies depending on family size and the local cost of living.
Health Insurance: Provide proof of valid health insurance that covers medical expenses in Lagoa.
Background Check: Present a clean criminal record certificate from your home country.
Accommodation Confirmation: Provide documentation confirming your accommodation arrangements in Lagoa.
Application Forms: Complete the necessary application forms provided by the Portuguese consulate.
Financial Documentation: Submit bank statements, investment proof, pension statements, and other pertinent financial records that support your income claims.
Passport and Photographs: Ensure you have a valid passport and passport-sized photos.
Your application form, accompanied by the required documents, should be submitted along with a fee of €90. Even though it could seem like a daunting task, keep in mind that engaging with reputable immigration consultants will help make the process simpler.
Is it worth living in Lagoa?
Whether living in Lagoa is worth it totally depends on your personal preferences, priorities, and lifestyle. Lagoa, like many places, has its own unique advantages and considerations that you ought to keep in mind before choosing to move.
That said, it is no coincidence that close to 25% of the population is foreign; they must have compelling reasons why they chose to stay.
For some, the appeal of living close to nature and the beach is appealing, while for others, it might be the low cost of living. Nonetheless, this destination has plenty in store for anyone who chooses to take the leap of faith.
Living in Lagoa can be a wonderful choice if you appreciate natural beauty, a peaceful atmosphere, and a more relaxed lifestyle.
Do you need help moving to Lagoa?
We trust that this extensive guide has provided you with valuable insights into life in Lagoa. It's perfectly normal to have questions and uncertainties, and it's absolutely fine if you haven't made a final decision yet.
Even after learning about the fantastic features of the town, you might still require additional assistance in making your choice.
For that reason, whenever you're ready to make this bold step, be sure to reach out to our experts at Viv Europe. Our team of experts will hold your hand and guide you along this journey. 
Also, be sure to join our Facebook Group – All About Portugal For Expats, and ask other expats questions! Share experiences, read stories, and connect with fellow expats.