Last Updated on March 27, 2023 by Laila Oliveira
Central Portugal is a region known for its picturesque landscapes, rich culture, and friendly locals. However, like any move, weighing the pros and cons is important. While there are plenty of benefits to living in this part of Portugal, there are also some potential drawbacks to consider. Let's take a closer look at the pros and cons of Central Portugal.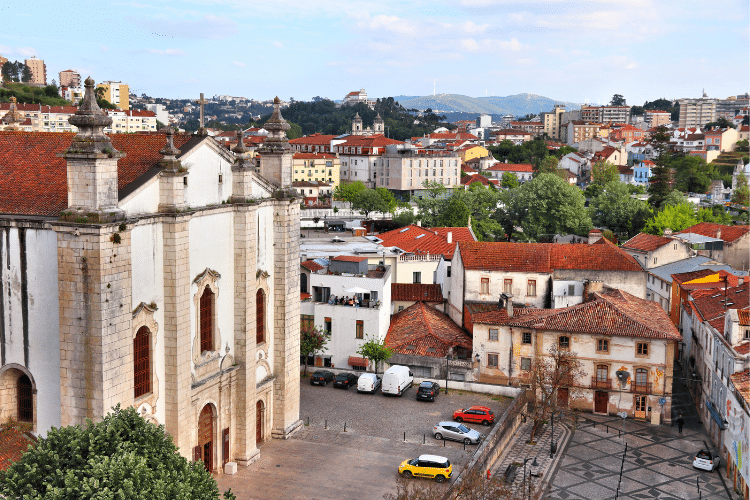 No one really expects life to be the same all around the country, and that's the beauty of it! But you're guaranteed a life with safety, a good standard of living, and affordable prices no matter where you decide to stay.
This article will highlight everything you should consider and evaluate before relocating to an entirely new region. Let's help you weigh the pros and cons of Central Portugal based on lifestyle, climate, job opportunities, and more! 
What is it like living in Central Portugal?
Thanks to mild temperatures, Central Portugal is an ideal spot for outdoor activities almost year-round. You will hardly ever worry about finding healthy and delicious food because fresh produce and local cuisine are an essential part of this region.
You will also notice that the locals are friendly and welcoming people, which helps them settle into the community. If you compare it to Lisbon or Porto, there's a smaller expat community, but still sufficient enough for you to find your people.
However, you should know that Central Portugal's economy can be challenging, with limited job opportunities and relatively low wages. So there are pros and cons of Central Portugal, like anywhere. It's important to do thorough research before you make your move; let's help you out!
Who lives in Central Portugal?
Central Portugal is home to diverse people, including Portuguese locals, expats, and tourists. Cities such as Coimbra, Aveiro, and Leiria offer a range of amenities, while smaller towns and villages like Tomar, Óbidos, and Alcobaça provide a more traditional way of life. 
Almost 2.27 million reside in the major cities, and the demographic includes 11.8% of young people under 15 years, 61.1% of the working-age population, and 27% of older adults, including retired expats.
If you want a relaxed lifestyle away from the busy urban centers of Lisbon and Porto, Central Portugal is the place for you!
Why are expats moving to Central Portugal?
The expat community is growing in Central Portugal. It not only offers platforms and social groups for expats and tourists but is well-connected to major cities such as Lisbon and Porto. This makes traveling and exploring the rest of Portugal and Europe super easy.
It would also interest you to know that the housing is more affordable, and traffic is lighter there. Continue reading the article to learn about the pros and cons of central Portugal.
Pros of living in Central Portugal
If you're wondering why 2.27 million people live in Central Portugal, here's why. The reason isn't just the mild climate and the low cost of living but also the region's job security for expats. The area is safe, and expats easily go about their routine or explore what the region has in store. 
There are numerous pros of living in Central Portugal, but let's highlight the top ones that expats love the most. 
Climate
Central Portugal has a Mediterranean climate with hot and dry summers and mild and rainy winters. So on average, you can enjoy 300 days of sunshine per year. Temperature can reach up to 40°C In the summer months, while in the winter, it can drop to around 10°C.
The region's coastal areas, such as Figueira da Foz and Nazaré, have a slightly cooler and more humid climate, while the inland areas, such as Coimbra and Tomar, have a drier and warmer climate. Overall, the weather in Central Portugal is pleasant.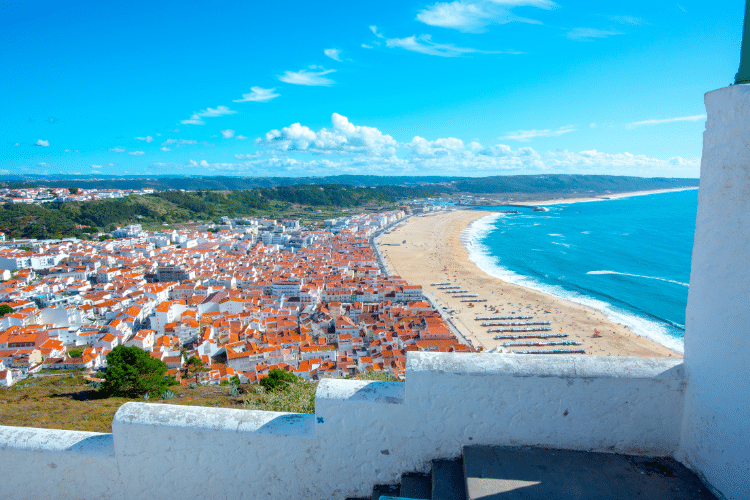 Relatively low cost of living
Housing prices in Central Portugal are another reason why expats prefer this over the South or the North. Prices are reasonable, with the average cost of a three-bedroom apartment in the region ranging from €500 to €800 per month.
To top it off, food, transportation, and entertainment costs are also affordable, which allows expats to enjoy a comfortable lifestyle without breaking the bank.
For example, you would need around €2,574 in Coimbra to maintain the same standard of life that you can have with €3,800 in Lisbon and €3,100 in Porto, two major cities in Portugal.
You should know that Central Portugal also has excellent healthcare facilities, quality education, and a welcoming community to make it a more accessible and encompassing place for expats like you.
Great lifestyle
The affordable living costs in Central Portugal allow expats to enjoy a comfortable lifestyle on a budget. Public healthcare and public education are free for locals and expats alike, while private facilities are also offered.
You may also be interested to know the region is well-connected, with excellent transport links to major cities such as Lisbon and Porto. We'll discuss this in a bit more detail later on in the article.
As an expat in Central Portugal, you really don't need to worry about finding diverse cuisines. Thanks to the diverse population there, different food options are readily available, with fresh seafood, cheese, and wine available at every corner. 
Portuguese people are friendly and welcoming, making integrating into the local community easy. And to make living here fun, there are plenty of outdoor activities, such as hiking, surfing, and cycling, if you like an active lifestyle.
Good jobs and business opportunities
Entrepreneurship and technology-related jobs such as software development, web design, and digital marketing are rising in Central Portugal. These are often well-paying, thanks to the booming industry.
For example, the pay of an IT Director can go up to €9,694, and a Digital Marketing Manager's salary can reach €4,544 with the right experience.
Central Portugal offers English teaching jobs, and expats with native-level English proficiency can find work as English teachers. As a bilingual or multilingual expat, you can also find work as a translator or interpreter for businesses. Also, since the area is a tourist destination, plenty of jobs are available in the tourism sector.
Amazing coastline
The beaches in Central Portugal are stunning and cater to a variety of interests, from calm and secluded coves to popular surf spots. Some of the most famous beaches are in Nazaré, known for its giant waves, and Figueira da Foz, a popular destination for sunbathing and water sports.
The beaches and coastline are dotted with charming fishing villages, where you can sample fresh seafood and experience the authentic Portuguese way of life. The stunning coastline is just one of the many reasons why Central Portugal is a fantastic place to live.
Safety
Central Portugal is considered to be a safe place for expats, just like the rest of Portugal. With a low crime rate, it ranks as the sixth safest country in the world. To prioritize people's safety, the Portuguese government ensures the police force is well-trained and equipped to handle any issues that may arise. 
With that being said, expats are advised to take the same precautions as they would in any other place, such as keeping valuables secure and being aware of their surroundings. Overall, Central Portugal is a safe and enjoyable place to live.
Central Portugal has a strategic location
Located between the two major cities of Lisbon and Porto, Central Portugal's strategic geographic position is another pro. This ensures easy access to both cities and makes it an ideal place to live if you want to experience the best of both worlds. 
However, unlike the hustle and bustle of the big cities, Central Portugal offers a more relaxed and tranquil lifestyle.
But if you're in the mood to experience the business hub, a train ride from Coimbra to Lisbon is only 2 hours and costs €21.45, while only 1 hour and 30 minutes from Coimbra to Porto. And about 23 to 26 trains leave the Coimbra station daily for both destinations! Isn't that super convenient?
With Viv Europe your plans for Portugal
will finally come to a reality
Cons of living in Central Portugal
Remember that there are pros and cons of Central Portugal, just like anywhere else in the world. Now that you're familiar with the benefits, continue reading to learn about the few hassles that may arise upon living in the region. 
Learning Portuguese
This is a challenging aspect for expats living in not just Central Portugal but anywhere in Portugal. Although many people speak English, Portuguese is the official language and is widely used in daily communication. 
Most expats learn the language at their own pace, and it's definitely something we recommend doing. The Portuguese language has complex grammar rules, a variety of verb conjugations, and a unique pronunciation. 
However, learning it is a rewarding experience as it allows you to better integrate into the local culture, make new friends, and access more job opportunities. And the Portuguese love it when you try to communicate in their language; they appreciate the effort!
Bureaucracy
The complex and time-consuming bureaucratic process is a problem in Portugal, and Central Portugal is ultimately affected by it too. The paperwork can be tedious for tasks including obtaining residency permits, registering for healthcare, opening a bank account, and even paying taxes. 
To help make things easier for expats like you, Viv Europe offers services such as bank account creation, immigration assistance, and tax registration, among others. So there's not much about bureaucratic delays that you need to worry about. 
Earlier, we discussed the potential language barrier that can make it more challenging to navigate these bureaucratic procedures. This can be incredibly frustrating if you prefer a more streamlined process.
However, expats get used to it over time, and the pros outshine the occasional bureaucratic difficulties.
People like to live in the moment in Central Portugal
Depending on your taste, this is both a pro and a con of Central Portugal. The slow pace offers a more relaxed and less stressful lifestyle and allows you to enjoy life's simple pleasures, which is something the Portuguese really make an effort to do.
This can be especially appealing for expats looking for a quieter and more laid-back atmosphere. In fact, the region attracts those people looking for a slower pace of life.
However, if you're accustomed to a fast-paced lifestyle, the slower pace of life may prove frustrating and inhibiting. It can also be a challenge for those who are used to high productivity and efficiency in their work and personal lives. Ultimately, it depends on personal preferences and priorities.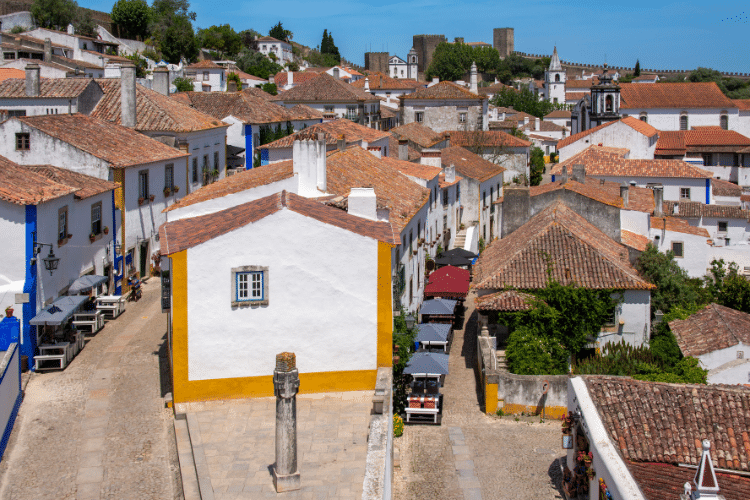 Dull nightlife compared to Lisbon and Porto
Another con can be the dull nightlife of Central Portugal compared to more happening cities like Lisbon and Porto. This is particularly true for expats who value vibrant and lively social scenes.
While the region offers plenty of natural beauty, historic sites, and a slower pace of life, it may not be ideal if you're seeking exciting nightlife. In contrast, Lisbon and Porto are famous for their exhilarating nightlife, with a wide range of bars, clubs, and restaurants that cater to different tastes and preferences.
If you're an expat who prioritizes a vibrant social life, Central Portugal may fall short in this regard. However, you can still get a taste of it as Lisbon is only 2 hours away, and the train rides are completely safe. 
Colder than Lisbon and the Algarve in the winter
Although Central Portugal has a mild climate overall, you should know that it can be colder in the winter compared to Lisbon and the Algarve. This is because it is located further inland and at a higher altitude.
Central Portugal experiences cooler temperatures and more rain during the winter months, and this may be a drawback if you prefer warmer and milder weather or if you're sensitive to cold temperatures. 
Remember to check the insulation before you rent your house or apartment because most houses in Portugal do not have pre-installed central heating. You would have to take care of that, but don't worry, as plenty of services are available to help you out. 
What do you think of the pros and cons of Central Portugal?
With that, we've concluded all the major pros and cons of Central Portugal. Do you think living here sounds like your cup of tea? 
It's okay if you're not sure! Something that can be incredibly helpful is talking to other expats that have been through this process before. Join our Facebook Group – All About Portugal For Expats, and ask questions. 
Once you're ready to get the help needed to relocate, contact Viv Europe to make your life incredibly easier. Our team of experts is here to guide you every step of the way. Let's work together to turn your dream into a reality.