Last Updated on February 18, 2022 by Lea Melo
Spending retirement in southern Europe is the dream of thousands of people around the world. But between two more romantic destinations, which would be ideal for you and your partner? Would you rather spend your retirement in Portugal or France? In the article, we will compare and check the main benefits of each country, to see which profiles are best suited to them. Follow up!
Retirement in Portugal or France? Why expats choose them
Portugal and France have many things in common. Both are great travel destinations, as you may already know, with rich cultures and cuisines.
The lifestyle in these countries is very different from the American way of life, things always seem to be more beautiful and organized and of course, fun. People feel good to be there.
Just to exemplify this, Portugal was elected the 5th best country to retire by the 2021 Annual Global Retirement Index, while France was in 8th place.
These are just some of the reasons why Portugal and France are some of the top destinations Americans choose to live in when they retire.
Portugal vs France for expats
Even though both are great countries to live in, there are spots that are unique to each other. So, depending on your perspective, retirement in Portugal or France may be more attractive to you. Let's take a deeper look at what it's like to be retired in these countries:
About living retired in Portugal
Portugal is one of, if not the, most popular destinations for foreigners going into retirement. In addition to being the 4th safest country in the world, it is also much cheaper to live in than most developed countries, has delicious food, magnificent scenery, and a large expat community.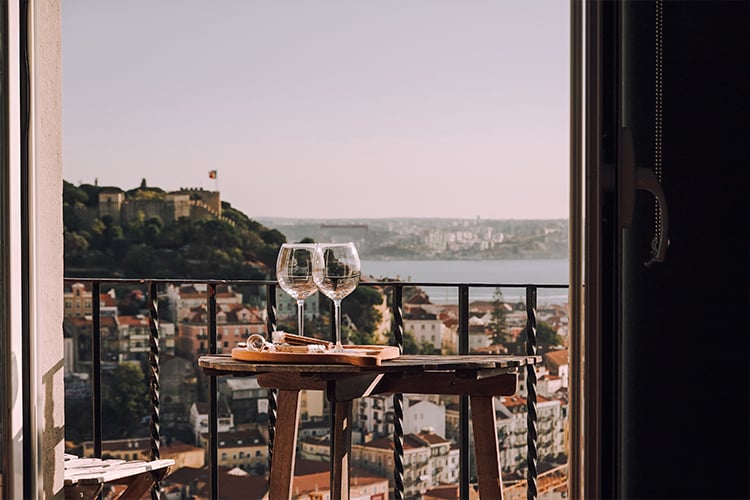 The British, Irish, German, and even the French are some nationalities that form the main groups of retired expats in Portugal for decades. And Portugal seems to be increasingly aware of this and has started to invest in benefits for those people who, in exchange for getting to live in the country, contribute to the Portuguese economy.
The main regions in Portugal where people spend their retirement are:
The Algarve coast: the sunny southern region of Portugal;
Cascais and Estoril: Portuguese riviera at 1-hour away from Lisbon;
Madeira: a Portuguese island in the middle of the North Atlantic;
In order to move into Portugal and spend retirement, non-EU citizens must apply for a visa or residence permit. However, it is surprisingly easy to obtain them, if you comply with the Portugal visa conditions. That is, proving that you have enough passive income to support you in Portugal or to invest in real estate in the country, for example.
About living retired in France
France is also a favorite place for expatriates to spend their retirement in Europe. It's charming, magical, and certainly worth the hype.
This country, so romantic and romanticized by the media in the last century, turns out to be a really wonderful place to live.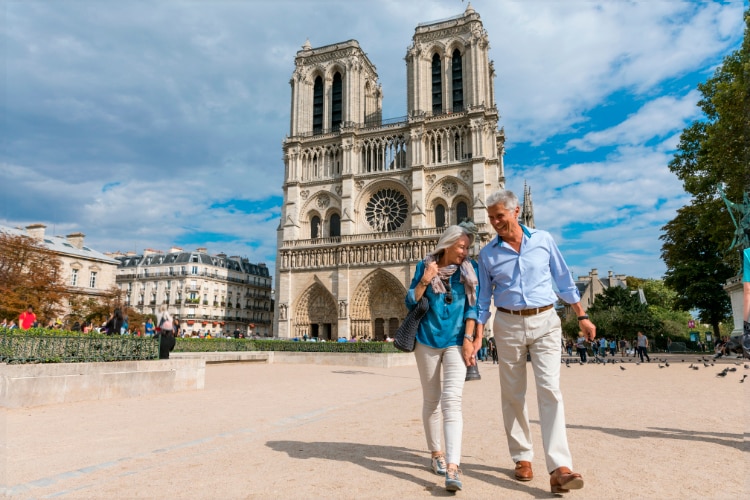 The main regions where people spend their retirement in France are:
Côte d'Azur: Provence and the French riviera are a true paradise in southern France;
The attractive Nouvelle-Aquitaine region: the jewels being Bordeaux, Pau, and La Rochelle;
Occitanie: a cheaper yet deeply cultural region to experience the true France.
Comparing Portugal and France
Choosing to spend your retirement in Portugal or France is not an easy thing to do. However, once you know your preferences and these two beautiful countries well, you get an idea of which of them is the best match for you. Check out important info to weigh your decision.
Cost of living in each country
The cost of living in Portugal is one of the lowest in Europe for expatriates.
According to estimates from the Numbeo website, the cost of living in France is, on average, 52.68% higher than in Portugal. Likewise, rent in France is, on average, 21.36% higher than in Portugal. See the table for more details:
| Data | Costs in Portugal | Costs in France |
| --- | --- | --- |
| A single person estimated monthly costs (without rent) | €531.36 | €812.03 |
| Family of four estimated monthly costs (without rent) | €1,862.42 | €2,901.19 |
| 1-bedroom apartment in the city center | €581.41 | €664.03 |
| 3-bedroom apartment in the city center | €1,008.04 | €1,246.85 |
In case you are wondering, the cost of living in Portugal is, on average, 30.50% lower than in the United States, while rent is, on average, 50.15% lower. France has a cost of living 9.60% lower than the US, and rent prices 39.48% lower.
But besides the cost of living, salaries in Portugal are also lower than in France. While in 2022 France had a minimum monthly wage of 1,603.12€, in Portugal it was 705€.
Purchasing a property in Portugal or in France
If you're thinking about investing in real estate, it's good to know the prices and the market before moving on. See the average price to buy a property of 100m² in the main cities of Portugal and France in the table below:
| Data | Lisbon, Portugal | Paris, France |
| --- | --- | --- |
| The average price for a 100 m² apartment in a city center | €464,643 | €1,303,930 |
| The average price for a 100 m² apartment outside the center | €272,010 | €960,467 |
Data were taken from Numbeo website in November 2021.
From an investment point of view, both Lisbon and Paris are safe cities in which to invest. But Lisbon is the one with the greatest chance of growth. In fact, nowadays, some people call Lisbon the new Paris.
Taxes
France is one of the European countries with the highest tax rates, which makes many wealthy French citizens leave the country in search of tax benefits somewhere else. Even so, taxes in France return to the citizen with benefits in public health infrastructure, for example.
Portugal, on the other hand, offers tax benefits to foreigners who wish to bring their capital to the country, as long as they do invest or live there. It's the famous Non-Habitual Resident Regime. And while the public health system is used by the majority of the population, most expats prefer to use private hospitals with international health insurance.
Both countries are known for their bureaucracy in public services, so much so that professional advice is highly recommended.
Climate
Most expats can agree that both France and Portugal have pleasant climates. However, Portugal is known for having much has warmer summers, while France has much colder winters.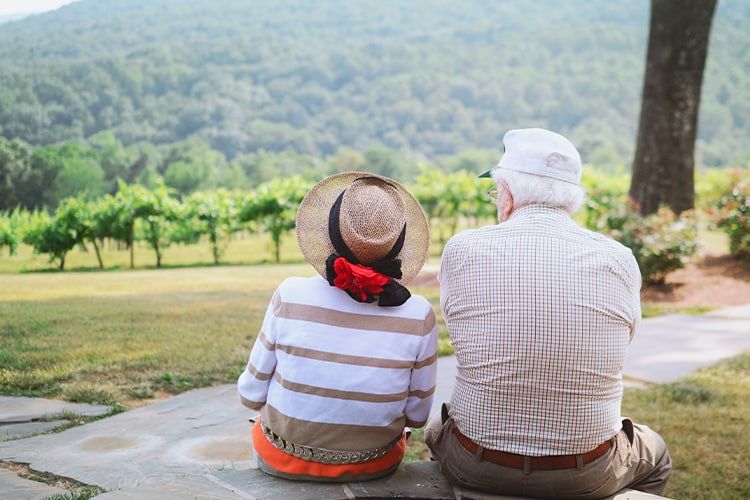 See the average temperature for each season in the two countries in the table below:
Region
Spring
Summer
Fall
Winter
Lisbon, Portugal
15.4 ºC
(59.72 ºF)
21.4 ºC
(70.52 ºF)
18.1 ºC
(64.58 ºF)
11.8 ºC
(53.24 ºF)
Paris, France
10.8 ºC
(51.44 ºF)
18.9 ºC
(66.02 ºF)
12.3 ºC
(54.14 ºF)
4.5 ºC
(40.1 ºF)
Data were taken from the Climate data website.
It is worth knowing that temperatures and climates vary across the two countries. But, in general, France is more attractive to those who prefer lower temperatures. Portugal is warmer throughout the year and also tends to rain less. But it is good to learn more about the specific region you want to move into before making a decision.
Security
According to the Global Peace Index 2021, Portugal is the 4th safest country in the world. In the same index, France appears in 55th place.
This symbolizes the reality of both countries. Portugal is, in most regions, a place where you feel very safe. Tourists in Lisbon can be victims of pickpocketing, as is common in every European capital, but serious crimes are very rare. Away from crowded urban centers, people often know their neighbors by first name and rarely lock their doors. Usually, in Portugal, you only hear about violence on the TV.
France is also a safe country, but it has more records of crimes per inhabitant and events with the potential to turn violent, such as the so common protests. Also, organized crime in France is internationally known, especially in the south. And let's know forget the occasional terrorist attacks that take place in France every once in a while. However, we can say that, despite some problems, France is indeed secure. Especially if we leave the big cities, day-to-day life in France is very calm.
Entertainment
The entertainment options in France and Portugal can please people of all opinions. Of course, knowing how to speak the local language helps you a lot to integrate with the inhabitants and have fun more easily. But there are also good offers aimed at the international public living in these countries.
Apart from social activities, in France, there are always good museums to visit, well-preserved monuments, and a vineyard to discover.
Portugal is also not far behind in terms of viticulture, and the country has wonderful natural parks and beaches for outdoor lovers.
How to get a visa in each country
In order to live both in Portugal and in France, non-EU citizens must obtain a residence visa and a residence permit. That also includes the British since Brexit.
Portugal has a visa program designed specifically for retirees who want to move there. It is the D7 visa, a residence visa that gives holders of passive income, retirement, rent, etc. permission to enter the country and obtain a residence permit.
France does not have a visa for these cases. Pensioners who want to move to France can apply for a long-term visitor visa (known in French as the long séjour visitaur). A limitation of this option, however, is that you are not allowed to work. But if you just want to enjoy life in France, that's not a problem!
For both Portugal and France, the visa-issuance process is done through the embassy or consulate in your country of origin. You will need to prove your visa status, attend a personal interview, and then find out whether or not the visa will be granted. For the visa process, you will need to submit documents such as:
Completed visa form;
International health or travel insurance;
Proof of income (retirement or other);
Recent passport valid beyond the length of stay;
Proof of accommodation in the country;
And others.
Application prices for visas can range from €99 to €140, and take up to 3 months to be processed by the authorities.
Bottom Line: retirement in Portugal or France?
As you can see, choosing between retirement in Portugal or France is not so easy. And there is no right answer. One country is not better than the other, both have unique attractions that make them special in different ways.
The type of climate you prefer, as well as whether you are willing to pay more or fewer taxes, should be considered when choosing France or Portugal to retire.
In addition, your relationship with the country also weighs heavily in the decision. If you are passionate about French culture, Portugal will look strange. The same thing happens if you love the Portuguese, France is not Portugal.
Who will know if you should go to France or Portugal is yourself. Now that you know a little more about the life of retirees in these countries, you may be a little bit closer to the decision.
We hope you have a great adaptation to your new country, be it Portugal or France.
We have an online community of expats in Portugal that you can join to learn more about on Facebook. Join the All About Portugal For Expats group and get to know other people's experiences.
If you need any help relocating or have any doubts about moving abroad, contact us! We'll love to collaborate on your adventure.