Last Updated on February 24, 2023 by Laila Oliveira
Known as the "Venice of Portugal," Aveiro is spectacular. Anyone who visits this quaint town will want to stay because of the city's canals, which are dotted with colorful Moliceiro boats that float through their water, the mouth-watering bakeries that beckon, and the laid-back pace of life. Portugal's Aveiro is less well known for its real estate than some other cities, but owning a home in this old town is a wise investment. So how does an expat go about buying a house in Aveiro?
Well, the good news is that plenty of real estate investments are available for foreigners interested in buying a house in Aveiro. If you are looking forward to moving to the Venice of Portugal, here is a quick guide on buying a home in this destination.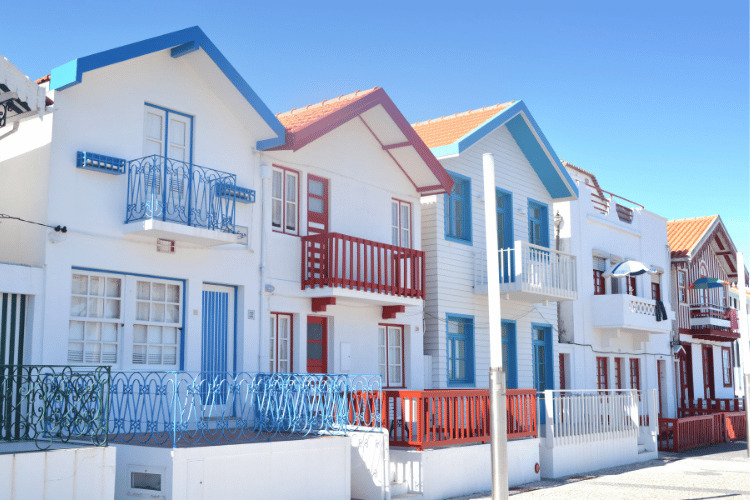 Why should I think about buying a house in Aveiro?
For a minute, stop and think about living in Venice without the nuisance of overwhelming crowds—that is what Aveiro has to offer. Apart from the canals and beautiful boats, this hidden gem has a lot more to offer. For history lovers, you will be glad to find out that Aveiro is home to one of the oldest and most significant historical pieces, The Cathedral of Aveiro, founded in 1423.
Other than that, the proximity of this destination to Porto is also one of the major draws to this destination. There are so many reasons why Aveiro might appeal to you; here is a breakdown of a few.
Thriving real estate market
Although formerly popular as a tourist hub, Aveiro is finally establishing itself as a popular expat hub in Portugal. Expats from all over the world are choosing to settle down permanently in this destination. As such, the real estate prospects are slowly taking shape, considering an increased housing demand. To put this in perspective, the cost of property in Aveiro has increased by 19.1 % compared to January 2022.
That said, it is also worth mentioning that Aveiro is one of the most affordable destinations in Portugal. Compared to other popular cities like Lisbon and the Algarve, the cost of buying a house in Aveiro is still affordable and within reach for many people.  There are so many options to choose from when it comes to buying a house in Aveiro. There is something for you, from luxury villas to rather modest houses.
Also, if you want to experience life in the beautiful countryside of Aveiro, moving further inland will expose you to some of the finest country homes with extensive, perfect for retirees looking for an authentic Portuguese experience.
Better quality of life
Aveiro is beautiful and exudes the spirit of Portugal's larger cities right away. Due to its proximity to the sea, this city offers expats the rare chance to experience everything that big cities have to offer without having to deal with their associated chaos. 
According to the Center of World University Rankings, the University of Aveiro made it into the top six of the best universities in Portugal. The innovation and scientific research initiatives in Portugal greatly benefit from the work of the University of Aveiro.
In addition, the cost of living in this location is relatively low when compared to other cities worldwide. For instance, to live the same lifestyle for €2,500 in Aveiro, you would need approximately €5,867 in London. Generally, the quality of life is good in Aveiro, and it is no surprise why expats are eventually finding their way to this city.
Get a D7 Passive Income Visa
If you are looking to start a life in Portugal, buying a house in Aveiro might be what you need in order to secure the sought-after D7 Passive Income Visa. This type of Visa is one of the easiest to acquire for qualified individuals. The D7 passive income Visa is ideal for pensioners or retirees who are looking to spend their lives in Portugal. It gives you permission to enter Portugal and also the ability to apply for a residency permit as well.
However, it is worth noting that you will need to provide proof of passive income in order to qualify. As a pensioner, you can buy a house in Aveiro for your personal needs, or you could take advantage of the increased demand for housing and rent the property out for rental income. This will not only supplement your monthly income but also give you a long-term investment that will only appreciate in value in the near future.
How to buy a house in Aveiro
Similar to buying property in other nations, you will need to follow a few processes and present a few documents before going ahead and buying property in Aveiro. However, it is worth pointing out that the Portuguese public system is quite bureaucratic, with a lot of bottlenecks and tie-downs that might make the process appear more complicated than it really is.
You will need to find legal representation as an expat and also a real estate agent who will help you find the right house. However, another option that you could explore is seeking guidance from a seasoned immigration agency like Viv Europe. You will get help from in-house legal, financial, and real estate experts.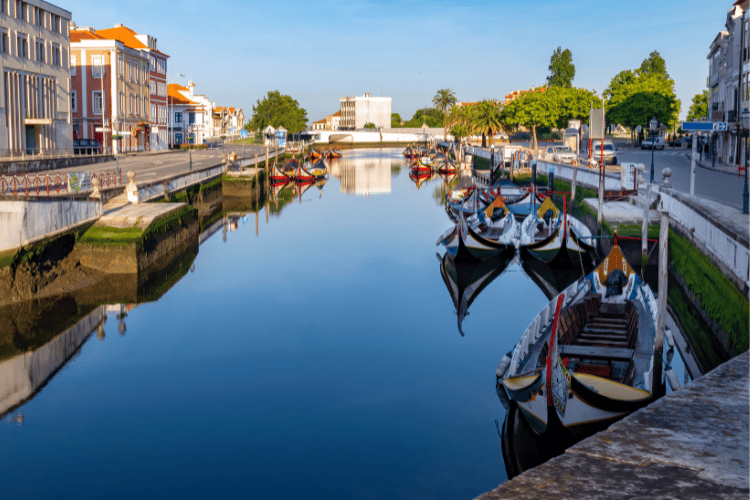 Can a foreigner buy a house in Portugal?
One advantage of living in Portugal is that expats from all over the world can buy property. In fact, Portugal is among the few countries in Europe that encourage foreign investment through other schemes like the Golden Visa program. The process of buying a house as a foreigner is not that different from the locals, apart from a few small things that you will need to have.
That said, you will need a few documents before buying a house in Aveiro as an expat. You will need to open a Portuguese bank account and also get a tax identification number, better known as a NIF Number. Also, if you want to stay in Portugal permanently or long-term, you may also need to process a residence permit.
How can I buy a house in Aveiro?
If you have gotten this far, then you must be very interested in buying a house in Aveiro! But how do you approach the process? Take a look at this simple, step-by-step guide that will help you get started.
Research and choose your investment
There is no doubt that there are so many options for you to explore as an expat; in fact, you might just be overwhelmed by the sheer number of choices that you will have. However, in order to stay clear about your needs, it is necessary that you first understand your objectives as an individual. One thing that will help you narrow down your options is your budget.
Once you figure out how much you are willing to spend on a house, the next step is finding a property that is within that range. Also, you will need to think about what you need that particular house for. Is it a vacation home or somewhere you will raise your kids? For a vacation home, consider finding a house close to the beach; on the flip side, a house further inland with plenty of space is ideal for raising a family.
Finally, familiarizing yourself with the local real estate industry will help. If you cannot afford to hire a real estate agent, consider taking your search online. Here are a few helpful websites that should help.
Prepare the paperwork
The first and very important document that you will need to produce is the tax identification number, also referred to as Número de Identificação Fiscal (NIF). You can easily get this document from the local Portuguese tax office; you might want to let your legal representative handle this step as well.
The other paperwork that you will also need is a valid identification document, like a Passport, especially if you are a non-EU resident. Lastly, you will also need to show proof of income to support your stay in the country and facilitate the processes you wish to undertake.
With Viv Europe your plans for Portugal
will finally come to a reality
Visit the property in Aveiro
As an expat, it can be quite challenging to know the exact condition of a particular property without setting foot on the ground. Although some virtual tours or agencies will do the inspection on your behalf, no one knows your needs better than you. For this reason, it is always recommended to schedule a visit to the property before signing any documents or transferring money.
A private showing from a real estate agent will give you the unique opportunity to look at the house's condition and also pay attention to unique details that someone else would overlook, like the noise levels and the neighborhood the house is in.
Also, be sure to ask how far the local transport systems, like trains and buses, are from the property; this will play a huge role in helping you move around easily without having to walk too far or buy a private vehicle. Finally, by scheduling a visit to the property, you have the opportunity to meet with the owner in person and negotiate a better deal.
Get your documents settled in Portugal
To legitimize the process, here are some other additional documents that you will need to provide before buying a house in Aveiro.
Certificate of Land Registry (Certidão de matrícula): This document is issued by the local land registry, and it serves as proof of the property's ownership.
License of Use (Licença de Utilização): Obtained from the parish council of the respective house; this document clearly indicates the purpose of the said property.
Building Book (Caderneta Predial): This shows that the property has been tax compliant. You can obtain this document from the local finance office.
Tax Declaration: This will confirm the amount of property taxes, which will be the new owner's responsibility.
Housing Technical File (Ficha Técnica de Habitação): Highlights all the technical descriptions of the house.
Transfer the payment and sign the deed
The final step is to transfer the payment and sign the title deed. Unlike a couple of years ago, the process of sending money, particularly outside the Eurozone, is now easier than ever. There are several reliable money-transfer channels that you can use to send money faster and more conveniently. Here are a few platforms that we recommend:
Wise (Previously known as TransferWise)
Xoom from PayPal
You will sign the final sales contract (Contrato de Promessa de Compra e Venda) following the signing of the reservation contract and receipt of the NIF. The purchase is fully described in this sales contract. The property transfer can be completed at the notary's office once all the required paperwork is in order. A lawyer should be present to make sure everything is done properly.
How much does it cost to buy property in Aveiro
A "one cost fits all" mentality doesn't apply to the real estate in Aveiro; the cost of property is relative to different factors like the size, location, and specific condition of the property. To give you an understanding of what to expect, here is a breakdown of the cost of buying property in some of the major neighborhoods in Aveiro.
| Parish | Price per/m² |
| --- | --- |
| Aradas | €1,710 |
| Cacia | €1,207 |
| Eixo e Eirol | €1,382 |
| Esgueira | €2,422 |
| Glória e Vera Cruz | €3,143 |
| Oliveirinha | €1,122 |
| Santa Joana | €1,584 |
| São Bernardo | €1,536 |
Price estimates are from Idealista (as of February 2023).
How much can you make renting out a property in Aveiro
The beauty of buying a house in Aveiro is that you can choose to use it for your personal needs or even decide to rent it out for extra income. Aveiro is a significant tourist hub on the Silver Coast and receives a good number of tourists every year.
As a result, you can make extra money during the busy summer months. If you decide to rent out your home, the amount you will receive will be determined by factors such as the house's condition, location, and size. Here is an estimate of how much different rental houses cost in Aveiro
| Residence Type | Rent per month |
| --- | --- |
| Apartment (1 bedroom) in City Centre | €581 |
| Apartment (1 bedroom) Outside of Centre | €497 |
| Apartment (3 bedrooms) in City Centre | €888 |
| Apartment (3 bedrooms) Outside of Centre | €716 |
Estimates are from Numbeo (as of February 2023).
Can I apply for a Portugal Golden Visa to invest in a property in Aveiro?
Unfortunately, because of the changes that occurred to the Golden Visa program, Aveiro is not one of the destinations that are not eligible for the Golden Visa. The changes excluded most urban and densely populated cities from the program, all in a bid to encourage investment in other regions in Portugal.
However, it is worth mentioning that with some research and due diligence, you will find other smaller towns with good growth potential that you can take advantage of.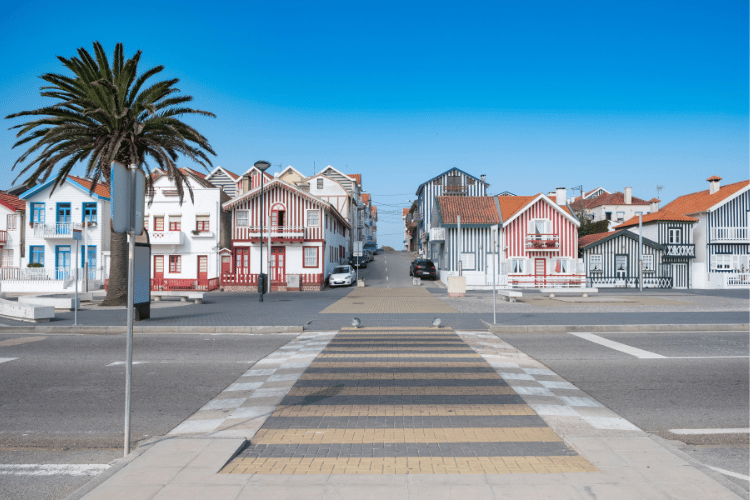 Is making a real estate investment in Aveiro worth it?
Portugal is, without a doubt, a desirable location for travelers, investors, and people looking to settle down permanently. The political environment is favorable for investments and businesses, and the weather is pleasant. There is no one else better to make the decision than you regarding whether or not to invest in Aveiro.
The same holds true for any other financial choices you make as well. Do extensive research before making this bold move. Check out our guide to the best real estate websites in Portugal to get started looking at your options!
When are you coming to Aveiro?
Expats from all over the world will find plenty to enjoy in Aveiro. The unbroken views of the sea and the city's extensive historical past are just a couple of its many attractions. Anyone seeking access to a big city without having to deal with its stress and chaos will find Aveiro particularly appealing. You will appreciate the lower cost of living that Portugal's larger cities do not offer.
Are you prepared to relocate to Aveiro? If so, let us assist you with the process. Our professionals at Viv Europe will walk you through every step of moving to Portugal and fulfilling your dream there. Consider joining our Facebook Group – All About Portugal for Expats, to connect with other expats who have experienced similar challenges as you.