Last Updated on October 10, 2022 by Laila Oliveira
Nobody wants to feel out of place if they're living in a new country; we're sure you don't want to feel that way, either. While you'll hardly feel excluded anywhere in Portugal, there's one region that will particularly help you live an amazing life. Buying a house in Lagos can allow you to adjust faster and live in a city with high real estate value.
A city known as a digital-nomad paradise is much more than just that title. It's one of the biggest towns in the Algarve region and a hub for travelpreneurs and families looking for a laid-back lifestyle. So, of course, there's much demand for properties here. 
If you're wondering whether Lagos is the right city for you, this article will help clear your doubts. Read the article till the end to get clarity on why you should think about buying a house in Lagos, what the average property price is, and what documents you need to make this dream come true.
Why should I think about buying a house in Lagos
To start with, you should know that Lagos falls under the Algarve region, one of the most popular places in Portugal. It's not only popular among the locals, but also expats that travel here on holiday or relocate permanently.
Thanks to its developed facilities and infrastructure, Lagos is a great alternative for the capital city, but without the hustle and bustle. So if you were on the lookout to move to a place like Lisbon, this city should be the next one you explore!
But this isn't all. There are three significant reasons why many other people just like you are thinking of buying a house in Lagos. 
Real estate is very valuable
The last few years have seen a surprising amount of real estate transactions in Portugal, and the Algarve region is one that tops the list. So much so that the Golden Visa no longer allows for the Algarve to be a region from which foreign investors can profit. 
Don't worry; that doesn't mean you can't buy a house in Lagos! 
You'll notice that property prices in the Algarve are much higher than in rural towns. The region's ideal location makes it very accessible for tourists, business owners, families, and digital nomads. 
Real estate is more valuable here than in other smaller towns because of the city's high demand throughout the year. No matter what season it is, Lagos is a place that tourists visit to enjoy its 300 days of sunshine and laid-back environment.
We'll talk more about property prices later on in the article, so keep reading.
Lagos is a large family-friendly city
Although Lagos is a smaller city than Faro, for example, it still has a lot in store for families wishing to live. As of October 2022, nearly 33,500 inhabitants live in Lagos, of which 62.4% are of working age, and 24.7% are elderly.
Of these 33,500 inhabitants, 20.4% are foreigners, just like you! Most activities are within walking distance, so you won't have to deal with the pressure of traveling with children. Another thing Lagos is known for is its numerous coastal beaches, which are perfect for whenever your children want to have fun in the water or learn how to surf. 
Buying a house in Lagos also means being in close proximity to the best International Schools in the Algarve. These international schools teach their curriculum in English and focus deeply on education that goes beyond the classroom. You can expect lots of extracurricular activities to help your child build skills while feeling accepted in the new community.
Digital Nomads are getting their Visas
Places with a laid-back lifestyle are a magnet for digital nomads! Apart from being a relatively affordable city for digital nomads to live in, Lagos also offers numerous coworking spaces and an environment where they can grow professionally and personally.
In order to become a digital nomad in Portugal, you can apply for a Business Visa (D2 Visa) or a Passive Income Visa (D7 Visa). Buying a house in Lagos does not only serve the purpose of meeting your housing needs but is also an investment in the fast-growing real estate market.
Since you can no longer get the Golden Visa by purchasing a property, the Business Visa or the Passive Income Visa are great alternatives for digital nomads to live and work here. Who knows, you might end up falling in love with Portugal and decide to stay here. There are lots of such cases!
People also experiment with staying here for a while, and if it doesn't feel right, they sell their assets and relocate elsewhere. One thing is for sure; they'll rarely face a loss when it comes to properties. 
How to buy a house in Lagos?
Can't wait to know the process? We don't blame you! 
The process may seem lengthy, but it is worth every effort you put into it. Trust the process, reach out to professional real estate agents for help, and let the next best chapter of your life unfold in front of you.
Like the rest of Portugal, Lagos deals with its fair share of bureaucracy. You will be required to deal with a lot of paperwork and technicalities when buying a house in Lagos, or anywhere else for that matter.
Be sure to do your due diligence, even if you're reaching out to professionals like Viv Europe. Your own research will help you clarify what you're looking for and the budget that can get you all that you need. 
Can a foreigner buy a house in Portugal?
Foreigners interested in buying a house in Portugal are more than welcome to do so! Despite all the bureaucracy, foreigners aren't required to fill in additional paperwork or meet certain criteria. 
One document that you will need, whether you're a local or a foreigner buying a house in Lagos, is the NIF Number, also known as the Número de Identificação Fiscal. This is a personalized tax identification number that you can get from the nearest Finances office. It's extremely important, and you can barely do much without it. 
The Portuguese government also offers incentives like the Non-Habitual Tax Regime to encourage and facilitate foreigners. This regime mainly targets passive income earners and highly qualified workers.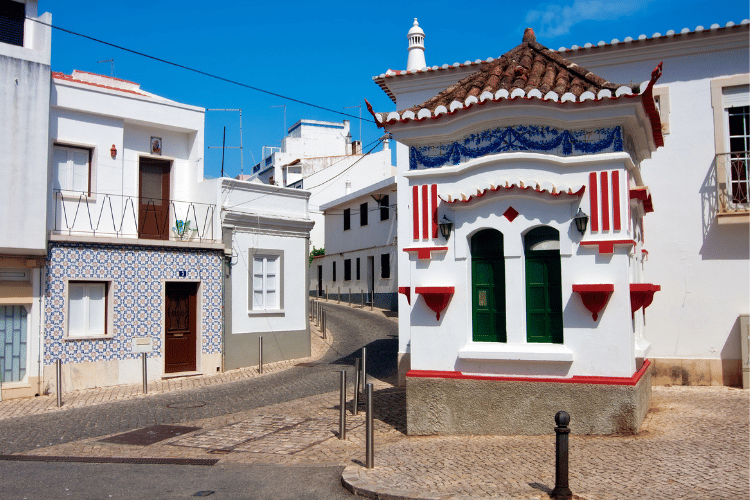 How can I buy a house in Lagos?
We shall now move on to the most important part of this article; how you can buy a house in Lagos!
Let's break it down into five of the most important steps you will need to follow:
Research and choose your investment
Before beginning any process, you must deeply research what you're looking for. Research listings on websites, ask expats living in Lagos, and look for reviews; just try to get an overall idea of what you should be looking for. 
You will find luxurious villas and holiday homes closer to the beach, and you will also find cozy houses located in a quiet neighborhood. The prices will obviously vary according to what you're looking for and what your goal is.
If you're buying a house in Lagos only for investment purposes, you are more likely to go for areas with more tourist attractions nearby. Research all kinds of properties and choose your investment wisely. 
Prepare the paperwork
Of course, you will need to prepare and handle a lot of paperwork. The first important document is your NIF Number, which we mentioned in the article earlier on. In case you're unable to get this number yourself, your legal representative can also get it for you.
Additionally, if you are not an EU citizen, you must also have a residency permit to stay in Lagos permanently. Other required documents include having a valid Identity Card and proof of income.
If you have any questions about the documents, contact Viv Europe and get a personalized consultation for your needs.
Visit the property in Lagos
Having a legal representative do all the work for you helps to take care of most of your workload. But with that being said, we still recommend that you visit the property in Lagos yourself. It will allow you to confirm the legitimacy of it and also decide if it's worth the price you're paying. 
This step is also an opportunity for you to meet the owner personally and negotiate a better deal for the house. Not to mention how you'll be able to assess whether the neighborhood is ideal for you as a digital nomad or as a family. 
This step can be done by anyone you trust as well, but we believe it's best if you do it yourself.
With Viv Europe your plans for Portugal
will finally come to a reality
Get your documents settled in Portugal
You will need to settle four key documents to secure the legitimacy of the legal process of buying a house in Lagos.
Here's what you will need:
Certificate of Land Registry (Certidão do Registo Predial): Obtained from the land registry and documents the current owner of the property before the sale.
License of Use (Licença de Utilização): Obtained from the parish council of the respective house; this document clearly indicates the purpose of the said property.
Housing Technical File (Ficha Técnica de Habitação): Highlights all the technical descriptions of the house. 
Building Book (Caderneta Predial): This shows that the property has been tax compliant. You can obtain this document from the local finance office. 
Transfer the payment and sign the deed
Finally! The last step to being a new homeowner in Lagos is transferring the payment and signing the deed. Unlike in old times, you no longer need to use bank transfers to process your payments for the property.
For expats outside of the Eurozone, we recommend the following three platforms that are completely safe.
Wise (Previously known as TransferWise)
Xoom from PayPal
Be sure to only process the payment once the contract is signed and the legal procedure is complete.
You might also want to research the best time to convert your money at this step. Once the payment is processed, congratulations, the house is now under your name! 
How much does it cost to buy property in Lagos?
Since Lagos is a part of the Algarve region, the property prices are relatively higher than what you would find in other regions of Portugal. However, they are still quite affordable for most foreigners relocating here or looking to have a holiday home near the best beaches.
The prices vary depending on which neighborhood you're interested in. The reason for that is accessibility to different areas, developmental facilities, and how famous the region is.
Let's break down the cost of buying property in the different parishes within Lagos.
| Parish | Price per 100m² |
| --- | --- |
| Lagos | €333,400 |
| Bensafrim e Barão de São João | €298,600 |
| Luz | €322,800 |
| Odiáxere | €426,700 |
Price estimates are from Idealista (as of October 2022).
How much can you make renting out a property in Lagos?
Lagos is a very touristy city, especially during the months of summer. Many residents give their properties out for rent during this time or list them on Airbnb. Since short-term rentals make much more profit in the summer, people can earn up to €1,500 a month.
Check out the table below for average rent prices per month for different types of rentals. These values are mere estimates and can go higher or lower depending on where your property is located.
| Residence Type | Rent per Month |
| --- | --- |
| Apartment (1 bedroom) in City Centre | €837 |
| Apartment (1 bedroom) Outside of Centre | €680 |
| Apartment (3 bedrooms) in City Centre | €1,566 |
| Apartment (3 bedrooms) Outside of Centre | €1,156 |
Estimates are from Numbeo (as of October 2022).
Can I apply for a Portugal Golden Visa to invest in a property in Lagos?
Unfortunately, no. As we mentioned earlier, the Algarve region is now off-limits for any Golden Visa investments after changes were made to the visa requirements earlier this year. Since Lagos falls under the Algarve region, the same rules apply.
Previously, it was possible to do so as long as the property was valued at €350,000 to €500,000 or greater.
However, this does not mean you can't buy a house in Lagos. You still can; it just means that this particular property purchase will not be enough for you to receive the Golden Visa. There are still lots of areas, such as the Azores and Madeira archipelago and the Alentejo region, that are still valid. 
Is making a real estate investment in Lagos worth it?
There really isn't one correct answer to this question. Investments are a very personal decision, especially when it comes to real estate. The only person who can and should be deciding on buying a house in Lagos or investing in property is you. 
After thorough research, you can identify whether this investment aligns with your financial goals. So, take your time; there's no rush. Portugal will be waiting to welcome you with open arms whenever you're ready! 
What we can tell you is that people have profited a lot in recent years, and the market is still growing. Portugal was not this well-known a few years ago, and it's still a little underrated. And any savvy investor knows that the best time to invest in something is when people don't know about it. 
When are you coming to Lagos?
Has reading this guide on buying a house in Lagos made you want to get started on your search?
We thought so!
Lagos is a stunning city to spend your life in; whether with your family or alone, you won't regret getting a property in your name. The recent popularity of Portugal's real estate market has accentuated the desire of foreigners to live here, and we're more than happy to welcome them here. 
Viv Europe has helped hundreds of expats make their dream come true through real estate purchases, and we can help you too. Contact us today to discuss your plans and get customized advice to help you live the best life possible.
If you'd like to consider the experiences of other expats and digital nomads living in Lagos, join our Facebook Group – All About Portugal For Expats. The community of over 8,400 enthusiasts is always ready to help!