Last Updated on January 20, 2023 by Laila Oliveira
Braga, a rather laid-back city in Portugal, is known for having a rich history of medieval Roman occupation times. Although less popular than Lisbon or the Algarve, you will find all the big city conveniences in Braga, for instance, shopping malls, a proper transport network, and a reliable education. While all this is true, the cost of living is often a good indicator of how livable a given destination is. That said, what is the cost of living in Braga?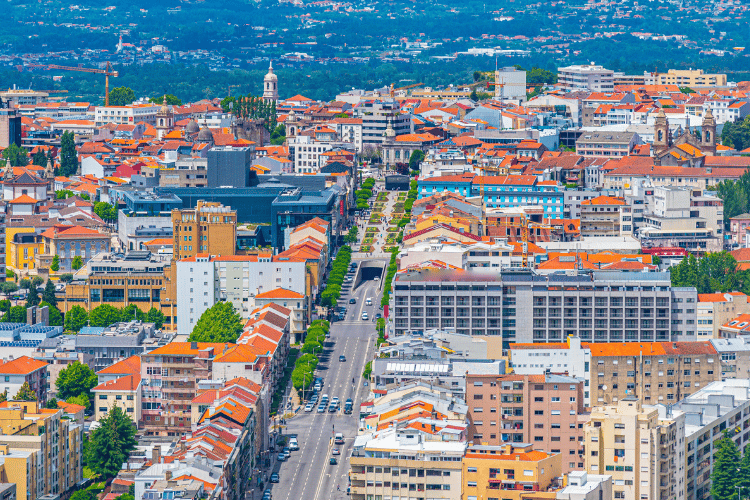 This city is home to some of the most vital significant landmarks in history, for instance, Sé Cathedral. Located 50 km north of Porto, this thriving university town boasts a student population of about 20,000. For anyone looking to live and settle in this old town, you will be glad to find out that Braga is a relatively calm destination with plenty of things to offer besides rich history.
So, does that make Braga more expensive than other cities in Portugal? Stick around as we attempt to shed some light on this issue that is important to many expats.
How expensive is Braga?
Braga is the seventh largest city in Portugal and is predominantly occupied by the local population. Because of its status as a hidden gem, this particular destination is not the most popular in the country. 
It is worth mentioning that foreign influence has a lot to do with just how expensive a given destination is, and Braga certainly is not the most expensive city in Portugal.
To give you some idea of how much you would need to live in this old city, Numbeo mentions that a single person would need about €526.2 per month without rent, while a family of four will need an estimated €1,852 per month without rent.
The difference between the cost of living in Braga and other popular European countries is night and day. To bring some context to this, you would need about €6,052 to maintain the same living standards that you will get for €2,600 in Braga.
What is the cost of living in Braga for expats?
Although Braga is relatively cheaper than other destinations in Portugal and Europe, you should remember that the figures mentioned above are just estimates. However much you will need to spend every month depends entirely on your individual spending habits and the type of lifestyle you want to live.
Nonetheless, here is a breakdown of some things you need to know about the cost of living in Braga.
Cost of rent in Braga
Since Braga is relatively affordable, you can expect the rent cost to be within a reasonable range. According to Idealista, the average cost of renting a property in this city is about €7.6/m² which is a far cry compared to other smaller destinations like Loulé, where the cost of rent is as high as €12.9/m². 
Another good thing about living in Braga is that you don't need to live in the city center; there is plenty of affordable housing further away. Also, owing to the fact that it is a university town, there are different types of rental housing to pick from that are also available at a range of prices.
Choosing to live within the city will limit you to only the apartment-style type of housing. However, moving further away to the rural towns will open you up to more family-friendly accommodations with lawns and enough space to raise a family. The cost of rental houses in the two most popular destinations, Braga and Guimarães, is €7.4/m² and €7.3/m², respectively.
House bills
Compared to other monthly expenses, house bills are often the least expensive, depending on how many conveniences you would want to have in your home. There are a variety of utility services you can pay for in your household; the most common ones include gas, internet, phone packages, electricity, water, and TV packages.
Although the cost of utility bills in Portugal is almost the same, there is some slight difference from region to region. Here is what you can expect to pay for such services.
| Utility | Cost |
| --- | --- |
| TV channel package, wifi, and phone call package | €31 |
| Electricity, Gas, Garbage, and Water | €97.40 |
| Internet (60 Mbps or More, Unlimited Data, Cable/ADSL) | €31.56 |
Estimates are from Numbeo (as of January 2023).
Average spending on food
The Portuguese love their food, and the local population in Braga is also no different. Apart from the local markets, the other places you can buy groceries are in the chains of supermarkets that include; Auchan, Lidl, Pingo Doce, and Intermarché. You might not be aware of this, but the monthly spending on food takes up a huge chunk of monthly expenditure.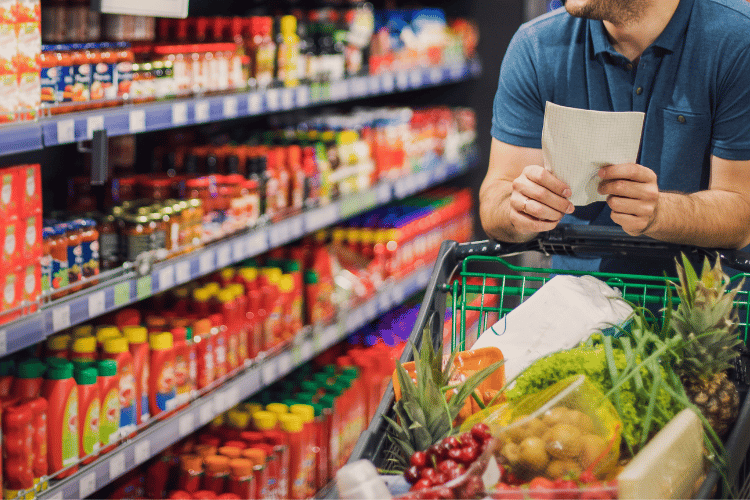 However, the good news is that grocery shopping in Braga is affordable. Compared to eating out in restaurants, preparing your own meals is cheaper and also gives you the luxury of eating healthy. 
To give you a feel of what to expect as far as the average spending on food, we have compiled a list of some of the food items that you would find in a grocery list.
| Expense | Cost |
| --- | --- |
| Milk (1 liter) | €0.68 |
| Loaf of Fresh White Bread (500g) | €0.96 |
| Rice (1kg) | €1.05 |
| Eggs (1 dozen) | €2.02 |
| Local Cheese (1kg) | €7.93 |
| Apples (1kg) | €1.56 |
| Potato (1kg) | €0.96 |
| Tomato (1kg) | €1.80 |
| Onion (1kg) | €1.14 |
| Lettuce (1 head) | €0.78 |
| Water (1.5-liter bottle) | €0.63 |
| Chicken Fillets (1kg) | €5.00 |
| Bottle of Wine (Mid-Range) | €4.00 |
Estimates are from Numbeo (as of January 2023).
Expected transport cost in Braga
Braga is quite large and well spread out; fortunately, there is a reliable public transport system that consists of buses and trains that will take you to whatever part of the city you wish to visit. However, it is important to mention that the local bus network is the most popular for moving within Braga. 
On the other hand, if you wish to travel to other towns within the northern region, the best way to travel is by train. Other than public transportation, there are also plenty of taxis that are a bit more expensive but give you the luxury and conveniences that a bus or a train does not have.
If you intend to explore the city, what better way to do it than moving around on foot? The narrow cobblestone streets will lead you to some of the iconic destinations within the city. Here is a breakdown of the transport cost according to the specific means.
| Expense | Cost |
| --- | --- |
| One-way ticket for local transport | €1.55 |
| Monthly Pass (Regular Price) | €26.75 |
| Taxi Start (Normal Tariff) | €3.00 |
| Taxi (one hour waiting and regular tariff) | €15.00 |
| Gasoline (1 liter) | €1.90 |
Leisure expenses
There are a lot of activities that you can do in this city. Braga is located in a valley, and the surroundings are just ideal for people who love the outdoors. If you are not out exploring the rich history of the city, then you can be out hiking and conquering nature out in the mountains. Another popular destination is Gerês, a national park with a beautiful lake where you can engage in various water sports, perfect for the weekend.
There are plenty of things to do in Braga, and the beauty of this destination is that all the activities are quite affordable. Here are other leisure activities that you can also engage in and a cost breakdown of each one of them.
| Expense | Cost |
| --- | --- |
| Gym monthly fee | €35.00 |
| Streaming platform basic price | €8.00 |
| Tennis Court Rent (1 Hour on Weekend) | €7.88 |
| Cinema, International Release, 1 Seat | €6.60 |
| Three-course meal for 2 at a mid-range restaurant | €30.00 |
| Imported Beer (0.33-liter bottle) | €3.00 |
What are the cheapest areas in Braga?
Although Braga is relatively cheap, there are cheaper destinations where you can live on a shoestring budget. One of those neighborhoods that are considered relatively affordable is the University quarter.
This neighborhood is home to the trendy side of Braga, so it is where most students live. This destination has plenty of housing options that come at different price ranges. This neighborhood is home to young professionals who are probably working at the University.
With Viv Europe your plans for Portugal
will finally come to a reality
What are the most expensive areas in Braga?
If you are looking for a rather exclusive neighborhood, preferably away from the chaos of the city, consider moving to the beautiful Bom Jesus do Monte. This destination is one of the most popular in northern Portugal.
Here, you will find more extensive properties with enough space and a lush green lawn perfect for raising a family. Also, the properties in this particular neighborhood are relatively larger compared to the university quarter, and the scenic views will provide a backdrop for a postcard-worthy image.
Is Braga more expensive than Porto?
Porto is not just the second biggest city in the country but also the largest in northern Portugal. Porto being the second capital of Portugal, it goes without saying that it is generally more expensive than Braga.
According to data from Numbeo, rent costs are about 34.9% higher in Porto than in Braga. Also, you will need about €3,124 in Porto to live the same lifestyle that you can get for €2,600 in Braga.
However, it is important to mention that living in Porto has other advantages you wouldn't find in Braga. For instance, more employment opportunities in the corporate world. On the other hand, living in Braga gives you the unique opportunity of living in a rather small town with access and conveniences similar to other bigger cities.
Is Braga more expensive than the Silver Coast?
Both Braga and the Silver coast are located in northern Portugal. First off, the Silver Coast consists of three cities, Aveiro, Coimbra, and Leiria. Now, regarding which destination is more expensive, it is worth mentioning that there is no big difference between the three districts and Braga. 
However, Braga is slightly more expensive if you are to pick one among the four cities. To give you some context, you will need about €2,595 in Aveiro to maintain the same standards of living that you would get with €2,600 in Braga, per Numbeo. It is also worth pointing out that groceries in Aveiro are 1.8% higher than in Braga.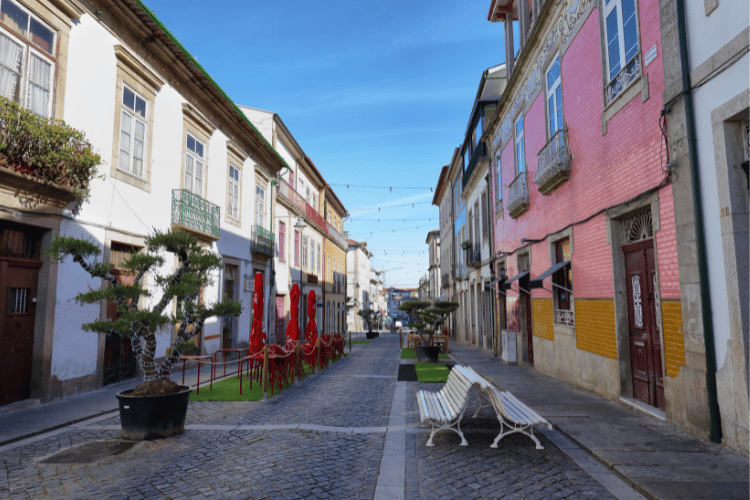 How much do the Portuguese earn in Braga?
Unfortunately, Portugal as a whole is not known for having the best salaries in Europe. In fact, Portugal is among the 13 nations in Europe with a minimum wage of less than the recommended €1,000. Braga is no different either; the national wage average in this city is just above the €760 national minimum wage, currently at €972.
While this is the case, it is also important to mention that Braga is also relatively cheaper, which means that every euro will go a long way. Nonetheless, trained and highly skilled professionals can earn more.
Is it worth the cost of living in Braga?
There is no one true answer to this question; unfortunately, depending on who you ask, you will get different responses. However, most expats find Braga quite affordable, especially when compared to the capital of Portugal and other major cities around the world.
With all the goodness that Braga comes with, it is quite surprising that the cost of living in Braga is affordable, yet the quality of life is also good. Although this might appear almost unreal, it is one of those things that you have to experience firsthand in order to believe.
When are you moving to Braga?
There are plenty of reasons why you should consider moving to Braga; not only is it a significant education hub, but it also has all the necessary facilities for everyday living. Generally, the beauty of this destination lies in its diversity, beautiful surroundings, and also the rich history that dates back a couple of centuries. And on top of this, the cost of living in Braga entices many people to explore it.
So whenever you are ready to make the bold move, be sure to reach out to our experts at Viv Europe. Be sure to also join our Facebook Group – All About Portugal For Expats, to get a chance to interact with other expats in Portugal.
When you're done researching your favorite places, contact Viv Europe and plan your relocation with professionals! No one knows the process better than experts who have made many Portugal enthusiasts' dreams come true.