Last Updated on January 2, 2023 by Laila Oliveira
Despite being one of the top tourist spots, the Algarve is full of exciting secrets. Some love it for the entertainment on the busy beaches, and others for the tranquility it offers. But which one does Loulé come under? Living in Loulé is certainly the latter.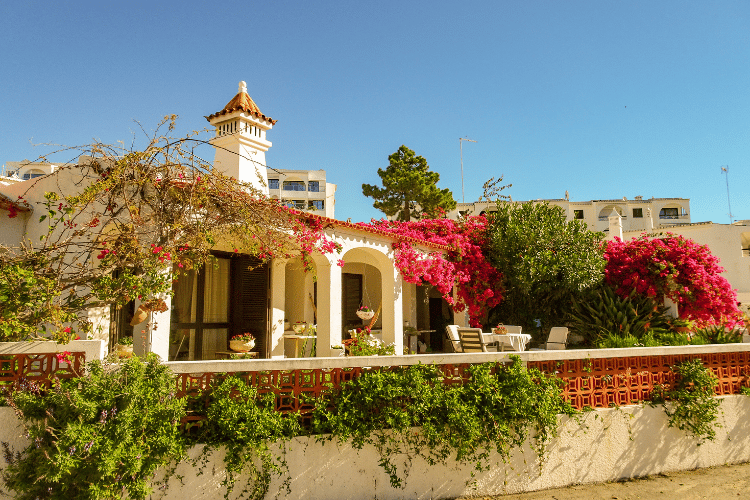 Being an authentic Portuguese city means having small street cafes, empty roads, and lots of nature all around you. It's a place loved by people above 40 years of age, and we can't say we don't understand why. 
Let's get into how this little secret of the Algarve is starting to gain popularity year by year. If you love what it sounds like, you'll be even surprised by what it looks like in real life! Get ready to experience what living in Loulé is all about. 
What is living in Loulé like?
Living in Loulé is like living in a place of sunshine and color, as well as fun and excitement. It's a small, quaint, traditional town in the Algarve situated about 15 kilometers northwest of Faro. 
The large colorful Moorish-inspired building of the Loulé market immediately draws your attention. It is home to a frequent and bustling produce market that dominates the town center.
The town of Loulé has an abundance of beautifully decorated chimneys, whitewashed stone structures, and wide open spaces where one can rediscover the meaning of solitude and listen to nature's silence.
It's a good place for curious visitors who want to taste the rich and distinct Portuguese culture and an even better one for those that wish to stay. 
Who lives in Loulé?
Loulé is home to around 72,000 residents, and it preserves the genuine essence of the region's history within itself. As per official data, foreigners make up 25.9% of city residents, compared to 18% a decade ago. 
In Loulé, 62% of the population is of working age, 23.5% are elderly, and 13% are young. Loulé is a town full of ordinary Portuguese people going about their business and genuinely cherishing the "lowkey town" life. People here afford the most reasonable lifestyle with low rents, low cost of living, and high purchasing power.
Besides that, Loulé is a thriving working-class city located far enough away from tourist attractions to retain its authentic Portuguese atmosphere.
Why are expats moving to Loulé?
Many people like Loulé because it's a typical working Portuguese town that has kept its identity and is not overrun by tourists. Loulé does not rely on tourism; As a result, it's easy to feel far away from the Algarve's tourist crowds here. If that's exactly what you're looking for, like many other people, keep reading! 
Here are three reasons why expats are moving to Loulé:
A small town that has everything
Loulé is the economic center of Portugal's Algarve region, where the coastal towns live from tourism, and the inland areas depend on trade and agriculture. It has a fantastic local produce market, a small castle, and cobblestone streets.
International schools and higher education facilities are easily accessible, and public and private schools are nearby. Saturday market is a very famous occasion, and you will also have access to many other markets in nearby towns and villages thanks to public transport.
And since more people choose to work remotely, with many Digital Nomads making Loulé their home, it's comforting to know that fast internet services are available.
Last but not least, property prices are relatively cheaper and can vary greatly depending on the standard criteria of size, the number of bedrooms, amenities, and land. For example, a two-bedroom rooftop apartment on the beach's first line costs €290,000. 
The Algarve region is developed
The facilities of one of the main tourist hubs spread further than just Faro!
The Algarve, on the coast of the Atlantic Sea, is Portugal's most popular vacation spot because it has clean beaches stretching for about 200 kilometers (120 miles), cool, unpolluted water, relatively inexpensive, and very safe and overall friendly people.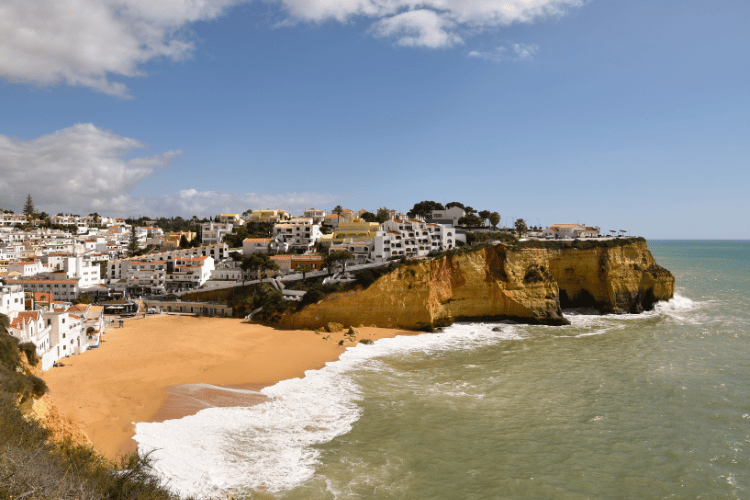 The region's popularity is aided by its warm climate and numerous beautiful beaches. The economy relies heavily on tourism, which has significantly altered the landscape and grown rapidly in recent years.
As a result, hotels, apartment buildings, and residential homes have all been constructed extensively. There's been development in transportation, educational institutes, and quality of life, and, additionally, numerous golf courses have been built along the coast, which has aided the popularity of the Algarve.
Digital Nomad friendly
Given its peaceful location and low cost of living, the lifestyle makes it a popular destination for digital nomads. Remote workers previously relied on the Passive Income Visa, but new rules have changed the game.
The New Digital Nomad Visa has made it incredibly easy to work in Portugal remotely for an entire year. And, of course, people benefit from this opportunity greatly. Let's look at a few things that make digital nomads love this place: 
Low taxes;
Low cost of living with a high income;
Visa free-traveling to any of the countries of the Schengen Zone;
Access to networking opportunities.
Even though nomads are scattered across the Algarve, Loulé could be the ideal hotspot for digital nomads. There are numerous communities for coworking and networking even outside the town, for example, the Digital Nomad Village in Madeira.
A small coworking space in Loulé, Mucancas, is one such example. It offers showers, espresso and tea, printers, a kitchen, storage, a meeting room, and a free parking area. The price range ranges from €15 for a day and €150 for a month. Isn't that so cool and convenient? 
Buying a property in Loulé
No one can do without finding a new home to live in! Whether rented or bought, prices in Loulé are definitely cheaper than those in Lisbon or the main Algarve region.
Property prices in the town and surrounding areas vary greatly based on the standard criteria of size, the number of bedrooms, facilities, and land. Irrespective of the intention, whether for investment or personal use, purchasing a property in Loulé can be a great deal.
As a result of continuous investment in the region and expats' interest in relocating here, property prices have increased by 18% compared to 2021. However, they are still much cheaper here compared to surrounding municipalities. According to Idealista, the average price per square meter in Loulé starts from €3,751, but it can start from €1,300. Depending on your preferences, you can look for standard flats, villas, bungalows, or property near a beach.
Here's a breakdown of prices in nearby places:
| Parish | Price per/m2 |
| --- | --- |
| Loulé | €3,751 |
| Alte | €1,389 |
| Boliqueime | €2,505 |
| São Clemente | €2,599 |
| Almancil | €5,048 |
Estimates are from Idealista (as of January 2023).
Renting a flat in Loulé
Renting a flat in Loulé can be a great choice for those looking for a comfortable and convenient place to live. Loulé is known for its beautiful beaches, historic landmarks, and vibrant culture.
The town offers excellent accommodation options such as apartment rentals, condo rentals, and villa rentals that face the sea and take pleasure in sinking your toes into the golden sand. However, rental prices are still very cheap. You can easily get a one-bedroom apartment for as low as €590.
Is it better to live in Loulé or Faro?
Both these places have similar natures: peaceful and calm. However, they are still distinct in their own way.
The cost of living in Loulé is significantly lower than in Faro and is mainly occupied by the working-class population. It's a town with a solid character and a great deal of history in the castle ruins and walls along the roads. 
Additionally, property prices in Loulé are also quite reasonable, the average salary is high, there are numerous job opportunities, and it's much less crowded than any other city in the region.
On the other hand, Faro is quieter than Loulé, especially in winter. The city is rich in culture and history, as evidenced by the stone-paved paths and ancient walls. Faro is also popular with retirees because it has a mix of busy and quiet areas, such as peaceful plazas where you can enjoy your morning coffee in the sun. But since it is more popular and has a high tourist influx, everything is much more expensive.
Is living in Loulé better than living in Lisbon?
It's time to compare Loulé to the country's favorite city – Lisbon! 
Life in Lisbon and Loulé are polar opposites. Lisbon is the country's capital, with better infrastructure, modern transport, and technological advancements. It is also most famous as it is famous amongst everyone; digital nomads, entrepreneurs, tourists, just about everyone. Thus, it's no surprise that living in Lisbon is much heavier on the pocket.
You can remain connected to the capital city since Loulé is about 2.5 hours away from the capital by bus. Living in Loulé will keep you away from all the hustle and bustle in Lisbon. 
On the contrary, if you've spent some time in Lisbon, you might feel a gap in infrastructural development between the two cities. Loulé is definitely on the path to having better public transport and healthcare facilities, but as of now, Lisbon might top the list.
What is the cost of living in Loulé?
Living in Loulé is generally quite affordable, particularly when it comes to food, drinks, and utility bills. Depending on an individual's particular financial decisions, a couple can live in Loulé for under €1,200 each month. With a €5,000 monthly income, you can easily live in luxury, which many retirees may opt for if they're retiring from abroad. 
Take a look at the average cost of living in Loulé:
| Expense | Cost |
| --- | --- |
| Apartment Rent (one-bedroom) | €590 |
| Apartment Rent (three-bedroom) | €1,107 |
| Groceries | €200 |
| Utilities | €68 |
| Fitness Club | €30 |
| Restaurants (One Meal) | €20 |
| Transportation (Monthly Pass) | €35 |
| Cinema | €7 |
| International Primary School, Monthly for 1 Child | €688 |
Data is from Numbeo (as of January 2023).
Safety living in Loulé
The overall safety of Loulé can also be attributed to the strong presence of the Portuguese police force and the low levels of corruption in the country. In addition, Loulé has several CCTV cameras in public areas, which can help to deter crime and assist in the investigation of any incidents that do occur.
Overall, Loulé is a safe city to live in, with a low crime rate and a strong police presence. We will always reiterate that it's important, as with any city, to take precautions and be aware of your surroundings, but Loulé is generally considered a safe place to live.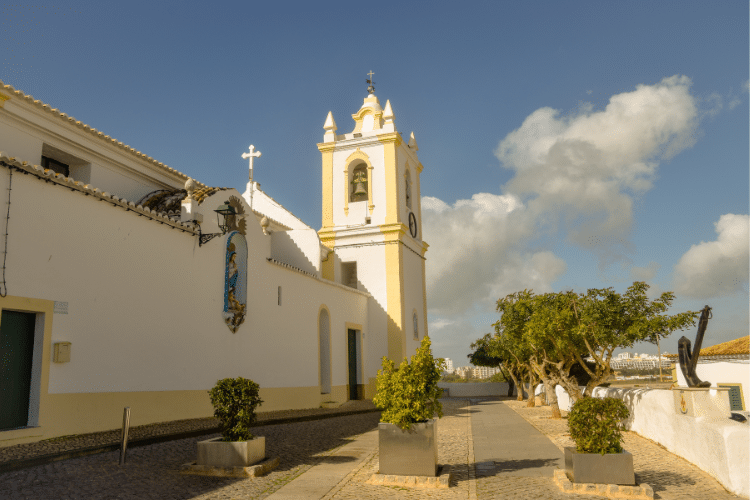 Access to healthcare in Loulé
In order to get access to healthcare, you may want to contact the municipality or the Portuguese National Health Service (Serviço Nacional de Saúde), as SNS provides universal access to healthcare for all citizens and residents.
The SNS operates a network of hospitals, clinics, and primary care centers throughout the country, including in Loulé. You will still be required to pay some fees. However, these fees are generally low and waived for certain groups, including children, students, and low-income people.
Healthcare in Portugal is free for all legal residents, so all you'll have to do is have your Número de Utente and visit a public hospital. Sometimes healthcare can be slow in public hospitals, but you can rely on the many private hospitals equipped with the best facilities. 
Work labor in Loulé
Although high-salary job opportunities in Portugal can be difficult to come by, finding work in Loulé is nevertheless simple.
You will find jobs in various industries, including technology, tourism, consultancy, real estate, and customer service. And most importantly, salaries in Loulé are much more than the minimum wage.
Thanks to its strategic locations, any business has the potential to flourish and cross borders. Remember how we talked about this town being an economic hub?
Education in Loulé
Education is one of the most important aspects that drive expats to Portugal. Just like the rest of the major cities in Portugal, there are both public and private schools available for primary and secondary education in Loulé. Higher education is provided by universities and polytechnics, which offer undergraduate and postgraduate degrees.
In addition to formal education, several adult education centers in Loulé offer non-formal education and training programs for adults.
Overall, education in Loulé is an important part of the city's social and economic development, and Portugal's government strongly emphasizes ensuring that all citizens have access to quality education.
How can a foreigner move to Loulé?
Moving into Loulé is pretty simple and will be a smooth process if followed correctly. Here are some critical steps to follow:
Obtain a Visa: Depending on your nationality and the purpose of your stay in Portugal, you may need to obtain a Visa. The D7 Passive Income Visa and D2 Business Visa are popular amongst expats. 
Rent or purchase a home: You will need to start looking for rental properties or homes for sale in the area.
Register with the local authorities: Next, you will need to obtain a Portuguese ID card. This will allow you to access public services and open bank accounts, among other things.
Enroll in the Portuguese healthcare system: You should enroll in the Portuguese healthcare system. This can be done through your local health center (Centro de Saúde).
Sure, this may seem a little too simple; how about talking to a professional that'll take care of the entire process for you? 
Is it worth living in Loulé?
Some people may find living in Loulé appealing because of its warm climate, proximity to the coast, and relaxed way of life. The Portuguese culture and standard of living of its local population become more evident here.
With a low cost of living, great job opportunities, the slow pace of life, and access to amenities and services, it is definitely worth it. However, it's essential to consider your personal preferences and needs. What may suit others may not suit you, and it's important to visit the town once before you make the decision to live long-term. 
Do you need help moving to Loulé?
Is a guide on living in Loulé enough to make you want to go on a scouting trip to Portugal? Although the town isn't drastically different from Portugal, it has a more authentic and rich vibe compared to other tourist hubs. 
It's always a good idea to contact people living here or ask those that went through this process before you. Join our Facebook Group – All About Portugal For Expats, and ask other expats what they think of Loulé.
Once you're ready to start planning, contact professionals from Viv Europe and start working on your dream life step-by-step. From Visa applications and expanding your business to enrolling your child in school and finding a property, let us handle everything. Happy planning!