Last Updated on October 9, 2023 by Laila Oliveira
Guimarães is nestled amidst picturesque landscapes and historical sites of Portugal. This "birthplace of Portugal" uniquely blends an old-city charm and modern amenities. While exploring the city center's cobblestone streets or enjoying delicious local cuisines, you'll find the cost of living in Guimarães to be as pleasant as the lifestyle there.
In this article, we'll unravel the living costs, rent prices, affordable neighborhoods that offer a posh lifestyle, and much more. So sit back, grab a coffee, and embark on this journey together!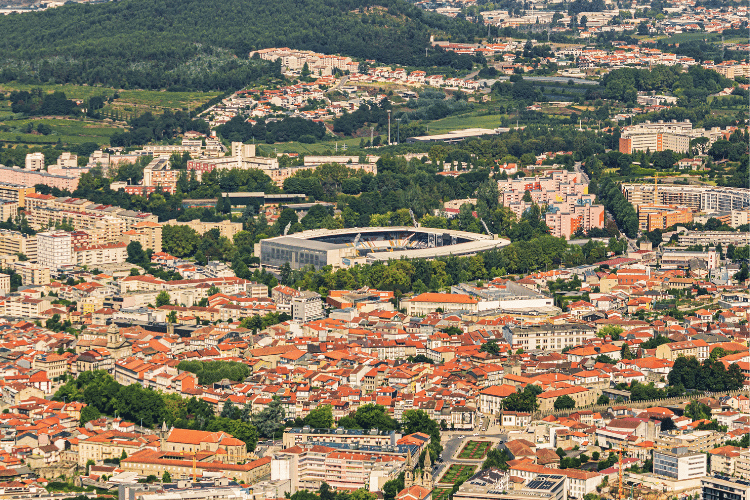 How expensive is Guimarães?
Let's set the facts straight. Guimarães is an affordable place for expats to live in. If you want to stretch your budget, the region is ideal as its cost of living is lower than many other European cities that offer the same amenities.
To tackle accommodation first, you'll find various housing options to suit your budget. Whether you prefer a cozy apartment in the city center or a spacious villa in the outskirts, Guimarães has something for everyone. Renting or buying property here is generally more affordable than in larger cities in Northern Portugal.
Daily expenses, like groceries and dining out, won't leave a dent in your wallet either. Local markets and supermarkets offer reasonably priced fresh produce, making it easy to whip up delicious meals at home. And when you feel like indulging in the local cuisine, dining out can be managed well under your budget.
Sounds like a good deal so far! Continue reading to learn specificities about the cost of living in Guimarães!
What is the cost of living in Guimarães for expats?
The city offers excellent value for money, from rent to groceries to transport. Check out the table below for a breakdown of the overall cost of living in Guimarães. We'll get into details one by one.
| Expense | Cost |
| --- | --- |
| Apartment (1 bedroom) in City Centre | €675 |
| Apartment (1 bedroom) Outside of Centre | €533 |
| Apartment (3 bedrooms) in City Centre | €816 |
| Apartment (3 bedrooms) Outside of Centre | €533 |
| Groceries | €250 |
| Utilities | €116 |
| Public Transport Pass (Monthly) | €30.00 |
| Gym Membership | €31.25 |
All estimates are from Numbeo (as of October 2023).
Cost of rent in Guimarães
Generally, Guimarães offers a range of rental options to suit different budgets. But in popular expat areas like Oliveira do Castelo or São Sebastião, you can expect higher rental prices due to their desirable locations.
But on average, you can find a single-bedroom apartment in the city center for €675 and a similar one for €533 outside the city center. These figures can fluctuate based on market conditions and individual property features.
In case you're having trouble finding a good deal and need some assistance, feel free to get in touch with Viv Europe's real estate experts to find a property that ticks all your boxes!
House bills
Next up, we're discussing a very important expense. Electricity, cooling, heating, water, and internet! A few things that you simply can't live without.
The best thing about house bills is that they remain mostly constant throughout the country. Even if you're in Lisbon, you won't notice a drastic difference in your essential utility bills.
Electricity costs for a moderate-sized apartment can range from €40 to €60 per month, depending on your usage and the season. Water bills usually amount to around €20 to €30 monthly.
The table below shows a breakdown of the most important bills you'll incur. However, remember that these values change if you live in Guimarães with family.
| Utility | Cost |
| --- | --- |
| Electricity, Heating, Cooling, Water, Garbage | €116.67 |
| TV channel package and wifi | €35.00 |
| Mobile internet and phone call package | €18.50 |
Average spending on food
Spending on food is a cost that hugely depends on your lifestyle choices. Thankfully, the Portuguese absolutely love cooking healthy meals at home compared to eating fast food. Hence, the average spending on food does not increase the cost of living in Guimarães by a considerable margin.
If you prefer dining out, you can have a decent meal for two for only €40. And if you have a taste for fast food, a McMeal at McDonald's or an equivalent meal with a 0.5-liter domestic beer would cost you about €9. It can definitely add up to a lot if you're doing this every day or multiple times a week.
But the Portuguese culture will slowly grow on you, and you'll notice that farmer's markets are the way to go! Groceries can be bought for under €220 if you shop wisely.
Here's a breakdown of average spending on food for your convenience:
| Expense | Cost |
| --- | --- |
| Milk (1 liter) | €0.73 |
| Loaf of Fresh White Bread (500g) | €1.10 |
| Rice (1kg) | €0.96 |
| Eggs (12) | €1.83 |
| Local Cheese (1kg) | €7.50 |
| Chicken Fillets (1kg) | €5.67 |
| Beef Round (1kg) | €11.00 |
| Apples (1kg) | €1.23 |
| Banana (1kg) | €1.24 |
| Oranges (1kg) | €1.12 |
| Tomato (1kg) | €1.66 |
| Potato (1kg) | €1.45 |
| Onion (1kg) | €2.03 |
| Lettuce (1 head) | €1.08 |
| Water (1.5-liter bottle) | €0.38 |
| Bottle of Wine (Mid-Range) | €3.00 |
| Domestic Beer (0.5-liter bottle) | €1.30 |
| Imported Beer (0.33-liter bottle) | €3.67 |
Expected transport cost in Guimarães
Transport costs are essential when budgeting the cost of living in Guimarães, especially if you must commute a lot for work purposes.
If you're a regular traveler for your work or school, you can invest in the monthly pass for €30. On the other hand, a one-way regular ticket comes at an average of €1.80, which is almost equal to 1 liter of gasoline.
But if you're more comfortable with a taxi or buying your own vehicle, evaluate the breakdown below:
| Expense | Cost |
| --- | --- |
| Taxi Start (Normal Tariff) | €3.00 |
| Taxi 1km (Normal Tariff) | €1.20 |
| Taxi 1 hour Waiting (Normal Tariff) | €10.00 |
| Gasoline (1 liter) | €1.82 |
| Volkswagen Golf 1.4 90 KW Trendline (Or Equivalent New Car) | €23,050 |
| Toyota Corolla Sedan 1.6l 97kW Comfort (Or Equivalent New Car) | €23,370 |
Leisure expenses
You'll be pleased to know that there are multiple leisure options to enjoy in the area. Guimarães offers a range of entertainment choices like dining out at local restaurants, exploring the vibrant markets, and attending cultural events. Pretty surprising for a city that's not a huge tourist hot spot, right?
You can indulge in authentic seafood dishes at Garfox Faca or reserve a table at Casa Amarela to enjoy contemporary Portuguese and Mediterranean cuisines. Shopping spaces such as GuimarãeShopping are an iconic addition to the lively atmosphere and a great place to treat yourself or spend your Saturday at.
But if that isn't your cup of tea, a fitness club membership can cost around €31.25, while the rent of a tennis court adds up to €7.50 hourly. Additionally, if your idea of a good weekend relief is a nice film, you'll be interested to know that a cinema ticket costs only €7 per person.
Exploring different options and finding the best deals to make the most of your leisure time in Guimarães is always a good idea. There's no time to stay bored!
With Viv Europe your plans for Portugal
will finally come to a reality
What are the cheapest areas in Guimarães?
The beauty of the city is that it has a home for everyone. So, if you're unwilling to pay a fortune for your house or rental, you can find several budget-friendly neighborhoods with a good quality lifestyle.
Expats usually prefer the area of Azurém, where you can find apartments for €2,067 per square meter. Azurém is located a little further from the city center, so the neighborhood has a tranquil environment. Plus, it is close to the University of Minho, so many students also reside there.
The property valuation has risen 45% since last year, so it might not be the cheapest area by the time you come here. But it is definitely a great deal for what it offers.
Ronfe, Silvares, and Ponte are three other neighborhoods with low rent costs. Ronfe is close to the city center and offers a suburban feel, while Ponte is also surrounded by amenities. You can find a 50m² apartment for nearly €120,000 in Ronfe and a similar one for about €55,000 in Ponte.
What are the most expensive areas in Guimarães?
If a more lavish life is your calling, Guimaraes isn't short of posh neighborhoods that bring some luxury into your life!
São Sebastião is a popular upscale neighborhood near the city center. It is famous among expats for its perfect blend of Portuguese historical character and modern amenities. But rent can reach up to a monthly of €1,600 for spaces as wide as 140m².
Another two posh areas preferred by expats are Caldelas and Santo Amaro. The neighborhood attracts people with its natural beauty, hot springs, and tranquil atmosphere. Santo Amaro may have higher property costs, especially for modern homes.
Is Guimarães more expensive than Porto?
Porto, Portugal's second-largest city and an economic hub, has a higher living cost. The cost of living in Guimarães is much lower, specifically for rent, entertainment, and dining out.
For example, rent is 42.5% lower in Guimarães than in Porto, while groceries are 15.6% less costly than in Porto. To compare, assuming you're renting, you'll need around €3,300 in Porto for a lifestyle you can have for €2,631 in Guimarães.
Guimarães' lower living cost does not equate to a lower quality of life. Sure, Porto may have a more robust job market or more amenities, but both cities have their unique selling points.
The charm of Guimarães lies in it being a more budget-friendly choice without compromising on the rich Portuguese culture and experiences.
Is Guimarães more expensive than Braga?
While the cost difference is minimal, Guimarães is still cheaper than Braga. Braga holds the title of being one of the most affordable cities in Portugal, but it is slowly gaining popularity. Braga, also in the Northern region, offers low housing costs and reasonable prices for daily necessities.
As seen in this article, while Guimarães is slightly smaller than Braga, it shares a reputation for affordability.
For example, if you're renting, you'll need €2,900 in Braga for the similar lifestyle you can have for €2,664 in Guimarães. Rent prices are only 19.1% less in Guimarães, and dining out costs are 2.3% less than in Braga.
How much do the Portuguese earn in Guimarães?
What you'll earn will ultimately depend on your job, but the city's average monthly salary is under €1,000.
In Guimarães, the textile and clothing industries are most popular, given the region's tradition in the sector. But engineering and technology-related posts are also prevailing. This is primarily due to the presence of industrial parks and the University of Minho, which has a thriving research environment and the presence of youth-led initiatives.
Overall, the pay in Guimarães is lower than in larger cities like Porto or Braga, where the average income is approximately €1,300 after tax.
But it is important to remember that the cost of living in Guimarães is also much lower than in major cities in Northern Portugal. So the reduced expenses balance out the salary.
Remember to research specific industries and positions to understand better the salaries in your respective fields in the city. Many remote workers also benefit from the city's living standards and the low cost of living!
Is it worth the cost of living in Guimarães?
There is no denying that Guimarães may not have the hustle and bustle of a major city. It may not be flourishing with diverse job opportunities like the larger urban centers. But it has its charm. The city offers a unique blend of city life and natural beauty, attracting expats to its parks and green spaces.
Plus, the primary reason expats choose to live there is its affordability. The city helps you live a quality lifestyle without breaking the bank. Let's not forget it is in close vicinity to Braga and well connected to Porto, which puts it in an ideal location to pursue job opportunities there. This also opens up great options for weekend retreats and entertainment.
When are you moving to Guimarães?
If you've made it this far, you're most likely interested to know more! Join our Facebook Group – All About Portugal For Expats, to engage in discussions, read stories, and meet new people! It's a platform where you can connect to other expats and learn from their experiences. Discover whether Guimarães really is worth it and what would make it easier for you to relocate there. 
For guidance with relocation, it's best to contact professionals who know what they're doing. Book a consultation with Viv Europe and get the help you need to move to Guimarães! Good luck!