Last Updated on August 24, 2023 by Maryam Siddiqui
Are you thinking of buying a house in the Algarve? Investing in a property in one of the most sought-after holiday destinations in the world is not at all a bad investment.
The Algarve is a dream destination for many people around the world thanks to the beautiful beaches and warm weather all year round. Plenty of low-cost airlines to the Faro International Airport make this city easy to access. Because the Algarve is a popular holiday destination, there are plenty of reasons why you should buy property here, whether for commercial or personal reasons.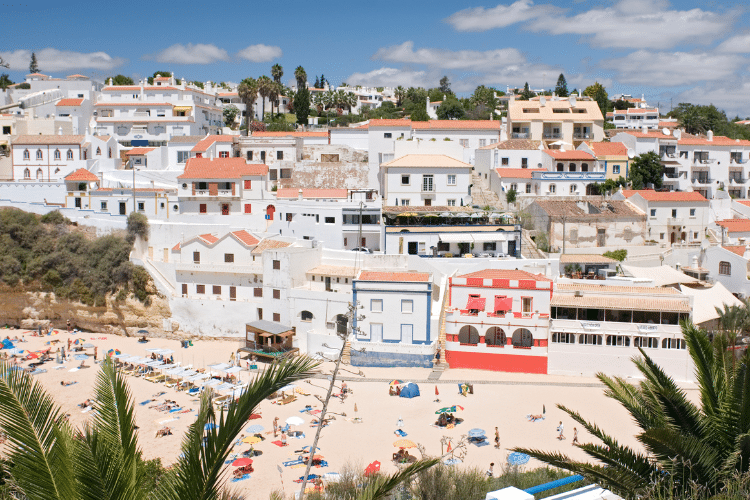 So, how do you buy a house in the Algarve as a foreigner? Is buying a house in the Algarve a worthy investment, especially for expats?
These are a few of the questions that this post seeks to answer. You will also get insight into the real estate industry in Portugal, and ultimately, you should be able to make a sound investment decision. Let's get right in!
Why should I think about buying a house in the Algarve
The real estate industry in Portugal is booming, and the Algarve is right at the center of it all. The past couple of years have seen an increase in the volume of real estate transactions in the country. And foreign investors are taking advantage. Here are reasons why you should seriously consider investing in real estate in the Algarve!
The Algarve is a European summer paradise
Boasting more than 300 days of sunshine all year round and over 100 miles of beautiful coastline, the Algarve is indeed among the best mother nature has to offer to the world.
But that is not all. Other than the scenic beaches and pristine blue ocean, the Algarve has plenty of landscape and wildlife waiting for you!
It, therefore, makes perfect sense why this historic city is a popular holiday destination, and tourists flock in droves every summer.
The Algarve has plenty to offer, and the opportunity of owning a home in this region in Portugal should not pass you by.
Think about the convenience when you are on holiday. It gets even better if you are looking to retire in Portugal; living in the Algarve might be the best decision you have made so far!
Portugal offers benefits for foreign investors
Three-quarters of the population living in Portugal own their homes.
While this may seem like a huge ask for expats, the government of Portugal has several incentives that are meant to encourage foreign investors to pitch their tents in Portugal.
Foreigners looking to invest in real estate in Portugal stand to benefit from the many tax benefits in Portugal.
Depending on where you choose to invest and the nature of your investment, you might be eligible for the Golden Visa program.
While this might not be possible in the Algarve, you will still be privy to the Non-Habitual Tax Regime as an investor in the country. The Regime offers decade-long generous tax incentives for foreign real estate investors!
The real estate market is booming
The real estate market in Portugal has continuously been on the rise thanks to the country's improving economic conditions. 
The prices of real estate properties have steadily risen since 2014. And are not showing signs of slowing down, thanks to the increase in demand. 
What this means for you as an investor is that the future prospect of selling or renting out the property is great since the property will only increase in value.
There is a powerful expat community all over the Algarve
It goes without saying that the Algarve is the most popular destination not only in Portugal but also in Europe. Therefore, it doesn't come as a surprise that plenty of expats, both tourists and retirees choose to settle here. 
The Algarve covers an area just shy of 5000 square kilometers. This relatively small piece of real estate is home to over 400,000 residents, of whom 10% are expats.
The number will only increase as the Algarve is becoming more popular among travel communities around the world.
What does this mean as far as buying a house in the Algarve is concerned? Well, as an expat, it will be easier for you to integrate into the community if you live among others who have been in the same spot before you. 
Can a foreigner buy land in the Algarve?
Of course, foreigners who want to purchase residential land here in the Algarve are more than welcome to do so. 
One unique quality about Portugal is that the government puts deliberate measures in the way of incentives to make sure foreigners are motivated to purchase property in Portugal.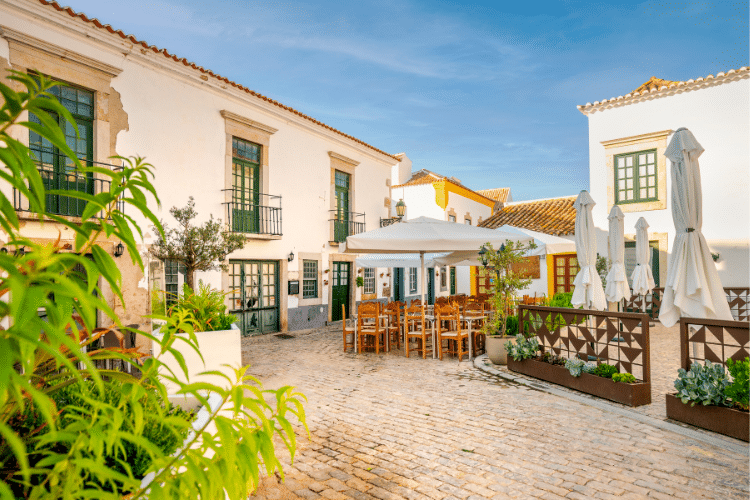 Programs like the Golden Visa, Non-Habitual tax fund, and the opportunity to get a five-year residency permit are just but a few of the many incentives foreign investors can take advantage of. However, the Algarve has been off-limits for commercial investments through the Golden Visa since 2022.
This was done in order to promote investments in other areas of Portugal that need it more. But there are small cities in the Algarve that are open for expats who wish to buy property for residential purposes.
Step by Step process to invest in real estate in the Algarve
Despite Portugal accommodating foreign investors, the public service system is quite bureaucratic. 
In this regard, we have dug deep into the process of investing in real estate so that you don't have to. Here are what you need before becoming a homeowner in the Algarve.
Research and choose your investment
The process of investing in the real estate industry starts by first identifying your objective for the investment.
There are plenty of properties, each valued differently and also located at different places across the city.
Ask yourself, what is my budget? What areas within the city will I get the best deals from my budget? Am I looking to rent out the house or live there with my family?
These are some of the questions that will allow you to make a sound investment decision. Do your due diligence, and don't rush into purchasing any property thrown your way.
Prepare the paperwork
Again, you should know that any public service in Portugal has its fair share of paperwork. 
While you do not need to be a resident of Portugal to purchase property in the country, you will need to have some Portuguese paperwork to make the process valid. 
First and foremost, you will need to have the Portuguese Tax Identification number NIF (Número de Identificação Fiscal). Schedule a visit to any government financial office to get this number. 
You will also need to show an identification document that is valid in Portugal, for instance, a passport.
Lastly, you will also be required to show proof of your source of income from your home country.
Visit the property in the Algarve
Once you have identified a few properties that you might be interested in, it is time to visit Portugal and look at the properties. 
While you can have someone assess the properties on your behalf, for personal satisfaction, it is recommended that you confirm the property's validity and also look at the condition it is in.
Get to meet the former owner, and build a rapport with them; you might have further room for negotiations.
Get your document settled in Portugal
This is the final bit of significant paperwork you should handle before the process of buying a house in the Algarve is complete. This series of paperwork is done purposely to gather the documentation of the property you intend to purchase. 
Housing Technical File (Ficha Técnica de Habitação): This document highlights all the technical documentation of the property you want to purchase. 
The license of Use (Licença de Utilização): You can request this document from the local town hall. Its purpose is to check whether the property is approved for the purpose of the initial building permission.
Building book (Caderneta Predial): A unique identification document of that particular property issued by the tax authority. This document also shows previous tax compliance.
Certificate of Land Registry (Certidão do Registo Predial): This document is issued at the local land registry offices and is used to show who owns a particular property.
With Viv Europe your plans for Portugal
will finally come to a reality
Transfer the payment and sign the deed
Today, it is easier to send money to Portugal even when you are away from the Eurozone. Plenty of reliable companies promise safe and secure money transfers without having to deal with tedious bank processes.
Good examples of reliable companies are Wise, Xoom, and World Remit. Do your due diligence on the best time to make a money transfer that will involve converting your money to Euros. 
Also, only make payments once the contract is signed and you have confirmed that the payment method is legitimate.
Once everything is set and done, it is time to transfer the ownership of the property to your name. Welcome to the Algarve!
How much does it cost to buy property in the Algarve region?
It is important to mention that property in the Algarve is valued differently depending on the specific city.
Here is a breakdown of property prices in different city centers in the Algarve. This should give you a rough idea of how prices are valued.
All estimates are from Idealista (as of August 2023).
How much is rent in the Algarve region?
On average, rent in the Algarve region is cheaper than in other bigger cities in Portugal, for instance, Lisbon or Porto.
However, within the Algarve region, different cities have different rates for house rents. Here's a breakdown of the average rent prices in the major cities within the Algarve.
| City | Average Rent per m² |
| --- | --- |
| Loulé | €16.0 |
| Lagos | €14.5 |
| Albufeira | €13.6 |
| Portimão | €11.9 |
| Tavira | €11.8 |
| Faro | €11.6 |
| Olhão | €10.3 |
All estimates are from Idealista (as of August 2023).
Can I apply for a Portugal Golden Visa to invest in a property in the Algarve?
As we mentioned, unfortunately, at the beginning of the year 2022, it is no longer possible to qualify for the Golden visa program through investment in real estate in the coastal or metropolitan cities, for example, the Algarve, Lisbon, among others. 
This is to encourage foreign investment in other low-density regions in Portugal. 
The real estate industry in Portugal is promising; you should not limit yourself to the major towns only. Other regions still have so much to offer as far as real estate is concerned.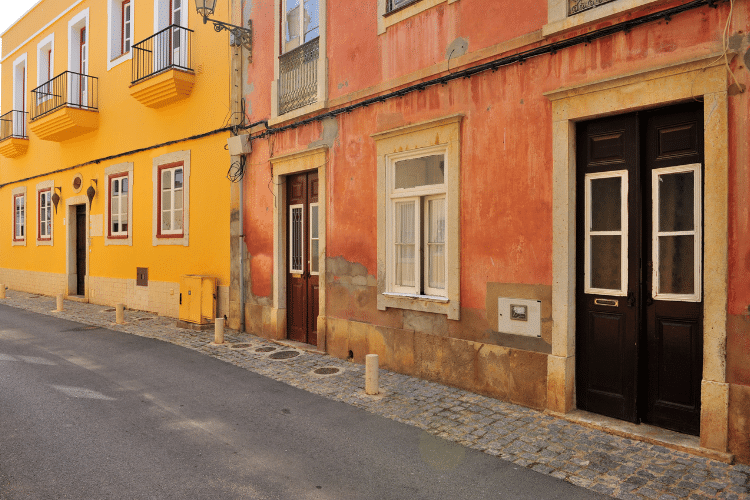 Is making a real estate investment in the Algarve region worth it?
Investing in the real estate industry in Portugal is a good venture. Today, there is more demand for housing than the supply can handle.
Many cities in the Algarve are tourist hubs, and rental returns are at their highest during the holiday season. This makes rental property investment in the Algarve a sound financial decision.
The decision as to whether you should invest or not remains with you. Only through thorough research and due diligence will you be in a position to make the right decision.
When are you buying a house in the Algarve?
Since Portugal is slowly getting its footing after the economic crisis, the real estate market is also breaking new ground.
The demand for housing outweighs the available supply, which means there is no better time to take your stake in this industry than now. So are you ready to move to Portugal and possibly end up buying a house in the Algarve? We would love to help you fulfill this dream. 
Experts are waiting to help you; contact professionals at Viv Europe and walk through the process with details. Find out why it's important to get it right on the first try! 
If you'd like to talk to expats who've been through the process, join our Facebook Group – All About Portugal For Expats and ask questions. You can find answers to everything you're looking for!