Last Updated on April 21, 2023 by Laila Oliveira
Although there are plenty of beautiful destinations in Portugal, it is hard to beat the fairytale allure that the city of Sintra is known for. Living in Sintra almost feels like stepping into a fairyland straight from a kid's book. This magical destination is located about 30 minutes from Lisbon, which makes it a great destination for anyone interested in living close to the capital.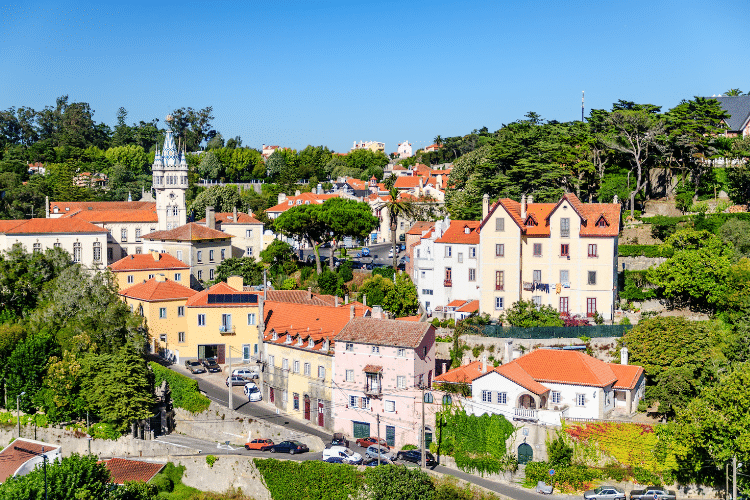 Sintra boasts of having a little bit of everything. Right from a rich cultural heritage and natural beauty all the way to colorful palaces and old towers. There is plenty to see and do in this destination. However, one of the most common questions among expats is, "What is living in Sintra like?"
If you are considering moving to this destination and cannot wrap your head around this question, this post is for you. Stick around as we attempt to peel back the layers of this magical city.
What is living in Sintra like?
Let's face it, one of the main reasons that get expats interested in living in this city is the enchantment. While this is true, there is so much more to Sintra than the colors and fairytale vibe. So to get you up to speed on exactly what living in Sintra is like, take a look at this breakdown.
Nature and history
If you are looking for an escape from the busy city life to a destination that is more relaxed and close to nature, then Sintra will be ideal. The city of Sintra sits right in the middle of nature, with plenty of woodlands and meandering hiking trails that you can hike.
Located close to the vast Park Natural de Sintra-Cascais, the surrounding landscape around this city remains unchanged. The beautiful forest in the park is home to ancient palaces and castles that preserve great history. From one direction, the Moorish castle remains visible, and the colorful Palácio de Pena sits elegantly in the other.
And that's not all; in the city square, the medieval palace of Sintra today serves as a museum that has preserved ancient history. It goes without saying that Sintra is the right destination for expats who love nature and history.
Good quality of life
As mentioned earlier, Sintra is not too far from Lisbon; however, the lifestyle in this city is quite different. To begin, Sintra is divided into two; the old town, which is a popular tourist attraction. And the new town where all the activity is.
Here you will find all the conveniences of modern life. For instance, shopping malls, multinational companies, and leisure centers, just to mention a few. Other than that, the weather in Sintra is mild, and walking on the city's meandering streets will give you a different kind of adventure.
Friendly to digital nomads
Given the peaceful and tranquil life that you can have, this destination is becoming quite popular among digital nomads from around the world. Unlike a few years ago, when digital nomads only had to rely on the passive income Visa to get entry into Portugal, the new Digital Nomad Visa is making it possible for remote workers to live their dream in Portugal for one year.
During their stay in Portugal, remote workers will be able to enjoy all the advantages that come with living in Portugal. For instance, low taxes, free travel within the Schengen area, and a lower cost of living.
There are several coworking spaces in Sintra that you can take advantage of. Other than getting a quiet and relaxed atmosphere to get your work done, this is also the perfect avenue for meeting other foreign nationals who are living in Sintra.
Buying Property in Sintra
The good news is that Portugal is among the few European countries that have made it easy for expats to buy property. That said, buying property in Sintra is a dream come true for many experts. And the process is no different from what the local folks follow.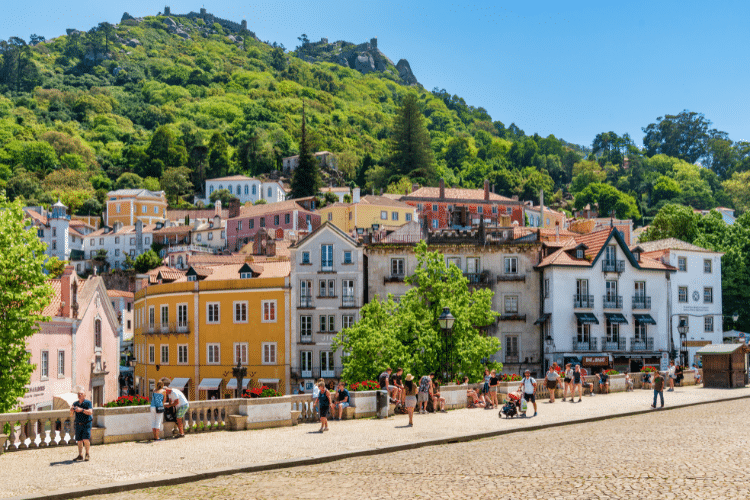 You will need to present a series of documents to legitimize the purchase. When it comes to the cost of properties, Sintra is among the few destinations close to Lisbon where the cost is still relatively lower.
According to data from Idealista, the cost of property in Sintra per square foot is about €2,258 while a similar-sized property in Cascais is almost double the cost averaging €4,499 per square foot. Whether you are looking for property for business or residential purposes, buying one in Sintra is a good idea.
Here is a breakdown of the cost of property in popular neighborhoods.
| Neighborhood | Price per/m2 |
| --- | --- |
| Sintra | €3,382 |
| Agualva e Mira – Sintra | €2,133 |
| Algueirão – Mem Martins | €2,053 |
| Cacém e São Marcos | €2,033 |
| Casal de Cambra | €1,988 |
| Almargem do Bispo – Pêro Pinheiro – Montelavar | €1,854 |
Estimates are from
Idealista
(as of April 2023).
Renting a flat in Sintra
Similar to buying property, renting a flat in Sintra is also relatively cheaper compared to other cities. However, how much you will pay per month will depend on factors like the size of the house, the current condition, and also the location.
The beauty of living in Sintra is that there are different apartments depending on your needs. Whether it is a townhouse, a beach house, or even a rental in the countryside, there is something for you. On average, the cost of renting a flat in Sintra is about €11.3/m2.
Is it better to live in Sintra or Lisbon?
Well, to begin, it's important to point out that no city is better than the other; it all depends on your personal preferences and needs. In fact, both destinations come with their distinct advantages and disadvantages that will appeal to different people.
To put some context to this, the cost of living in Sintra is relatively cheaper compared to Lisbon, making this destination ideal for anyone living on a tight budget. However, on the flip side, living in Lisbon, Portugal's capital, comes with more advantages despite the higher cost of living.
There are more employment opportunities compared to Sintra, thanks to the sheer number of local and multinational companies available. The beauty of living in Sintra is that you can easily enjoy the benefits of the capital because of its close proximity.
Is living in Sintra better than living in the Algarve?
There is no doubt that the Algarve is one of the most popular destinations in Portugal for tourists and expats. The well-preserved pristine beaches and warm weather are just a few major draws to this destination.
Sintra and the Algarve have a lot in common, they both have beautiful beaches and are quite popular among tourists. Where these two destinations differ is regarding the cost of living.
Similar to the comparison with Lisbon, the Algarve is relatively more expensive than Sintra. The cost of renting and buying property is comparatively higher in the Algarve region relative to Sintra.
What is the cost of living in Sintra?
Although Sintra is by far not the cheapest destination in the whole of Portugal, the cost of living in this destination is far cheaper compared to other places in Europe and also North America.
As an individual, you will need about €981 inclusive of rent to live on every single month, while a family of four will need about €2,287. While this is true, you also need to realize that the cost of living often depends on your individual spending and your lifestyle.
If your intention is to save and limit your spending, then it would be wise to avoid the neighborhoods popular among expats where the cost of basic commodities is influenced by foreign spending power.
Safety living in Sintra
It is calming and reassuring to know that the place you call home is safe and crime-free. For anyone interested in living in this part of the Iberian peninsula, then you should know that safety is guaranteed.
If you don't believe it, take a look at the Global Peace Index, where Portugal ranks sixth in the world. If you zoom in further into Sintra, it is necessary to point out that this destination is also no different.
There are almost no cases of violent crimes, and the local population is quite welcoming to people from different backgrounds and ethnicities. However, you should be wary of petty crimes. Some crimes could be pickpocketing and car theft, which are common in tourist hangout spots.
Whenever you are outside, keep an eye out for your valuables, lest you run into sticky fingers.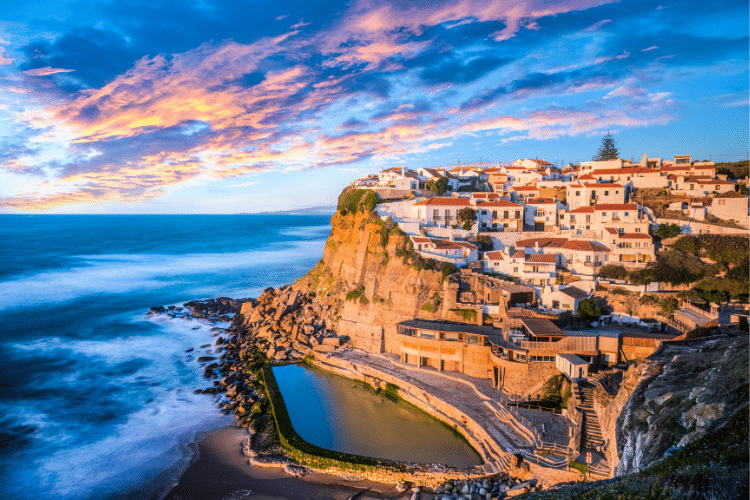 Access to healthcare in Sintra
One of the most crucial factors to take into account before deciding to reside somewhere, including Sintra, is access to healthcare. The good news is that this location is renowned for having public and private hospitals that serve the neighborhood and beyond.
You might want to get in touch with the local government or the Portuguese National Health Service (Serviço Nacional de Saúde, or SNS), which offers free healthcare to all residents and citizens. Keep in mind that, with the exception of a few services, public healthcare in Portugal is free for legal residents. 
There are several private hospitals that will help you, even though governmental hospitals are occasionally slow and have long lines. This is especially true when you need specialized healthcare.
Work labor in Sintra
Sintra is a small city; however, the number of companies in this destination is quite surprising, for example, Philip Morris International and Lidl Portugal, to mention a few.
In that regard, getting a corporate job in this city is fairly easier than in most destinations in Portugal. Also, the excellent transport network between Lisbon and Amadora makes it possible to work in either of the aforementioned destinations while living in Sintra.
However, if you are an expat from one of the world's big economies, you will quickly realize that the minimum wage in Portugal is way below the acceptable European standard of €1,000.
While a few cities pay salaries above the EU minimum wage, unfortunately, Sintra is not one of them. If you're a highly skilled professional in particular fields like technology and innovation, you have a good chance of getting paid more for your expertise. 
Education in Sintra
Sintra is a good destination, especially if you have school-going children. There are enough international schools within this small town to take care of your children's education needs.
Other than the state-funded schools, Prime International School and TASIS International School remain the most popular institutions teaching English.
Prime International School is based on Cambridge International Education (CIE), while TASIS International School follows the American education standard.
How can a foreigner move to Sintra?
The process of immigrating to Sintra is pretty straightforward.
The first step is to get a Visa that will grant you entry into the country. The most common visas for anyone looking to immigrate permanently to Portugal are the Passive Income Visa (D7) and the D2 Business Visa.
The next order of business is to find the right accommodation for you. You can rent or buy a house; either way, the choice is entirely up to you.
The final step is registering with your local authorities and national healthcare system to access public services like transport and healthcare. Although it might appear easy on paper, you might need a professional to help you navigate some of the technical and legal processes involved in the immigration process. 
Our experts at Viv Europe will be more than happy to guide you in the right direction throughout the process until you get settled in Sintra.
Is it worth living in Sintra?
Well, Sintra is a good destination, no doubt! However, you should keep in mind that moving to a different country is a serious decision in your life and should be given enough thought before taking the bold step.
Even so, if you are looking for a calm destination just a short distance from Lisbon, Sintra is just the place. This dreamy-like city is a blend of a modern, historical, and natural world that come together seamlessly.
It doesn't matter what your passions are in life; Sintra is a unique destination where there is something for everyone!
So, is living in Sintra worth it? Given the number of foreign nationals that have chosen to call this destination home, there must be something good going on here!
Do you need help moving to Sintra?
We hope that this guide has helped shed some light on what living in Sintra is like. Before making your decision, consider going on a scouting trip just to get a better feel for this city.
Whenever you are ready to start your immigration journey, contact our professionals for expert advice and guidance. Also, consider joining our Facebook Group – All About Portugal For Expats, and ask other expats what they think of Sintra.