Last Updated on August 28, 2023 by Laila Oliveira
Coimbra stands as one of Portugal's ancient and significant urban centers. Preceding Lisbon, it once held the position of Portugal's capital, serving as the residence for numerous kings, poets, and intellectuals. As years passed, Coimbra's allure remained unspoiled. Buying a house in Coimbra uniquely combines historical charm, cultural richness, and a vibrant academic atmosphere – perfect for your expat family.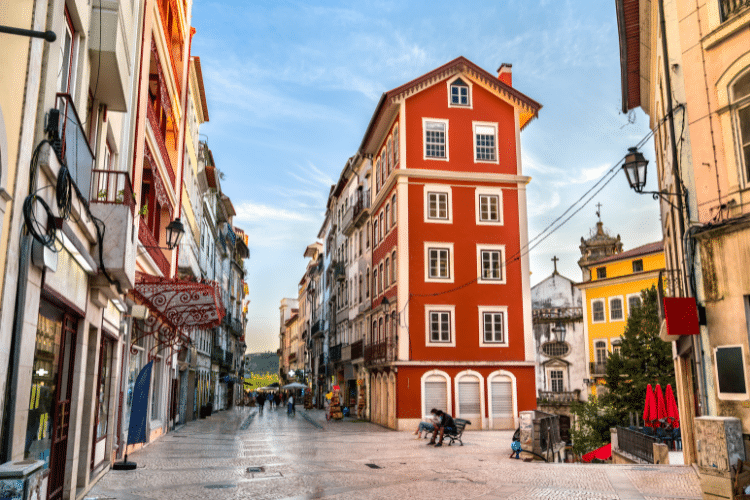 As home to one of Europe's oldest universities, the University of Coimbra, the city enjoys a lively student presence, contributing to a dynamic and diverse community. If you want to create a similar life, consider buying a house in Coimbra after moving here. This post will delve into everything related to acquiring a residence in Coimbra and making it your new abode.
We will attempt to answer a few common questions. For instance, Do they come with a higher price tag than those in different urban centers? What is the process of acquiring one? Tag along to find out more!
Why should I think about buying a house in Coimbra?
Expats from all over the world choose to move to Coimbra for different reasons. For some, it is to break away from the busy and chaotic city life, while for others, it might be for the good weather.
While everyone has their unique reason, here is a breakdown of three things that might motivate you to move and eventually buy a house in Coimbra.
Good prospects for real estate
The historic city of Coimbra offers diverse properties, from charming traditional homes nestled in narrow streets to more modern apartments equipped with contemporary amenities. The presence of the University of Coimbra contributes significantly to the real estate landscape. Student accommodation and rental properties are in demand, especially near the university campus.
This can also present investment opportunities for individuals interested in the rental market. The real estate industry is slowly rising, reporting an increase of +16.4 % compared to July 2022.
Additionally, the city's ongoing efforts to modernize and improve its infrastructure and relatively stable economy can positively influence the real estate market. As the city continues to attract students, expatriates, and retirees, the demand for housing may remain steady.
Property prices in Coimbra are more affordable compared to larger Portuguese cities like Lisbon and Porto.
Good quality of life
You will be pleased to realize that Coimbra is one of those destinations that promises good quality of life. First, Coimbra's smaller and relatively slower pace of life can appeal to those seeking a more relaxed and less hectic lifestyle than larger cities.
Also, the relatively smaller geographical size allows for a close-knit community feel, making connecting with locals and establishing relationships easier.
If you are an outdoorsy person, you will love the natural beauty found in this destination. The Mondego River runs through the city, and Coimbra's picturesque setting includes parks, gardens, and green spaces.
The city's proximity to the Atlantic coast and nearby natural attractions adds to the overall quality of life. Lastly, Coimbra generally offers a lower cost of living than major Portuguese cities like Lisbon or Porto.
This affordability extends to housing, dining, and entertainment, making it an attractive option for students and families.
Get a D7 Passive Income Visa
If you aim to establish yourself in Portugal, buying a house in Coimbra might be the solution to securing the coveted D7 Passive Income Visa. This visa option is one of the simplest to obtain for eligible individuals.
The D7 Passive Income Visa is particularly suitable for retirees or pensioners aspiring to reside in Portugal, affording them the authorization to enter the country and the opportunity to apply for a residency permit.
Nonetheless, it's important to underline that substantiating your passive income is a prerequisite for qualification. As a retiree, you can buy a house in Coimbra to meet your requirements; alternatively, you can capitalize on the heightened housing demand and lease the property for rental earnings.
This strategy complements your monthly income and provides a lasting investment that is likely to appreciate in value over time.
How to buy a house in Coimbra
Purchasing a residence in Coimbra follows a process similar to real estate transactions anywhere else globally. Your primary task involves identifying a house that aligns with your preferences. Subsequently, gather the necessary documentation and commence the procedure.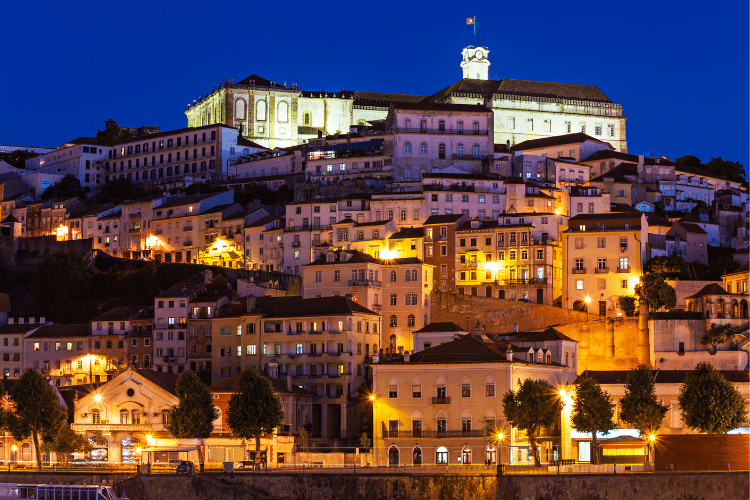 Yet, it's important to note that Coimbra, like many other places, has its own share of bureaucratic procedures and delays, a characteristic not unique to the area.
Rather, it's a widespread aspect of the country's culture that tends to extend the duration of public services beyond the norm familiar to most expatriates.
Nevertheless, engaging with the experts from Viv Europe can considerably streamline your journey through this process, minimizing potential complications.
Can a foreigner buy a house in Portugal?
One benefit of residing in Portugal is that individuals from various parts of the world can invest in property. In fact, Portugal stands out among a limited number of European countries that actively encourage foreign investment through initiatives like the Golden Visa program.
Purchasing a home as an expatriate isn't significantly distinct from that of the locals, with only a few minor prerequisites to consider.
However, it's worth noting that a few documents are necessary for expats interested in buying property in Coimbra. You'll need to establish a Portuguese bank account and obtain a tax identification number called an NIF Number.
Moreover, if you intend to establish permanent or long-term residency in Portugal, you may also be required to go through the application process for a residence permit.
How can I buy a house in Coimbra?
As mentioned, foreigners can buy and own property in Portugal; in that regard, here is a detailed breakdown of the intricacies that go into buying a house in Coimbra as an expat.
Research and choose your investment.
With a clear understanding of your financial limits, you can initiate the search for homes that align with both your budget and your requirements.
Various avenues are available for your search, including online platforms, working with a real estate professional, or participating in open house events. It's vital to acquaint yourself with the local property market and stay informed about prevailing market dynamics, pricing, and trends.
Listed below are reputable real estate websites in Portugal that you can explore from the comfort of your home:
Prepare the paperwork
There's a requirement for documentation to advance the purchasing process. Securing a tax identification number (NIF) in Portugal is essential, and legal assistance can facilitate this process.
For individuals who are not citizens of the European Union, obtaining a residence permit is necessary to establish permanent residency in Coimbra. Furthermore, other necessary documents you must present include income evidence and a valid National Identity Card.
Visit the property in Coimbra
For expats, accurately gauging the condition of a specific property can pose a considerable challenge without firsthand experience. While virtual tours or agencies might facilitate remote inspections, your personal requirements are best understood by you alone.
Hence, arranging a property visit before any contractual commitments or financial transfers is advisable.
Opting for a private viewing with a real estate agent grants you a distinct chance to assess the property's state and take note of distinctive aspects that others might overlook, such as the neighborhood's ambiance and noise levels.
Furthermore, it's crucial to inquire about the proximity of local transportation options like trains and buses to the property. This factor significantly influences your ease of mobility, minimizing the need for extensive walking or purchasing a private vehicle.
Lastly, scheduling an in-person visit allows you to meet the property owner face-to-face and potentially negotiate more favorable terms.
Get your documents settled in Portugal
Purchasing a property entails navigating through various administrative procedures, which underscores the significance attributed by the Portuguese government to your agreement.
To ensure the authenticity of your property acquisition process in Coimbra, ensure that you possess the following documents:
Certificate of Land Registry (Certidão de matrícula): This document is issued by the local land registry and serves as proof of the property's ownership.
License of Use (Licença de Utilização): Obtained from the parish council of the respective house; this document clearly indicates the purpose of the said property.
Building Book (Caderneta Predial): This shows that the property has been tax-compliant. You can obtain this document from the local finance office.
Tax Declaration: This will confirm the amount of property taxes, which will be the new owner's responsibility.
Housing Technical File (Ficha Técnica de Habitação): Highlights all the technical descriptions of the house.
With Viv Europe your plans for Portugal
will finally come to a reality
Transfer the payment and sign the deed
To conclude your purchase, you must execute the payment transfer and affix your signature on the deed. Online payment transfers have become notably more convenient than in the past. For expatriates located outside the Eurozone, here are a few platforms that can be utilized for payment transfers:
Wise (Formerly known as TransferWise)
Following the reservation contract and the acquisition of your NIF, the subsequent step is signing the definitive sales contract (Contrato de Promessa de Compra e Venda).
This final sales agreement encompasses essential purchase particulars, including the price, payment timetable, and any conditional factors. Once all necessary documents are ready, the property transfer formalities are conducted at the notary's office. Engaging a lawyer during this process is prudent to ensure accurate and proper execution.
How much does it cost to buy property in Coimbra?
The cost of buying property in Coimbra can vary depending on several factors, including the location, size, condition, and type of property you are interested in. Coimbra generally offers a broad spectrum of property costs to accommodate diverse budgets and preferences.
Property prices may be higher in the town center or neighborhoods close to popular attractions and amenities. This particularly holds true for historical properties, villas featuring extensive gardens, or those providing sweeping views of the surrounding landscape.
Here is a quick breakdown of the cost of purchasing property in some of the main neighborhoods in Coimbra.
| Area | Price of 100 m² property |
| --- | --- |
| City of Coimbra | €228,900 |
| Figueira da Foz | €152,600 |
| Cantanhede | €96,500 |
| Montemor-o-Velho | €78,400 |
| Oliveira do Hospital | €65,300 |
Price estimates are from Idealista (as of August 2023).
How much can you make renting out a property in Coimbra
As mentioned earlier, there is a lot of demand for accommodation in Coimbra thanks to the presence of the popular University of Coimbra.
However, the cost of renting also varies depending on the available rental unit's size, location, and conditions. Here is how much you can expect to make if you rent your property in Coimbra.
| Residence Type | Rent per Month |
| --- | --- |
| Apartment (1 bedroom) in City Centre | €600 |
| Apartment (1 bedroom) Outside of Centre | €445 |
| Apartment (3 bedrooms) in City Centre | €1,000 |
| Apartment (3 bedrooms) Outside of Centre | €700 |
Estimates are from Numbeo (as of August 2023).
Can I apply for a Portugal Golden Visa to invest in a property in Coimbra?
Regrettably, due to the recent shake-up in the Golden Visa program, Coimbra is no longer among the qualified destinations for the Golden Visa.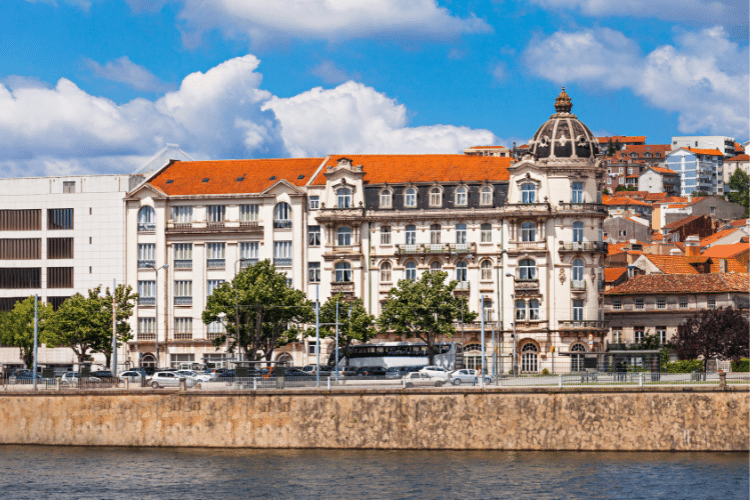 These changes have led to the exclusion of numerous urban and densely inhabited areas from the program, aiming to stimulate investments in different regions of Portugal.
Nevertheless, it's important to note that through careful research and thorough investigation, you can identify smaller towns with promising growth prospects that present opportunities for exploration.
Is making a real estate investment in Coimbra worth it?
Investing in real estate in Coimbra can be a viable option, but like any investment, it comes with both potential benefits and risks that should be carefully considered.
Ultimately, the worth of a real estate investment in Coimbra depends on a combination of market conditions, personal preferences, and financial goals. It's advisable to conduct thorough research, possibly with the assistance of local experts or real estate professionals.
That said, this particular city in Portugal generally has much to offer regarding real estate. By doing proper due diligence, you will be able to find a property that suits your needs.
Do you need help buying a house in Coimbra?
We're eager to hear your perspective as well! We believe that buying a house in Coimbra could align remarkably well with your lifestyle.
However, it's also plausible that you might discover your perfect city elsewhere in Portugal. The most reliable way to ascertain this is by personally experiencing Coimbra through a visit and forming your own conclusions.
Here, you'll experience residing in a secure and enjoyable city that provides numerous opportunities and a commendable quality of life without necessarily digging too deep into your pockets.
Moreover, you'll relish the sensation of being in a small town while still enjoying the conveniences of urban life. Coimbra possesses a traditional, elevated, genuinely Portuguese ambiance brimming with its distinct charm.
If these qualities resonate with your preferences, a warm welcome awaits you in Coimbra! Consider joining our Facebook Group – All About Portugal For Expats, to get in touch with other expats and learn from their experiences. Whenever you are ready to make the big move, reach out to our immigration consultants, who are more than willing to guide you along the way.