Last Updated on April 27, 2022 by Letícia Melo
Has Massarelos' nature got you thinking about buying a house in Porto? Or perhaps Ribeira's historic 18th-century townhouses? Real estate in Porto is highly fruitful whether you want to invest for business purposes or relocate here yourself.
There's so much more to Porto than you would expect. It's the second-largest city in Portugal and home to numerous international communities that love art, business, and history. But, is excellent infrastructure the only reason why expats move to Porto? Definitely not!
You might be thinking – What benefits would I receive as a foreign investor? What's the cost of acquiring property? What documents do I need? 
Don't fret; We'll tell you all about it in this article. Keep reading to know our tips for being a foreign investor in Portugal and why this is a terrific decision!
Why should I think about buying a house in Porto?
To give you some perspective, Portuguese nationals own 77.3% of houses in the country – and this number increases annually. That's higher than house ownership percentages in the US and UK. So there's got to be something worthwhile about Portugal, right?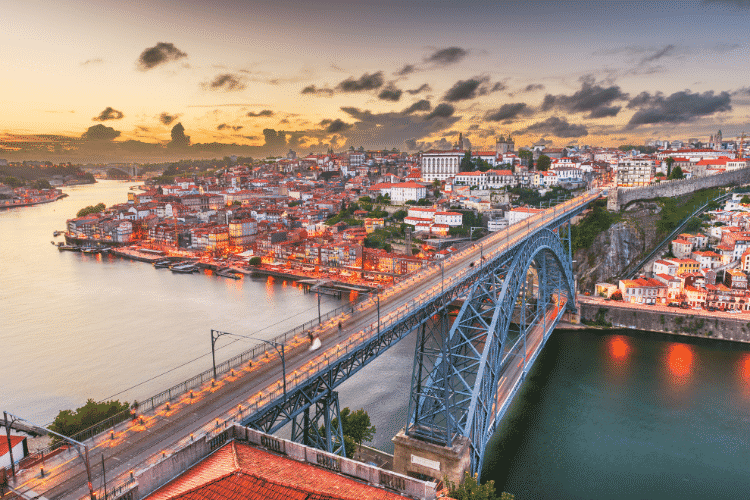 Let's tell you the top 3 reasons why foreigners end up buying a house in Porto:
Porto is a promising tech capital of Europe
Porto isn't just a second home for expats; it's a tourist attraction and a commercial hub as well. The World Excellence Awards of 2018 awarded Porto as the Best Start-up Friendly City in all of Europe.
This award goes to show that the tech capital encourages and stimulates talented entrepreneurs regardless of geographical boundaries. Porto's favorable commercial environment has helped bring investments into the country, helping to grow the economy.
Following in Lisbon's footsteps, thriving businesses isn't a new concept for the promising tech capital of Europe.
Portugal offers benefits for foreign investors
Another attraction for foreign investors is the numerous tax incentive policies adopted by the state in the last decade. These benefits have attracted passive income earners, retirees, expat families, and also real estate investors.
That's not all; the Golden Visa permit allows the possibility of applying for a Permanent Residency after only 5 years. There are five different types of investments that you can choose from for the Golden Visa. Keep reading to know the conditions of obtaining a Golden Visa and whether investing in Porto can get you one!
Explore what the Non-Habitual Resident Tax Regime offers by reading our article.
The real estate market is booming
Portugal's real estate market was one of the few markets that were barely scathed during COVID19, showing remarkable resilience. In fact, property prices of key areas like Porto and the Algarve region rose by 4% and 12%, respectively.
Our stunning country is becoming a favorite spot for people from all over the world, rightfully so! A slow-paced life near the safe and beautiful coast – who wouldn't love to spend their life here?
The best thing about the booming real estate market is that there are options for all kinds of investors. Whether you want to invest below €300,000 or above €600,000; Porto has something for everyone.
Many expats have also found the sunny Southern side of Portugal to be an excellent place to retire.
Can a foreigner buy a house in Porto?
Undoubtedly! Foreigners are encouraged to buy a house anywhere in Portugal, regardless of their nationality. Thanks to expats, the locals are happier than ever now that the country is becoming multicultural.
Similar to buying a property in any other country, there are some legal processes a buyer must go through. There's a certain aspect of bureaucracy and tie-ups in Portugal's public services, but nothing that'll complicate things.
We do recommend having the support of professionals like Viv Europe to help you out to prevent any unforeseen trouble.
Read our guide on How To Buy A House In Portugal From Abroad to know the best-trusted websites!
Step-by-step process to invest in real estate in Porto
We have a feeling you're starting to make up your mind about buying a house in Porto. You're on the right track! The next thing to know about is the bureaucracy in Portugal, keeping aside the benefits of being a foreign investor.
Let's walk you through the step-by-step process of finding your new asset and signing the legal documents!
Research and choose your investment
The first thing to know is the property valuation in Porto depends highly on its geographical location. Later in the article, we have a table summarizing the costs of properties in different parishes per m².
Researching your preferred type of investment will allow you to make a better decision regarding risks and long-term profit.
You might want to ask yourself questions like:
"Do I want to buy a ruined house to restore it?"

"Is Ramalde a better option than Massarelos?"

"Should I rent a house for my family, and buy another one for investment purposes only?"
All of these questions are incredibly valid and equally important. You'll make a better-informed decision after studying what the market is like and your goal for the future.
Prepare the paperwork
Proper paperwork will ensure that the years following your investment are smooth sailing. While you can buy a property in Portugal as a foreigner, you'll still need to have some paperwork ready.
You will need:
The Tax Identification Number is used for all commercial and personal activities to keep track of expenses and taxes. It's one of the most important things you'll need to sign the deal, whether you're a resident or a foreigner.
Visit the property in Porto
While our team of professionals can recommend trusted websites to help you, visiting your next legal foreign purchase yourself is unmatched. Of course, you may also send a representative to assess the property on your behalf. They can validate the existence and condition of the building.
One benefit of visiting the property yourself is meeting the former owner and negotiating a better deal. Someone else might not do the best job at assessing whether the location works best for your purpose or not.
A scouting trip can get perplexing at times like these. Which is why we've compiled a list of our Top 7 Scouting Trip recommendations to save you the hassle.
Get your documents settled in Portugal
You're almost there! Your investment is about to be legalized! How exciting?
This last bit of paperwork officially secures the legitimacy of the purchase, the property, and the documentation.
Transfer the payment and sign the deed
Finally, the last step!
Sending money to Portugal can be done without the service of a bank. We can recommend three reliable and safe options to transfer your money outside the Euro Area.
Keep an eye out for when's the best time to convert your payment to Euros. Also, be cautious with regards to sending the amount only after the contract has been signed.
The ownership of the property can be transferred to your name once the payment has been received by the seller.
How much does it cost to buy property in Porto?
As we mentioned earlier, the geographical location and the historical context can play an essential role in property prices.
The table below should help you estimate the difference in prices amongst various parishes in Porto:
| Parish | Price/m² |
| --- | --- |
| Ramalde | €2,500 |
| Paranhos | €2,786 |
| Bonfim | €2,993 |
| Porto | €3,058 |
| Massarelos | €3,422 |
Property prices have been taken from the Portuguese real estate website; Idealista.
How much is the rent in Porto?
Porto is usually second in line after Lisbon concerning the cost of living, and we're not complaining! Living in the growing tech hub with stunning sights to look at and an exciting nightlife to keep us entertained? Yes, please!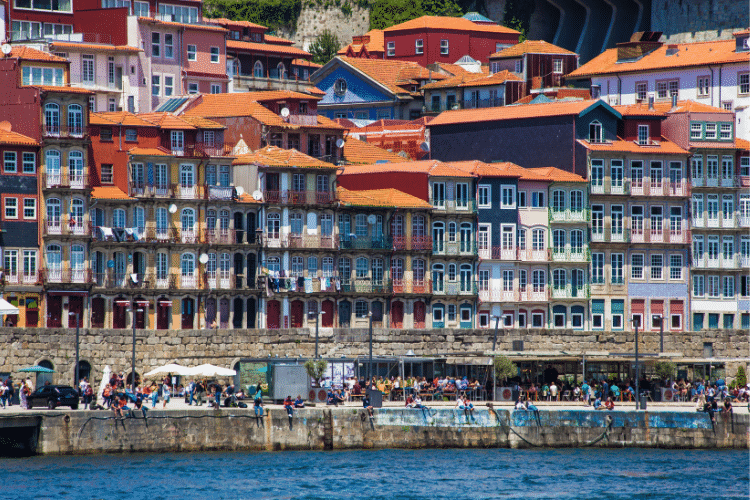 Let's reconnoiter the average prices of rent in Porto:
| City | Monthly 1 bedroom rental apartment |
| --- | --- |
| Porto (in City Centre) | €674.41 |
| Porto (outside of the City Centre) | €519.06 |
| Vila Nova de Gaia | €1,123.84 |
| Maia | €600.00 |
| Matosinhos | €650.00 |
Can I apply for a Portugal Golden Visa to invest in a property in Porto?
The Golden Visa is an excellent reason to invest in Portugal. It allows applicants to reside in Portugal via different investment options or through buying real estate in a low-density area.
Unfortunately, Porto falls under a densely populated area of Portugal.
Changes in the Golden Visa from 2022 onwards have encouraged investments in the right places to restore the country's vitality. It's imperative to preserve Portugal's beauty and uniqueness.
Nonetheless, if obtaining the Golden Visa is your primary goal, we recommend you give our Frequently Asked Questions a read.
Is making a real estate investment in Porto worth it?
Like all financial decisions, the honest answer is subjective to each individual. However, we can tell you that numerous news sources have already labeled Portugal as a top choice, including Forbes.
Porto is a low-cost business hub with excellent infrastructure, exciting nightlife, and many tourist sites. Savvy investors haven't waited for the rising market to gain more popularity than it has right now.
As far as financial profits are concerned, the statistics prove that Porto's real estate is steadily growing each year. With that being said, the best way to go about real estate investments is to research independently before deciding.
When are you buying a house in Porto?
Willing to take the plunge that'll allow you to be a part of Portugal's tech and real estate revolution? Foreigners have an increasing number of opportunities in the country, and buying a house in Porto is one of them!
You can talk to fellow investors who're also a part of our Facebook Group – All About Portugal For Expats. We've helped numerous families with their relocation process and would love to turn your dream into reality too! Contact Us and talk to our team of professionals about all your queries.
If you liked reading this article, you'd enjoy Buying A House In Lisbon: Where And How To Invest.