Last Updated on May 1, 2023 by Laila Oliveira
Southern Portugal's Alentejo is like a sun-kissed painting coming to life with its rolling hills, vineyards, and quaint white-washed towns. It's a lovely place for expats who prefer historic towns or the countryside over metropolitans. The region wasn't that popular up until recently, so what is it like finding a rental in Alentejo?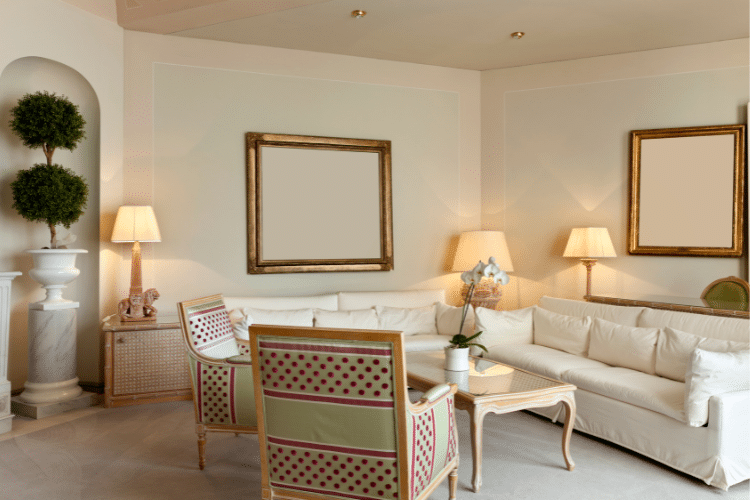 The five districts offer different experiences depending on where you decide to live. If you're finding a rental in a lowkey place, you're at the right place; stick around to read the complete guide!
We'll cover everything from the favorite places for expats to where to find a good rental and how to find the best deals available. Happy reading!
The challenges of finding a rental in Alentejo
Finding a rental in Alentejo can be challenging, especially for expats unfamiliar with the local real estate market. One of these reasons is the limited availability of rentals, especially in rural areas. So, it's important to start the process early and be prepared to be patient during your search.
It's also recommended to work with a local real estate agent who can provide guidance and assist with negotiations. You don't need to worry too much about this; relocation companies like Viv Europe are here to assist you with your journey.
For expats looking for short-term stays or vacation rentals, there are many options available in Alentejo. From cozy cottages to luxurious villas, there are rentals to suit a variety of preferences and budgets. And websites like Airbnb offer a wide range of vacation rentals that you can refer to for some inspiration on what to look for.
You can come across a few challenges, and we'll brief you about what those are and how to overcome them. The first challenge for expats is finding a rental that is up for long-term use. Let's talk a bit more about this.
Vacation rentals give tenants much more profit in the summer
If you're thinking of renting a vacation home in Alentejo during the summer months, you're in for a treat.
With its warm climate and beautiful beaches, Alentejo is a popular tourist destination during summer. This means that vacation rentals can be highly profitable for tenants, especially if you choose a property in a prime location.
This can also mean that there's a lack of availability for long-term rentals because landlords prefer vacation rentals. Since Portugal is famous for tourism, vacation rentals give much more profit when the tourism season hits.
But don't give up; we're here to help!
Long-term rentals vs short-term rentals in Alentejo
Short-term rentals are often more expensive than long-term rentals. But they offer greater flexibility and convenience for expats, especially if they aren't sure how long they'll stay in Alentejo. These also provide a more comfortable living environment as they are often furnished and equipped with amenities such as internet and cable TV.
On the other hand, long-term rentals are generally more affordable and provide expats with a greater sense of stability and routine. They also offer the opportunity to immerse in the local culture and community. This is so that expats can establish deeper connections and relationships over a longer period.
All in all, the decision between which rental to choose depends on your specific needs and preferences. A short-term rental would be perfect for a vacation getaway or if you're here for a scouting trip to Portugal.
It may be helpful to research the various cities in Alentejo, such as Évora, Beja, and Portalegre, to determine which location best suits your lifestyle and budget.
Living in Alentejo is trending
Expats who seek a slower pace of life desire to live in Alentejo. One of the main draws of living there is the affordable cost of living. Housing, food, and entertainment expenses are lower than in many other European countries and even in other big Portuguese cities, which makes it an attractive option for retirees, digital nomads, and young families alike!
Also, the food and wine scene is growing, with many local producers offering fresh, high-quality products in Alentejo. The region is also home to several cultural and historical landmarks, including the Alqueva Dam, the largest artificial lake in Europe.
There's a lot to love about the Alentejo region, even if it's vastly different from Lisbon, Porto, or the Algarve!
There are still affordable options to rent
Despite the region's increasing popularity, affordable rental options for expats are available. Some websites that can help you with finding a rental in Alentejo include Idealista, Kipper Tree, and CustoJusto.
These websites offer a range of rental options, including apartments, houses, and cottages, at varying price points to fit different budgets. Even so, it's important to research and work with a reputable agent to ensure a smooth rental process and avoid potential scams.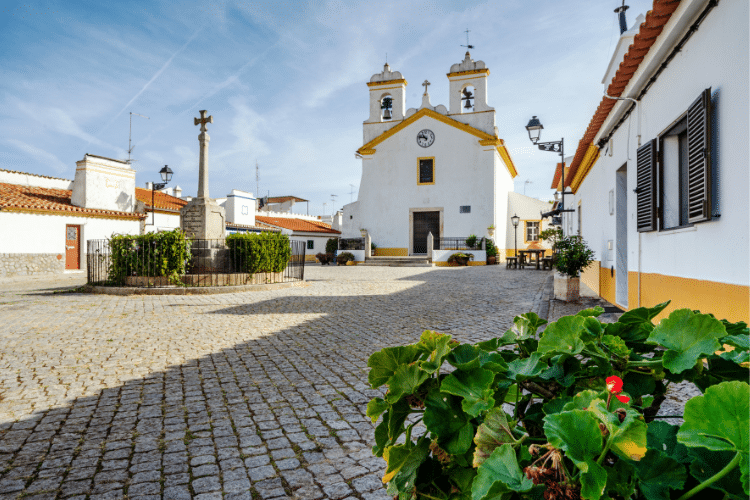 Rise in expat community
Many expats are attracted to the region's slow pace of life, beautiful landscapes, and affordable cost of living. And why wouldn't they? It's soul-refreshing to live here!
Alentejo's expats enjoy various engaging activities, including exploring historic towns, hiking in nature reserves, and sampling local cuisine and wine. The region also has a growing arts and culture scene, with numerous yearly festivals and events.
At the same time, you must know that there are not a lot of job opportunities in the region. Also, Alentejo has limited healthcare options in its rural areas and a less-developed infrastructure than some urban areas of Portugal.
Regardless, as mentioned earlier, the area is becoming increasingly popular among expats who prefer a peaceful and slower pace of life.
Best cities to live in Alentejo
Onto the most awaited part of the article! It's good to have a favorite that you're interested in, and it's even better to know what other expats like.
Alentejo has several cities and towns that are popular with expats. Each of these offers its own unique charm and benefits.
For example, Évora is the region's capital and is a UNESCO World Heritage Site. It is popular for its lively arts and culture scene. And Beja is a historic town with impressive architecture and a rich culinary tradition.
But if you value nature above all, then the picturesque city of Portalegre might be the one for you! You should know that regardless of the city you choose, each offers a range of amenities and activities that can make living in Alentejo engaging and fulfilling.
With Viv Europe your plans for Portugal
will finally come to a reality
Évora
First up, we have Évora, an expat favorite for sure! This city offers a range of amenities, including excellent healthcare facilities, a university, and a variety of shopping and dining options.
In their free time, expats in Évora can enjoy exploring the city's many historic sites, such as the Roman Temple and the Cathedral. You won't be bored here as cultural events and festivals happen throughout the year and you'll love them if you're not into city nightlife.
While the cost of living in Évora may be higher than some other areas of Alentejo, the city offers a unique and rewarding experience for expats.
Beja
This charming town offers a slower pace of life and a relaxed atmosphere, making it an attractive option for expats.
Beja is known for its impressive architecture, including a medieval castle and a Roman villa, as well as a variety of museums and cultural events. Expats enjoy various outdoor activities, such as hiking in the nearby São Mamede Natural Park.
You'll be pleased to know the cost of living in Beja is generally lower than in larger cities. For example, consumer prices in Beja are 8.1% lower than in Evora, excluding rent. This makes it an affordable option for those seeking a quieter lifestyle.
Santarém
Then we have the stunning city of Santarém! This lies in the heart of Portugal and is the capital of the Alentejo region. This means that there are many new businesses in the city and the young population is also moving here. It's also ideal for expats who crave a relaxed and affordable lifestyle, excellent food, wine, and outdoor activities.
Santarém is well-connected, with good transport links to Lisbon and other major cities. It takes an hour on average to go from Santarem to Lisbon by train, and costs €8 only.
Still, you should know that since it is a smaller city with a more laid-back atmosphere, it may not be the best choice if you are seeking a fast-paced urban lifestyle. But as with any place, there are pros and cons, and Santarém is definitely worth considering for expats looking for a quieter way of life in Portugal.
Portalegre
Portalegre is a historic city but still a great option for expats. It offers a peaceful and authentic way of life, with a low cost of living and plenty of outdoor activities such as hiking and cycling.
The city is known for its beautiful architecture and traditional handicrafts. This may not be ideal if you prefer fast-paced urban lifestyles, but it is perfect if you like a smaller city with a more relaxed atmosphere.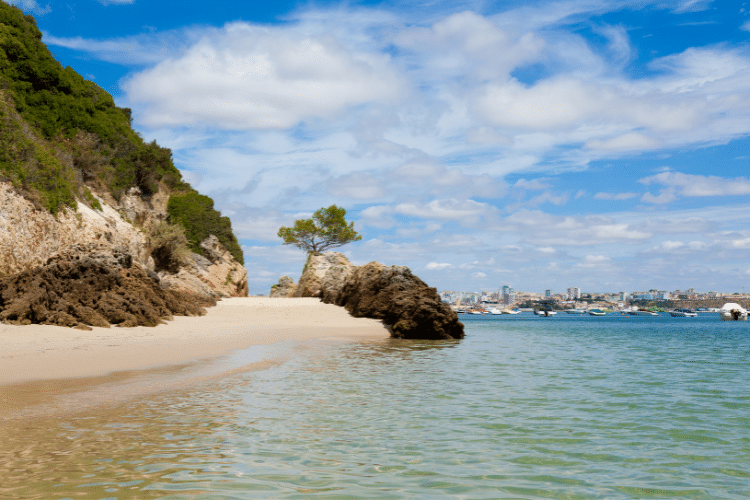 Sines
This beautiful coastal town has a rich history, beautiful beaches, and a vibrant culture. Sines attracts expats with its relaxed lifestyle, affordable housing, excellent food, and wine.
The town is well connected to major cities like Lisbon and Faro, and the area has plenty of job opportunities. It takes approximately a little over two hours from Sines to Lisbon by train and costs €18.
Still, it can get quite hot in the summer as it lies on the coast, and the lack of public transportation can also be a challenge. But you can always buy your own car, especially if you plan on finding a rental in Alentejo for a longer term.
Interested in buying your own car instead of importing one? Read our article Buying A Car In Portugal to learn everything about purchasing your own car and how to get the best deals!
Vila Nova de Milfontes
This is also a coastal village in Alentejo. It is a popular destination for tourists and expats alike because of its stunning beaches, relaxed pace of life, and excellent seafood.
For expats, it provides an opportunity to live in a peaceful and beautiful environment while still having access to modern amenities like supermarkets, restaurants, and healthcare.
The town also has good transport links, making exploring the rest of the Alentejo region easy.
Benefits of living in Alentejo
Now that you are familiar with the cities Alentejo, let's dive into its benefits for expats! 
Apart from the relaxed pace of life and stunning natural landscapes, the cost of living is generally lower than in other parts of Portugal, but the quality of life remains high.
For example, you would need around €3,703 in Lisbon to maintain the same standard of life that you can have with €2,700 in Évora. And groceries prices in Lisbon are 51.5% higher than in Beja. The difference in the cost of living is huge!
Overall, expats love the region's peaceful, authentic, and affordable way of life. Continue reading to find out the last few important must-knows on finding a rental in Alentejo.
Is it worth renting a house or apartment in Alentejo?
Absolutely yes, if you have a preference to avoid the busy city life!
With its affordable cost of living, renting a home in Alentejo can be a comfortable choice for expats. As you could tell by reading this article, Alentejo offers plenty of opportunities for expats with different preferences.
Some areas excel in healthcare and jobs, while others offer outdoor activities such as hiking and cycling.
Renting a house or apartment in the region can be a wonderful choice, but remember to thoroughly research which city or town works for you.
So let's move on to the part where we tell you how to choose a good rental in Alentejo!
How to choose or find a good rental in Alentejo?
Finding a rental in Alentejo can be tricky. So it's important to research the different areas and neighborhoods to find one that suits your needs. It's not like Lisbon or Porto, so you might have to dig a little deeper to find a suitable place.
Do consider factors such as proximity to amenities, transport links, and safety. Expats also use online rental platforms or seek advice from local real estate agents to find the best deals. We'll talk more about that a little later.
Search a lot on real estate websites
This is the first step you should take before contacting a real estate agent. It's kind of like knowing what to buy before you go to the mall to get a new pair of clothing. You must know your likes, dislikes, and non-negotiables. 
Do you want a three-bedroom house or would you like less space? Do you want your house to face the beach or some greenery instead? Would you like a more modern-built house or would old work too? These are some questions you should know the answers to.
There are several online real estates websites, like Idealista and Kipper Tree, that cater to expats and provide valuable information about available rentals, neighborhoods, and rental prices.
These websites often offer user-friendly interfaces, comprehensive property listings, and helpful resources for navigating the rental process. Through these websites, expats can streamline their rental search and find a suitable property that meets their needs and budget.
Make contacts with tenants in Alentejo
Networking helps wherever you go. It helps to have an idea of the market before you even search for your place. And it can also inform you beforehand in case of certain issues with specific areas, etc.
Making contacts can provide insider information about the local rental market, recommend trusted landlords or property managers, and even give you a heads-up about upcoming available properties.
You can reach out to tenants through online expat groups like our Facebook Group – All About Portugal For Expats, or other local community pages. You can even strike up a conversation with someone in your preferred neighborhood by searching on relevant platforms and sending them a message. Building a network of contacts can make your rental search easier and more successful!
Talk to real estate experts
Despite talking to expats, searching online, and going through content online, sometimes the best way is to talk to real estate experts that find rentals for a living. It's always best to let a professional find the best options and guide you properly because they're well-versed in this process.
Consider consulting real estate experts when finding a rental property in Alentejo or anywhere else for that matter. Professionals at Viv Europe have experience in the local rental market and can provide valuable insights into available properties, rental prices, and neighborhoods.
This can help you immensely to find the right property that meets your needs and budget. And it also helps to let professionals deal with the bureaucracy that comes with trying to find a rental and locking a deal.
Do you want to come and live in Alentejo?
It's a great idea to do so! It's been more than four years since Forbes noticed the Alentejo region as a hidden gem. Surely there's something worthwhile about this region and its beautiful districts.
Once you've done your own research, book a consultation with Viv Europe and let professionals find the right property for you. It really is better than doing everything on your own. Leave it up to us and start planning for your dream relocation!