Last Updated on May 1, 2023 by Maryam Siddiqui
If you're looking for an escape from the busy city life, consider a move to the large Alentejo region. You might not know this, but Alentejo is the biggest region in the whole of Portugal. However, the irony is that it only accounts for about 5% of the country's population. So you can only imagine how peaceful it is to be living in Évora.
The capital of Alentejo is a major historical landmark in this region. Although not quite as popular as other major cities like Lisbon or the Algarve, those who make their way here enjoy all that it offers. Having said that, the big question remains: what is living in Évora like? Is this city a good place for expats to consider moving to?
Well, to answer these questions, this post compiles a detailed breakdown of all you need to know about the capital of the Alentejo region. Stick around to find out more.
What is living in Évora like?
If you're used to city life, living in Évora is the exact opposite. To begin, it's worth mentioning that Évora is a rural city featuring large plains with plenty of wildflowers that come to life in spring. Here, sheep and horses graze in the plains that stretch as far as your eyes can travel.
Essentially, life in Évora is slow-paced without the noise and trouble of city life. While this is true, you can also find all the conveniences of a modern city right in this destination. There are plenty of stores, recreation centers, good roads, and other amenities to cater to your needs.
If you're a history enthusiast, you'll immediately fall in love with this great city. Living in Evora is synonymous with living in a museum. This city was recognized by UNESCO in 1986 as a World Heritage Site and packs a lot of history dating back to ancient Roman times.
Who lives in Évora?
As mentioned earlier, Évora is the capital of the Alentejo region. This city boasts a population of about 53,591 residents, according to recent data from Pordata. It's worth mentioning that Évora doesn't have a significant foreign influence in the city. In fact, the total expat population in the entire Alentejo region accounts for about 4.4% of the population.
The few expats that find their way to this historical city are usually looking for peace and quiet in a destination that is not completely isolated but still far away from the hustle and bustle of the city.
Why are expats moving to Évora?
Although the majority of expats moving to Portugal prefer popular destinations like Porto, Albufeira, or Lisbon, Évora is slowly becoming popular not only for history enthusiasts but also among expats and tourists.
While peace is often one of the main attractions of this destination, it's also worth noting that Évora has a lot more to offer. From the promise of a quality life to a relatively cheaper cost of living, it is great to see this city finally getting the recognition it deserves. Let's have a look at three of the major reasons why living in Évora is becoming popular.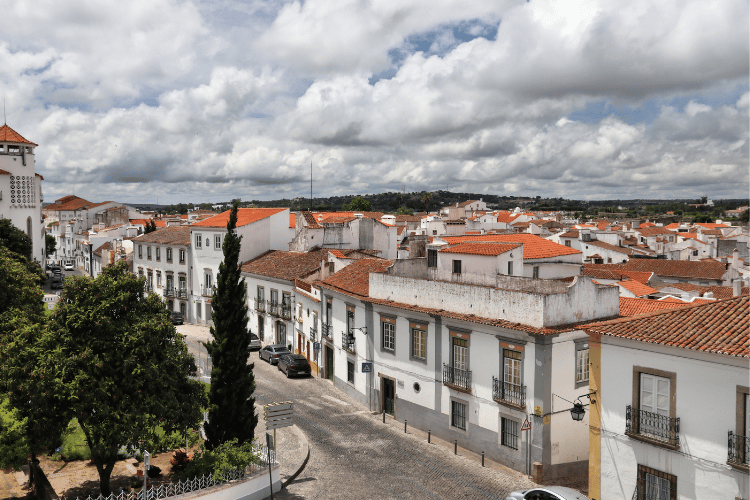 Rich history
With a history dating far back several centuries, living in Évora gives you countless opportunities to learn about ancient roman times. You'll be surprised to find ruins from the 15th century that tell a great story about life in those ancient times.
Formerly a king's residence, Évora gives you the unique opportunity of traveling through time and walking on the same cobblestone streets that many great people have walked on centuries before. Many historical buildings in Évora hold significant history, for instance, Roman Temple, the Bones Chapel, and the Évora Cathedral, just to mention a few.
Besides that, this city is known for having the best gastronomy in Portugal. You get to wine and dine in the traditional Portuguese cuisines that have been kept almost the same throughout the different generations.
Good quality of life
Part of what contributes to the quality of life is how residents are satisfied with life in their city. If you are considering moving and living in Évora, you will be delighted to find out that it has the second-best living conditions in the country.
To begin, Évora is quite large, covering about 1,300 sq km. In contrast to the city's population, there is plenty of space for residents to live a life they choose, whether it's rearing animals or even living in a large ranch with plenty of playing ground for children.
Besides that, Évora is also peaceful, with significantly less tourism action even in the peak of summer compared to other destinations like the Algarve. Over-tourism is a serious issue and can be a nuisance for anyone looking for a private life away from all the noise and commotion.
Prospect of getting the Golden Visa
This might easily be the major reason why expats need to turn their eyes to the large Alentejo region. The recent shakeup to the Golden Visa rules is in high favor of Évora and other low-density destinations in Alentejo.
This is particularly beneficial to foreign investors who want to invest in this region's real estate. The good news, however, is that Alentejo is still affordable compared to other cities in Portugal.
The Golden Visa Program comes with a lot of benefits for qualified individuals. Through this program, you can work and also move freely within the Schengen area. And after 5 years, you also get the opportunity to apply for Portuguese citizenship.
With this in mind, it doesn't come as a surprise that suddenly, expats from all over the globe are getting interested in this medieval city in the heart of the great Alentejo region.
With Viv Europe your plans for Portugal
will finally come to a reality
Buying a property in Évora
The cost of property varies greatly in Évora. You'll get different prices depending on the location of the said property and also the season as well. However, while this is true, it's also worth reiterating that the cost of property in Évora and most parts of Alentejo are still relatively cheaper compared to Lisbon, Algarve, and Porto.
Let's have a look at the cost of buying property in the different parishes in Évora.
| Parish | Price per m² |
| --- | --- |
| Bacelo e Senhora da Saúde | €1,977 |
| Évora | €2,326 |
| Malagueira e Horta das Figueiras | €1,808 |
The data above was derived from Idealista (as of November 2022).
Renting a flat in Évora
Since the cost of property is still relatively low in Évora, it is also not surprising that rent per month is also quite affordable. However, it is also important to consider the fact that the basic law of supply and demand plays a critical role in the cost of renting a flat in Évora.
During the peak summer months, when there is an increase in demand for accommodation, the cost of rent is also expected to go up as well. However, on average, the cost of renting a one-bedroom apartment in the city center is about €541, and €487 in the rural towns further from the city.
On the other hand, a three-bedroom apartmentcosts €900 within the city and €812 if you venture further into the rural towns, according to data provided by Numbeo.
Is it better to live in Évora or the Algarve?
The Algarve and Évora are opposites of one another. While the Algarve is popular for having pristine beaches and heavy tourist activity, Évora, on the other hand, is known for farming and its rich history.
Each one of these destinations comes with its fair share of perks, depending on what you're looking for as an individual. For instance, if you want a peaceful and quiet life, Évora is a good place for you.
However, the Algarve region is ideal if you're drawn to beautiful beaches and a relatively fast-paced life. So is living in Évora better than the Algarve? The shortest answer to this question is that it all depends on your preference as an individual.
Is living in Évora better than living in Lisbon?
It's not fair to label one city as better than the other. Lisbon, the capital of Portugal, is more different than similar compared to the capital of Alentejo. It's not only the business and financial hub of the country but also has a relatively higher cost of living than Évora.
Lisbon is the perfect city for anyone looking for active corporate employment. Évora, on the other hand, is not anywhere as massive business-wise. Although there are plenty of smaller businesses within the city center, the major activity in this region is farming.
Nonetheless, the two destinations have a common factor that they both share, which is a piece of the ancient history of the country.
What is the cost of living in Évora?
Compared to Lisbon and other European cities, the cost of living in Évora is significantly lower. In fact, one of the advantages of living in the capital of Alentejo is that every pound goes longer than in the popular destinations of Portugal.
This city is less popular, meaning the cost of commodities and basic services is also lower. However, since Évora is the capital, it is not the cheapest destination in the large Alentejo region. Nonetheless, here is a breakdown of what to expect from some of the common goods and commodities as far as cost is concerned.
| Expenses | Cost |
| --- | --- |
| Family of four estimated monthly costs (without rent) | €1,850 |
| A single-person estimated monthly costs (without rent) | €500 |
| 1 bedroom apartment in the city center (rent) | €541 |
| 3 bedroom apartment in the city center (rent) | €900 |
| International private primary school fees 1-year | €4,000 |
| Fitness club for 1 adult | €47.50 |
| Average monthly salaries after tax | €1,493 |
| Three-course meal for 2 | €30 |
Values are from Numbeo (as of November 2022).
Remember, these values are an estimate from the data available from Numbeo. They are subject to change depending on your own individual spending and circumstances.
Safety living in Évora
Portugal is one of the safest countries in the world; it's ranked fourth by the Global Peace Index. Évora is no different. The local population is friendly and also quite accommodating to foreign nationals.
Also, the occurrence of violent crimes is almost unheard of in Évora and in the whole of Portugal. However, you still need to be wary of petty crimes. Be aware of your surroundings, especially when exploring unfamiliar regions as an expat, because pickpocketers lurk in every tourist country.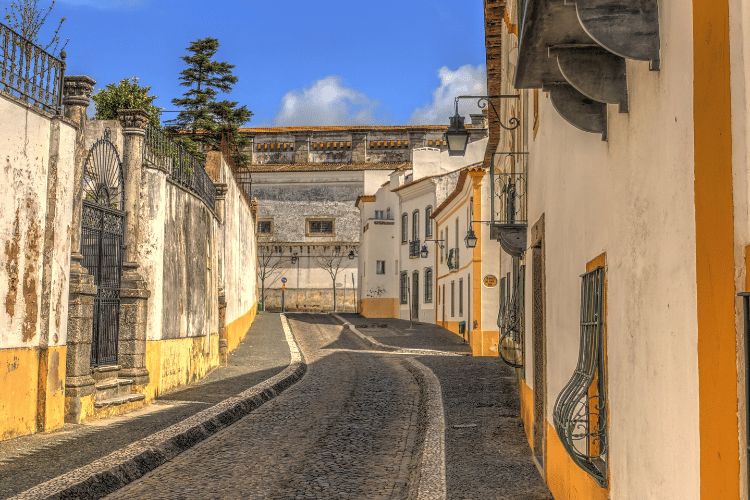 Access to health care in Évora
It goes without saying that healthcare in Europe is among the best in the world. The good news is that Portugal is staying caught up, too. Healthcare in Portugal is well known as the best not only in Europe but also in the world. Public healthcare in Portugal is facilitated to residents and legal foreign nationals by the SNS (Serviço Nacional de Saúde).
Plenty of public hospitals in Évora provide free healthcare for the local population and legal foreign nationals. It is also important to mention that the Portuguese government has been making deliberate and decisive efforts to make sure that doctors and healthcare providers in Portugal use English for communication.
Other than public healthcare, several other private hospitals provide specialized care.
Work labor in Évora
With Lisbon as a point of reference, it is unfortunate to mention that employment prospects in the corporate industry are only limited to a few industries in Évora. Other than the tourism and hospitality industry, the other major employer in Évora is IT and agriculture.
However, while that is true, it's also important to acknowledge the impact the University of Évora has had on regional development. While Évora is also a growing city that needs skilled individuals in different fields, consider focusing your search in the capital of Portugal to increase your chances of getting a job.
Education in Évora
Other than the opportunity to learn about ancient medieval times from the city's historical monuments, Évora also has various avenues that provide formal education. Among the prized higher education institutions in this city is the University of Évora.
This was the first University in Europe that had existed since the 1500s. It is an interdisciplinary institution that equips both local and international students with the necessary skills for professional life.
How can a foreigner move to Évora?
The first step to living in Évora is finding a way to move to Portugal legally. There are different ways you can relocate to Portugal, for instance, for work, study, family reunification, or even retirement. Fortunately, there are several types of visas that allow you entry to the country, depending on your unique reasons.
While there might be different types of visas, you should know that the application process is almost the same. The only difference is the types of documentation that you need to present during the application.
The first step is to go to the nearest Portuguese consulate and ask for an application form. Fill in all your details and also present all the necessary documents depending on your reasons for relocation. You will also need to pay a small processing fee that is not refundable.
Is it worth living in Évora?
Unfortunately, the decision on whether living in Évora is worth it or not has to come from you. While that is true, it's also important to mention that Évora is a beautiful destination, especially for those who don't want busy cosmopolitan activities.
The quality of life is good and also the cost of living is quite low, allowing you to live on a shoestring budget. You will love walking down the cobblestone-paved streets. Immerse yourself in the rich history of both Portugal and Europe. If you need to witness the allure that is in this city, schedule a scouting trip and experience the beauty and history firsthand.
Do you need help moving to Évora?
Évora and the large Alentejo region have been flying under the radar for far too long. Nonetheless, it is good to finally see that this city is getting the recognition and love that it deserves. While it might not be as popular as other big cities in Portugal, it doesn't mean that living in Évora is any less interesting.
So if you dream of moving permanently to this city, contact our professionals at Viv Europe today. We will help you every step of the way and turn your dream into reality. If you have any further questions, ask away on our Facebook Group – All About Portugal For Expats. It's a community of over 9,000 Portugal enthusiasts waiting to help you!