Last Updated on October 31, 2022 by Laila Oliveira
A place where nature meets tradition and tranquility meets affordability. The Alentejo region is described as "the new go-to place in Portugal", and we'll respectfully agree. Five major districts welcome expats with open arms, and expats gladly take up the invite. But before you move there, you should know the pros and cons of Alentejo.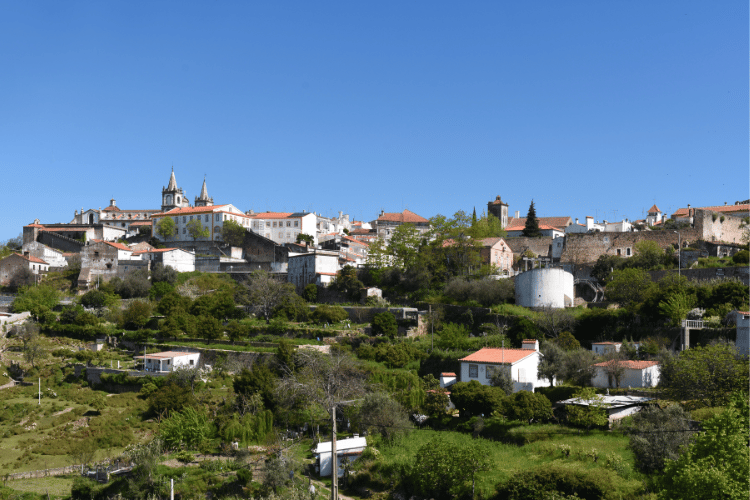 While the region's low population density may put some off, it's a pro for many. A place with peace, a slow pace of life, and an affordable lifestyle. What more could some ask for?
Well, it's okay if you're looking for something more. There's no perfect place, and Alentejo is no exception. By the end of this article, you should be aware of all the pros and cons of moving to Alentejo. Consider all possibilities of the lifestyle you can have here, and decide whether this is the place for you! 
What is it like living in Alentejo?
Often described as the heartland of Portugal, this region is where you enjoy the true essence of being Portuguese. But you don't have to be Portuguese to benefit from living here. Alentejo is known to have locals that are the friendliest and most welcoming people in all of Portugal, which tells you a lot about the pros and cons. 
Living in Alentejo feels like waking up in a land of peace and pure nature. Forbes recognized this region as "the new go-to place in Portugal" in 2019, and this hidden gem is starting to get the limelight. 
With due credit to its central location, residing here means quick access to Lisbon and also the Algarve region. When you feel like switching things up a bit and not being around nature, you can take a train to Lisbon, reaching in nearly 3 hours and in under €30.
But nature lovers rarely feel the need to connect with the capital city's vibe. That's what living in Alentejo is like. 
Who lives in Alentejo?
For many years, affluent families from Lisbon have chosen the empty beaches and plains to spend time at their holiday houses. Although this may cause you to think that the region is only for people with affluent backgrounds, it's quite the opposite. 
Expats and locals living in Alentejo prefer a secluded lifestyle that's easy on the pocket. A single person's estimated monthly expenses, without rent, are around €610, while rent can cost between €500 to €700. 
The recorded resident population for Alentejo is nearly 704,707, according to Pordata. Out of these, only 12.4% are young people, while 60.6% are of working age. Additionally, roughly one-fourth of the population comprises the elderly, at 27%.
Those that live in Alentejo focus on enjoying a lifestyle of tranquility while earning a modest living. Most people here like to indulge in wine tasting and traditional Portuguese gastronomy. 
Why are expats moving to Alentejo?
Just like Forbes suggested, expats are drawn to Alentejo because of its captivating scenery, empty white beaches, and vineyards. These expats didn't fall in love with Alentejo right off the bat because most first visited as tourists. 
But there's something magical about the region. Apart from the idyllic climate, stunning landscapes, safety, and low cost of living, the Alentejo has a cultural legacy unparalleled by other places. We'll discuss the pros of moving to Alentejo shortly, but here's a warning: the list goes on and on for a while. 
Pros of living in Alentejo
We hope you're ready!
Reading through the pros of living in Alentejo might take some time, but we're sure you won't get bored reading through them! Let's get started. 
Climate
The climate of a particular region can be a deal-breaker for many people. However, Portugal's weather is almost always a "deal-maker" for expats. The sun shines 300 days a year, and the temperature is moderate throughout all seasons. 
Alentejo's weather is mild and warm. Summer is from June to September, with less humidity than in winter and an average temperature of 20.9 °C. The lowest average temperature is in January, which is the coldest month in winter, at 5.7 °C.
The interior region can be a little too hot for some people if the temperatures rise. Alentejo's coastal areas are much milder, and even though the sun shines most of the year, it's still pleasant.
The beaches
Alentejo's beaches come in as a huge pro in the list of pros and cons of Alentejo. They're described as a great place to be, with clear water, fantastic views, and clean sand you can walk on for hours. 
While hundreds of visitors come in from Lisbon, the beaches are never as crowded as the ones in the Algarve. You'll be able to completely relax and unwind close to nature and great food! 
Here are some of the beaches you don't want to miss out on in Alentejo:
Slow pace of life
This south-central region of Portugal is perhaps one of the best places to properly cherish the slow pace of life this country offers. Day-to-day life is very easygoing, and there's hardly ever a rush to reach a destination. 
If you've read our article on the 10 Portuguese Habits, You Adopt After Relocating, you'll know that the Portuguese believe it's okay to be late. People in Alentejo believe it's okay to take your time and value each moment of every day. 
Whether that means sitting outside soaking up the golden sun or taking some deep breaths of fresh sea breeze before reaching work, this is a huge pro of moving to Alentejo.
Low cost of living
A defining factor for many families is often the low cost of living in Alentejo. Portugal itself categorizes as a very affordable country within Europe, but areas like Lisbon are still on the pricier side.
This isn't true for Alentejo. The region offers affordable housing and nominal prices for other expenditures. If you take rent, for example, it can cost anywhere between €350 to €700, depending on the popularity of the parish. 
The five districts of Alentejo: Santarém (the southernmost part only), Portalegre, Évora, Beja, and Setúbal (the southernmost part only), are some of the cheapest places to live in Portugal. Additionally, the fact that most expats continue to prefer Lisbon and the Algarve helps keep the prices in Alentejo minimal.
With Viv Europe your plans for Portugal
will finally come to a reality
Safety
We understand you'd never want to risk your safety living in a new country. No one likes to feel like they can't trust their surroundings. We're glad to say safety is not a concern that you'd often find yourself worrying about. 
The Global Peace Index ranks Portugal as the fourth-safest country in the world, making it one of the least dangerous places to live in. The Alentejo region is no different. On top of that, the low population helps people to have better connections, especially during times of need.
While tourism may cause an increase in pickpocketing cases and such minor criminal activities, you'll spend most of your time feeling safe. Unfortunately, tourism does attract such petty crimes to happen worldwide, so you should stay vigilant no matter where you are. 
The food and wine
Alentejo's spectacular gastronomy is a pro that's unique to this region of Portugal; and a very important one in the list of pros and cons of Alentejo.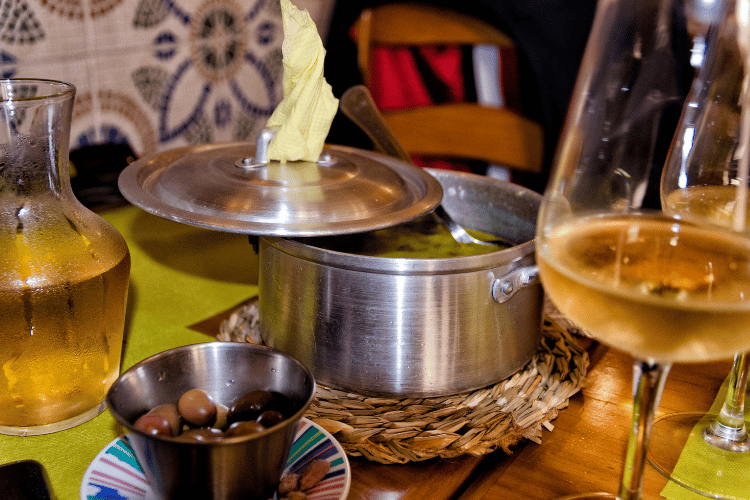 The traditional cuisine is simple but imaginative and delectable. Mixed seasonal ingredients are paired together with fresh aromatic herbs, wine, and the famous Alentejo bread. Many dishes consist of broth, in which you soak the bread and eat with a side of ripened cheese and sausages. 
Eight subregions of Alentejo produce wine in award-winning wine cellars. Pêra Manca, Cartuxa, and Monte dos Pinheiros are the most famous wines. While you're there, also try out the Sopa de Beldroegas (Purslane soup) and Açorda à Alentejana (Alentejo style Açorda).
The cultural and historical legacy
Alentejo is often referred to as "Portugal's time capsule", confirming that the historical legacy continues to date. The region is as authentic as it was years ago, and you can see it in nature all around. 
Natural landscapes have remained preserved and unspoiled to keep the region's beauty alive. From time to time, people come here to go on a cultural route to learn more about the true history of Portugal. 
Someone interested in living near ancient buildings and monuments will find this place to be the epitome of preserved culture and history. Exploring Alentejo will never bore you.
The nature
Before we proceed, we'd like to put it out there that nature isn't for everyone, so it's okay if this isn't a pro for you. Some people prefer living in cities and being close to a lot of infrastructural development.
Alentejo's beauty lies in the vast nature. Full of places where you can sit with your thoughts in peace and cherish every moment slowly. 
Alqueva's Dark Sky Reserve covers around 3,000 km2, providing the most breathtaking atmospheric conditions to stargaze the night sky. Tourists visit Alentejo to appreciate the nature around them and how well it is preserved via parks and other reserves.
Cons of living in Alentejo
By now you can tell we love the Alentejo region and all that it offers. But, like always, we're going to be transparent with you.
Take a look at the cons and weigh the pros and cons of Alentejo side by side. In the end, ask yourself, "Do I see myself living in Alentejo?". You'll have your unbiased answer. And when you do, Viv Europe will be here to make your relocation easier and faster! 
Learning Portuguese
It's not the easiest task to learn Portuguese, especially if you're older. Learning a new language can be a time-consuming and bewildering task. If you aren't ready to take some lessons, the communication barrier might be frustrating for you.
Language barriers are much lower in cities that have a higher percentage of expats, like Lisbon, Porto, and the Algarve region. Although the Portuguese have started to become fluent in English, not everyone knows the language.
It's important to mention that while moving to a new country, it's good to welcome the new culture and its traditions into your life. Living in Portugal is a dream come true for thousands of people, so learning a new language isn't that big of a problem for most expats. 
Bureaucracy
Here's another defining factor in Alentejo's list of pros and cons. The bureaucracy in Portugal is no joke and often consumes a lot more time than needed. This concern is as legitimate for the locals as it is for expats, but the locals are now used to it.
Paperwork and documentation can be pretty slow, and information isn't always accessible through the internet. You might need to visit an office more than once to get your work done. 
It's incredibly helpful to know someone who can guide you through the bureaucratic processes. Whether that's a local buddy, neighbor, or expat you've befriended, there will always be someone to help you out. 
The hot weather in summer
While the sun shines 300 days a year in Portugal, it may shine a bit brighter in the Alentejo region. July and August can sometimes get extremely hot and dry, with temperatures touching 40 °C. 
The good news is that the houses in Alentejo are mostly built, keeping in mild heat waves and extreme summer temperatures. The hot weather doesn't last too long, and you can have a refreshing day at the beach. 
Public transport
By now, you're probably aware of the fact that Alentejo's infrastructure does not support a lot of business activities. This has led to slower developments and fewer public transport options. 
Buses and trains are always an option to travel within the city and to another. However, you will most likely prefer having your own car if you need to travel frequently. Most bus routes operate only two to three times a day on a weekday.
As time goes by, Portugal is developing slowly but surely. Soon there will be more public transport options within the Alentejo region, so don't let this reason stop you!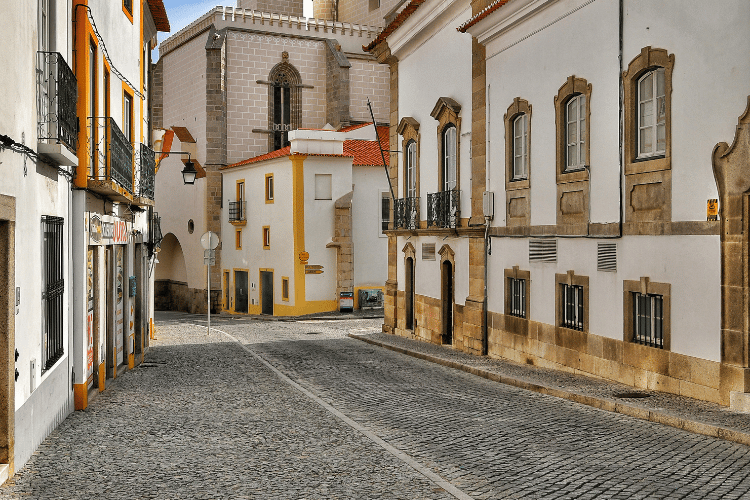 Lack of jobs
Alentejo is not a hub, at least not like Lisbon or Porto. So it's a little less easy to find a number of job opportunities while living in Alentejo. 
You're more likely to find jobs in the sectors of agriculture, wholesale and retail trade, hospitality, construction, and administrative and support services. The region focuses heavily on producing local ingredients, wine, and olive oil compared to technology and innovation.
Before making your final judgment, browse through Indeed because you will still be able to find opportunities for social media management, IT assistance, cooks, university professors, and academic investigators.
People are spread out
This one isn't really a con if you're an introvert who appreciates having your own space, but we'll still tell you all about it!
The Alentejo region is not as densely populated as other regions of Portugal, so you'll find that places are less crowded and neighborhoods are spread wider apart. This can sometimes lead to loneliness if you haven't made friends within your neighborhood. 
An average of 22.3 people live per km2, which is quite less if you compare it to Lisbon's average of 5,456.5. This is one reason why retirees, digital nomads, and individuals who like solitude and nature prefer to live here. 
What do you think of the pros and cons of Alentejo?
We'd love to know your thoughts! Knowing the pros and cons of Alentejo should help you decide whether it's worth visiting this region on your scouting trip to Portugal. We recommend that you give Alentejo a chance to prove itself. 
It all comes down to what you're looking for. If you need more opinions from people already living here, join our Facebook Group – All About Portugal For Expats. We're a community of over 8,900 members waiting to guide you and share experiences! 
Once you're done planning your relocation, contact Viv Europe and leave the rest to us. We've helped hundreds of families before you and would love to see your dream come true. From visa application to finding the perfect property to call home, we've got you covered.