Last Updated on September 19, 2022 by Maryam Siddiqui
With new tourists flying in every day this summer, the real estate situation is getting a tad bit more complex. The Algarve happens to be one the most favorite spots for tourists, locals, and permanent expats alike. Does the process of finding a rental in the Algarve sway people from their dream vacation?
Not quite.
You can only imagine how tricky it is to land a good long-term rental for yourself. Do you wonder why that's so? Is the real estate situation in the Algarve evolving for the better? Keep reading to know everything about the market and how you can land in a beautiful place by the beach. Watch out for the professional tips in the article!
Living in the Algarve is trending
This isn't recent news for many people; they've been hearing about it for a while now, and maybe you have too. The Algarve isn't just where many families relax in summer; it's also the #4 destination for digital nomads.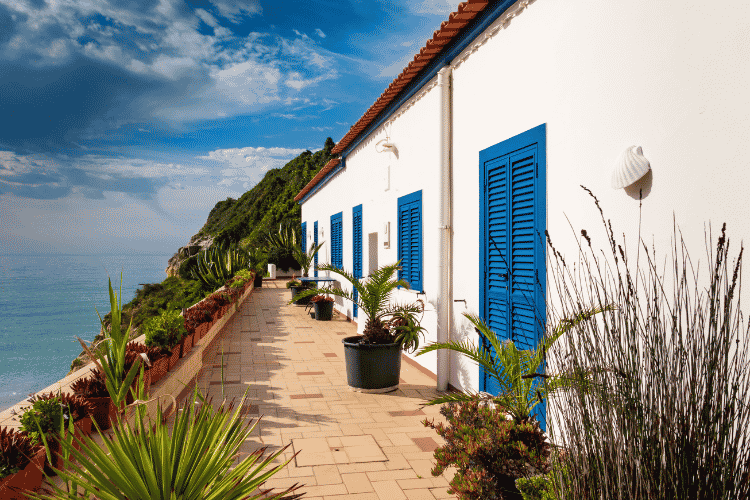 Algarve's favorable climate, combined with the low cost of living makes it a stellar package to spend your life here. This is specifically true for old-age couples who've spent their life working in a country with rainy and gloomy weather. Once they get a taste of the golden Portuguese sun, returning to their home country seems like a terrible idea.
The region has gained fast popularity in recent years, and the list of reasons is quite long. Let's highlight a few of the main ones:
Blissful 300 days of sunshine;
Huge expat community;
Low prices – High standard of living;
English is widely spoken;
More people are spreading the word about Portugal;
The real estate market is profitable;
Numerous beaches to relax at.
While the prices may not be highly favorable for locals earning Portuguese salaries, expats find it affordable compared to other countries. But even though that's the case, locals find the Algarve to be an excellent vacation spot for summer break. The Portuguese save up to recharge their souls by living in the country's tourist hub for a few days.
However, it's not just tourists now; the Algarve has many new foreign residents. Expats from different countries have used the privilege of the D2 Visa or the D7 Visa to obtain a Residence Permit.
And for all of these reasons, living in the Algarve is trending.
More and more real estate constructions are being built for tourists
Of course, we can't just turn down tourists who want to experience the rich culture and beauty of Portugal. That's what the country is known for; it'd be so sad to see tourists not have the time of their lives here.
New real estate options are under construction to combat the high influx of tourists and expats, while many are already established.
According to sources, new apartments are underway only 400 meters away from the Lagos Marina. The ideal location is a 15-minute walk from the beach and has an outdoor swimming pool too. A perfect option for those who want to be close enough to the main city center.
There are also 36 new condos for sale in Albufeira, only a 7-minute walk from the beach. The buildings have spacious and bright 2 and 3-bedroom apartments with all the interior you'd need for a relaxing holiday. To read more about the specifications, you can check out this link.
Keep reading to know how you can land a great deal for these condos!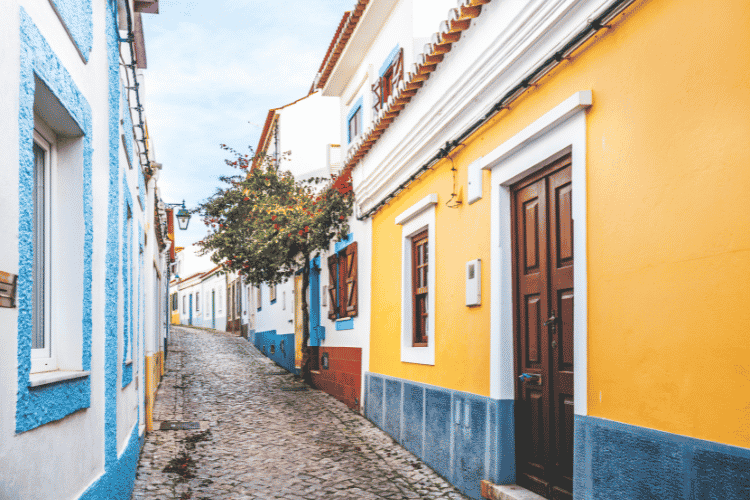 Long-term rentals vs short-term rentals in the Algarve
As the names suggest, the terms of rentals in the Algarve vary.
There are short-term rentals, usually preferred by tourists or locals spending a few days in the region. These contracts last a few days or weeks, but nothing exceeds that.
While the other option is long-term rentals, mostly for families or individuals who've decided to stay. These contracts are from 6 months to however many years possible.
More than two-thirds of Portuguese residents own at least one property within the country. This preference exists because taking out a mortgage is cheaper than paying monthly rent.
In 2020, more people spent money on owner-occupied dwellings. According to the Banco de Portugal, the pandemic restricted spending habits, and a historic level of household savings was recorded.
Owners usually put up their properties on rent when the season arrives and relocate to somewhere cheaper for the time being.
Families turn to larger cities in the Algarve
To escape tourism and high prices, families living in the Algarve tend to flee the tourist areas during peak months. It isn't an easy decision, of course. Who would want to leave their home near the stunning Algarve beaches, right? But also, it does get pricey to stay there.
Usually, families go to cities like Faro, Portimão, Loulé, and Quarteira. These cities have one thing in common – fewer tourists than Albufeira and Lagos. It can be a nice vacation from the usual surroundings and people too.
The challenges of finding a rental in the Algarve
Let us remind you that although there are challenges, the number of tourists only continues to rise. The magic of Portugal's golden sun and beautiful beaches can't keep people away for too long!
The challenges of finding a rental in the Algarve are usually a result of:
The high influx of foreign tourists;
A large number of locals on vacation;
Foreign expats buying a house in the Algarve to retire;
Lack of property availability;
High rental prices;
As for the locals, the Affordable Rent Scheme was introduced for Portuguese families to help them find reasonable long-term rentals. The program encouraged a contract between property owners and tenants, allowing them to receive government tax benefits. In exchange, tenants get lower rental rates than the rest of the market.
Vacation rentals give owners much more profit in the summer
Prices of rentals in the Algarve skyrocket during the peak season, especially summer. They can go up to €1,000 depending on the city.
However, the foreign tourists don't mind paying extra since the value they're getting far exceeds the costs. Some people earn up to €1,500 per month by renting their apartments or homes for €50/per day!
Remember how we said the real estate market is super profitable in Portugal?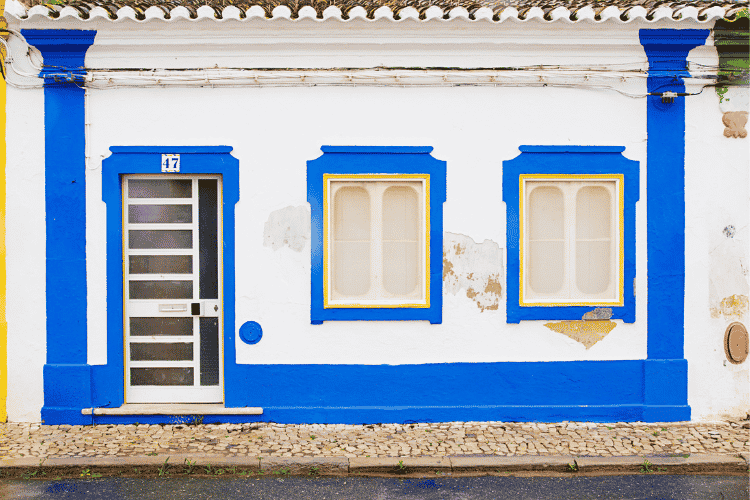 Algarve rental prices rise every year
Finding a rental in the Algarve surely isn't as affordable as it used to be previously. However, while housing prices are increasing all over the world, Portugal still remains to be one of the cheapest European countries.
Rental prices are much lower than, for example, in the U.S or the U.K. That adds to the reasons why finding a rental in the Algarve is a long process. Although rent is higher than the national average in Portugal, so is the quality of life.
Take a look at the current rental prices in Algarve, compared to those from two years ago. All prices are estimates for a one-bedroom apartment which is nearly 86 m².
| Area | Prices in 2022 | Prices in 2021 | Prices in 2020 |
| --- | --- | --- | --- |
| Faro | €937 | €791 | €825 |
| Lagos | €1,066 | €817 | €834 |
| Albufeira | €903 | €740 | €817 |
| Portimão | €842 | €697 | €774 |
| Tavira | €840 | €731 | €782 |
Prices are taken from Idealista in June 2022.
You can notice a price dip in the year 2021, a result of the Covid-19 pandemic. To encourage a certain level of tourism, rentals in the Algarve were made more affordable.
Is it worth renting a house or apartment in the Algarve?
The answer is very subjective to what ticks your list of requirements. However, our job is to guide you in the best direction, and we'll always be candid.
Most people find that a two-bedroom apartment works just fine for them. It allows them to save up on expenses, be in touch with wonderful neighbors, and live near the beach. On the contrary, numerous expats also find investing in the Algarve's real estate very profitable.
Retirees love living here and one reason is that they know their assets won't depreciate in the booming market. Without a doubt, living in the Algarve is a privilege, but it's worth it for the quality of life.
If you're spending the summer with your family or a bunch of friends, renting a house is a better option. The Algarve's newly constructed options near the sea will steal your heart for sure!
As far as living in the Algarve is concerned, the number of people on Albufeira's beaches will convince you. The region is a must-have destination on your travel bucket list.
Want to know the top 8 Reasons Why Expats Retire In The Algarve? It's more than just about affordable housing and sunny beaches. Read our article and discover why retirees are flocking to the stunning Algarve region!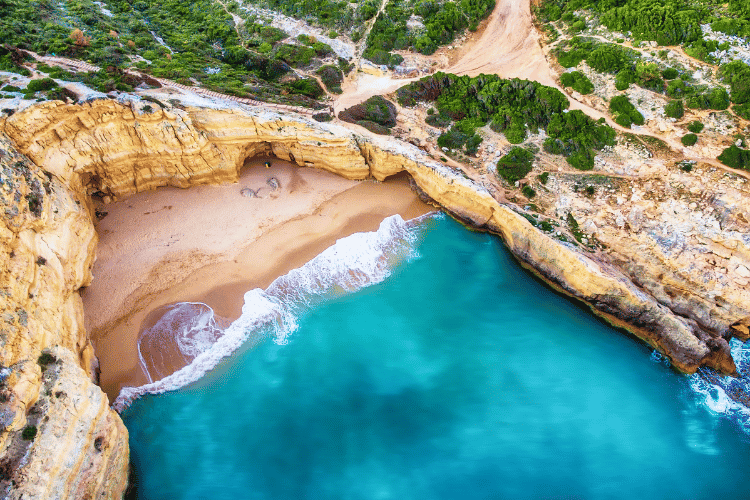 How to choose or find a good rental in the Algarve?
Now we move on to the most exciting part of this article. With so many options and such little time, is finding a rental in the Algarve an impossible task? Not at all.
To land a good rental in the Algarve, tourists and expats usually follow some basic steps that guarantee success. Take a look at what the process usually looks like:
Search a lot on real estate websites
The key to success is knowing what you're looking for and where you want that to be. Some people have large budgets but no knowledge, which can often lead to exploitation in many countries. Your first step to finding a rental in the Algarve should be to spend ample time researching real estate websites.
This will allow you to know an average range for the area you're looking to rent in. You may then tweak your budget however you think is appropriate. Real estate websites also help you to virtually experience what the space and its surroundings look like.
To help you out, we've found the most reliable real estate websites:
Pro tip: Know what you're looking for, study the market, talk to people, and then decide on the best option for yourself.
Make contacts with tenants in the Algarve
Is there a better way to know the current market than talking to people already living in the region? Making contact with tenants is extremely helpful in so many different ways.
You get to know the prices, the best time to rent out, and make the most out of your stay. A lot of locals follow this practice to prepare for their vacations. It's a whole different story if you're living outside of Portugal.
As someone who's coming to Portugal for the summers, getting to know a resident in the Algarve can be quite advantageous.
Don't know anyone living in the Algarve? Don't fret at all; you can join our Facebook Group – All About Portugal For Expats. Get in touch with hundreds of residents ready to lend a helping hand; they can give you better tips than anyone else!
Talk to real estate experts
Finally, the best advice can only come from real estate experts themselves. They're up-to-date with market rates, new condo locations, and trends for peak times. And sometimes, it's better to let experts go through the process of finding a rental in the Algarve for you. 
After all, you're coming here to enjoy, and you wouldn't want to exhaust yourself before the fun begins.
Here's what Viv Europe's real estate experts can help you with:
Searching places according to your requirements;
Gathering information;
Negotiating offers;
Inspecting the place;
Signing the documents;
Helping you live in your temporary home.
As a new tourist or expat, bureaucracy can be a bit overwhelming, especially if you're not well-versed with the Portuguese system.
Pro tip: Discover how a realtor can make your life easier and what tips you should know before making your purchase. Check out our article on the Top Real Estate Websites In Portugal and browse stunning rentals from the comfort of your home.
Do you want to come and live in the Algarve?
We bet you do! People find it hard to resist, despite the challenges of finding a rental in the Algarve! That says a lot about our stunning country, doesn't it? It might take a bit more effort and time to land you a good deal, but it's so worth it. At least that's what current residents feel; we totally agree.
To get in touch with current residents and hear their opinions, join our Facebook Group – All About Portugal For Expats. We have a community of over 5,000 Portugal enthusiasts ready to help you out. Feel free to ask questions about life in the Algarve, rentals, the community, and whatever you deem necessary. You'll be surprised by how welcoming people are here.
Remember, Viv Europe's professional team is always one tap away. Contact Us now and get ready to map out your dream life in the Algarve!