Last Updated on June 5, 2023 by Laila Oliveira
It's like a neverending list of stunning cities that take you a second to fall in love with! There are pretty expensive options; well, they're expensive, at least for the Portuguese. And then there are the cheapest options. But we don't equate cheap with inferior quality; you'd be surprised! This article will sum up all the most expensive and cheapest places to rent property in Portugal.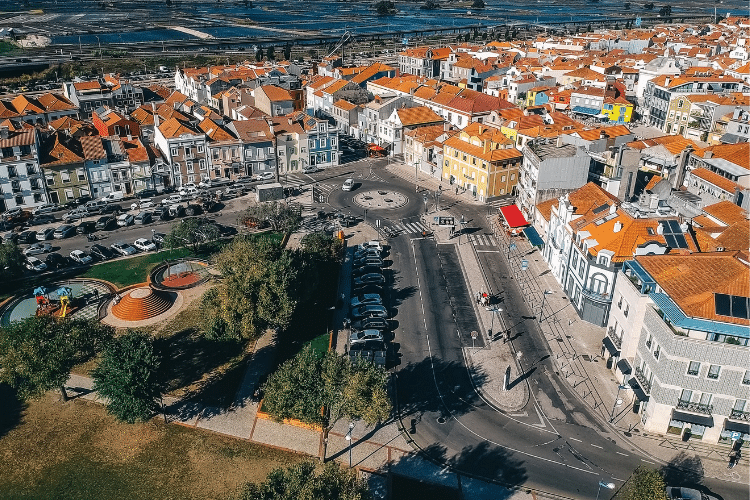 For an expat with limited information about Portugal, choosing where to move after relocation can get confusing. Lisbon, the vibrant capital city, is known for its high rental prices, making it one of the country's most expensive places to rent. But cheaper options are also available, so it's essential to consider factors such as location, property size, and amenities before settling for a place to rent.
Let's dive into the details and fill you in on the challenges of finding a property, whether the higher price adds to the value, and where you can find the best bang for your buck. Happy reading!
The challenges of finding a property to rent in Portugal
Finding a property to rent in Portugal as an expat comes with its own set of challenges. One of the main difficulties is the high demand for rental properties, especially in popular cities like Lisbon and Porto. To be fair, they're the first names you can think of, even if you don't know much about Portugal. 
This often leads to limited availability of suitable rental options, causing competition among prospective tenants. So, starting the process early and being prepared to be patient during your search is essential. We promise you; it will be worth the wait.
If you're looking to rent here during the summer months, you'll also have trouble finding a good deal. That's because demand for rentals is incredibly high during those months since Portugal hosts thousands of tourists every year. 
Working with an experienced local real estate agent who can provide guidance and assist with negotiations is also recommended to work around these challenges.
From cozy studios to spacious multi-bedroom units, many places offer newly constructed kitchens, living areas, and sometimes balconies or terraces. And if you have a different taste, preferring villas or townhouses, then Portugal has got you covered in that regard too.
All these rentals can be availed for short-term or long-term use, but finding a long-term rental may be more challenging. This is why we will go over the highlights of all you need to know from the most expensive and cheapest places to rent property in Portugal.
Rent prices in Portugal rise every year
It's important to know that rent prices may change over time. Portugal has become an increasingly popular destination for tourists, so property owners have taken the opportunity to capitalize on short-term rentals. This has led to decreased available long-term rental properties and increased prices.
For example, on average, rent prices have increased by around 5-10% across different regions in Portugal. The average rent rose 23% between 2019 and 2022, settling at an average of €6.52/m2. For fancier neighborhoods, prices can go up to €15/m2.
The country's improving economy also plays a role in rising rent prices. As the economy strengthens, the demand for housing increases and puts pressure on the rental market. 
Portugal has experienced steady economic growth and improved employment rates, attracting more people to live and work in Portugal.
Also, the area attracts many investors who purchase properties for short-term rentals or resell at a higher price. This further reduces the supply of available rental properties and increases the rent.
On the bright side, many regions in Portugal still offer a good lifestyle on a budget, making renting there worthwhile. Here are some estimates of rent prices in the most expensive and cheapest places to rent a property in Portugal:
Let's start with the most expensive: 
| City | Rent Per Month (one-bedroom apartment) |
| --- | --- |
| Lisbon | €795 |
| Cascais | €792 |
| Porto | €659 |
| Oeiras | €737 |
| Loulé | €735 |
Estimates are from Numbeo (as of June 2023).
Then, let's move on to the cheapest: 
| City | Rent Per Month (one-bedroom apartment) |
| --- | --- |
| Vila Real | €300 |
| Castelo Branco | €280 |
| Portalegre | €545 |
| Covilhã | €275 |
| Viseu | €452 |
Is it worth renting a house or apartment in Portugal?
As an expat, renting provides flexibility and allows you to explore different neighborhoods and cities before finalizing a long-term property purchase. It also offers convenience, as most rentals come fully furnished, saving you the hassle of purchasing and transporting furniture.
But really, the best thing about renting is it allows expats to experience the local lifestyle without the long-term commitment and financial obligations of buying a property. It provides the opportunity to immerse oneself in the community and better understand the area before making a permanent choice.
Still, it's essential to consider rental prices, location, and availability. Expats should also know the local rental market dynamics, including demand and legal regulations. But you don't need to worry too much about this; if you're ever stuck and can't decide, Viv Europe will guide you every step of the way. 
If you love the privacy that comes with renting a house, or if you have a large family that requires space, renting a house will be a great option for you. You've seen the prices in the most expensive and cheapest places to rent a property in Portugal, so you can probably tell it's easy to find something in your range.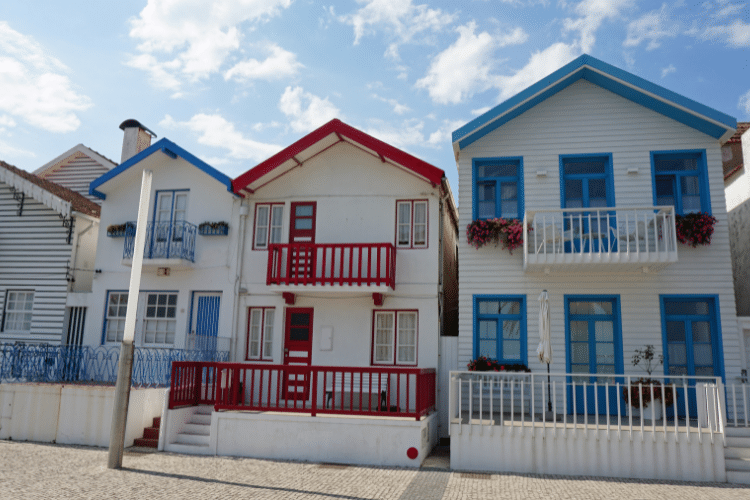 How to find a property to rent in Portugal
Just remember to take care of a few basic steps that apply when it comes to the most expensive and cheapest places to rent a property in Portugal. First, begin by researching real estate websites specializing in rentals in the country. Platforms like Idealista, OLX, and Airbnb can provide a wide range of rentals.
But you have to be clear about your requirements and preferences. You should survey and narrow down your desired location, property size, amenities, and budget. Also, attending property viewings can significantly help in your rental search. This will give you a better sense of the property's condition, layout, and neighborhood.
If you can, get some professional advice from a local real estate agent, who is familiar with the rental market in Portugal. They can help you navigate the process, understand local regulations, and find properties that align with your needs and budget. 
And finally, networking with local expat communities or online forums can be helpful as they often offer valuable insights and recommendations. You should also have the necessary documentation ready. Some requirements of landlords are:
Identification
Proof of income
References
Pro tip: In some cases, rental prices and terms may be flexible, especially if the property has been on the market for a while. So try to negotiate before finalizing the terms.
With Viv Europe your plans for Portugal
will finally come to a reality
The 5 cheapest places to rent a property in Portugal
On to the most awaited bit of the article, let's discover the most expensive and most affordable places to rent in Portugal!
If you're looking for affordable rentals, consider exploring Castelo Branco, Portalegre, and Covilhã. These cities offer lower rental prices than major metropolitan areas like Lisbon and Porto.
Regardless of the low rent, they provide a high quality of life, access to amenities, and a quieter pace of living. These places also offer beautiful landscapes and a strong sense of community, making living there worthwhile.
We'll go over each of the 5 cheapest options in detail, one by one. 
Vila Real
This city is known for its affordability and attractive rental options for expats. It is located in northern Portugal and offers a blend of historic charm and modern amenities. You should know that the real estate market in Vila Real provides a range of affordable rental properties, including apartments and houses, suitable for different budgets.
The city also has diverse neighborhoods, each with its character. It's trendy for students as the University of Trás-os-Montes and Alto Douro are located there. But because of its peaceful atmosphere and access to nature, retirees also find Vila Real appealing.
Castelo Branco
Castelo Branco provides a tranquil and laid-back lifestyle with a charming blend of historic architecture and natural beauty. Living there guarantees you a high-quality lifestyle on a budget.
The real estate market in the city offers a variety of rental properties, including apartments and houses, at more affordable prices than in larger cities.
Like Vila Real, Castelo Branco is known to be a welcoming and peaceful retirement destination for expats. It's also home to the Polytechnic Institute of Castelo Branco, making it alluring for student communities.
Portalegre
Portalegre is a great spot for expats seeking an affordable and peaceful place to call home. It's rich in history and culture, with a charming ambiance that will immediately make you feel welcome.
The city offers a range of apartment sizes, from cozy studios to spacious multi-bedroom units, so you can pick one that resonates with you. Of course, the rental prices for apartments are lower than in popular metropolitan areas, but they vary depending on the neighborhood, size, and condition.
All the neighborhoods have a friendly and tight-knit community, so connecting with locals and fellow expats will be easy. This city, too, because of Portalegre Polytechnic Institute, is a vibrant academic hub. So you'll find a large student community here.
With its tranquil atmosphere and low rents, Portalegre is perfect if you're looking to escape the hustle and bustle of big cities.
Covilhã
Covilhã is a delightful city in Portugal, offering expats an enjoyable experience with a low cost of living. The city has various rental options at budget-friendly prices, from apartments to houses. The friendly and welcoming atmosphere makes it easy for expats to integrate into the local community.
The city offers residential areas, commercial zones, and convenient amenities to create a well-rounded living environment for expats. Covilhã also boasts beautiful natural surroundings, with the Serra da Estrela mountains and plenty of opportunities for outdoor activities.
Viseu
The last one on our list – Viseu. The city's historic beauty, pleasant climate, and vibrant cultural scene make it a charming and comfortable choice for expats.
You should know that neighborhoods like Repeses, Abraveses, and Povolide are popular expat choices due to a mix of residential areas, amenities, and proximity to the city center. You'll love Viseu for its favorable rent market if you're seeking a comfortable and cost-effective living experience.
Viseu's rent situation offers an appealing combination of affordability and availability for expats. There's also a good variety of rental options, including apartments and houses, to suit different needs.
The 5 most expensive places to rent a property in Portugal
Portugal's costly urban lifestyle is much more budget-friendly than other European regions. You may be able to afford the most expensive and the cheapest places to rent in Portugal. So let's go through the more expensive metropolitan areas as well. 
Lisbon
Living in Portugal's capital is an exciting experience for all expats! The city offers a vibrant cultural scene, stunning architecture, delicious cuisine, and a perfect blend of traditional charm and modernity. But finding your perfect rental can be a little tricky.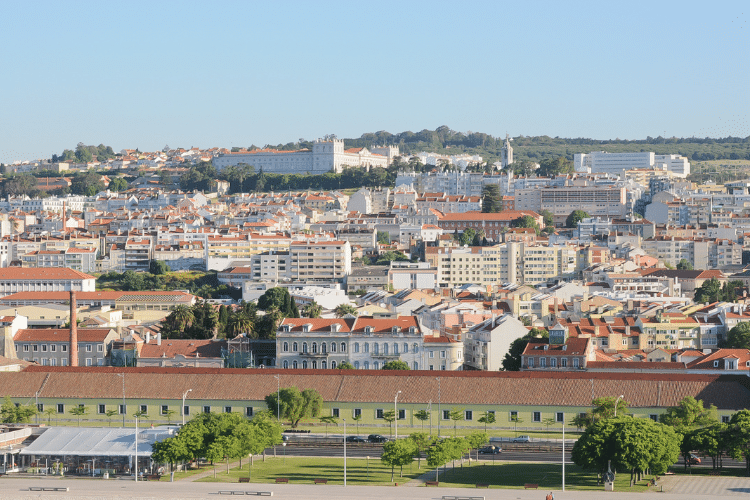 Lisbon offers a variety of rental options, from cozy apartments in charming historic districts like Alfama to modern flats in trendy neighborhoods like Bairro Alto. As mentioned earlier, rental prices here too vary depending on location and size, with central areas more costly. After all, it is a business hub, so living here can get pretty expensive.
For example, neighborhoods like Chiado and Príncipe Real offer a vibrant lifestyle with upscale amenities, while areas like Graça and Campo de Ourique provide a more local and relaxed atmosphere. But you'll find something for your taste in a diverse city like Lisbon. 
Cascais
Living in Cascais is a dream come true for expats. This charming coastal town offers a laid-back lifestyle, stunning beaches, beautiful landscapes, and a thriving international community. Here, finding a rental itself is an exciting endeavor for expats.
The town offers many rental options, from luxurious villas to cozy apartments, catering to different preferences and budgets. Rental prices in Cascais also vary depending on location, size, and amenities. But it has a bit of everything for those looking for a bit more luxury.
Areas like Estoril, Monte Estoril, and Cascais Center offer a mix of seaside living, vibrant communities, and convenient access to amenities. Whether you seek a beachside retreat or a lively urban vibe, Cascais has the perfect rental for expats looking to enjoy the beauty of the Portuguese coast.
Porto
You may just say that Porto is the most popular choice among expats after Lisbon. The city offers a rich cultural experience with fantastic architecture, tasty food, and a lively atmosphere that never fails to impress.
Finding a rental is itself an exciting adventure for expats in Porto. The city offers a variety of rental options. These range from historic apartments in the charming Ribeira district to modern lofts in trendy areas like Cedofeita.
Neighborhoods like Foz do Douro and Boavista offer a more upscale lifestyle, while areas like Paranhos and Bonfim provide a more affordable and authentic experience. All in all, Porto has the perfect rentals for expats looking to immerse themselves in Portuguese city life.
Oeiras
Oeiras is a coastal town that offers a relaxed, family-friendly environment, beautiful beaches, and an excellent infrastructure for expats. It also is a convenient distance from Lisbon's vibrant city life. Like its high-quality lifestyle, the rentals in Oeiras are also popular among expats.
From modern apartments in upscale condominiums to spacious houses with gardens, the town offers a variety of rental options. Areas like Paço de Arcos, Oeiras Park, and Quinta da Fonte provide a mix of residential tranquility, access to amenities, and proximity to beautiful beaches.
Oeiras has the perfect rentals for expats seeking a balanced and enjoyable lifestyle with its coastal charm and convenient proximity to Lisbon.
Loulé
Living in Loulé is an unmatched experience for expats. This picturesque town in the Algarve region offers a blend of traditional Portuguese charm and modern amenities. The best part is, finding a rental here is relatively easy.
Loulé offers a variety of options, including apartments, townhouses, and villas for rent. Like all cities, the rent prices vary depending on location and size.
Quarteira, Vilamoura, and Almancil are areas in Loulé that provide a range of choices, from beachside living to golf resort communities. Loulé allows you to embrace the sunny Algarve lifestyle with a reasonable rental.
When are you moving to Portugal?
Regardless of the city or neighborhood you choose, you're bound to find a place for yourself in a country that's home to various communities, cultures, and preferences. And whether you pick a favorite from the most expensive cities or the cheapest ones, we can assure you, you'll feel fulfilled.
To get suggestions from other expats who've already been through this, join our Facebook Group – All About Portugal For Expats. Ask questions, network with tenants and landlords, and find your new home!
When you're ready to make the big move, reach out to experts from Viv Europe. We can help negotiate a better deal, take care of bureaucracy, and get you the keys to your first apartment in Portugal. See you soon!