Last Updated on November 28, 2022 by Laila Oliveira
The combination of accessibility and investment in development isn't hard to find in Portugal these days. We've talked plenty about Lisbon, Porto, and the Algarve, but there are many places you have yet to explore. A city that offers a glimmer of calm amid tech companies and innovation, living in Oeiras is rather underrated. 
Oeiras has some amazing historical patrimony, artistic sites, beaches, and interconnected transport, making it one of the ideal locations to be near Lisbon. The location is a perk on its own, and there's more where that came from!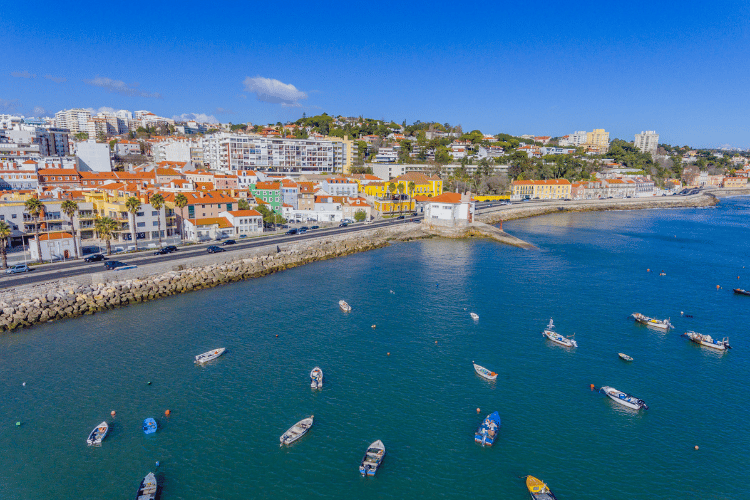 Read all about living in Oeiras, a neighbor of Cascais and Lisbon, and learn why people choose this city instead of others. We'll talk all about the lifestyle, the real estate market, work labor, education, and much more. Happy reading!
What is living in Oeiras like?
Oeiras, between Cascais and Lisbon, has emerged as one of the many demanding municipalities to visit and, surprisingly, to live in.
Picture yourself sliding the curtain of your window to witness the calmness of the sea and the beauty of green spaces – what a sight to spend your life in.
Oeiras has embraced a fantastic cultural dynamic, views that connect you to nature, and places that inspire you to go out and experience life to its fullest.
It also has excellent educational facilities, a higher employment rate, great health services, affordable means of life, and safety. Sounds too good to be true? Keep reading! 
The city is close to the Lisbon airport and is interconnected by the railway line and highway. So, living in Oeiras will not make you feel left out. It's an ideal place to enjoy a pleasant and purposeful lifestyle.
Who lives in Oeiras?
The standard and cost of living attract many middle and upper-class people, especially in areas close to the Cascais-Lisbon railroad. But that doesn't mean it is limited to such inhabitants only.
According to Pordata, the municipality is home to 171,767 people, covering 45.88 km2 and ranking fifth in Portugal in terms of population density.
As per official data, 5% of the population represents foreigners. There are 61% working-age individuals, 14% young adults, and 24% elderly individuals. It is one of the most developed municipalities in Portugal and Europe.
Oeiras has a relaxed vibe that you'll have difficulty finding in Lisbon. Every day, people run near the sea to energize themselves close to nature.  In most of the areas surrounding Oeiras, children can play outside safely. Living in Oeiras is priceless when you truly think about it. 
Why are expats moving to Oeiras?
If the reasons above haven't made you wish you were in Oeiras yet, let's tell you a bit more about this place. Expats are moving to Portugal because they've found a haven with an amazingly low cost of living. Wouldn't you rush to a particular place that offers a competitive lifestyle shift? Certainly, yes.
Oeiras has become an economic hub for business persons, investors, and young entrepreneurs. Its proximity to Lisbon makes it a priority for those who prefer sea sides and beaches, low-population cities, and less fussy traffic.
Let's look at the top three reasons expats see Oeiras as a potential home. 
Thriving Economy
Portugal's current population is 10 million, of which an estimated 11% comprises immigrants from different parts of the world.
Oeiras is a municipality with the nation's second-highest GDP per capita, second-highest purchasing power (56.3 points higher than the national average), and second-highest tax collection system after Lisbon.
In Oeiras, the average percentage of people with higher education is significantly higher than the national level and Lisbon. It also has the highest concentration of working individuals resulting in the lowest unemployment rate compared to Lisbon.
Being a center point of industrialization and an intensely commercial municipality, Oeiras has the headquarters of various technological and multinational brands, including BMW, Toshiba, and Nestlé. 
High Quality of Life
What would you think of a place where GDP is the highest, the average salary is high, crime is the lowest, and purchasing power is the highest? Most people would be ready to pack their bags and relocate there!
Hundreds of hospitals in Portugal meet International and European standards. The country has a nationalized health care system, and the private industry has improved over time, and gladly it is also affordable.
In Oeiras, healthcare facilities are given the utmost priority, which is why its healthcare index score is 89.81.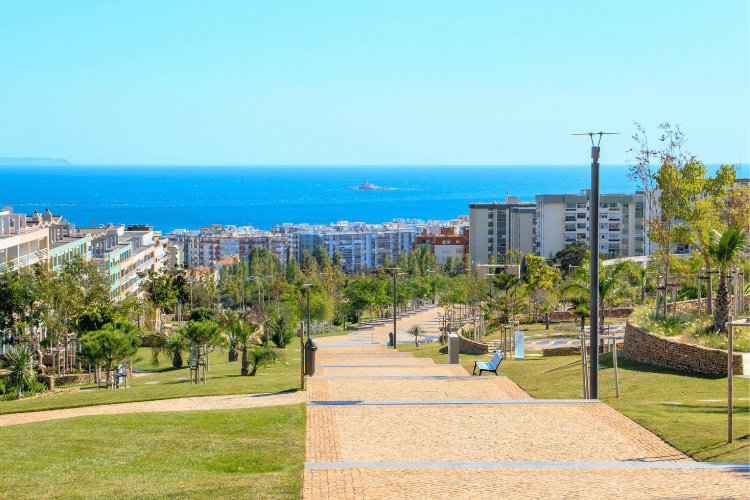 Furthermore, it's a safe municipality with a crime rate of 14.31%. You're guaranteed nearly 98% safety when walking in Oeiras, regardless of whether you prefer to do so during daylight hours or at night.
Greenery, parks, and the presence of recreational activities add to the high quality of life. The green spaces cover 15% of the municipal regions. With its due investment in environmental stability, Oeiras has an Air Quality Index score of 9, which puts a further stamp on Oeiras's quality of life.
Real Estate market is growing
The capital's offer is insufficient to meet the demands of the inhabitants. Therefore, it leads residents to move to the neighboring municipalities, and Oeiras has been on the top. Both foreigners and residents have adopted the behavior.
Property prices in Oeiras have surged by 21% within months as demand outstrips supply. It is because many foreigners are looking for homes in Portugal after relocating here. The municipality is experiencing high land demand where domestic demand outnumbers foreign demand.
Furthermore, the municipality has seen many real estate investors launching projects, including international investors. After changes in the Golden Visa, investors also looked at hotels in these regions that could help them qualify for the application.
Needless to say, the real estate market is thriving in Oeiras.
Buying a property in Oeiras
Buying a property varies depending on what you are looking for, and the properties in Oeiras can range from extravagant real estate with sea views to standard apartments. The prices of real estate have gone up as compared to last year. 
According to Numbeo, the average price per square meter in Oeiras is €3,009, which is considered quite accessible. However, the price range fluctuates for new, old, and renovated houses. The pricing further lowers as you go away from the city center.
Here are some averages for different regions: 
| Region | Price per/m2 |
| --- | --- |
| Barcarena | €2,641 |
| Carnaxide e Queijas | €3,236 |
| Porto Salvo | €3,133 |
| Algés | €3,768 |
Estimates are from Idealista (as of November 2022).
Renting a flat in Oeiras
The good news is that renting a flat or apartment in Oeiras is far easier than in Lisbon or any other municipality. Oeiras is famous for its cinematic beauty and quieter, more composed, and serene atmosphere.
The rent prices are also more justifiable. According to Numbeo, the rent for a one-bedroom apartment in the city center is €837, and the rent for a three-bedroom apartment in the city center is €1,570.
Similarly, the rent for a one-bedroom apartment outside of the city center is €737, and the rent for a three-bedroom apartment outside of the city center is €1,075.
Is it better to live in Oeiras or Lisbon?
The answer to this depends on your particular taste. If you're attracted to living in the center of events, unbothered by the nuisance around, and frequently visiting bars and restaurants, then you should reside within Lisbon.
Contrary to this, if you want to make a life for yourself and live in a place far from the city hassle but quickly commutable if required, then Oeiras is your place to be. These places have unique individuality and perks; choosing one depends on your desire.
With Viv Europe your plans for Portugal
will finally come to a reality
Is living in Oeiras better than living in the Algarve?
The Algarve, like Oeiras, has much to offer in terms of pleasant weather, beaches, cheap property, friendly people, and the sun. Yet, they are entirely different.
Oeiras is much more developed with regard to infrastructure, property, and transportation. It has better career opportunities and educational excellence and is home to business tycoons. Overall, it may be a better choice; however, if you're retired or working from home for an international company, Algarve might work better.
What is the cost of living in Oeiras?
The cost of living in Oeiras is similar to the rest of Portugal; cheap for expats and a little pricey for locals. There is a reason why expats love this place. Oeiras has a pretty low cost of living for all that it offers. A modest income would help you go a long way here compared to the rest of Europe.
Let's have a look at what the average expenditure would cost you in Oeiras:
| Expense | Cost |
| --- | --- |
| Apartment Rent (one-bedroom) | €837 |
| Apartment Rent (three-bedroom) | €1,570 |
| Groceries | €200 |
| Utilities | €119.97 |
| Fitness Club | €41.88 |
| Restaurants (One Meal) | €9 |
| Transportation (Monthly Pass) | €40 |
| Cinema | €7.05 |
| International Primary School, Monthly for 1 Child | €879 |
Data is from Numbeo (as of November 2022).
Safety living in Oeiras
Crime rates in Portugal are generally low, which adds to the reasons for being a very demanding place for foreigners to move in. Oeiras has a crime rate of 24.6%, with a significantly high safety index of 85.69%.
Oeiras is home to friendly inhabitants, lively neighborhoods, educated people, and very little stress. There are insignificant violent crimes; however, pickpocketing is a norm in all tourist countries around the world, so we advise you to be cautious of your surroundings.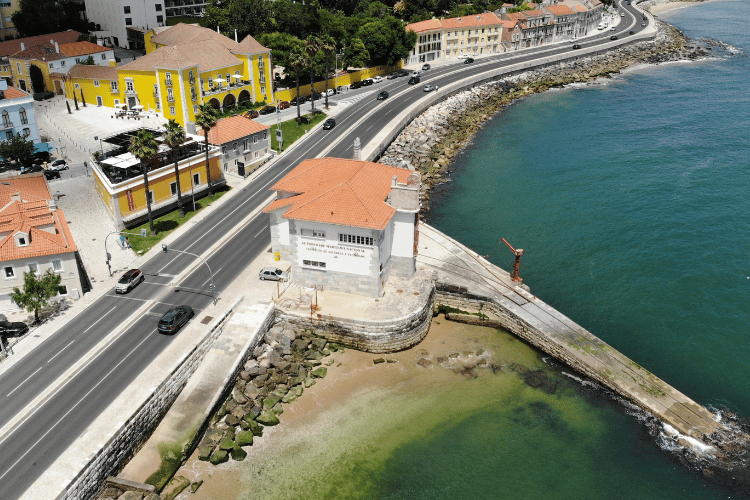 Access to healthcare in Oeiras
Portugal has nationalized healthcare, ensuring all legal residents have free public healthcare access. There are over 200 public and private hospitals with excellent services at par with the rest of Europe.
Oeiras' hospitals are facilitated with modern equipment for diagnosis, competent medical staff, precision concerning reports, and availability of free-of-cost medical facilities for residents. 
Portugal's private hospitals have improved in response to the growing tourism industry. A significant chunk of the growth is attributed to areas with the most tourism or thriving expat communities, like Oeiras. The municipality has a healthcare index score of 92.67.
Work labor in Oeiras
There's no doubt about Oeiras being a tourist attraction for many. However, it is a place full of career opportunities too. Oeiras is occupied with overachievers, entrepreneurs, business-driven individuals, and real estate enthusiasts. 
The cost of living is relatively low, and the average salary of employees in Oeiras is higher than the intermediate level in Portugal. There are multiple options to generate a living here since it is close to Lisbon too.
You can find many opportunities related to digital marketing, real estate, construction, hospitality, pharmaceuticals, engineering, and IT.
Education in Oeiras
Oeiras is home to one of the best educational institutions in Portugal. It has numerous public educational institutes and one international school named the Oeiras International School. The ratio of citizens with higher education degrees is highest in this area and above the national level. 
In addition, four of Oeiras' schools rank among the best state schools in the Lisbon district. Looking for schooling for your kids wouldn't be an issue here. They will get the best education whether it's a public, private or international school.
How can a foreigner move to Oeiras?
We knew you'd be interested! The process isn't too complicated, but it's not that easy either. 
You will be required to apply for a Visa as an expat from anywhere outside of Europe. Expats from within Europe are exempt from the formality. Portugal offers several Visa types: Startup Visa, Portugal Golden Visa, and Passive Income Visa, to name a few. 
The Visa process will vary depending on what basis you want to relocate. The Passive Income Visa is a favorite amongst many as it's one of the easiest ways to live in Portugal if you have regular rent or pension coming in. 
If you're confused about which Visa you should apply for to get you and your family relocated here, get help from Viv Europe's professionals. 
Each Visa application has some standard documents you must submit, along with other conditional documents depending on the Visa you apply for. For example, you will be required to submit a business proposal for the Startup Visa and proof of passive income for the Passive Income Visa.
You must submit your application at the Portuguese Consulate in your country along with a non-refundable fee of €90.
Once your Visa has been accepted, you can find a rental or buy a home in Portugal to kickstart the new chapter of your life!
Is it worth living in Oeiras?
After discussing all that Oeiras offers, it's hard to resist. But the only person who can be sure of whether it's worth it or not is actually you. 
We know it's well-loved by expats. There's an opportunity to work with multinational giants, live in a thriving economy, be close to art, nature, and historical buildings, and most importantly, have a peaceful lifestyle.
Located about 29 minutes away from the capital, interconnected by an efficient transportation system, beaches, and parks just around the corner, living in Oeiras is a dream. So, go on a scouting trip and experience it yourself!
Do you need help moving to Oeiras?
We hope this expat guide matches your expectations! Is this what you envisioned living in Oeiras would be like? It may not be a major tourist attraction, but that makes it so worthy of expats' attention. Calmness among technological innovation is what some people dream of. Let us know what you think of Oeiras in the comments below! 
If you're looking for others' opinions on where to live, join our Facebook Group – All About Portugal For Expats. We're a community of over 9,000 Portugal enthusiasts waiting to help others live their best life here. 
Once you're ready to make this relocation dream come true, contact Viv Europe and start your journey. Let us handle all the complicated bureaucratic procedures while you focus on how you're going to enjoy this new chapter of life. It's only one step away; get started now!