Last Updated on August 28, 2023 by Laila Oliveira
Are you an expat torn between Portugal or Belgium? Well, you've got a good choice. The two countries are the gateway to incredible living adventures in Europe. With its sun-kissed charm, Portugal offers expats a rich history and a welcoming expat community. The country boasts a Mediterranean climate, exquisite cuisine, and captivating traditions and attracts expats to a slower pace of life. 
But those in Belgium enjoy rich chocolate, intricate architecture, and lively festivals. So, if you're confused between the two countries, you've come to the right place. This guide will help you decide if the Portuguese Mediterranean allure or Belgium's central European vibrancy is for you. Happy reading!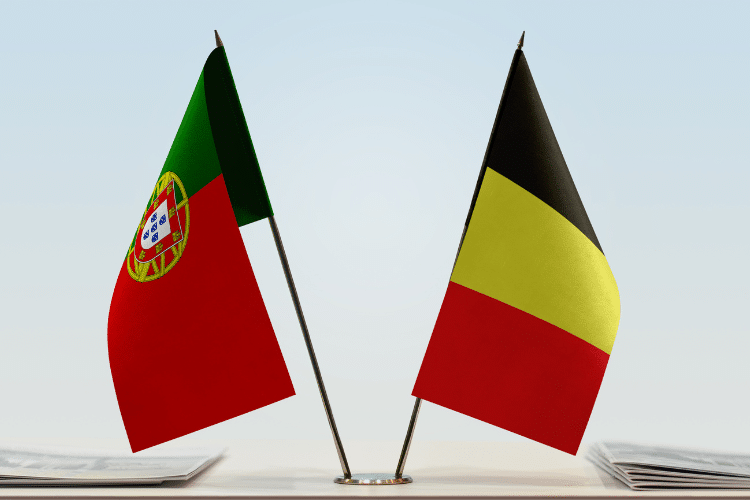 Portugal or Belgium? Why expats choose them
The two countries are about more than just about great weather and culture. Portugal, for example, is loved by many for its incredible lifestyle at a low living cost. The country is growing in popularity amongst entrepreneurs and digital nomads who adore the scenic workspaces for this very reason!
Of course, Belgium has its own charms. With its efficient public transport, you can explore many neighboring countries on weekends and satisfy your inner wanderlust. Since it's nestled in the heart of Europe, you'll find many attractive visiting destinations nearby. To top it off, the international organizations found in Belgium add to its versatile job market. 
So, whether it's Portugal or Belgium, expats have different reasons that attract them to either of the destinations. First, let's look at these differences.
Differences between the countries
Expats usually prefer Portugal for its relaxed lifestyle, affordability, and modern amenities. Plus, the thriving tech scene makes the country attractive to those affiliated with the industry. Portugal also offers appealing tax incentives, like the NHR, that catch the eye of many expat retirees and entrepreneurs.
Belgium is a little more renowned for its international schools and healthcare system. The country also has more global connectivity thanks to its central location and is home to significant international organizations.
But these differences do not set the tone of one destination being better than the other. Continue reading to find out more about why expats choose Portugal or Belgium!
Cost of living in each country
While both countries offer a great standard of living, Portugal has a more budget-friendly lifestyle. For example, if you rent in both, you can enjoy a good lifestyle for €3,907 in Lisbon, for which you'll need €4,600 in Brussels.
Some larger expenses can be calculated when you add up daily living costs. Rent in some areas of Portugal can be higher due to its high demand in tourist seasons. But overall, the daily expenses in Belgium can add up to much more.
Also, transportation costs and utility bills are lower in Lisbon, but you may find rent higher there since it is the capital. Consumer prices in Belgium are 44.6% higher than in Portugal, excluding rent. And restaurant prices are also 86.8% higher in Belgium. So, it might get a little difficult if you enjoy eating out.
Check out the table below for a basic comparison between the two:
| Expense | Cost in Portugal | Cost in Belgium |
| --- | --- | --- |
| Apartment Rent (1 bedroom) in City Centre | €788 | €813 |
| A Single person estimated monthly costs (without rent) | €615 | €894 |
| Apartment (3 bedrooms) in City Centre | €1,332 | €1,234 |
| Family of four estimated monthly costs (without rent) | €2,159 | €3,136 |
Price estimates are taken from Numbeo (as of August 2023).
Renting a property in Portugal or Belgium
Like we mentioned, Portugal tends to attract millions of tourists every year. Belgium's tourist attractions are a little limited to cultural heritage sights and culinary adventures. Portugal has fantastic beaches and summer festivals that draw a lot more attention.
So, it's explainable why rent in Portugal is a little higher, especially for short-term rentals and those in the city centers. However, numerous places in Portugal offer good quality rentals for as low as €450 in regions like the Madeira Islands and the Azores Islands. 
People who don't mind living a bit far away from busy cities love the offerings of smaller regions without compromising on the quality of life. You will find that there is something for everyone in Portugal.
Expats who prefer the city center would need about €1,277 for a one-bedroom apartment in Portugal. You could find a similar one in Belgium for €981 in the city center. But you must take into account the differences between Lisbon and Brussels.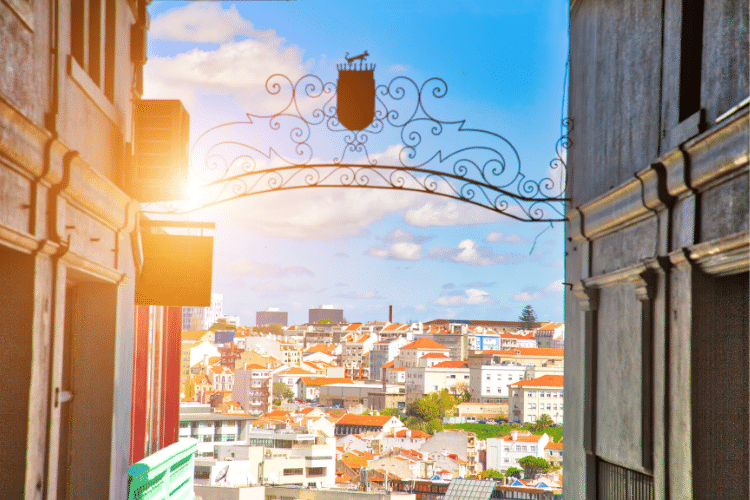 Rents vary with the selection of neighborhoods. For example, an apartment in suburbs near Lisbon, like Amadora, costs €850 monthly. Moving towards more posh neighborhoods like Ixelles in Brussels, you'll find rent up to €1,475.
You'll need a good agent to help you shortlist and survey the right apartments for you. Viv Europe has helped numerous expats, just like you, find a great deal in Portugal. If you'd like to get guidance, check out our Real Estate Services and make things easier for yourself. 
Renting in Portugal means you need to budget for the security deposit, which is around two months' rent. Lastly, you will need your ID card or Passport, proof of income, and NIF (tax number) for the documentation process. 
Labor market in Portugal and Belgium
You'll find the tech and tourist industries flourishing in Portugal, but in Belgium, tech and finance take the lead. If you prefer or belong to a different field, you'll find something worthwhile after a bit of research. 
Lately, Portugal is getting increasingly popular amongst entrepreneurs, while Belgium has many offices of multinational companies.
Let's discuss a bit about wages while we discuss the labor market. Portugal's average salary is €1,138, and Belgium's stands at €2,951. But Portugal's wages are balanced out by the low living cost, while Belgium's higher living cost is settled with the higher earnings. 
So, which appeals more to you thus far, Portugal or Belgium?
With Viv Europe your plans for Portugal
will finally come to a reality
Transport
Both countries have a user-friendly transport system. You can purchase tickets for daily or monthly passes in Portugal, depending on your needs. A ticket is usually priced at approximately € 2, while monthly passes cost around €40.
You'll find a similar structure in Belgium with single tickets for €2.40 and monthly passes for €49. 
Also, expats can find special ticketing schemes such as Porto's Andante Card helpful. Investing in this would cover your transport expenses within Porto for metro, buses, and regional trains. 
You can find a similar offer in Bruges with the Bruges CityPass. The pass lets you use public transport and allows entry into specific public spaces like museums.
Climate
One of the many flaunts of Portugal is its climate. The pleasantly warm Mediterranean weather remains an attraction for most of the year. The breezy summers and mild winters won't add much to your heating and cooling costs, and you can enjoy a nice drink near the beach. 
Belgium's summers are known to be mild as well, but the country is home to rainy and foggy winters. Temperatures can go as low as 1 °C (33.8 °F), so expect that chilly winters can pile up your heating expenses.
Regardless, neither country offers extreme weather that can drastically affect your living costs or lifestyle. So don't let climate get in the way of living your best life in Portugal or Belgium!  
Here are some average temperatures:
Country
Spring
Summer
Autumn
Winter
Portugal
15.4 ºC
(59.72 ºF)
22.4 ºC
(70.52 ºF)
18.1 ºC
(64.58 ºF)
11.8 ºC
(53.24 ºF)
Belgium
6.4 °C
(43.5 °F)
18.5 °C
(65.2 °F)
11.8 °C
(53.2 °F)
3.5 °C
(38.2 °F)
Data is from Climate Data.
Culture
Be it Portugal or Belgium, both countries offer a tempting cultural scene. Portugal's relaxed lifestyle paves the way for an outdoorsy culture. Expats and locals enjoy leisurely meals by the waterfront or stroll through historic cobblestone streets with Fado playing in the background. 
A similar thrill for eating out and tasting folk ballads is found in Belgium. But here, you'll find the experience slightly more costly. For example, a two-person meal costs €50 in a restaurant in Lisbon but €80.00 in a similar range restaurant in Brussels. 
Also, a single person's movie ticket costs €7 in Porto but €12 in Bruges. Though the rates are higher in Belgium, remember the country also offers a relatively higher average wage. This may help you cover the high expenses.  
Security
Neither destination has a concerningly high level of crime. Even in the big cities like Lisbon and Porto, the crime rate remains low in Portugal. With its crime index at 30.66, the country ranks as the 7th safest country globally. Still, to grant people security, Portugal has a reliable and efficient police force.
On the same index, Belgium ranks 20th. The country is generally safe but with a relatively higher crime rate of 48.83. Though it is not known to house violent crimes, petty ones like theft are common in urban spaces. If you're in tourist-heavy areas, be alert to stay safe from pick-pocketers. 
Regardless of whether you're in Portugal or Belgium, remember to be aware of your surroundings to avoid mishaps, especially in crowded areas. 
Immigration Law
Portugal and Belgium offer favorable immigration laws encouraging expats to choose either destination. In the former, D2 and D7 Visas are particularly popular amongst expats, and the work permit visa is popular in the latter.
If you're interested in Portugal, know that the D2 Visa is structured for entrepreneurs, and the D7 Visa is a passive income Visa commonly preferred by expat retirees. Both Visas allow you to reside in the country for up to five years on either Visa and work towards applying for permanent residency. 
Remember to have your valid Passport, proof of sufficient funds, and a clean criminal record with you when applying for the D2 or D7.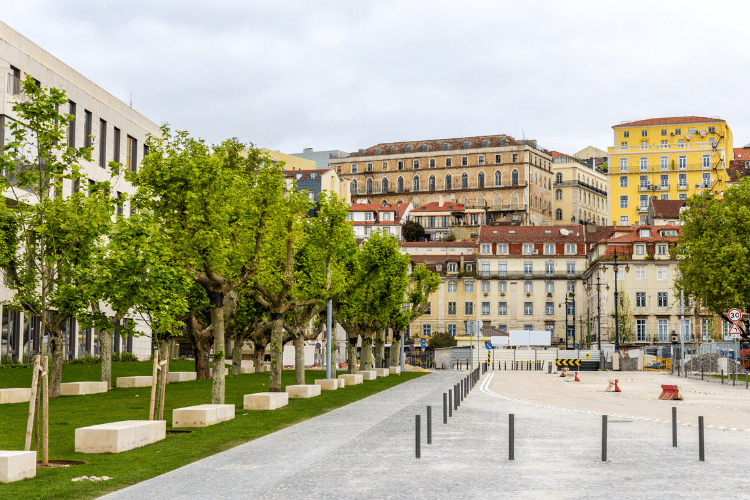 Let's now talk about Belgium's work permit. Many expats choose the country for its promising career opportunities, and the work permit allows them to legally work and reside in Belgium. This Visa can also pave the way for permanent residency and citizenship over time.
For example, you can apply for a temporary residence permit with the permit. After some years, you can move towards applying for permanent residency. You'll need your valid Passport, employment contract, and proof of sufficient funds, among other documents, to apply for your work permit.
Taxes
Here comes something that interests our readers and clients the most – 10 years of tax savings!
The NHR, or Non-Habitual Resident, is a popular tax regime in Portugal that allows expats tax benefits. Under NHR, you can have tax exempted from your foreign-sourced income for up to 10 years. This program attracts expats and helps them decide between Portugal and other countries.
For example, if you're an expat retiree with a pension from your home country, you can continue to enjoy tax savings in Portugal. These savings can also cut down your overall budget every month.
Belgium has a more progressive tax system with higher rates for expats and locals. But, the country still offers deductions and allowances, which can help reduce the tax burden. So be sure to get some legal advice to reduce your taxes wherever possible.
If you don't know where to start, get in touch with Viv Europe to get help with understanding and filing your taxes.
Bottom Line: Portugal or Belgium?
Ultimately, the decision between Portugal and Belgium depends upon your preferences and tastes. Both places have their advantages, which makes living there worth it.
This article gave you a well-rounded comparison of life in both countries. So now, regardless of the country you choose, you will undoubtedly find a thrilling yet comfortable life in your new home. If you wish to ask other expats, join our Facebook Group – All About Portugal For Expats, and seek stories.
Whenever you're ready to make the move, remember that our experts at Viv Europe will be at your service. All you have to do is shoot us a message!