Last Updated on May 5, 2022 by Letícia Melo
Every year, thousands of people around the world choose to move to the Algarve. In southern Portugal, this region is famous for being a fantastic beach holiday destination. But what is it really like to live there? What are the pros and cons of living in the Algarve as an expatriate?
To answer these questions, we've selected the top 5 pros and 5 cons of living here – from an expat's own experience in the Algarve. Check it out!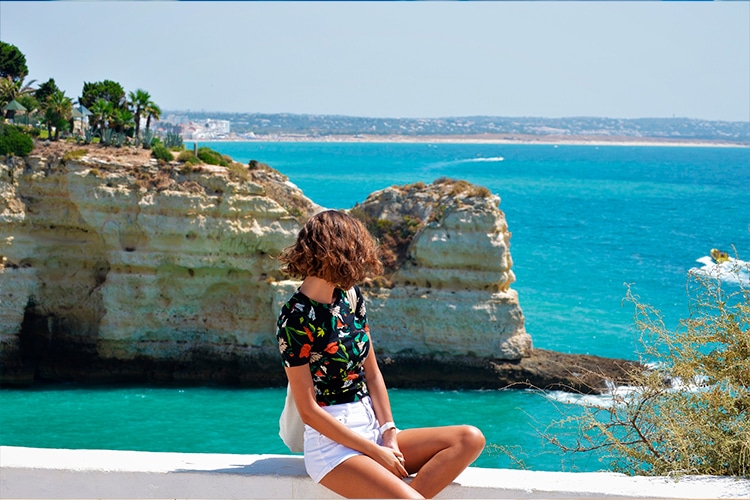 Pros of living in the Algarve as an expat
1. Sunny days all year round
The southern Portuguese region is blessed with over 300 sunny days per year, hot summers, and not-so-cold winters. It is one of the nicest places in the country and most days enjoy blue skies, warm sun, and cool breeze.
You can notice that here in the Algarve, people do a lot of outdoor sports. Restaurants almost always have tables in the street and you can wear shorts in February, even though it's winter. Don't forget your sunscreen and enjoy the Algarve all year round.
Read also: Living in the Algarve: all about sunny southern Portugal for expats
2. Some of the lowest prices in Europe
One of the factors that most impress expatriates in Portugal are prices.
This small country in southern Europe also has some of the lowest prices for everyday products.
To give an example, in the Algarve you can buy a coffee, croissant, and natural orange juice for just €2,50. A typical lunch dish costs around 8€, with a drink. And, for those interested, a large beer costs around €3. A much lower cost of living than other European countries.
Of course, you have to research prices and avoid areas that are too touristy if you want to save money, but in general, you live well spending little in the Algarve.
3. Clean air and lush nature
The proximity to the Atlantic Ocean, smaller and scattered urban centers, and natural scenery make the Algarve an ideal place to enjoy the quality of life.
Although it is a dry region and occasionally receives air from North Africa, the relative humidity of the air does not fall below 30%.
There is a lot of wind, but the beaches are mostly calm waters and few waves.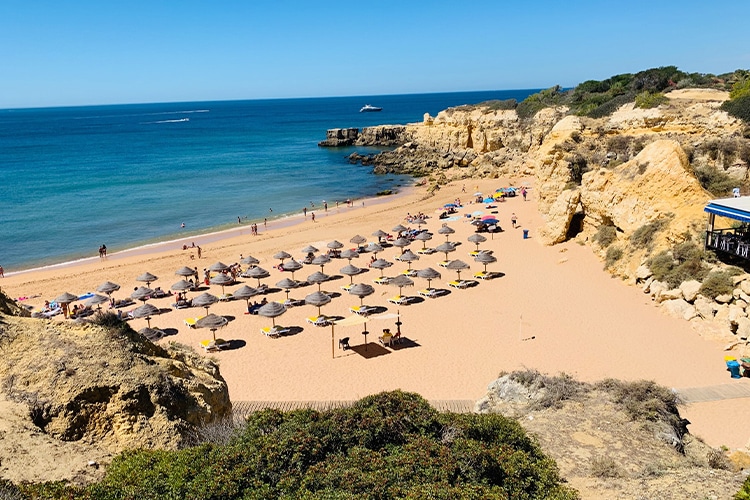 Even better, the Algarve has stunning beaches, mountain ranges with their own microclimate, and even white sandbanks.
In other words, it is the place with the ideal conditions to have fun with mountain biking, running, bird watching, golfing, sailing, and kayaking. Sounds great, doesn't it?
4. Growing expatriate community
It is natural that being a region with so many benefits, the south of Portugal attracts so many foreigners.
This safe and loving country is famous for its hospitality.
According to official PORDATA data, in 2019 around 92 thousand expatriate citizens were living in Portugal with a residence card.
That's 21.1% of the total number of residents, way above the national average of 5,7%.
The English, French and German communities, mainly, have their own centers with events, newspapers, and neighborhoods of their own in the Algarve.
Albufeira, Carvoeiro, Lagos, and Tavira are some of the favorite cities to live in the Algarve as an expat.
5. Most people speak English
Unlike other Portuguese regions, the Algarve is an area whose local population has always been in contact with foreigners.
The main industry of the Algarve economy is Tourism, which means that most of the attendants in the place speak at least basic English.
Communicating here will be much easier, and the Portuguese people are, in general, very attentive and helpful.
For families, it is good to know that there are also some international schools in the Algarve that teach in both English and Portuguese.
The local population is increasingly globalized, without ever losing security and tranquility.
Read also: Learning Portuguese: do expats in Portugal need to speak the language?
Cons of living in the Algarve as an expat
1. The bureaucracy can hinder you a little
Well, we have to start by talking about the worst side of Portugal to any expatriate: The bureaucracy.
Dealing with Portuguese laws, which are often unnecessarily complicated, can be a big challenge. In this case, we have an exception to the sympathy rule.
In government services, the attendants do not always speak English, and worse, they are not always willing to help.
Thus, many people need to resort to outside help to resolve the simplest issues. Lawyers, consultants, or even translators may be your best friends in times like these.
2. The real estate market is overvalued (some say)
Although the cost of living in the Algarve is not high by European standards, home prices have been following the interest of foreigners in real estate investment.
Small plots of land can cost much more in a village in the Algarve than around Porto, for example.
Understandably, it happens, but it's still a negative point if you want to buy a house.
3. You need a car, you can't depend on public transport
Adding to the rustic vibe of southern Portugal, the Algarve does not have an efficient, fast, and unified public transport system like Lisbon and Porto.
There is no subway in the Algarve, only buses and trains, but they are not exactly frequent.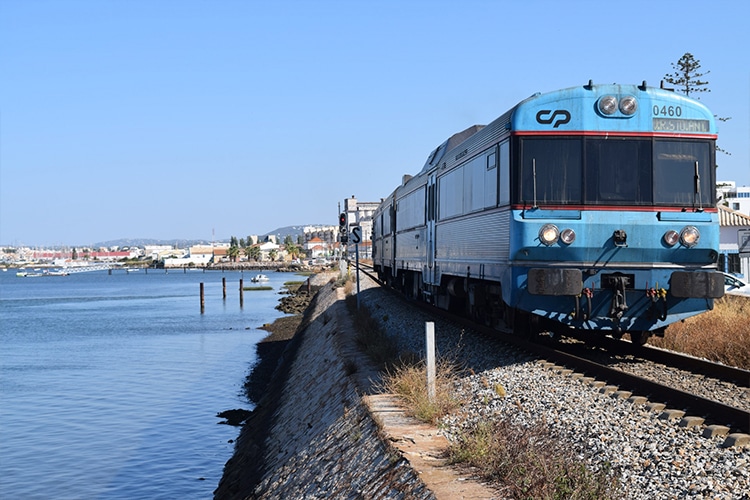 To get around the main urban centers, for example, you need a car or at least several taxi rides. By the way, gasoline in Portugal can be expensive. Also, buying a car in Portugal is often cheaper than importing vehicles from abroad.
4. The public health system is not the best
Forget the idea of relying only on public hospitals in the Algarve. Unlike Lisbon and Porto, the Algarve is an example of poor hospital management with long waiting lines.
What most expatriates in the region do is have health insurance that gives you access to several Portuguese private hospitals.
Some return to their home country for annual check-up appointments, but this will depend on your needs.
5. Finding a job is only easy if it's in the tourism
The labor market in Portugal is not the most promising, the minimum wage in 2022 was 705€ and the Portuguese young population usually emigrates in search of opportunities.
The Algarve follows this rule but differs from the rest of the country for having an economy almost entirely focused on tourism and agriculture.
Travel agencies, restaurants, and hotels are among the most profitable in the region and make almost all of their annual profit between June and September (summer holidays).
Working in this area is good, but if you are looking for a job outside of that, it might not be the best idea to look in the Algarve.
However, remote workers are increasingly interested in working from the Algarve. Read also: Where to work remotely in Portugal? See the top 5 places
Conclusion on the pros and cons of living in the Algarve
After considering all these factors, you should already have an idea whether relocating to the Algarve is or is not the right choice for you. For me, I'm glad it was.
If you're looking for a more relaxed lifestyle, this region is your paradise! It makes you want to retire in the Algarve for good!
No wonder the Algarve has been voted the best place in the world to live your retirement several times.
The profiles that most love the Algarve, however, are not just retired people. They are also remote workers, families, and people with passive income.
Yes, it may require some adjustment period, but living in the Algarve is without a doubt a wonderful choice.
It changes your life for the better. I know I couldn't have chosen better!
So, are you already getting ready to come live in Portugal?
Are you going to embark on this adventure? Relocating to a new country can be challenging, but with the right people, organization, and good advice, it all gets easier.
We, at Viv Europe, can help with anything related to your moving process to Portugal.
For example, opening a bank account, searching and buying a property, getting your visas, you name it. Our goal is to help other expatriates also live their best life in this fantastic country.
Take a look at our relocation services and contact us! Let us make your Portugal dream a reality.