Last Updated on October 30, 2023 by Maryam Siddiqui
We've known it for quite a while, but remote workers all over the world now realize that Portugal is a digital nomad paradise for sure. The country has proved to be a strong-forced magnet for individuals tired of working their fingers to the bone. The statistics speak for themselves, and we're here to tell you why people love it here!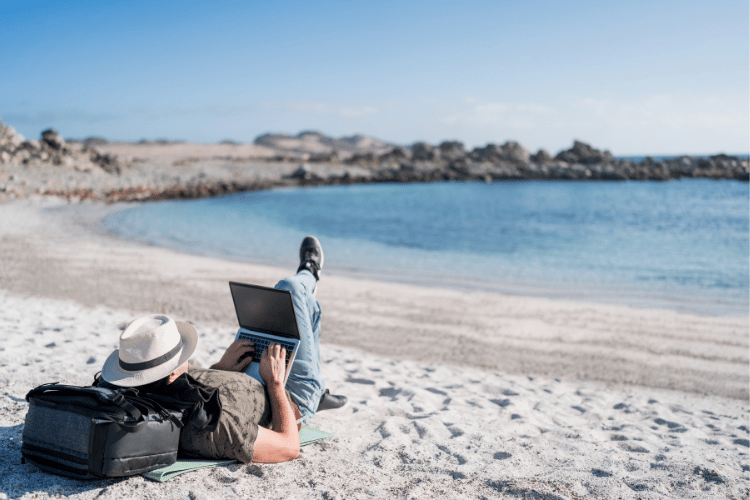 Out of the innumerable options that remote workers have, especially since the global pandemic, thousands of individuals have found Portugal to be the best destination. We've identified the top things digital nomads look for when deciding to relocate and found that Portugal has many characteristics in common with that list.
Keep reading the article to understand why this country is chosen as the #1 destination for digital nomads by a CNN-endorsed travel website. Get inspired to start a new life in one of the coolest destinations in Europe!
Why is digital nomadism on the rise?
Digital nomadism is the lifestyle that makes it possible for people to live their dream life while working for a living. Using the countless advantages of digital telecommunications and the ability to start over, remote workers are powering their way through independence and growth.
The concept of digital nomadism has always been a part of many cultures; it allows people to earn a living through the Internet. In 2020, after the COVID-19 pandemic, the world realized it was possible to shift from physical workplaces to virtual ones.
If anything good was derived from the pandemic, it's the fact that people stopped putting their dreams away in a box for the "perfect time".
With the rise in remote working and global inflation simultaneously, people sought alternatives to the country they were residing in. Amidst this search, many came across the beauty of Portugal, Europe's best-kept secret.
What do digital nomads think of Portugal?
If you've ever come across social media threads talking about the best countries for digital nomadism, you'd know that Portugal is an extremely digital nomad-friendly country. But what makes people say Portugal is a digital nomad paradise?
Even though their title suggests that they often move from one place to another, most digital nomads have ended up staying in Portugal for more than just a few years! While others have set up their life here and chosen their new forever home.
A combination of reasons has made this possible: better quality of life, lower taxes and cost of living compared to other European countries, easy mobility, great people, and fantastic food.
There are expected to be nearly 35 million digital nomads worldwide, and this number is proliferating. Lisbon, Madeira, and the Algarve are some popular reasons why this number keeps increasing.
Let's talk more in detail about what makes Portugal such a digital-nomad-friendly country.
How Portugal is a digital nomad paradise
You might think we're being a little biased, but you'll be pleasantly surprised to know we're just stating facts. Of course, everything isn't perfect, but it's very, very close.
Check out 10 ways Portugal is a digital nomad paradise and why people from all over the world have relocated here to work while experiencing pure bliss.
Rent is low
A huge chunk of every digital nomad's income can go towards accommodation. But things are different here, which is why people say Portugal is a digital nomad paradise.
The country is well-known for its low cost of living, including rent. Even the most expensive cities of Portugal can be very affordable, especially for people working remotely for a U.S. or UK-based company. 
Additionally, some digital nomads don't like to live in one accommodation for an extended period, so they opt for Airbnb wherever they stay. The views are immaculate despite the region or city; there's privacy, good internet, and, of course, it doesn't burn a hole in your pocket.
Digital Nomad Visa
Portugal has quickly gone from being a holiday destination to one loved by retirees and adults who want to start over. The country has many incentives for foreigners relocating to the country but also offers visas that ease entry for non-EU citizens as well.
Not every country allows remote workers to live there, and very few have a structured document allowing individuals to work remotely with the option of becoming permanent residents later on.
But Portugal recognized the need for a specific Visa. The D8 Digital Nomad Visa allows freelancers and digital nomads to apply in the easiest way possible.  
Once you have your Visa, you can then enjoy all the perks of living in Portugal for up to an entire year.
Amazing coworking spaces
In recent years, Lisbon's infrastructural developments have progressed massively. With this change, you'll find many remote workers in coworking spaces.
The capital city is famous for being a central start-up hub with an ideal location and excellent infrastructure. However, other cities also have equally impressive coworking spaces.
They're well-equipped, have comfortable chairs, air-conditioning, plenty of meeting rooms, reliable and fast internet, and snack stations.
Some coworking spaces also have 24/7 access, making it incredibly easy to work according to your preferred schedule. No wonder people are starting to trust that Portugal is a digital nomad paradise.
Here's a list of some of the best coworking spaces across Portugal:
To know more about Digital Nomad villages in Portugal, keep reading till the end and discover how helpful they are for remote workers!
Minimal language barriers
With the expat community continuing to grow in Portugal, living here without learning to speak fluent Portuguese has become very easy. Of course, we suggest every expat learn the local language slowly, but getting around is not a difficult task at all.
Especially in the most famous regions, like Lisbon or the Algarve, almost everyone speaks English and can understand it too. Portuguese can sometimes be a little challenging to learn, and that's okay; digital nomads take their time before becoming eloquent in it anyway.
Working in a country with language barriers is no fun, especially if you're also unaware of the local culture. The prevalence of English just adds to the list of reasons why Portugal is a digital nomad paradise.
Digital Nomad villages
This is one of the biggest reasons people say Portugal is a digital nomad paradise!
For those who aren't fully aware of this concept, digital nomad villages are communities of remote workers with co-living accommodations and co-working spaces. The community also synchronizes different activities and events to keep the fun alive.
Europe's most renowned Digital Nomad Village Madeira opened its doors in February 2021. Since then, it has received over 11,000 applications from 90 countries! Projects like these make it easier for solo nomads to feel more at home and fall in love with their new life. In Madeira, that's exactly what happens.
For more information, check out the official Digital Nomad Village Madeira website and get inspired by the initiatives!
With Viv Europe your plans for Portugal
will finally come to a reality
Freedom and safety
Safety can be a major concern for some digital nomads; for some, it's because they bring their family along, and some feel more vulnerable because of their gender. But you don't have much to worry about here!
Portugal is ranked as the seventh-safest and most peaceful country in the world, according to the Global Peace Index 2023, and for many years it was in third place. So it's safe to say that digital nomads feel secure here, living around peace and tranquility. 
The Portuguese are also progressive and carefree, so people usually mind their own business. We'd only advise our readers to practice caution when in tourist hubs as they attract pickpocketers, as with any other busy tourist center.
Portuguese culture is wholesome
Despite the pros of a digital nomad lifestyle, it isn't for everyone. Loneliness is the #1 reported reason digital nomads end up returning home. However, most digital nomads find friends like family in Portugal.
The Portuguese culture is very welcoming and inclusive, two things that are extremely important for people traveling solo. Despite the independence, human connections are a fundamental need for every individual.
Living here, digital nomads are able to build connections thanks to the inclusive people around them.
Some digital nomads travel around with their partners and children, while others don't. It doesn't matter whether you're coming solo or not; your Portuguese neighbors will most likely still welcome you with a dinner invitation. That's just how things are in Portugal.
Slow pace of life
One of the most significant ways Portugal is a digital nomad paradise is because of the slow pace of life. People all over the world are tired of "hustle culture," working tirelessly for the next best achievement of their lives. They want to be able to slow down and enjoy the precious moments life offers them.
Many people are already aware that the Portuguese culture entails a slow pace of life, with no hurry to meet a deadline. It's okay to be late, of course, not as a recurring habit, and appreciate the golden sun soaking into your skin while you run some errands.
Burnout has been a very prevalent issue in recent years, especially among millennials, and people are looking for ways to earn a living without being stressed all the time. It's resulted in increased health concerns among young adults, and digital nomadism encourages this positive change.
Adventure and entertainment
It's impossible to be a digital nomad and not be looking for adventure and entertainment! After all, that's the lifestyle people are after, and Portugal does not disappoint. In fact, you can't even say Portugal is a digital nomad paradise without there being an adventure to keep our nomads entertained.
Surfing, hiking, scuba diving, golfing, wine tasting, music festivals, fairs, casinos, and cozy bars are just a few of the leisure activities to keep you entertained and immersed in the Portuguese culture.
Whether you choose to live in the country's busiest cities or the islands, you'll always have something to keep you going.
Digital nomads living in Lisbon hardly ever get bored, thanks to the numerous networking opportunities, but when they do, they visit Cascais, which is a 35-minute drive from the city center.
There's Discoteca Jézebel, a nightclub close to the largest European casino, Casino Estoril. 
Those living in Madeira, the Azores, or the North of Portugal go hiking, visit the Sete Cidades lagoon, relax at cozy cafes, or go on a tour. There's something for every mood!
Great weather
How could we miss out on one of the most important factors digital nomads consider before finding their next destination?
Dark and gloomy weather can negatively impact a lot of people's working habits, and so can scorching climates. Not everyone can work around unpredictable weather conditions while maintaining productivity.
Portugal's weather, as most people know, is one of the best in Europe. The temperature is mild throughout the year, between 10°C and 26°C, with little precipitation. There are almost 300 days of sunshine, cool breeze, and mild winters during the winter season.
Digital nomads looking for "great weather conditions" often end up choosing Portugal for this very reason.
Favorite Portuguese cities for digital nomads
With due credit to apparent reasons, the first favorite city for digital nomads is Lisbon. The start-up hub has attracted numerous foreigners to take advantage of the coworking places and networking opportunities.
Living in Lisbon as a digital nomad is very advantageous and helps people grow tenfold professionally, which is why it's ranked as the #1 destination for digital nomads. 
The second favorite region for digital nomads, in no particular order, is the Algarve region. With so many beautiful and peaceful cities to choose from, living in the Algarve is an experience like no other. It's also ranked as the #4 destination worldwide, coming in after Miami and Dubai.
Moving further with the list of cities that turn Portugal into a digital nomad paradise is Porto, the country's second-largest city. Porto is also a business hub, similar to Lisbon but not as diverse, and welcomes many entrepreneurs and remote workers. It's also cheaper than Lisbon, which is an added benefit for many people. 
Finally, the Madeira Islands and the Azores Islands are also loved by digital nomads, more so by people wanting privacy and a quiet environment. Honestly, who hasn't thought of spending their life on an island at least once in their lives? 
How can you become a digital nomad?
This is our favorite part – turning people's dreams into a reality!
The process is fairly simple, thanks to the new Digital Nomad Visa, which we discussed earlier in the article. You'll need to contact your country's Portuguese consulate or embassy and apply for the visa.
The fee for almost every visa application is €90, and here's a list of the documents you'll need to submit to obtain the residence visa:
For some people who are not used to digital nomadism, this list can seem a bit overwhelming. We promise you that it's not. If you need clarity on anything at all, feel free to contact our team of professionals to help you obtain your visa quickly and easily.
Do you want to witness this digital nomad paradise?
Now that you know how Portugal is a digital-nomad paradise and how you can be a part of this revolution, do you wish to free yourself from the boring 9-to-5 grind?
We've got you thinking, haven't we?
It's okay; we want you to take your time to decide whether this is the best country for you. Get in touch with digital nomads and other expats living in Portugal who are having the time of their lives and enjoying every moment.
Join our Facebook Group – All About Portugal For Expats and share your concerns, get inspired by stories, and start brainstorming your new life!
And remember, whenever you're ready, Viv Europe is here to take care of your legal requirements. Sit back, relax, and let us do the difficult work for you. Contact us now!