Last Updated on August 23, 2022 by Maryam Siddiqui
Portugal's economy is thriving! With foreign investors and new expats relocating here, the time to start a business in Portugal is now! Even after the pandemic, the startup hub has shown no sign of slowing down. So, what are the best cities in Portugal to start a business?
Although each case is different, some factors give other cities a competitive edge. There are a few popular cities that everyone knows are great for tourism-related activities, but Portugal offers a lot more than that.
If you're an investor, an entrepreneur, or a business person looking to expand your business globally, keep reading. This step might just be what you need to grow your business tenfolds. Happy reading!
What are the best cities to start a business in Portugal?
It's been a while since all of Portugal has represented great business opportunities. Investors from all over the world are looking to this small country in Southern Europe, which has long been underestimated. However, some cities stand out as being a center of modernity, startups, and prospect.
Of course, each company is a different case, and it's impossible to say which are the definitive best cities to start a business in Portugal. But through statistics and patterns, there are a few that indicate greater success in some regions.
According to what is shown in the Portugal City Brand Ranking 2022, held annually by Bloom Consulting, the best cities to start a business in Portugal can be:
1. Lisbon
The largest city in Portugal, Lisbon, truly has it all. It's the capital and the country's business, tourist, and cultural center. It is located on the central coast of Portugal and is bathed by the Tagus River. Lisbon has seen great advances in recent years despite being one of the oldest cities in Europe.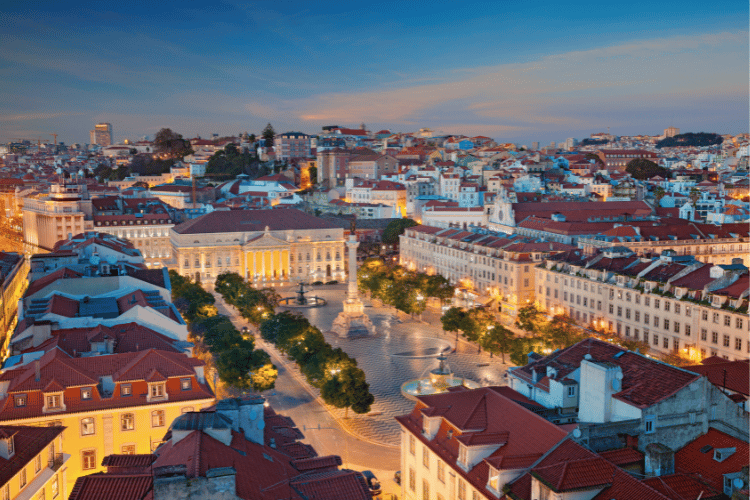 Living in Lisbon, you get access to all types of businesses. This European capital has high standards, and you'll find any business here. Micro, medium, and macro. 
Most of the best places to work are in Lisbon, which is also the best place to start a new business. Of course, being so good, Lisbon has the highest costs in the country. Get to know some facts about Lisbon:
| Lisbon Info | Data |
| --- | --- |
| Population | 545,923 |
| Average Monthly Net Salary (After Tax) | €1,111 |
| Property price | €3,832 / m² |
Salary estimates are from Numbeo (as of August 2022).
Property price estimates are from Idealista (as of August 2022).
2. Porto
Porto is known for being an asset to the Portuguese industry and culture. While the capital, Lisbon, is a globalized metropolis, Porto retains much of what is traditionally considered Portuguese. The city, which is the capital of the northern region, is colder and rainier, with a hard-working population.
| Porto Info | Data |
| --- | --- |
| Population | 231,828 |
| Average Monthly Net Salary (After Tax) | €986 |
| Property price | €2,341 / m² |
Other than that, Porto has been standing out for businesspeople lately because, unlike Lisbon, it offers more reasonable prices and even greater prospects for appreciation.
Living in Porto is considered cool, and many artists, hipsters, and investors find a home here. In addition, the tourism here is also strong most of the year, and the expatriate population grows more every day.
3. Cascais
One of the most expensive cities to live in, but most prestigious in Portugal, Cascais is just 30 km from the center of Lisbon. What was once a small fishing village, Cascais, has evolved into the Portuguese Riviera today.
Here, the rich and famous stroll along the seashore, many entrepreneurs work in the town of Lisbon, and there's no lack of infrastructure for all social classes.
It's in the tourist area but not the center of attention. Even so, Cascais has a considerable population and tends to grow, especially due to foreign residents.
| Cascais Info | Data |
| --- | --- |
| Population | 214,158 |
| Average Monthly Net Salary (After Tax) | €982 |
| Property price | €4,135 / m² |
4. Braga
Braga is one of the most important cities in northern Portugal. It has suddenly been filled with expatriates in recent years and promises to be a favorable environment for companies of all sizes and areas.
There is religious tourism in the city, but the local inhabitants are more dedicated to services and industrial production. It's not as big and busy a city as Porto or Lisbon, but it's worth it if you want quiet routines.
| Braga Info | Data |
| --- | --- |
| Population | 193,349 |
| Average Monthly Net Salary (After Tax) | €970 |
| Property price | €1,382 / m² |
5. Coimbra
Located in central Portugal, Coimbra is one of the most important Portuguese cities. The city is one of the cradles of Portuguese culture and home to one of the oldest universities in Portugal and Europe. The residents of Coimbra aim for a bright future with booming businesses.
The local government launches many entrepreneurship initiatives, and the city also attracts many scientific researchers due to the university's academic fame.
It's worth checking out more about Coimbra if you want to invest in a business in a quieter city, but with all the infrastructure, close to the Silver Coast.
| Coimbra Info | Data |
| --- | --- |
| Population | 140,838 |
| Average Monthly Net Salary (After Tax) | €1,233 |
| Property price | €1,206 / m² |
6. Vila Nova de Gaia
The younger sister of the great city of Porto, Vila Nova de Gaia, is growing to become much more than just that. The city is on the south bank of the Douro river, opposite Porto, but shares many qualities with the northern capital.
Getting from one to the other is easy, and Vila Nova de Gaia is much cheaper but with just as much potential. In addition, there are many good industries in the area, and the local population is one of the largest in the country. A good place to start a new business!
| Vila Nova de Gaia Info | Data |
| --- | --- |
| Population | 303,854 |
| Average Monthly Net Salary (After Tax) | €1,012 |
| Property price | €1,993 / m² |
7. Sintra
Sintra is one of the most beautiful, famous, and therefore highly touristic destinations in all of Portugal. The small village and its surroundings, full of medieval attractions and even the homes of international celebrities, prove to be a great place to start a business.
Mainly those dedicated to tourism, such as restaurants, hotels, and so on. Furthermore, Sintra is only 30 km from Lisbon and 15 km from Cascais. In other words, on the route to success.
| Sintra Info | Data |
| --- | --- |
| Population | 385,654 |
| Average Monthly Net Salary (After Tax) | €988 |
| Property price | €2,128 / m² |
8. Funchal
The imposing capital city of the island and archipelago of Madeira, Funchal is one of the best cities to start a business in Portugal. In addition to companies on Portuguese islands benefiting from lower taxes, they are fortunate to have a unique European environment.
Funchal is not only a city where businesses can thrive but also where real estate investors secure a Golden Visa. It's a destination to definitely consider.
| Funchal Info | Data |
| --- | --- |
| Population | 105,795 |
| Average Monthly Net Salary (After Tax) | €1,035 |
| Property price | €2,459 / m² |
9. Setúbal
In recent years, there's been a rapid rise in the acquisition of old buildings in Setúbal for urban regeneration. Foreign investment is one reason; the other driving force is the city's favorable living conditions and climate, making it a very attractive place to settle in.
Setúbal is home to many business centers, manufacturers, wholesalers, and retailers. Tourism is also a huge market for the city, and so many businesses are related to the tourism and dining sectors.
| Setúbal Info | Data |
| --- | --- |
| Population | 123,519 |
| Average wage | €938 |
| Property price | €2,173 / m² |
10. Aveiro
Aveiro probably does not identify as a mega business center for many people in Portugal, but the city has incredible potential. It's a medium-sized city that's known as the "Venice of Portugal" thanks to its beautiful scenery.
The residents include many international students here for university and also numerous retirees, as the city is quiet with exciting nightlife. Here, you could open a bar with some great food and be ready to serve dozens of customers every day!
| Aveiro Info | Data |
| --- | --- |
| Population | 80,978 |
| Average wage | €861 |
| Property price | €1,538 / m² |
What are the sectors of the economy in Portugal with the most employees?
According to official data published in Pordata, Portugal has more workers in the following sectors:
Wholesale and retail trade;
Manufacturing industries;
Administrative and support services activities;
Accommodation, restaurants, and similar;
Construction;
Consulting, scientific, technical, and similar activities;
Agriculture, animal production, hunting, forestry, and fishing;
Human health and social support activities;
Transport and storage;
Information and communication activity.
Why are expats investing in new businesses in Portugal?
While in other European countries, foreigners investing in companies can be very complicated, Portugal welcomes expatriates with open arms.
There are tax benefits for new residents, a safe environment with an excellent quality of life, and great prospects for the economy's future. 
For any investor, the main goal is primarily to generate profit. After all, that's how businesses work. It's no secret that Portugal's economy has been soaring even after the pandemic. More and more tourists are traveling here to experience the magic, and many tourists end up wanting to relocate permanently.
So, of course, investors come rushing when there's so much potential and also a market that you could cater to. 
How to get a business visa to Portugal?
Foreigners who want to live in Portugal while starting a new business must apply for a D2 visa. This visa, also known as an entrepreneur or business visa, is intended for non-EU citizens with the potential and motivation to make a new company successful in Portuguese lands.
It allows you and your family to live in Portugal and move freely through the Schengen countries. With it, you get a Residence Permit valid for a period of 2 years, with the right to renewal.
As with the other visa procedures in Portugal, for the D2 Visa, you need to fulfill the prerequisites of the Portuguese consulate, apply, and have your application evaluated. After the consulate grants you the visa, you can travel to Portugal and change to a residence permit.
Some suggested activities for obtaining the D2 Visa are:
Submit a business plan to the consulate
Create a personal tax number (NIF) and open a bank account in Portugal.
Create the company in Portugal, the company's tax number (NIPC), Social Security number (NISS), and corporate bank account.
Register the company's trademark.
You can access more info about this in our article All About Starting a Business in Portugal and Obtaining a D2 Visa.
When are you starting your business in Portugal?
Judging from the current market trends, the time to start your business here is now! All you've got to do is choose your favorite from this list of best cities to start a business in Portugal. Kickstart your dream of expanding your business and witness exponential growth.
If you want to hear from other investors who were in your place, join our Facebook Group – All About Portugal For Expats. It's a community of over 7,800 Portugal enthusiasts waiting to help you achieve your goals. Ask questions, clear your doubts, and start executing your new business plan.
Our professionals at Viv Europe are also here to guide entrepreneurs who want to start a business here. Make your visa application process smoother and find the appropriate property for your business now!