Last Updated on January 23, 2023 by Laila Oliveira
The Silver Coast, or 'Costa da Prata' as the locals call it, is located directly north of Lisbon. Beaches, fishing towns, peace, and a low cost of living – does that sound like the life you want? Many people dream of it, but it may or may not be your cup of tea. This guide will dive into a detailed analysis of the pros and cons of moving to the Silver Coast!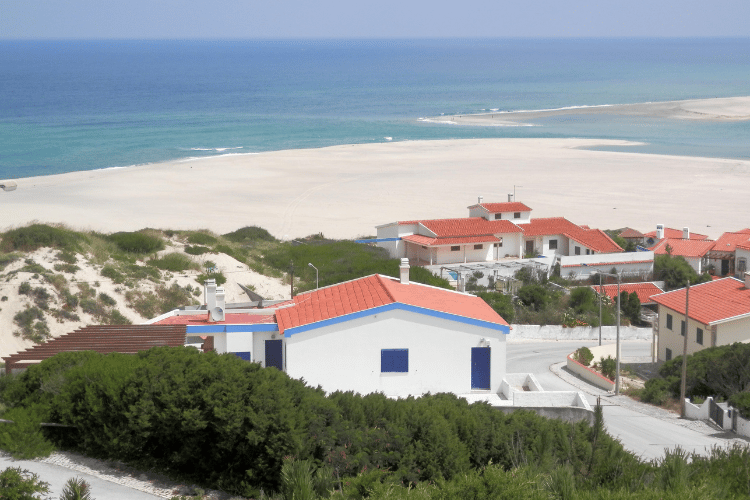 Three major districts near the coast attract foreigners to live and retire here, surrounded by a significant expat community and pleasant weather. So, what makes them stay? Why do people call in an incredible alternative to the Algarve region? Is it safe?
Keep reading to answer all these questions and more! The Costa de Prata may not be perfect, but it doesn't have to be. We'll talk about what expats love and what challenges they're likely to face while living on the Silver Coast. Happy reading! 
What is it like living on the Silver Coast?
Silver Coast is all about living in the shadow of a medieval castle or admiring the rolling hills of vegetation, vineyards, cathedrals, and fascinating legends.
Imagine yourself sipping wine on your balcony while admiring the Atlantic Ocean in the distance. Isn't that picturesque and soothing? Despite the fact that the cities in the three districts are small, they have all the amenities you'd need. 
Read on to learn the pros and cons of moving to the Silver Coast and decide wisely!
Who lives on the Silver Coast?
The region is a popular destination for tourists, but it is also home to a mix of different populations. According to Pordata, more than 715,000 people live on the Silver Coast. You may see locals who have had families living in the area for generations. 
At the same time, you'll find many retirees who relocated to benefit from the mind climate and scenic landscapes. And let's not forget expats who have relocated to the area for work or personal reasons. It is also a popular place for second-home buyers and holiday home rentals.
That being said, before we get into the pros and cons of moving to the Silver Coast, let's look at what makes it such a popular expat destination.
Why are expats moving to the Silver Coast?
We're not overstating when we say the Silver Coast is known for its beautiful beaches, historic towns, mild climate, and delicious traditional cuisine! Many people are also drawn to the region's rich cultural heritage, which includes castles, monasteries, and churches.
Not only that, but the Silver Coast is also one of Portugal's least expensive places to live. Expats looking for a region close to Lisbon but with a lower cost of living often find themselves scouting the Silver Coast to be their new home.
But because no place is perfect, knowing the pros and cons of moving to the Silver Coast will better prepare you to deal with the tasks. Let's talk about the pros first:
Pros of living on the Silver Coast
It's a region with remarkable economic, cultural, tourist, and culinary growth. But that isn't all; there's a lot more to it. 
Climate
First off, Portugal's climate is one of the reasons why people like moving in here. With an average of around 3,000 hours of sunshine per year, the region is a popular destination for people looking to escape colder climates and enjoy some sun and warmth.
The mild temperatures and sunny weather make it ideal for outdoor activities such as swimming, hiking, and cycling. Most people come to the region to take advantage of the beautiful beaches, as well as to enjoy the natural beauty of the surrounding countryside.
Thanks to the favorable climate, agriculture is a big part of the Silver Coast. The high-quality wine and vegetables make every Sunday lunch even better! What's not to love about delicious home-cooked meals with the freshest ingredients on a perfectly cloudy day? 
Low cost of living
As we mentioned above, the region has a lower cost of living than other major cities in Portugal.
Housing is more affordable here than in many other parts of Portugal and Europe, making it an appealing destination for people looking to buy a second home or relocate. That in itself is a huge relief, considering the upward trend in property prices. It is also a major pro for those who want to live in a beautiful coastal region without breaking the bank.
Furthermore, groceries, utilities, and transportation are reasonably priced, which can make a significant difference in overall living costs. Public transport can cost you €30 a month, and groceries can cost as little as €180.
As a comparison, according to Numbeo, consumer prices in Coimbra are 16.4% cheaper than in Lisbon, while rent is 56.5% cheaper. Between London and Coimbra, London is 74.2% more expensive, and rent prices are 353.3% higher! That's a major difference, and we understand that the standard of living is also drastically distinct. Nonetheless, expats and tourists from London love to spend time here.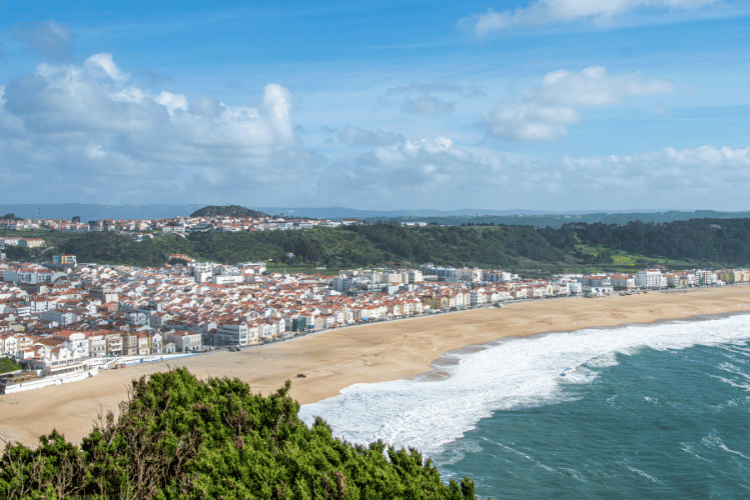 Great lifestyle
The Mediterranean lifestyle inspires vibes that are relaxed, peaceful, and enjoyable. Whether you choose to reside in Aveiro, Coimbra, or Leiria, the beautiful beaches, lush countryside, and charming villages make it a desirable place.
In addition, if you're interested in history, this location will be your favorite due to the region's extensive cultural heritage and Roman Empire history. Despite having historic touchpoints, the area is developed and equipped with the facilities you need nearby. This includes hospitals, schools, markets, and public transport. 
Lastly, the kind of people you are surrounded by makes it easier to survive no matter where you are. The fact that Portuguese people are known for being friendly and welcoming is familiar to the world. The great lifestyle just makes it easy for expats to feel at home on the Silver Coast.
Safety
Portugal has a relatively low crime rate compared to other European countries, and the Silver Coast is no exception.
The country has implemented several measures to ensure the safety of residents in general. These include increased police presence in tourist areas, improved emergency response systems, and increased security at airports and other transportation hubs.
In July 2020, Safe Communities Portugal, a national non-profit organization that provides a "one-stop business" of crime prevention and public information about security and safety, launched a section of its website called "Safe Communities Silver Coast" to assist residents of the Silver Coast areas.
With Viv Europe your plans for Portugal
will finally come to a reality
Beautiful coastline
The Silver Coast stretches from the coastal town of Peniche to the historic town of Nazaré. The coastline is known for its beautiful beaches, cliffs, and rock formations. That's why Nazaré happens to be one of the most favorite towns for expats!
The beaches here are famous for their fine white sand and crystal clear waters. To witness them is an absolute dream, let alone live close to them! The most popular beaches on the Silver Coast include Praia da Baleia, Praia das Macas, and Praia do Molhe.
Close to central locations
Because it is close to several major cities and tourist destinations, it is a reasonably commutable region. It is a short 2-hour train ride from Lisbon and is also equally close to Porto. If you ever get bored of the same environment, you can take a trip around easily. 
This proximity can also be beneficial for businesses and investors, as it allows for easy transportation and communication with nearby cities. It gets easier to find work or pursue other opportunities.
The region is well-connected by road and rail to other parts of the country, making it easier for residents to commute to work or travel for business or leisure. Let's also not forget the affordable monthly public transport fare! 
More affordable properties prices
Portugal's real estate market has expanded over the years. You can find many new developments as well as older townhouses to invest in on the Silver Coast, which is more affordable than other parts of Portugal, like Lisbon and the Algarve.
To give you some estimates, according to Idealista, the average property price for a house in Nazaré is €2,339/m2, while the average price for a house in Peniche is €1,777/m2.
Properties in the Leiria district are priced higher due to its close proximity to Lisbon, which is why you'll find that Óbidos and Nazaré are generally more expensive. But that doesn't mean you can't find affordable options. 
The property prices in Coimbra start from €1,313/m2, and with the help of a professional real estate agent, you can find the best deals! Purchasing a property is an excellent decision whether you decide to live here or use it as an investment.
Cons of living on the Silver Coast
That list was long! Wasn't it? 
Even though the pros outweigh the cons, living in Portugal has flaws. When making such a life-altering decision, it's critical to think about the challenges you might encounter in a new country.
No city is perfect, but there's beauty in imperfection. It's about choosing what works best for you.  To help you prepare, we'll candidly discuss the cons of living on the Silver Coast.
Learning Portuguese
Moving to a new place and not knowing the local language can be tough on you. Learning the language is essential if you are moving to Portugal for a long period, not just for a year or two.
Portuguese is the ninth most spoken language and is spoken by over 235 million people worldwide. For effective communication, you must try to learn a few phrases ahead of when you wish to move.
However, the problem is that people often find it challenging to learn a new language. Portuguese can be a little tricky, especially if you don't have the right teacher. If you have children who are still young, they'll do a much better job at learning Portuguese than older ones. 
Additionally, if you're planning to enroll them in a public school, they would have to know Portuguese beforehand. All public schooling is done in the local language; thus, it's crucial that they know how to speak and write it. 
Don't worry; if you're sure about moving to Portugal, you can start learning Portuguese earlier on. By the time you get here, you'll already know a lot, and no one will criticize you for not speaking fluently. As for schooling, Portugal has excellent International Schools that you can enroll your children in. 
Bureaucracy
Portugal's laid-back lifestyle is not always a great thing. Long queues and bureaucracy accompany this carefree attitude. For example, a Visa from SEF will make you go through a lot of work too.
Especially in public services, things sometimes take a while to complete. If you go to an SNS health facility, plan on waiting a few hours to receive care. According to Portuguese philosophy, if you're waiting for a license or other important document, it will arrive when it arrives.
Even if the task at hand is simple, you should expect to be compelled to phone numerous agencies and fill out useless documents.
The best solution is just to be patient. The slow pace of life can be a little bit of a hassle when it comes to bureaucracy. But you definitely get used to it. And sometimes it doesn't even matter because of all the pros of living here! As we said, no place is perfect. 
Lack of Job Opportunities
Although the Portuguese economy is performing well, finding a job in areas like the Silver Coast can be a little challenging. There are many open positions, but Portuguese-speaking individuals frequently fill those positions.
If you want to increase your chances of getting a job, you might want to consider learning Portuguese. Job opportunities also vary by location, as the Silver Coast is less developed than Lisbon or Porto, for example, the job market is weaker.
Unlike the pros of living in Lisbon, the Silver Coast may not be the best location if you're coming here with the intent to work. However, starting a business is another thing entirely! You can learn about starting a business or expanding your current one by reading our article on Starting A Business in Portugal.
Colder than Lisbon and the Algarve in the winter
Portugal, particularly Lisbon and the Algarve, is hot (or at least warm) most of the year, making it easy to spend a lot of time outside. But the houses are cold in the winter.
They are designed to stay cool in hot weather because they are built for warmer temperatures. Unless you have a brand-new home, central heating isn't an option.
This means that during the few cold months of winter, it may be colder inside the house than outside. When a cold spell hits, you need to keep the fire going all day, every day, to keep yourself warm within the house.
Dull nightlife compared to Lisbon and Porto
The Silver Coast is more of a residential and tourist area, whereas Lisbon and Porto are larger cities with more diverse populations and a wider range of entertainment options.
Additionally, Lisbon and Porto have rich cultural heritage, which often attracts more tourists and, therefore, more nightlife and social scene. A huge portion of the population also comprises young adults and students, thus the parties stay exciting till dawn!
What do you think of the pros and cons of moving to the Silver Coast?
Whether you believe the Silver Coast is the ideal future home for you or wish to pursue other options, it is critical to weigh the pros and cons of moving to the Silver Coast in either case. Safe travels and best wishes for wherever you end up in the world!
To gain insight into other expats' opinions, join our Facebook Group – All About Portugal For Expats. Ask questions, share your findings, and clarify all that you need to. Connecting with like-minded people will help you understand whether this is the place for you. 
If you need help finding the right property, enrolling your children into an International School, and getting your Visa, contact professionals from Viv Europe. Start planning your relocation journey now and watch your dream come true soon!