Last Updated on November 18, 2021 by Lea Melo
Curious about winter in Portugal? To live in the country, it is necessary to know how to live throughout the year and the temperature variations. After all, the Portuguese do not live only in summer.
Follow the article and find out about the coldest months of the year in Portugal, tips on what to do, and how to stay warmer and more entertained.
What to expect about winter in Portugal
Winter in Portugal, as in the entire northern hemisphere, runs from December 21st to March 20th. But, unlike most northern countries in Europe, temperatures in Portugal are not so dramatically cold.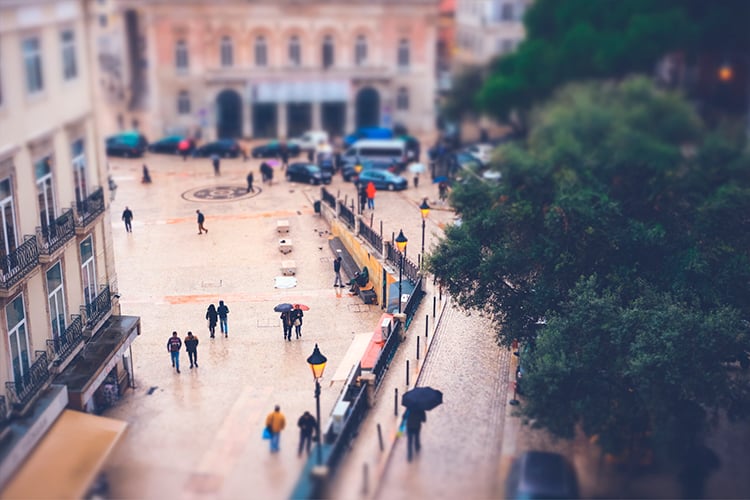 Even so, prepare your coat, umbrella, and a hot drink. Portugal may be a dream summer destination in southern Europe, but in winter it gets wet and chilly.
What's the weather like in winter in Portugal?
In most regions of Portugal, the winter months mean lots of rain and low temperatures. It snows only in some mountainous regions, mainly in the north of the country, in the Serra da Estrela region.
And yes, even though Portugal is a small country, there are strong variations depending on location. Check the temperature variations in the winter months in different Portuguese regions in the tables below, according to Climate Data.
What is the weather like in winter in Lisbon
Winter in Lisbon can get quite cold and wet, really not the tourists' favorite time of the year. Even so, it is no colder than most European capitals.
December
January
February
March
Avg. temperature
12.3 °C
(54.2 °F)
11.5 °C
(52.7 °F)
11.8 °C
(53.2 °F)
13.5 °C
(56.4 °F)
Rainfall
83 mm
(3.3 in)
73 mm
(2.9 in)
55 mm
(2.2 in)
58 mm
(2.3 in)
How is the weather in Porto in winter
The northern region of Portugal, where Porto is located, is the coldest in the country. Here is where it rains the most, and where there is more chance of snowing at high altitudes, as well as the central region.
December
January
February
March
Avg. temperature
10 °C
(50.1 °F)
9.3 °C
(48.7 °F)
9.7 °C
(49.5 °F)
11.8 °C
(53.2 °F)
Rainfall
166 mm
(6.5 in)
155 mm
(6.1 in)
107 mm
(4.2 in)
121 mm
(4.8 in)
How is the weather in winter in the Algarve
The Algarve is known for a mild winter and dry weather, despite the cold. However, you can still find many people sunbathing on some beaches sheltered from the wind in December and March. This is one of the reasons why this is one of the best places to spend retirement in the world.
December
January
February
March
Avg. temperature
14 °C
(57.2 °F)
13 °C
(55.4 °F)
13.2 °C
(55.7 °F)
14.6 °C
(58.2 °F)
Rainfall
95 mm
(3.7 in)
58 mm
(2.3 in)
50 mm
(2 in)
57 mm
(2.2 in)
What is the weather like in winter in Madeira
Temperatures on the island of Madeira, in the middle of the North Atlantic, are also mild. Winter here is marked by more rain, but nothing too cold. An excellent destination for those who wish to escape cold weather.
December
January
February
March
Avg. temperature
14.6 °C
(58.2 °F)
13.6 °C
(56.4 °F)
13 °C
(55.4 °F)
13.6 °C
(56.5 °F)
Rainfall
92 mm
(3.6 in)
59 mm
(2.3 in)
59 mm
(2.3 in)
62 mm
(2.4 in)
Prepare your home for the cold in advance
All expats who live here and experience winter in Portugal know that the Portuguese people suffer from the cold at home. Unlike Northern European countries, for example, where it gets really cold and the buildings are prepared to withstand low temperatures, in Portugal, this doesn't usually happen.
In Portugal, house constructions are generally not well insulated. That is, the cold from the street passes through the walls, and even with heating, it becomes very cold indoors.
Also, here the electricity bill is one of the most expensive in Europe, and using the heater too much can hurt your budget.
In fact, these two factors combined, poor insulation and the high price of bills, make Portugal one of the countries where 19% of the population cannot afford to keep their home adequately warm, according to Eurostat data of 2018.
So the tip is to make sure that your apartment or house is well insulated to get through the cold before winter comes. And don't underestimate the importance of warm blankets, teas, and a good fireplace.
Best things to do during the winter in Portugal
Even though it's cold outside and indoors too, there's always something to do to warm your heart. Discover the greatest winter attractions in Portugal.
Go skiing in Serra da Estrela
The Serra da Estrela Natural Park region, located in the center-north of Portugal, is the main winter holiday destination in the country. Here is the only ski resort in Portugal, generally open from mid-December to the end of March. During this period, Portuguese and Spanish families usually take advantage of the season to practice winter sports.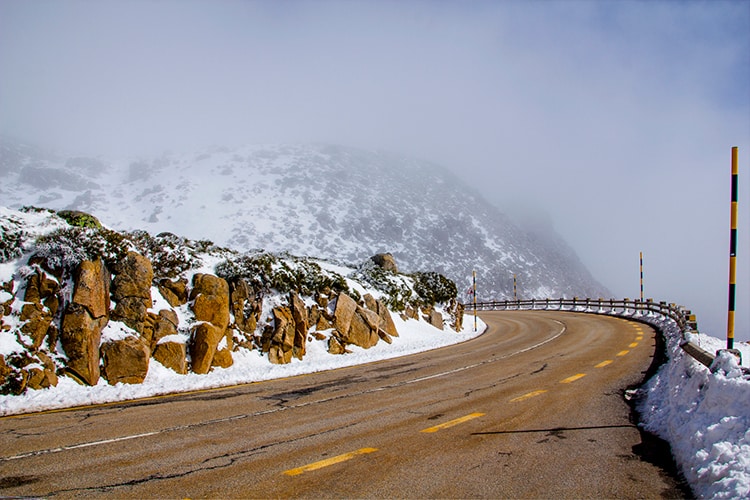 In addition, the region has many hiking trails, lakes, and peaks. The Serra da Estrela mountain is the highest mountain range in mainland Portugal at 1.993 m altitude. A great winter holiday destination, especially for those living in Porto and northern Portugal.
Enjoy the sunny days on the Algarve coast and on the islands
Although it also gets cold in winter in these regions, the Algarve and the archipelagoes of Azores and Madeira are known for having many sunny days even at this time of year. Those who live here like to enjoy the empty beaches and nature parks for walks and picnics, of course, when it's not raining.
Those who live in the Algarve like to enjoy the empty beaches and nature parks for walks in coats. Next, what never fails, is to have a coffee on a terrace in the sun. It is even possible to wear shorts and miniskirts in February there. This is enough to explain how much milder the weather is than in Lisbon and Porto, for example.
Visit empty tourist attractions
Unlike the summer months, when there are tourists everywhere and lines at attractions and museums, winter is a much calmer season in Portugal. Ideal for those who prefer to avoid lines and discover monuments and history calmly and with more privacy, despite the cold.
So if you live in Lisbon, for example, take advantage of the cold months to discover the main tourist attractions that are worth visiting. Such as the Pena Palace, Belém Tower, Lisbon Oceanarium, Jeronimos Monastery, and so on.
Portuguese winter holidays traditions
Winter is the time of two of the most important holidays in Portuguese culture. Learn a little more about them before moving to Portugal.
Christmas in Portugal
Christmas in Portugal is taken very seriously. As the country is predominantly Catholic, even many people do not practice it, Portuguese culture is closely linked to Christian traditions. The celebrations then begin on December 24th, Christmas Eve, with mass, supper, family gatherings, and gifts. On the 25th, there is another lunch meeting, where food remains one of the main attractions.
And no, white Christmas doesn't exist in Portugal, but it's cold and it usually rains.
New Year's Eve in Portugal
New Year's Eve is also a national holiday, with its Portuguese traditions. Generally, families get together to eat seafood at home or hotel parties. Young people usually spend the date with friends, with lots of champagne and other alcoholic beverages. At midnight, the custom is to eat 12 raisins and see a fireworks display.
Dress code for the season
There is no big secret to the winter dress code in Portugal. But, for those who are not used to living in cold climates, it's always good to have some tips on what to wear. Remember to have in your wardrobe:
Sweaters and insulating inner shirts;
Warm socks;
Winter coats;
Hats, gloves, and face protection;
Waterproof closed shoes;
Rain Covers and Umbrellas;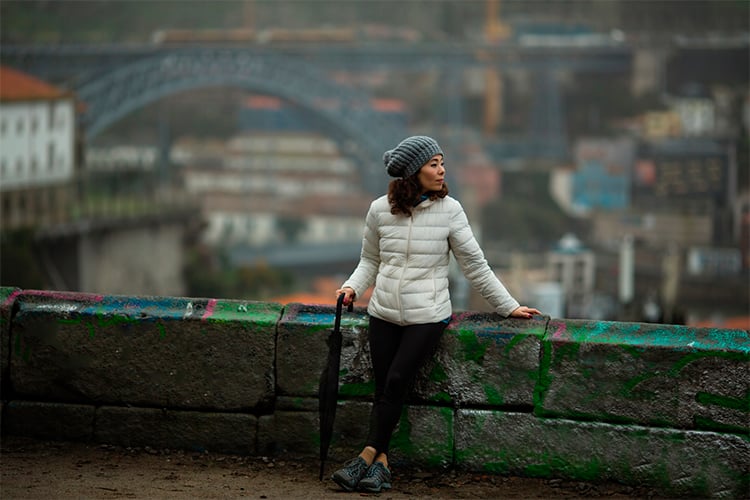 And, of course, wear what makes you comfortable. In some regions, at midday, you may not even feel the need to wear a coat. Just don't forget to use moisturizer, it can get quite dry.
Also, remember that there is no such thing as bad weather, just the wrong outfit for the occasion.
Want to keep up with the expat community in Portugal?
Moving abroad is a great adventure. Wherever you go, it's very important that you surround yourself with people with similar backgrounds to create a support network. Join the community.
We have a Facebook group called All About Portugal For Expats that you might be interested in. It's always good to have good contacts.
Anyway, I hope you have a great adaptation to Portugal, be it winter or summer. Just remember to warm up well and keep your loved ones close by.