Last Updated on July 7, 2023 by Laila Oliveira
The charming city of Sintra is everything an expat would wish for. It's not only beautiful but also only 30 minutes away from the capital Lisbon. If you're serious about moving to this destination, buying a house in Sintra will allow you to settle in easier as you adjust to the new life.
The town is nestled within the Serra de Sintra lush hills, a protected area that provides breathtaking views and a peaceful environment. The region is known for its dense forests, scenic walking trails, and stunning vistas, including the iconic Pena Palace and the Castle of the Moors. 
Unsurprisingly, expats prefer to live in this small destination outside the capital. You can enjoy living away from the hustle and bustle of busy city life without necessarily missing out on any conveniences. But how does a foreigner buy a house in Sintra? Here's a detailed guide!
Why should I think about buying a house in Sintra?
Cities near the capital are often quite popular among expats and tourists, and Sintra is no different. This enchanting town just outside Lisbon attracts people from diverse backgrounds every year.
This destination has an excellent foreign presence that accounts for over 10% of the population. That said, why should you consider buying a house in Sintra? Discover a few reasons below.
Good real estate prospects
Sintra is generally considered a desirable location for living and real estate investment. Again, the town's unique blend of natural beauty, historical significance, and proximity to Lisbon has contributed to its appeal among locals and international buyers.
Sintra's popularity as a tourist destination also plays a role in its real estate market. The town attracts a significant number of visitors each year, which has led to the development of a thriving tourism industry.
This, in turn, has created opportunities for short-term rental investments, such as vacation homes and guesthouses, which can be financially rewarding for property owners. The proximity to Lisbon is another factor that contributes to Sintra's real estate prospects.
Many people live in Sintra while working in the capital city, as it offers a quieter and more scenic lifestyle while providing convenient access to urban amenities and employment opportunities.
The good news is that property prices in Sintra are still within buying range compared to other similar destinations around the world.
Sintra is a good place to call home
Apart from the economic advantages of living close to the capital, Sintra is generally a good place to live. The city offers a high quality of life with a relaxed and laid-back atmosphere. 
The town has a sense of community, and the local population is known for being friendly and welcoming. And the presence of parks, gardens, and open spaces contributes to a healthy and enjoyable lifestyle.
Additionally, Sintra offers a range of amenities such as schools, healthcare facilities, shopping centers, and recreational activities, ensuring that residents have everything they need within easy reach. Moreover, Sintra is known for its stunning natural landscapes, with lush green hills, forests, and breathtaking views.
The natural beauty of Sintra provides a tranquil and picturesque environment, ideal for those seeking a peaceful and scenic place to live. Living in Sintra allows residents to immerse themselves in the area's fascinating history, explore the architectural wonders, and appreciate the unique blend of cultural influences.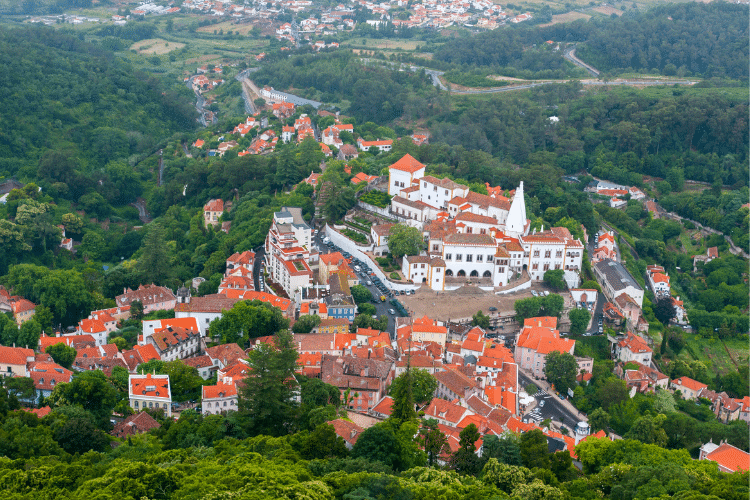 Prospects of getting a passive income visa
The easy and laidback lifestyle is perfect for retirees who want peace and tranquility. If this interests you, you need to know about the Passive Income Visa, better referred to as the D7 Visa.
In addition to other qualifications, this type of Visa is exclusive to individuals with passive income. Which may be rent, pension, or other investments.
The good news is that you can earn a passive income by buying a house in Sintra if you choose to rent it out. This passive income will also allow you to save for other investments and pay off property taxes.
Apart from giving you entry into the country, you can apply for a Residence Permit if you wish to live in this city long-term.
How to buy a house in Sintra
Buying a house in Sintra is no different from buying a house in any other place in the world. All you need to do is figure out what house appeals to you. Then, get the proper documentation and start the process.
However, it's worth mentioning that Sintra has its fair share of bureaucracies and bottlenecks that you should expect. This hurdle is not limited to Sintra. But it is a countrywide culture that makes public services take longer than most expats are used to. 
Nonetheless, working with our professionals at Viv Europe will allow you to navigate the process with less trouble.
Can a foreigner buy a house in Portugal?
The beauty of relocating to Portugal is that foreigners can buy and own property. You will be glad to learn that the process of buying a house in Portugal for foreigners is similar to what the locals must go through.
You need a NIF number and a Portuguese bank account from which you will process the payments. In addition, if you intend to stay in the country for more than 90 days, you must process a residence permit to stay legally.
How can I buy a house in Sintra?
Here comes the part you have been waiting for! It's necessary to point out that the process might be slow but is quite straightforward. 
Take a look at this step-by-step guide on how to buy a house in Sintra!
Research and choose your investment
You should have a thorough budget planned out before buying a house in Sintra. You may start looking for homes that meet your wants and budget after you know how much you can afford.
To find a home, conduct an online search, consult with a real estate agent, or go to open houses. Knowing your local real estate market and keeping up with its current trends, prices, and circumstances is crucial.
Here are a few of Portugal's most reliable real estate websites that you may browse from the comfort of your home:
Prepare the paperwork
You must compile some papers in advance before getting down to the business's specifics. Begin by applying for a NIF or Numero de Identificaço Fiscal. This document is simple to obtain at the local tax office, either on your own or with the help of a legal representative.
If you're a non-citizen of the EU, you must also submit an application for a residence permit. Along with such items, you will also need to present identification that is up to date and income documentation during the preliminary phase.
With Viv Europe your plans for Portugal
will finally come to a reality
Visit the property in Sintra
You need to assess the state of a property yourself before buying it. Virtual tours should be avoided unless absolutely required. Because no one but you can genuinely determine whether the property is suited for you and your family.
A physical visit will allow you to examine a home more closely and focus on specifics during a private viewing with a real estate professional.
Be sure to probe and ask questions: How distant is the house from the bus and rail station? Exactly how loud is it during the day? Are there any existing offers? A private showing is a fantastic method to speak with the owner and bargain for a better price.
This will enable you to assess the location's validity and determine whether the offer is reasonable.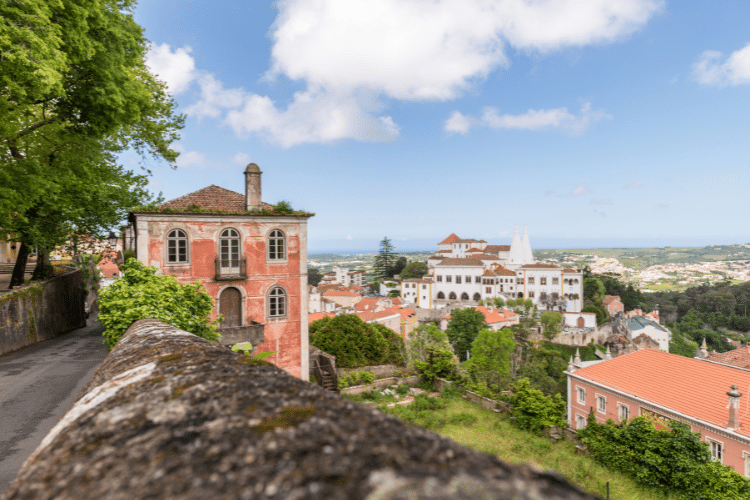 Get your documents settled in Portugal
You'll need to present some additional documents for verification before purchasing a home in Sintra to legalize the process.
Certificate of Land Registry (Certidão de matrícula): This document is issued by the local land registry and serves as proof of the property's ownership.
License of Use (Licença de Utilização): Obtained from the parish council of the respective house; this document indicates the purpose of the said property.
Building Book (Caderneta Predial): This shows that the property has been tax compliant. You can obtain this document from the local finance office.
Tax Declaration: This will confirm the amount of property taxes, which will be the new owner's responsibility.
Housing Technical File (Ficha Técnica de Habitação): Highlights all the technical descriptions of the house.
Transfer the payment and sign the deed
The final step before owning the house is transferring payments and signing the deed. The good news is that there are many reliable and faster means of sending money without walking to a bank.
If you live outside the Eurozone, we recommend three completely safe platforms.
Wise (Previously known as TransferWise)
Xoom from PayPal
You will sign the final sales contract (Contrato de Promessa de Compra e Venda) following the signing of the reservation contract and receipt of the NIF.
The purchase information, such as the cost, the timing of payments, and any contingencies, will be included in the final sales contract. The property transfer can be completed at the notary's office once all required paperwork is in place.
To ensure everything is done correctly, it's also preferable to have a lawyer present.
 How much does it cost to buy property in Sintra?
The cost of buying property in Sintra can vary depending on several factors, including the location, size, condition, and type of property you are interested in. Generally, Sintra tends to have a wide range of property prices to cater to different budgets and preferences.
Property prices can be higher in the town center or in neighborhoods close to popular attractions and amenities. This is particularly true for historical properties, villas with extensive gardens, or those offering panoramic views of the surrounding landscape.
These properties often have a higher price tag due to their unique features and desirability. When it comes to the cost of properties, Sintra is among the few destinations close to Lisbon where the cost is still relatively lower.
According to data from Idealista, the cost of property in Sintra per square meter is about €2,258. While a similar-sized property in Cascais, a neighboring city, is almost double the cost averaging €4,499 per square meter.
Here's a breakdown of the cost of property in popular neighborhoods.
| Neighborhood | Price per/m2 |
| --- | --- |
| Sintra | €3,382 |
| Agualva e Mira – Sintra | €2,133 |
| Algueirão – Mem Martins | €2,053 |
| Cacém e São Marcos | €2,033 |
| Casal de Cambra | €1,988 |
| Almargem do Bispo – Pêro Pinheiro – Montelavar | €1,854 |
Estimates are from Idealista (as of July 2023).
How much can you make renting out a property in Sintra
The rental income you can expect to generate from a property in Sintra will depend on various factors, including the type of property, its location, size, condition, and current rental market conditions.
It's important to note that rental income can fluctuate over time due to changes in market demand and other economic factors. As a popular tourist destination, Sintra has a thriving short-term rental market, particularly during the peak tourist seasons.
Renting out a property as a vacation rental or through platforms like Airbnb can potentially generate higher income. Especially if the property is well-located, well-maintained, and offers desirable amenities. On average, renting a flat in Sintra costs about €11.3/m2.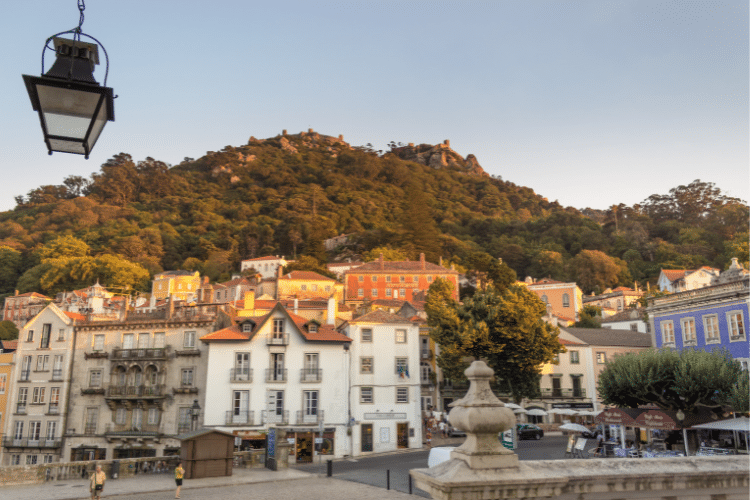 Can I apply for a Portugal Golden Visa to invest in a property in Sintra?
The Portugal Golden Visa program is a residency-by-investment program that allows non-European Union citizens to obtain a residence permit by making certain qualifying investments in Portugal.
Although investing in real estate is one of the eligible investment options under the Portugal Golden Visa program. You will not qualify for this program because of the changes implemented recently.
The changes excluded all urban and densely populated regions from the program to encourage growth in other areas of the country.
Is making a real estate investment in Sintra worth it?
Determining whether a real estate investment in Sintra is worth it depends on your specific circumstances, financial goals, and market conditions at the time of your investment.
Ultimately, the worth of a real estate investment in Sintra depends on a combination of market conditions, personal preferences, and financial goals. It's advisable to conduct due diligence, seek professional advice, and carefully evaluate all relevant factors before making a decision.
When are you coming to Sintra?
There you have it, a detailed guide for buying a house in Sintra. We hope this breakdown has given you insights into the intricacies of buying a house in this city.
If you are interested in living close to Lisbon, then Sintra is a good choice, it is a quiet town with a lot of history and nature. Whenever you are ready to make the final move, get in touch with Viv Europe's real estate professionals. 
Finally, be sure to join our Facebook Group – All About Portugal For Expats, and interact with other people who have been through the process before. Read stories, ask questions, and learn more about Portugal every day!