Last Updated on November 21, 2022 by Laila Oliveira
There's surely a reason why American expats are flocking to Portugal instead of elsewhere! The country welcomes millions of tourists every year, and a few thousand decide to make it their forever home. The difference is drastic when they compare the cost of living in Portugal versus the USA. But is that the only determining factor? 
Usually not. Of course, the cost of living is indeed a huge advantage, especially when Portuguese cities have advanced just as much as California. However, there are plenty of other factors that make this country worth it.
Let's analyze the difference between living costs in Portugal and the USA concerning rent, utilities, education, transport, leisure, and more. Where can you get the most out of your earnings? There's only one way to find out. 
How expensive is living in Portugal?
The cost of living in Portugal is very affordable compared to the rest of the European countries. You can live a comfortable life making modest earnings while enjoying the most luxuries.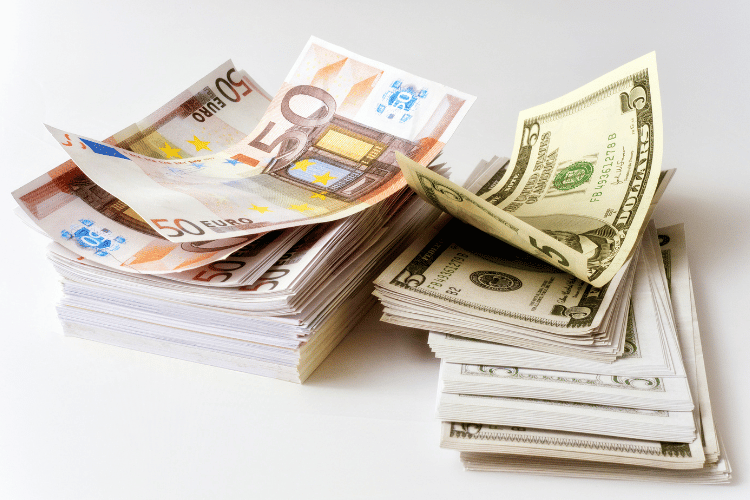 People in Portugal earn less compared to other European countries. However, this does not hinder the lifestyle because the cost of living in Portugal is relatively low. An individual can live a comfortable lifestyle for under €1,200 ($1,239) in most areas of the country.
While there's no doubt that living in Portugal is inexpensive, prices do fluctuate depending on your lifestyle and location. You will spend more money if you reside in expensive cities like Lisbon or Cascais. In contrast, Oeiras, Viseu, or Braga can be much cheaper options. 
How expensive is living in the US?
The cost of living in the US is pretty high, but it also varies from state to state. An average American household spends an estimated €57,996 ($60,000) per year on general expenses, rent being the largest of all, a whopping €1,691 ($1,750) per month on average. 
New York, San Francisco, and California are some of the most expensive cities. However, there are still some well-known places where life is still reasonably priced. For instance, the average cost of living in Oklahoma City or Cincinnati is much lower than in other large cities.
Mississippi has the lowest cost of living in the United States. Naturally, living costs will be much lower if you stay entirely out of the cities.
As per Numbeo, the cost of living in the USA is roughly 40% to 50% higher than in Portugal. Groceries, rent, and utilities are much more budget-friendly in Portugal. 
Cost of living in Portugal versus the USA
Moving to another country is never too easy. In addition to starting a new life, you try to adapt to the unique culture and new way of life. You're most likely never going to consider the aesthetics of the country first but the cost of living. 
Portugal is a favorable destination for expats searching for a high quality of life and a lower cost of living, especially after retirement.
You can only make the best decisions when there's enough research about each aspect that affects you the most. Portugal is known to be the best option for retirees, real estate investors, and digital nomads.
Let's look at some of the essential things to compare the cost of living in Portugal versus the USA.
Cost of rent
The cost of housing eats up a significant portion of American salaries as it covers nearly one-third of their income. The average rent for a one-bedroom apartment in the US is €1,619 ($1,675) per month, and rent is higher in more expensive areas like Massachusetts, where rent is €2,029 ($2,100) per month.
In contrast, rent expense in Portugal is significantly lower compared to the US. The rent for a one-bedroom apartment is €684 ($710), which is half the amount compared to an apartment in the US. 
The rent prices in the United States are 101.67% higher than in Portugal. Below is a comprehensive summary of various residence options and their relative rent pricing.
Residence Type
Rent in Portugal
Rent in USA
Apartment (1 bedroom) in City Centre
€710
($736)
€1,617
($1,675)
Apartment (3 bedrooms) in City Centre
€1,293
($1,340)
€2,698
($2,796)
Apartment (1 bedroom) Outside of Centre
€567
($588)
€1,305
($1,353)
Apartment (3 bedrooms) Outside of Centre
€932
($966)
€2,132
($2,209)
The prices of rent are from Numbeo (as of November 2022).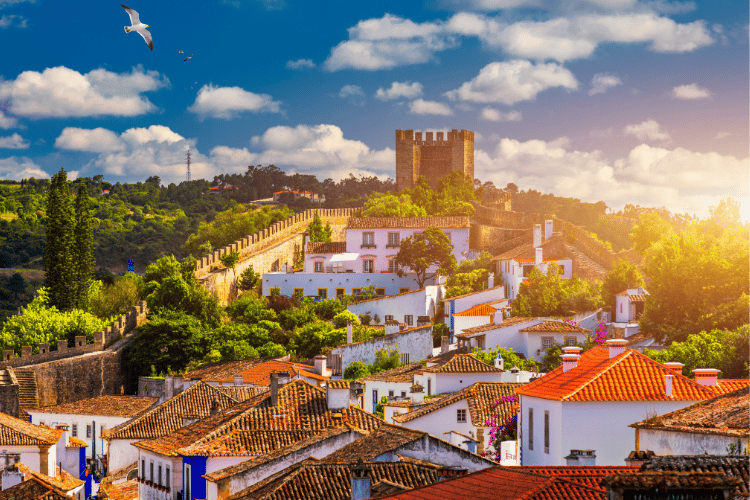 Utilities
Utility expense in Portugal is 60% cheaper compared to the US. The only additional cost would be power during the summer when it is extremely hot in Portugal.
The average monthly utility costs in Portugal and United States are listed below. Let's not forget you can still restrict or increase these expenses by adjusting your budget. Also, the prices you pay each month may vary based on how much you use them each month and how large your accommodation is.
Utility
Expense in Portugal
Expense in USA
Basic (Electricity, Heating, Cooling, Water, Garbage)
€110
($114)
€169
($176)
1 min. of Prepaid Mobile Tariff Local
€0.16
($0.17)
€0.14
($0.15)
Internet (60 Mbps or More, Unlimited Data, Cable/ADSL)
€33.65
($34.87)
€66.15
($68.54)
Groceries
Locally produced vegetables, fruits, and meat are much lighter on the pocket in Portugal. The Portuguese culture also values cooking at home and sharing meals with family and friends. So, you'll often find people shopping at farmer's markets rather than eating at restaurants. 
As per Numbeo, grocery prices in the United States are 105.43% higher than in Portugal. Here is a quick comparison of grocery prices in both countries.
Expenses
Cost in Portugal
Cost in USA
Milk (1 liter)
€0.69
($0.72)
€0.97
($1.01)
Loaf of Fresh White Bread (500g)
€1.14
($1.18)
€3.09
($3.20)
Rice (1kg)
€1.04
($1.07)
€3.96
($4.10)
Eggs (12)
€1.99
($2.07)
€3.15
($3.26)
Local Cheese (1kg)
€7.41
($7.67)
€11.12
($11.52)
Chicken Fillets (1kg)
€5.51
($5.71)
€11.40
($11.81)
Beef Round (1kg)
€9.27
($9.60)
€14.41
($14.93)
Apples (1kg)
€1.66
($1.72)
€4.60
($4.76)
Banana (1kg)
€1.15
($1.19)
€1.55
($1.60)
Oranges (1kg)
€1.30
($1.34)
€3.96
($4.11)
Tomato (1kg)
€1.64
($1.70)
€4.30
($4.46)
Potato (1kg)
€0.99
($1.02)
€2.60
($2.99)
Onion (1kg)
€1.11
($1.15)
€2.61
($2.70)
Lettuce (1 head)
€1.02
($1.06)
€1.71
($1.77)
Water (1.5-liter bottle)
€0.54
($0.56)
€1.83
($1.90)
Estimates are from Numbeo (as of November 2022).
Eating out and drinks
The case is not any different here too. You can enjoy a good meal and a drink at the lowest prices in Portugal. A three-meal course in a mid-range restaurant will cost you €40 ($41.45) in Portugal and €62.73 ($65) in the United States.
However, people do find that getting fast food or take-out is much cheaper in the US compared to cooking at home. 
And if you love your drinks, you can enjoy local Portuguese beer for €1.08 ($1.12), along with fresh world-renowned wine from the finest vineyards!
Expense
Cost in Portugal
Cost in USA
Meal at Inexpensive Restaurant
€8.00
($8.29)
€15.44
($16.00)
Meal for 2 People, Mid-range Restaurant, Three-course
€40.00
($41.45)
€62.73
($65.00)
McMeal at McDonald's (or Equivalent Combo Meal)
€6.88
($7.13)
€8.20
($8.50)
Cappuccino (regular)
€1.46
($1.51)
€4.42
($4.58)
Bottle of Wine (Mid-Range)
€4.00
($4.14)
€12.54
($12.99)
Domestic Beer (0.5-liter bottle)
€1.08
($1.12)
€2.54
($2.64)
Imported Beer (0.33-liter bottle)
€1.85
($1.92)
€2.98
($3.09)
Transport cost
The transport system in both countries is well-placed and managed. Most big cities in the United States will have better public transport, including buses, trams, trains, and taxis.
Similarly, most cities and municipalities in Portugal are interconnected through the railway system, and even smaller villages have the facility of public transport. In Portugal, the monthly transportation pass costs around €40 ($41.45), while it costs €67.56 ($70) in the United States.
Of course, the United States is much more developed and has excellent facilities in most areas of the country. Portugal, on the other hand, is still progressing slowly.
Expense
Cost in Portugal
Cost in USA
One-way Ticket (Local Transport)
€1.70
($1.76)
€2.41
($2.50)
Monthly Pass (Regular Price)
€40.00
($41.45)
€67.56
($70.00)
Taxi Start (Normal Tariff)
€3.50
($3.63)
€3.38
($3.50)
Taxi 1km (Normal Tariff)
€0.80
($0.83)
€1.62
($1.68)
Gasoline (1 liter)
€2.02
($2.09)
€1.20
($1.24)
Leisure expenses
No matter where you live, there's no fun in life if you can't make time for yourself! Portugal has multiple leisure options that keep expats and locals busy. From vineyard tours and sports activities to concerts and parties, Portugal has it all. 
This is where you'll notice that the prices are pretty much the same with a few exceptions, like concert ticket prices are much higher in the United States. You may also find more options in the US, considering the country's diversity. 
Expense
Cost in Portugal
Cost in USA
Fitness Club, Monthly Fee for 1 Adult
€34.29
($35.53)
€39.78
($41.22)
Tennis Court Rent (1 Hour on Weekend)
€11.76
($12.19)
€16.91
($17.52)
Cinema – 1 Seat
€7.00
($7.25)
€11.58
($12.00)
Concert
€10.02
($10.38)
€52.97
($54.90)
Dolphin and Whale Watching
€32.76
($33.95)
€57.81
($59.93)
Education
Education in the United States can be significantly more expensive than in Portugal. Foreign residents and Portuguese nationals have free access to public schools in Portugal, and private institutions are substantially less costly.
In Portugal, an international or private education costs an average of €10,632 ($11,000) yearly, compared to €33,830 ($35,000) in the United States. International Schools in Portugal are at par with any private schooling, and the curricula are designed specifically keeping expats in mind.
Expense
Cost in Portugal
Cost in USA
Preschool (or Kindergarten), Full Day, Private, Monthly for 1 Child
€347
($360)
€1,099
($1,139)
International Primary School, Yearly for 1 Child
€7,355
($7,621)
€15,696
($16,263)
Healthcare
The United States healthcare system is incredible for those with insurance or savings to pay privately. However, obtaining adequate care will be challenging if you cannot pay your bills.
The government runs the healthcare system in Portugal, which is affordable with little to no fee. A doctor's visit in Portugal may cost up to €50 ($51.63), whereas it costs €106 ($110) in the US. Compared to the United States, Portugal's healthcare system is ranked 12th best by the World Health Organization.
Since June 2022, public healthcare in Portugal has been free for all legal residents. Expats have complete faith in the healthcare system, and a lot of people do not rely on insurance either. However, Americans take their insurance seriously for many reasons besides the fact that only an ambulance service can cost up to €1,200 ($1,239). 
What are the cheapest areas in Portugal?
Living in Portugal is a dream for many around the world. A major reason why it's been a favorite for expats is that people on a budget can live here with very few restrictions. 
The cheapest areas to live in Portugal while still enjoying beaches and a friendly environment are Aveiro, Viseu, and Bragança, to name a few. The rent prices are 45% lower in Aveiro, 54% lower in Viseu, and 74% lower in Braganca than in Lisbon. 
These are just a few; expats from America usually consider Lisbon to be pretty cheap too! That's because they can easily live in Lisbon for under €2,000 ($2,063) per month. 
With Viv Europe your plans for Portugal
will finally come to a reality
What are the most expensive areas in Portugal?
The most expensive areas in Portugal are Lisbon, Cascais, and Porto. With Lisbon being the capital city, the cost of living here is comparatively higher than in other parts of the country. For example, consumer prices, including rent, are 15% higher in Lisbon than in Algarve; similarly, rent prices in Lisbon are 50% higher than in Viseu and 7% higher than in Porto.
Cascais is the second most costly region in Portugal, and the house expenses in Cascais are 20% higher than in Oeiras. Porto and Lisbon are two of the largest cities in Portugal. However, Porto is much more affordable than Lisbon. You will pay 18% lesser rent in Porto than in Lisbon.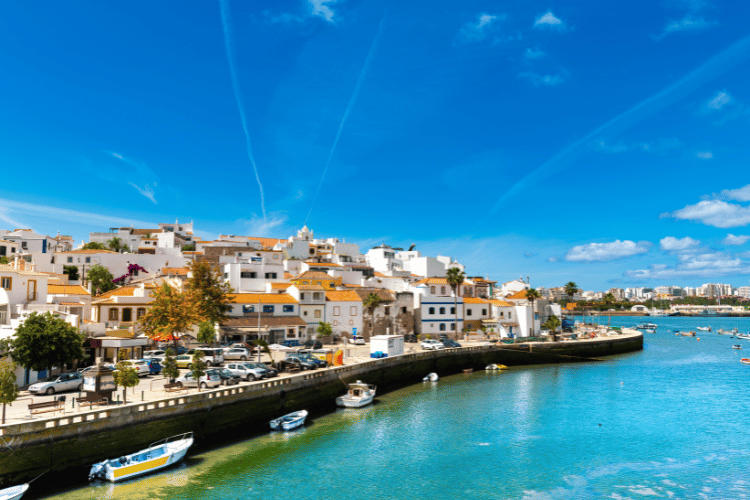 Is Lisbon more expensive than New York?
The cost of living in Lisbon is 65% cheaper than in New York. As per official data from Numbeo, you would need approximately €8,898 ($9,193) to maintain the same standard of living as someone living in Lisbon with €3,600 ($3,735). That's a huge difference, isn't it? 
Higher consumer prices, rent prices, and higher grocery prices in New York make it an incredibly expensive place. For example, the cost of living for one person in Lisbon is €1,220 ($1,263), whereas, in New York, it would cost around €3,444 ($3,563).
Is the Algarve more expensive than California?
California is twice as expensive as the Algarve region. If you live in California, you will pay 33.6% more for transportation, more than double for groceries, and twice as more for housing.
While an average local might disagree that the cost of living in the Algarve is quite affordable, expats find it to be. A couple can spend €1,500 ($1,547) per month and live comfortably. However, it also depends from person to person because of different preferences.
What is the average wage in Portugal and the US?
The wage rate is higher in the US. The average salary in Portugal sums up to €24,577 ($25,358) per year. A long cry from the United States, which leads the way at €59,981 ($61,889) per year. 
In Portugal, having a university degree guarantees a higher wage. The highest pay scales are designated for medical management, legal counsel, or purchasing managers. However, with lower salaries comes a lower cost of living in Portugal.
Is it worth the cost of living in Portugal?
It's difficult to conclude only based on the cost of living in Portugal vs. the USA without knowing what you value in life. If you value peace, serenity, and a low cost of living, Portugal is absolutely worth it. Expats have solid reasoning to be relocating from the United States! 
The above comparison between the cost of living in Portugal versus the USA justifies that Portugal is one of the most budget-friendly countries in Western Europe. Due to reduced accommodation expenditures, you will pay well over 60% less than what you would in the United States.
Portugal is a place to live if you want professional opportunities, beautiful weather, and a slower pace of life. On the other hand, if you are easily frustrated by bureaucracy or desire a higher salary bracket, it may not be the best place for you.
When are you moving to Portugal?
Comparing the cost of living in Portugal versus the USA is an eye-opener for many prospective expats. It's completely possible to live on half of what you'd spend back home and use those savings to travel the world instead! 
Relocating is never easy, especially if you're moving to a smaller country like Portugal. If you'd like to talk to American expats before making a decision, join our Facebook Group – All About Portugal For Expats and connect with hundreds of people who went through the same dilemma as you. 
Once you're ready to take things forward, Viv Europe's experts will be there to make this dream come true. Contact us now and decide to change your life for the better. Remember, every little step forward counts!