Last Updated on November 26, 2021 by Lea Melo
Cryptocurrency investors from all around the world are turning their heads to Portugal now. Here, crypto earnings aren't taxed. Living standards can be high at low costs and there are many ways to obtain a residence permit. But is there a crypto visa in Portugal? How can you get to live in Europe on Bitcoin? Does the Portuguese government really not tax the crypto?
We've heard all your questions, and we're here to answer them all. Follow up and find out all about living in Portugal as a crypto investor.
Is there a crypto visa in Portugal?
Although you can find all kinds of wrong information out there, no, there is no crypto visa in Portugal.
But there are many other possibilities for a crypto investor to obtain a residence permit in the country.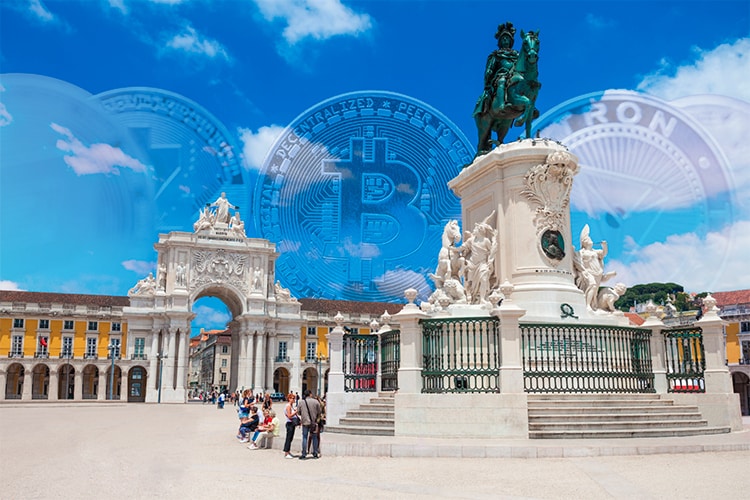 How can a crypto trader get a visa to live in Portugal?
If you're a non-EU national, it means you need a visa or residence permit to move and live in Portugal. And while owning Bitcoin won't directly help you get a visa for Portugal, there are ways to use your earnings to do so.
Among investors of all types, the most common ways to get permission to live in Portugal are via:
Golden Visa (Residence Permit for Investment Activity, or ARI);
Passive Income Visa (D7 Visa);
Entrepreneur or Business Visa (D2 Visa);
But, as you can conclude, none of them are directly related to cryptocurrencies. So, as there's no crypto visa in Portugal, how can an investor obtain a residence permit?
Applying and obtaining a Golden Visa
What we recommend to crypto investors interested in living in Portugal is to apply for the Golden Visa, or as the official name says, a Residence Permit for Investment Activity.
It gives you and your family permission to live and work in Portugal and travel freely through the countries in the Schengen area. And after 5 years with a valid permit, you'll get the possibility to apply for Portuguese citizenship. Also, unlike visas to Portugal, the owner of the Golden Visa does not actually need to reside in Portugal. You just have to be here for 7 straight days, in your first year in Portugal, and 14 days in subsequent years.
But to obtain a Golden Visa in Portugal, you must invest in the country. These are the most common investment options and the necessary value for the permit to be valid:
Purchase of €500,000 in real estate properties;
Rehabilitation of a €350,000 real estate property;
€1 million Capital Transfer;
Transfer €350,000 to investment funds in Portugal.
Just be aware that these rules will change in 2022.
It won't be a problem to set aside this amount for more traditional investment and further diversify your portfolio, right?
Can I start a crypto-related business in Portugal and get a D2 visa?
Yes, this is a possibility. Many crypto traders and influencers get to work and invest from anywhere. Why not Portugal? The Dutch Bitcoin Family, for example, has been living in the Algarve for the past years and streaming almost daily from Albufeira.
However, before applying for a Business Visa, there are many steps to take. You'll have to create a business plan and start a company in Portugal, register yourself and your company in a Portuguese bank, create Social Security and Tax numbers, find staff, and much more.
So, as you can read in detail on our website, this is not the simplest way to get a visa to live in Portugal. But if it's your goal, go for it! Just know it takes a lot of time and effort.
Is Bitcoin considered passive income for a D7 visa?
No. According to Portuguese law, the D7 visa only recognizes regulated passive incomes, such as:
Pensions;
Dividends;
Royalties;
Property rents;
Intellectual property rights;
Other specific financial investments.
So no, you cannot use your crypto-related passive income to apply for a D7 visa. But you can apply if you have any other type of regulated passive income recognized by the Portuguese government.
Why is Portugal attracting crypto traders?
Mostly known as a summer vacation destination, Portugal is also home to thousands of expats attracted by the high quality of life at a low cost.
But now, a new public is realizing how friendly Portugal can be. More specifically, crypto-friendly. The country is one of the only ones where your crypto earnings are not taxed yet.
Currently the sporadic sale of cryptocurrencies is not taxable under the Portuguese tax framework.
It's still unclear whether this is due to Portugal's desire to become a tax haven for investors or simply due to backwardness in legislation, but in the meantime, why not take advantage of it?
Furthermore, after 5 years of living here, it's possible to apply for Portuguese citizenship. A European passport might come in handy.
Lisbon, you were amazing! ❤️@Sheldon_Sniper pic.twitter.com/4OQu7ZGERq

— Ran Neuner (@cryptomanran) November 12, 2021
Ran and Sheldon, the South Africans of one of the biggest YouTube crypto shows CryptoBanter, were some of the influencers who were in Lisbon in November 2021 for a Solana Conference.
This month also attracted several global investors for the Web Summit in the Portuguese capital, with lectures and debates about blockchain, the metaverse, and the future of cryptocurrencies.
If the future is here, Portugal is not lagging behind. Who knows, maybe in the future there really will be a crypto visa in Portugal.
Are there tax benefits in Portugal and taxes in crypto?
One of the main attractions of Portugal for the crypto-rich is the taxes, or better said the benefits.
Ever since 2009, foreigners who want to invest in Portugal can benefit from the Non-Habitual Resident Tax Regime (NHR), which includes:
10 years of tax benefits;
20% IRS tax rate for internal income;
10% rate on foreign income.
Furthermore, as you may already know, the Portuguese government has no way of taxing your earnings with cryptocurrencies. At least, as long as you are not a professional trader who works managing investment and register your activity.
As confirmed by the Portugal Resident news:
"Any profit from the purchase and sale of cryptocurrency in Portugal will not be taxed, nor will the exchange of cryptocurrency for other currencies."
Cryptocurrency earnings in Portugal are considered non-taxable simply because they do not fit into any category.
So when are you coming to Portugal?
It's one of the last countries with this incredible benefit, and, to top it off, it's a wonderful place to live in.
The quality of life in Portugal is internationally recognized, the cost of living is low, and it was ranked the 4th safest country in the world in 2021 by the Global Peace Index.
There is no downside to Portugal.
So join the expat community in Portugal on our Facebook group and start planning your relocation.
If you need help moving or applying for a visa, do not hesitate to contact Viv Europe. Our professionals are always ready to help people make their Portugal dream a reality.