Last Updated on May 15, 2023 by Victor Queiroz
Whether you're still living in Portugal or Germany or relocating from somewhere completely different, it helps to know the similarities and differences between each!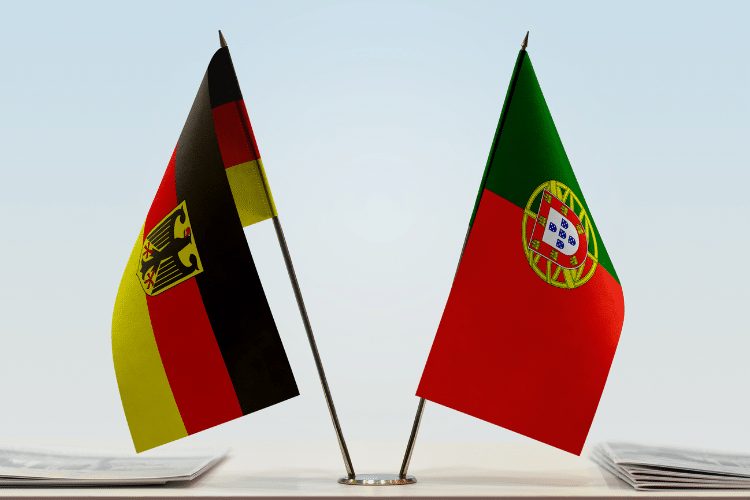 From the moment you step foot on Portuguese soil, you can feel the warmth and hospitality of its people. The country is rich in history, culture, and natural beauty. As you wander through the streets, you'll be transported back in time with the cobblestone streets, colorful buildings, and historical landmarks such as the Tower of Belém and the Jerónimos Monastery.
Germany, too, has a welcoming and diverse culture, with plenty of opportunities to explore its history, art, and music. Cities like Berlin, Munich, and Hamburg are vibrant and multicultural, with bustling nightlife and a thriving restaurant scene. You'll also find that Germany has plenty of natural beauty to explore, from the rolling hills of Bavaria to the stunning beaches of the Baltic Sea. This makes it a tough competition between the two – which one should you go for?
Portugal or Germany? Why expats choose them
Many expats are attracted to Portugal's low cost of living, friendly locals, and rich cultural history. The country also offers a great quality of life, with a strong healthcare system and excellent public transportation.
On the other hand, Germany is popularly known for its economic stability, excellent job opportunities, and high standard of living. The country has a strong economy and is home to many international corporations, making it a prevalent choice for professionals seeking career advancement.
Stick around to learn about the unique aspects of each which attract expats!
Differences between the countries
As a future expat, you might be wondering about the key differences between Portugal and Germany.
Portugal has a warm Mediterranean climate and a reputation for its rich history, excellent cuisine, and the new tech hub, Lisbon. But Germany is known for its robust economy and punctuality and has a high demand for skilled workers.
While the cost of living may be cheaper in Portugal, Germany's higher average salary could compensate for its higher expenses. All in all, depending on your preferences and goals, either Portugal or Germany could be a great place to live as an expat.
Let's dive into the details.
Cost of living in each country
First up, the cost of living – probably a defining factor for most expats, whether they're on a budget or not. 
The cost of living in Portugal is generally cheaper than in Germany, particularly when it comes to housing and groceries. However, Germany has a higher average salary and a stronger economy, which usually compensates for the higher cost of living.
For example, consumer prices, without rent, in Berlin are 37.4% higher than in Lisbon, and groceries are 35.9% higher than in Lisbon.
Keep reading to learn more about the rent and labor market to see whether Portugal or Germany is more economical. In the meantime, here's a table that summarizes some estimates in the two countries: 
| Expense | Cost in Portugal | Cost in Germany |
| --- | --- | --- |
| Apartment Rent (1 bedroom) in City Centre | €775 | €844 |
| A Single person estimated monthly costs (without rent) | €595 | €877 |
| Apartment (3 bedrooms) in City Centre | €1,309 | €1,555 |
| Family of four estimated monthly costs (without rent) | €2,074 | €2,978 |
Estimates are from Numbeo (as of May 2023).
Renting a property in Portugal or Germany
Renting a property as an expat in Portugal or Germany can be a great experience. But there are some important things you should remember when you're renting. In Portugal, Lisbon is a popular destination for expats primarily because of its affordable cost of living and having a large expat community.
For example, if you're on rent, you would need approximately €3,711 in Lisbon to maintain the same life standard that you can have with €4,700 in Berlin. 
At the same time, the rental market in Lisbon is competitive, but it has many options available, from modern apartments to historic homes. So you can choose what matches your taste.
Renting in Germany can be tough but worth the experience. For example, the Berlin rental market has many options for expats, such as trendy neighborhoods and spacious flats in the city center. Still, you should know that the rent in Germany is 15.9% higher than in Portugal. And even higher if you're considering living in the North of Portugal or in smaller cities. 
No matter where expats decide to rent, they must research and work with a reputable real estate agent to find the best property for their needs.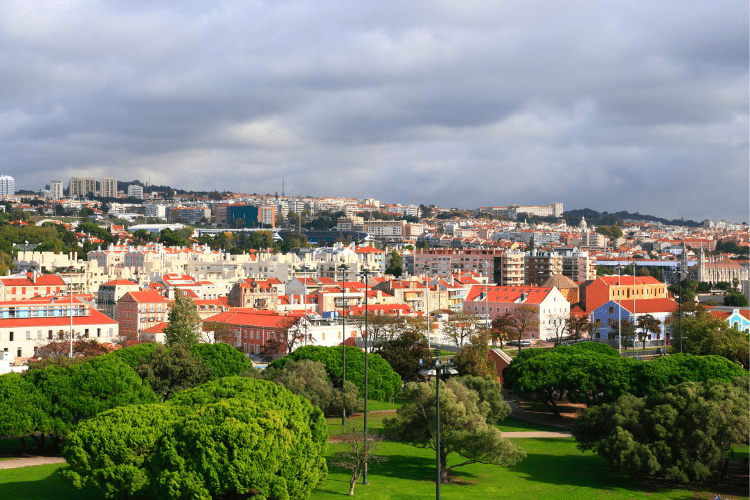 Labor market in Portugal and Germany
When moving, you are obviously thinking about employment opportunities as well. Unless you're a Digital Nomad, in which case, the New Visa For Digital Nomads will help you greatly in your relocation. Portugal's job market is steadily growing, especially in the tech industry. 
Lisbon is home to many international tech companies, which makes it a great destination for expats with tech skills. Other industries in Portugal that are in high demand include healthcare and tourism.
You should also know the minimum wage in Portugal is €760 per month, while in Germany, it is €1,923 per month. Although the average wages in each are also higher.
In Germany, the job market is relatively quite strong. Berlin has a thriving start-up scene, making it a great destination for expats with entrepreneurial ambitions. Also, many international companies have their headquarters in Germany, particularly in the automotive and engineering industries.
It's also advisable to have a good grasp of the local languages, specifically in fields like healthcare and education, where language skills are essential. Both countries offer great opportunities for expats looking for work. Which one do you think holds better opportunities for you?
Pro-tip: When it comes to finding a job as an expat in Portugal or Germany, networking can be key. Try attending industry events and joining expat groups like All About Portugal for Expats to connect with other expats before relocating.
Transport
Public transport in Portugal is efficient in the larger regions like Lisbon, the Algarve, and Porto. Trains and buses are most commonly preferred by expats and locals alike. Lisbon's public transportation system is well-developed with buses, trams, and a metro. So people decide they don't require a car to travel daily.
The metro is the most popular and efficient mode, with four lines that cover much of Lisbon and its outskirts. It runs from 6:30 am to 1 am, and a single ticket costs €1.50. As an expat in Portugal, you can buy travel cards such as Viva Viagem to save the hassle of carrying cash and get a monthly package to cut down on expenses.
In smaller towns and villages of Portugal, driving is considered to be a more convenient option. You can invest in a private car if the option appeals to you.
Germany's public transportation is highly efficient, and cities like Berlin, Munich, and Frankfurt offer comprehensive subway, bus, and tram networks. A one-way ticket on the subway in Berlin usually costs from €3 to €3.80, depending on the zone.
Biking is also a popular way to get around, with many cities having a bike-friendly infrastructure. The city has plenty of bike rentals, so you don't necessarily need to buy one yourself. 
With Viv Europe your plans for Portugal
will finally come to a reality
Climate
Portugal has a Mediterranean climate with mild winters and hot summers, with Lisbon being one of the warmest cities in Europe. Colder regions do exist as well, such as Braga or Porto. But generally, Portugal is a retreat for those who prefer warmer weather.
If you like colder temperatures, Germany offers cold winters and mild summers. Berlin, for example, experiences relatively mild temperatures during the summer months and cold, snowy winters.
Portugal's weather is perfect for expats who enjoy outdoor activities such as sunbathing, surfing, and swimming. While Germany's climate is more suited for those who prefer activities such as visiting museums and cafes.
Here's a table to show you what each season can look like, temperature-wise. 
Country
Spring
Summer
Autumn
Winter
Portugal
15.4 ºC
(59.72 ºF)
22.4 ºC
(70.52 ºF)
18.1 ºC
(64.58 ºF)
11.8 ºC
(53.24 ºF)
Germany
9.7 ºC
(49.4 ºF)
19.8 ºC
(67.7 ºF)
10.4 ºC
(50.7 ºF)
0.5 ºC
(33 ºF)
Data from the Climate Data website.
Culture
It's important for expats to understand the culture in Portugal or Germany for a smooth transition to the new country. Portugal is known for its friendly and laid-back lifestyle, with a strong emphasis on family, food, and festivals.
The locals are friendly people who enjoy gathering in the numerous cafes and restaurants, listening to fado music, and socializing with friends and family. Family is also very important in Portuguese culture, and it's common for families to live close by and gather for regular meals and celebrations.
It will be helpful for you to embrace the country's culture and way of life slowly as soon as you relocate. You may have to learn some basic Portuguese phrases, try local foods and drinks, and participate in local traditions and festivals to fit in well. And honestly, you won't even have to make an effort – it's that easy for expats to fall in love with the culture.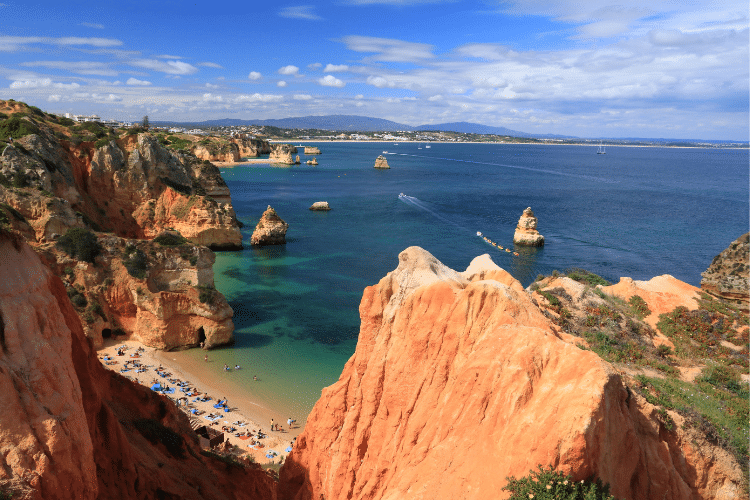 On the other hand, Germany offers a different but equally rich culture. The locals are renowned for their punctuality and adherence to rules. Also, Germans value education and intellectual pursuits, with a wide variety of museums and cultural events held throughout the year.
As you see, both cultures are unique and have their own essence. By immersing yourself in the local culture and traditions, you can gain a deeper appreciation for your new home and enjoy a more fulfilling experience. So pick the country which resonates more with you.
Security
Safety and security are essential considerations when living in any country, especially if it's away from home. Portugal and Germany are generally considered safe for expats, with low crime rates and a strong focus on law enforcement.
Portugal has a low crime rate and a robust police presence which ensures the safety of expats and locals alike. Similarly, Germany has an excellent reputation for safety, with cities like Berlin and Munich offering reliable public transportation and a high standard of living.
Even so, Portugal ranks higher on the Global Peace Index 2022, with a ranking of being 6th safest, as compared to Germany, which is 16th safest.
While both countries are safe, it is still important to take necessary precautions to stay safe, such as avoiding unfamiliar areas at night, keeping personal belongings secure, and being aware of potential scams or pickpocketing.
Immigration Law
If you're starting to like one country over the other, this part of the article will be an interesting read for you. 
In Portugal, expats can apply for residency through various programs. Expats can apply for residency through different types of Visas, such as the Business Visa for entrepreneurs and investors or the Work Visa if they have job offers. They can also be eligible for Student Visas if pursuing education or for a Passive Income Visa if they have a passive income.
But each visa has its own requirements; for example, you need to have the following documents, depending on which Visa you're applying for:
Valid Passport;
Proof of income from investments or a valid job letter or an offer from an educational institution;
Evidence of health insurance;
Proof of accommodation in Portugal;
Proof of sufficient financial means to support yourself.
In Germany, expats must obtain a residence permit and fulfill certain requirements, such as having health insurance and a valid Passport. Berlin and Munich are popular cities for expats, with a large international community and resources available to assist with immigration.
A notable difference in the two countries' immigration laws is that Portugal has a more direct pathway to citizenship. Germany has a more rigorous process that might take longer to complete.
Additionally, in Portugal, you're not required to have high proficiency in the local language, while in Germany, immigrants are required to have a higher level of proficiency in order to qualify for certain programs.
It's important to note that immigration laws can be complex and subject to change, so you should ideally seek guidance from qualified professionals and keep up-to-date on any relevant changes.
Taxes
Portugal has a progressive tax system, with rates ranging from 14.5% to 48%. The country also has a variety of resources available to assist with tax planning. Expats may be eligible for tax benefits and exemptions, such as the Non-Habitual Resident Regime, which offers 10-year tax incentives for certain types of income.
In Germany, taxes are also progressive, with rates ranging from 14% to 45%, with a robust tax system. Expats should also fulfill certain requirements, such as having health insurance and filing annual tax returns. Double taxation agreements may apply for expats with income or assets in both Germany and their home country.
It's important to note that tax laws can be complex and subject to change; you can always reach out to professionals from Viv Europe to help you understand the process better.
Bottom Line: Portugal or Germany?
You're aware now how both countries offer unique opportunities for expats in terms of culture, lifestyle, immigration laws, and career prospects. Whether you choose between Portugal or Germany, it ultimately depends on your preferences and priorities. So think thoroughly and research well before you make your move. 
To get opinions from other expats and learn from their experiences, join our Facebook Group – All About Portugal For Expats! It's good to talk to people who can guide you properly and be transparent about their journey.
In case you're looking for more professional advice and help with legalities, book a consultation with Viv Europe and let us deal with everything. Relocation should be a tension-free process to help you have the best time of your life after making this big move!