Last Updated on March 7, 2023 by Laila Oliveira
Four hours may seem like nothing when you're on the plane to Portugal, but what you're about to witness may change your life like never before. Before you decide to spend your retirement in Portugal or Greece, take a look at the main differences between their lifestyles.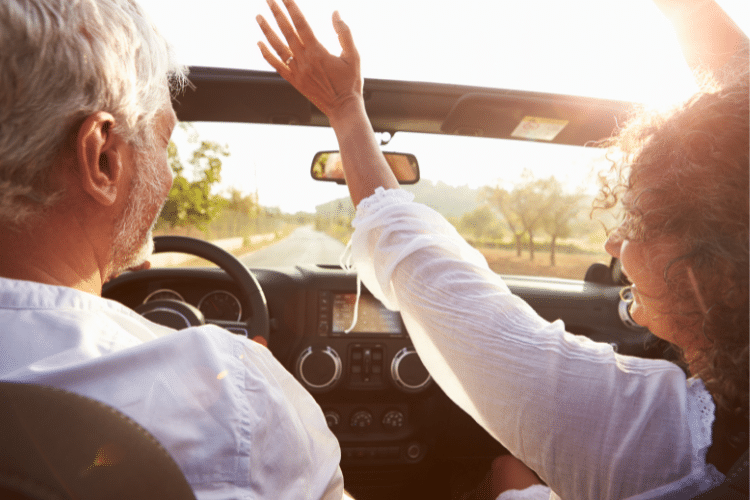 If you've never been to Portugal, you'll be happy to know that the many similarities can help you feel at home pretty quickly. Not that it's that hard to fit in with the locals anyway, but you're less likely to get culture shocks spending your golden days here. 
So if the environment really is that similar, why do Greeks relocate almost 4,000 kilometers away from home? What's making expats pick a new favorite country? Keep reading to know how retirees, just like you, are ready to live their dream life! 
Retirement in Portugal or Greece? Why expats choose them
Europe is full of beautiful retirement destinations, and that's why it's harder to pick a favorite! 
Hundreds of people decide to spend their retirement in Portugal or Greece. And we're here to help you decide if either of these two is the one for you. So why do expats choose them out of all other destinations?
Portugal's low cost of living, favorable tax rates, low crime rate, and high-quality healthcare system make it an attractive destination for retirees. It offers specific visas for non-EU citizens to encourage expats to spend their retirement here, along with many other perks.
Similar to Portugal, Greece offers a relaxed lifestyle and welcoming culture. The natural beauty, ancient history, and cuisine make it a popular retirement destination. You may be interested to know that Greece also offers significant tax benefits for retirees.
But these similarities aren't all. Continue reading to learn more about the uniqueness and similarities of Portugal and Greece. 
Similarities between the countries
The two are located in the southern region of Europe and are home to a rich history and culture. This is reflected in their architecture, art, and cuisine – which makes up for a pleasant retirement destination. They are also known for their beautiful coastlines and picturesque towns and villages, which not only add to the beauty but also help you connect with nature.
Apart from some winter months, the climate largely remains warm, which is a major pro because harsh weather conditions can make retirees distraught no matter what country it is.
Other than that, Portugal and Greece offer a high quality of life, excellent healthcare systems, affordable cost of living, and favorable tax regimes.
The section below discusses each country's unique attributes to offer so that you can fully understand whether retirement in Portugal or Greece is the better fit for you. Let's get started!
Portugal vs Greece for expats
While Portugal is known for its lower cost of living, lower crime rate, and more stable economy, Greece isn't that far behind. Knowing the specific details of spending retirement in Portugal or Greece is essential. 
Here's a summary before we get into the details:
About living retired in Portugal
Portugal knows how to take care of its people. The healthcare system in Portugal is ranked as one of the best in Europe – a definite pro for retired expats. No one wants to worry about accessing good quality healthcare when needed! 
According to Numbeo, Portugal's Health Care System Index is 71.29 compared to 57.48 in Greece. High-quality healthcare coupled with tax incentives and benefits makes the quality of life desirable.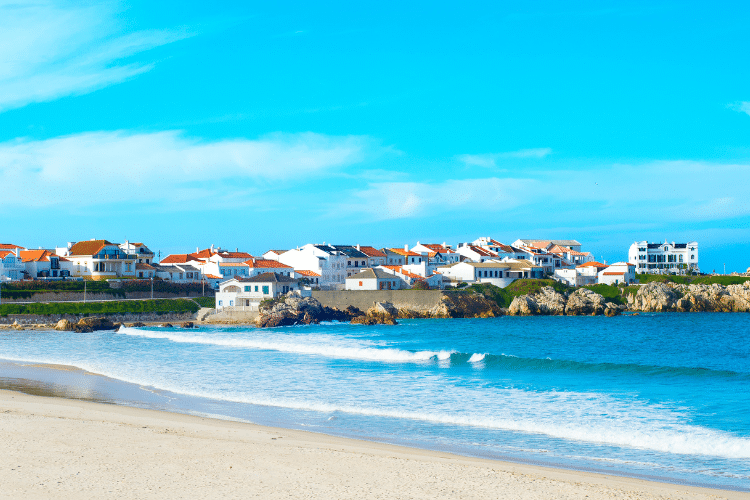 Another added value for retirees in Portugal is the legal security that Residence Permits offer. You can apply for the Family Reunification Permit if you wish to stay with an already-settled family member as a retired expat. Or, if you wish, you can relocate independently through the D7 Passive Income Visa by showing proof of passive income. 
And once you start living your dream life, moving around the city you wish to stay in should not be a problem. Buses and the metro are safe and reliable means of commute, added to the security that Portugal offers its people.
About living retired in Greece
Just like in Portugal, tourism is a big part of Greece's economy. It's changed how many aspects of the country work, including the language barriers, real estate, and cuisine.
While the cost of living in Greece is higher than in Portugal, it is still less than in other European countries. Even the tax laws are favorable for retirees, but we'll get into more details later on in the article. 
The overall quality of living standard, picturesque roads, and warm climate make Greece a popular destination among retired expats.
You don't have to get a retirement visa; you just get a special non-dom residence permit. To obtain the permit, you will only need to prove that you can financially support yourself without working in Greece.
Differences between the countries
Whether you want to spend your retirement in Portugal or Greece, it's important to note the differences in detail.
As you can go on reading the article, you'll highlight a few important ones specific to your lifestyle. Here are some major differences that retirees come across when choosing their retirement destination between Portugal and Greece.
Cost of living in each country
Living costs can be a game changer! An average retired couple can live in Portugal for under €1,500, given that they're not living in the country's main hub. Of course, like all other places in the world, living costs rise as you get closer to the most famous regions.
Rent may be lower in Greece, but the overall cost of living is much lower in Portugal. For example, rent in Lisbon tends to be slightly more expensive than in Athens. On average, you can expect to pay around €180 less in Greece for a one-bedroom apartment.
However, Portugal's living cost is generally lower than in many other European capital cities. That is with the added comfort of affordable public transport, low grocery expenses, and entertainment options.
According to Numbeo, consumer prices in Athens are 15.8% higher than in Lisbon (without rent), restaurant prices in Athens are 8.8% higher than in Lisbon, and groceries in Athens are 13.0% higher than in Lisbon.
| Expenses | Portugal | Greece |
| --- | --- | --- |
| Rent for a one-bedroom apartment (outside the city center) | €592 | €411 |
| Monthly expenses for one person without rent | €577 | €712 |
| Rent for a three-bedroom apartment (outside the city center) | €947 | €647 |
| Monthly expenses for four people without rent | €2,032 | €2,431 |
Estimates are from Numbeo (as of March 2023).
Taxes
In most cases, expat retirees have passive income coming in from pensions or renting real estate. So it goes without saying that they need to maximize their consumable income every month.
Portugal has long been popular among expats due to its Non-Habitual Resident (NHR) Regime. This offers 10 years of tax incentives to individuals who have not been tax residents in Portugal for the previous five years.
The NHR provides a flat income tax rate of 20% on income derived from Portuguese sources for certain professions, such as IT, engineering, and scientific research, and a tax exemption for foreign-source income, such as pensions and rental income.
With Viv Europe your plans for Portugal
will finally come to a reality
Greece has a similar tax regime called the Non-Domicile Tax Regime, which offers tax incentives to non-Greek residents who establish their tax residency in Greece.
If you, as an expat, choose to reside in Greece for at least 183 days per year, you can benefit from Greece's flat 7% tax policy for 7 years. This policy covers all types of retirement income, including private pensions and social security pensions for expats.
Although the regimes may seem similar, Portugal has a competitive edge in providing tax incentives for a longer period.
Transport
What's the point of retiring in Portugal or Greece if you can't explore the beauty and try out new things?
Public transport in Greece primarily consists of KTEL buses, with limited train and metro services in cities like Athens and Thessaloniki. In Athens, the metro system is clean, efficient, and well-connected because it's the capital city. Taxis are also widely available, even though they are not as reliable as other modes of transport. 
However, as opposed to Portugal's well-rounded public transport, Greece's is reliably functional only in the larger cities. 
Buses and metro certainly are dominant in Portugal and are more extensive than those in Greece. The Lisbon and Porto metro systems are modern and efficient, and the national train company operates a network of intercity and regional trains.
In addition, the trams and funiculars are popular with tourists. Taxis are readily available in cities, and ride-hailing apps are also functional.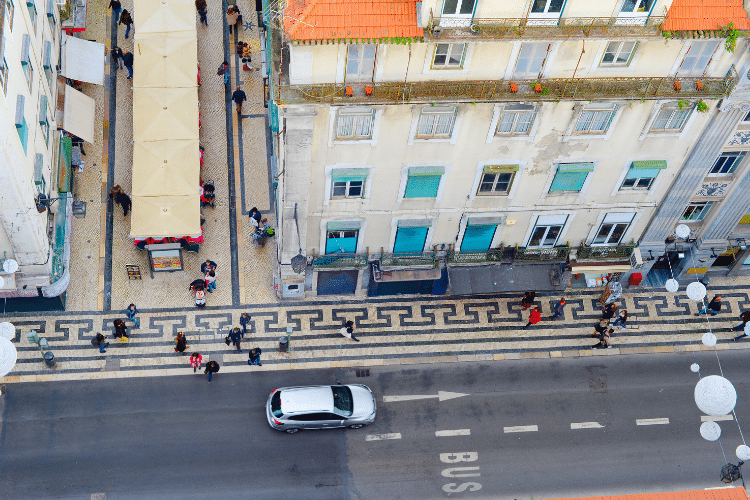 Climate
As mentioned earlier in the article, extreme weather conditions can be a deal-breaker for many retirees. We completely understand why they would be; let's discuss this in detail.
From June to August, the temperature in Greece can reach up to 35 °C (95 °F) in the coastal regions, while in the winter months, from December to February, temperatures range from 5 – 15 °C (41 – 59 °F).
On the contrary, Portugal is known to have 300 days of sunshine. The southern coastal regions have a similar Mediterranean climate with mild and rainy winters and hot and dry summers from June to August, with average temperatures ranging from 25 – 30 °C (77 – 86 °F).
In the northern regions, the climate is oceanic, with cooler temperatures and more rain throughout the year. And oh, don't get us started about the stunning golden sun every day!
Comparing the two climates overall, Greece tends to be drier than Portugal, especially in the summer. And Portugal is milder all year round. Take a look at some average temperatures:
Region
Spring
Summer
Fall
Winter
Portugal
15.4 ºC
(59.72 ºF)
21.4 ºC
(70.52 ºF)
18.1 ºC
(64.58 ºF)
11.8 ºC
(53.24 ºF)
Greece
11.7 ºC
(53 ºF)
27.4 ºC
(81.4 ºF)
14 ºC
(57.3 ºF)
8.2 ºC
(46.8 ºF)
Data is taken from the Climate Data website.
Security
According to the Global Peace Index 2022, Portugal ranks 6th out of 172 countries, while Greece ranks 53rd. This ranking shows that Portugal is a much safer country than Greece. The safety index of Lisbon is 70.4, while it is 44.2 for Athens.
Since the index measures overall levels of crime, political instability, terrorism, and militarization, Portugal's high ranking proves it has a lower level of crime and political instability and a higher level of safety and security than Greece.
Safety is an important consideration for retirees when they choose their retirement destination. Portugal's safety index depicts it to be a good choice for you to prioritize your safety and security.
Entertainment
Algarve is a popular destination for retirees in Portugal due to its mild climate, beautiful beaches, and world-class golf courses. Its thriving culinary scene has plenty of restaurants offering fresh seafood and traditional Portuguese dishes.
In addition, Portugal is home to charming towns and villages where you can explore historic sites, museums, and art galleries. Many nature parks and walking trails are there as well.
For Greece, historical sites such as the Acropolis in Athens and the ancient city of Mycenae are the highlights. Santorini, Mykonos, and Crete are the most popular islands, which offer stunning views of picturesque towns.
If nature interests you, hiking trails such as Samaria Gorge in Crete are the place for you. Greece also offers delicious cuisine, which includes dishes such as moussaka.
To be fair, entertainment depends on what kind of person you are. Portugal is a great destination just to relax, unwind, and soak up the beauty of life while sunbathing on a beach. 
How to get a visa in each country
Lastly, whether you choose retirement in Portugal or Greece, you should know the Visa requirements. The complexity of one over the over might be a deciding factor for you. 
In Portugal, you would need a D7 Visa as a retired expat. The Visa allows non-EU citizens to retire in Portugal if they meet specific requirements. 
The D7 Visa is designed for those with a stable passive income source who don't wish to work while spending retirement in Portugal. The requirements can get confusing, so we've shared a simplified overview for you below:
Stable Income: Show proof of a stable income sufficient to support yourself or any dependents;
Health Insurance: Have private health insurance that covers you in Portugal;
Criminal Record: Provide a criminal record certificate from your country of origin;
Accommodation: Proof of suitable accommodation in Portugal.
Similarly, Greece offers a D Visa for non-EU retired expats. You should apply for a retirement Visa at the Greek embassy in your home country. 
The Visa remains valid for one year and can be renewed annually. After five years of living in Greece with this Visa, retirees may be eligible to apply for permanent residence.
Do you want to retire in Portugal or Greece?
We agree; it's definitely a tough choice. 
What usually helps prospective expat retirees is going on a scouting trip to Portugal or talking to other retirees who made the same decision. To connect with like-minded people, join our Facebook Group – All About Portugal For Expats, and ask questions. 
When you're ready to make the big move, consult experts from Viv Europe and let us deal with the bureaucracy while you relax. Relocation is supposed to be fun and exciting, and we can make that happen for you!