Last Updated on June 28, 2022 by Laila Oliveira
The summer is just around the corner and there is no better time for you to get to know Portugal before moving here for good. Summer is the busiest season in Portugal because of so many reasons. During these months, the sun is out in its full glory making it possible for people from every corner of the globe to explore what this beautiful country has to offer.
The months between July and mid-September are when people all over the world meet in Portugal to have a good time. If you are considering moving to Portugal, spending your summer in Portugal is a good way to start. Stick around to find out more about what to expect during this season in Portugal.
Read Also: 8 reasons why Portugal became so popular
What to expect about summer in Portugal
Summer in Portugal is hot and full of fun activities. During this time of the year, everyone is out of their houses, probably headed to the nearest beach. Most of the Portuguese are on vacation enjoying what's best about their beautiful country. And some lucky expats in Portugal too.
If you are a lover of nature, you might be lucky to catch some of the remainders of the bloom from spring.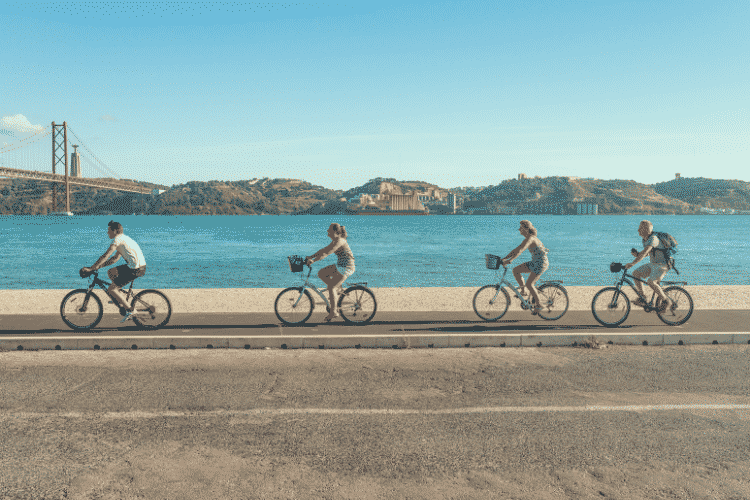 Get out and visit the many national parks across the country and feed your wanderlust, be sure to carry a bottle of water though!
Summer in Portugal has something for everyone, if you are not the adventurous type, then you can enjoy urban holidays in the capital of Portugal, Lisbon or Porto.
What's the weather like in summer in Portugal?
There is no doubt that summer is the hottest month in Portugal. In fact, if you go further inland, the temperatures can easily sore to close to 30 degrees in some regions. Here is a breakdown of the weather in major cities in Portugal.
What is the weather like in summer in Lisbon
The beginning of summer in July is the hottest month in the capital of Portugal. People living in Lisbon experience limited rainfall during the summer and the sunshine is approximately 11 hours every day.
July
August
September
Average Temp
21.6 °C
(70.9) °F

22.4 °C
(72.3) °F

21.2 °C
(70.2) °F

Rainfall
3mm
(0.1 in)

5mm
(0.2 in)

30mm
(1.2in )

Table data is from Climate Data
It's the busiest time of the year for tourism, so many Lisbon residents prefer to leave town for a couple of months and travel to other areas of the country, like the Alentejo, looking for a more peaceful time.
What is the weather like in summer in Porto
Summer is definitely hot in Porto as well. The northern region of Portugal experiences little precipitation at the beginning of summer as rains slowly pick up as the months go by.
July
August
September
Average Temp
20.9 °C
(69.6) °F

21.5 °C
(70.7) °F

20.1 °C
(68.1) °F

Rainfall
26mm
(1 in)

32mm
(1.3 in)

67mm
(2.6 in)
Table data is from Climate Data
Summer is by far the most pleasant time to visit and to live in Porto, known to be the coldest area of Portugal – that is if you enjoy hot temperatures.
What is the weather like in summer in Algarve
The Algarve region experiences very hot summers compared to other major areas in Portugal. Some say it even feels like you are in Morocco rather than Portugal.
July
August
September
Average Temp
23.5 °C
(74.3) °F

24 °C
(75.3) °F

22.2 °C
(72) °F

Rainfall
0mm
(0 in)

2mm
(0.1 in)

20 mm
(0.8 in)
Table data is from Climate Data
The temperatures, and also the stunning beaches, are a reason why this is the main touristic destination in Portugal during this season. The sky is rarely cloudy during summer, therefore, a rather hot climate with hardly any rain.
What is the weather like in summer in Madeira
Although not as hot as the Algarve, summer in Madeira is also quite hot. This season is ideal for surfing in the wavy waters of the Atlantic ocean.
July
August
September
Average Temp
20.3 °C
(68.5) °F

21.2 °C
(70.2) °F

20.3 °C
(68.5) °F

Rainfall
7mm
(0.3 in)

11mm
(0.4 in)

38mm
(1.5 in)

Table data is from Climate Data
It's also a nice time of the year to get to know the best places to live in Madeira before relocating.
Best things to do during the summer in Portugal
Summer in Portugal is definitely a great time to know the country and to enjoy its tourist attractions. But you should also take the opportunity to make this one a scouting trip and see what it would be like to live in Portugal.
Does the warm weather bring all the good out of Portugal? Wondering what to do during this season of the year? Worry no more. Detailed below are some fun activities that you can engage in on your summer visit to Portugal.
Go to the Algarve beaches
With over 120 miles of pristine coastline and 130 sandy beaches, there is so much that you can do in the cities of the Algarve.
One fact about the Algarve is that it is one of the few regions in the world that promises up to 300 days of sunshine annually. What this means for you is that you can enjoy your time at the beach way before the summer arrives.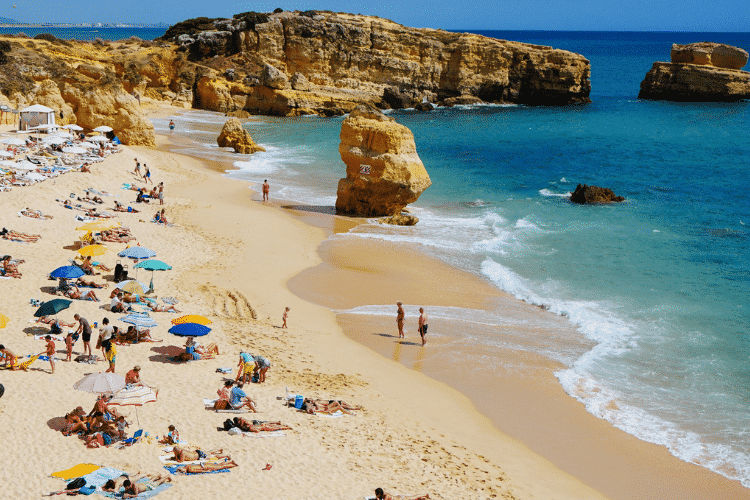 It is worth mentioning that the 82 beaches in the Algarve are blue flag certified. These beaches follow strict educational and environmental regulations that guarantee you a better experience at the beach.
So what beach do you choose out of the many options available? While each individual beach will give you a unique experience here are the most popular options:
Meia Praia, in Lagos;
Praia do Barril, on Tavira Island;
Praia da Marinha, in Lagoa.
If you're interested in going to southern Portugal for your vacations, read also Algarve, Portugal: Top Tours & Travel Tips.
Enjoy the sunny days in the center and north of Portugal
Other than visiting the beaches in the Algarve, the sunny summer season also opens up the northern regions of Portugal for exploration.
The northern and central regions are home to some of the most beautiful cities in Portugal, as well as river beaches and natural parks.
A good example is Coimbra, the romantic city that has plenty of activities for all age groups, near amazing nature on the Portuguese Silver Coast.
And let's not forget the amazing Douro Valley in the north, which you can visit on a day trip from Porto.
What's more, if you are a history enthusiast, then Braga is calling. This city features plenty of old architecture and other historical centers as well.
Go on a road trip across Portugal
Going on a road trip is a great way to explore Portugal and summer is the best time to do so. While Portugal is a relatively smaller country, it is unbelievable how so many beautiful sceneries can be packed in such a small space.
The are no rules as far as the means of exploring the country is concerned. However, the recommended means remains to be via a car or campervan.
Touring Portugal using a car will give you the luxury of stopping in those small towns that you would not get a chance to if you use public transportation.
A road trip will give you a unique opportunity of interacting with the locals, enjoy the different cuisines in different cities, and also appreciate the beauty that Portugal has to offer.
Portuguese Summer traditions
The hot summer months are a special time for Portuguese nationals. Right after Spring in Portugal, schools are closed for the summer holiday. Most families go on trips to the coastal beaches or to the inland river beaches for that well-deserved vacation.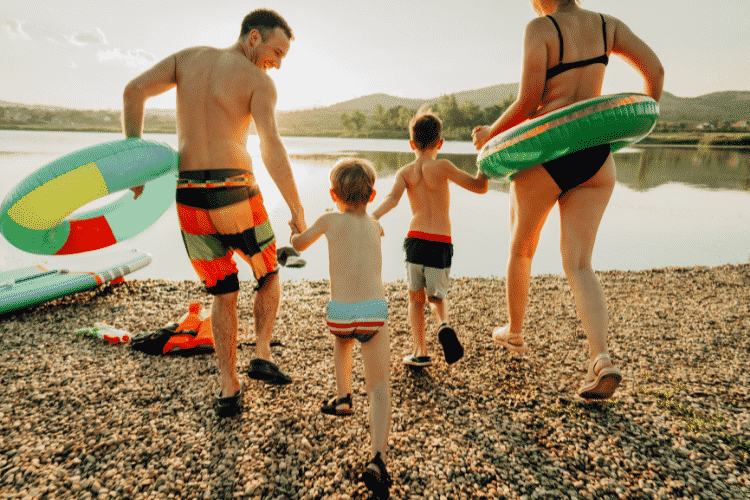 As you may already know, the Portuguese people are very family-oriented, so you'll often find that most people take time off to be with their loved ones during summer.
Indulging in caracóis is a social activity during summer – a rather exotic Portuguese dish, which is simply snails! Quite different but really tasty. Locals enjoy them as appetizers before the main meal or as a snack just before happy hour.
Summer festivals in Portugal
The onset of summer in Portugal, ushers in various festivals all over the country. However, it is necessary to acknowledge that different cities have unique traditional festivals they celebrate.
There are several music festivals that are hosted in Portugal during the summer. If you are a lover of music, then you are in for a great treat. Here are some of the music festivals that you should look out for this summer:
Festa dos Tabuleiros, Tomar
Festa dos Tabuleiros (Festival of the Trays) is an important festival in Tomar, where girls parade with bread on their heads as part of the tradition. While this festival is quite significant, it is essential to mention that it only happens every 4 years and the next one is scheduled for 2023.
Festa do Colete Encarnado
The Festa do Colete Encarnado is a three-day feast that is hosted every year in Portugal. It's basically a parade to celebrate the traditional cowboy kicks off the event in the main square in Vila Franca de Xira. What follows is the bulls are set free as they run uncontrolled through the city of Vila Franca de Xira.
In an effort to get away from the bull's path, sometimes there are injuries that could be fatal. Nonetheless, this is a tradition that tourists love to witness but from a safe place away from the chaos of the bulls and crowd.
Dress Code for the Season
Summer in Portugal is hot, therefore, it goes without saying that whatever you choose to wear should be able to help you with the heat. Also, remember that the kind of activity you are going to engage in will dictate your choice of clothes as well.
Typically, on a day where you intend to walk around the city, be sure to put on a loose top made of natural materials like silk and cotton.
Natural materials give your skin some room to breathe amid the hot temperatures. Also, remember to carry a hat and sunglasses that will give you additional protection from the sun. Keep the jewelry to a minimum because you don't want anything that will cause you extra discomfort, especially under high temperatures.
Finally, it is essential to mention that there are no rules when it comes to dressing for the summer in Portugal. Whatever you feel comfortable and confident in is probably the right cloth to wear on that particular day. Don't overthink it!
Want to keep up with the expat community in Portugal?
Leaving your home country to another foreign land is a brave thing to do, but can get overwhelming for some people.
However, finding a community of people who have been through the same journey gives you a sense of security. What's more, being part of a community will allow you to build connections with other like-minded individuals.
Consider joining our Facebook group All About Portugal For Expats. Be part of a community of people from all over the globe who have chosen to move and settle in Portugal.