Last Updated on January 16, 2023 by Laila Oliveira
Are you longing to live somewhere between luxurious sophistication and booming startups? Oeiras is right where you should be! The dynamic environment helps to bond with other communities while staying connected to nature, great facilities, and the tech scene in Portugal. If you're interested in creating a similar life for yourself, you might consider buying a house in Oeiras after moving here.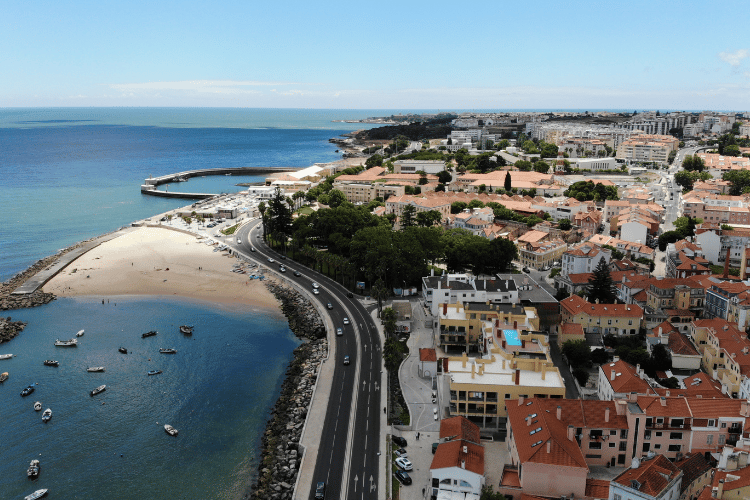 Some might think of this city as better than Lisbon, and they're right. Don't get us wrong, Lisbon will always be a top favorite. Being close to the capital means hopping on public transport and enjoying the best of both worlds in no time. Living in Oeiras is convenient, relaxing, and affordable.
In this guide, we'll cover all about buying a house in Oeiras to call it your new home. What do the properties look like? Are they more expensive than those in other cities? How can you purchase one? Keep reading to learn all about it before you go house shopping. Happy reading!
Why should I think about buying a house in Oeiras
Oeiras is a municipality located in the western part of the Lisbon Metropolitan Area in Portugal, and it has several factors that may make it an attractive place to buy a house.
It's home to several large international companies and organizations, as well as several research centers and universities, and its proximity to Lisbon adds to its value.
The municipality also has a strong cultural and artistic scene, with various festivals and events throughout the year. In the end, your demands and circumstances will determine whether or not you should opt for buying a house in Oeiras.
So, while we can't dictate what you should think about, here are the top three reasons why people consider this city:
Thriving real estate market
Being just 20 minutes away from Lisbon sure has its perks! Oeiras has seen a thriving real estate market in recent years thanks to the popularity of close by regions. Lisbon is a well-loved city that attracts thousands of tourists, and the love expands to places that are close to the city but not entirely a part of it. 
The municipality is home to a number of large companies, research centers, and universities which entices many people to look for housing in the region. Real estate prices in Oeiras are generally lower than in Lisbon, allowing many people to look for better deals outside the city. 
The rental market is strong, with a high demand for rental properties from tourists, students, and expats working in the area, making it an attractive option for property investors. The recent increase in demand has resulted in an 18.5% growth in property values.
Lastly, real estate markets can be affected by various factors, such as changes in interest rates, government policies, and economic conditions, which may fluctuate over time. Therefore, it's important to do your research and consult a real estate professional before making any decisions.
Higher quality of life than other major cities
Everyone strives to improve their living conditions no matter where they are in the world. Oeiras is a safe, clean, and well-maintained municipality with good public services, including parks and recreational areas, schools, and hospitals.
One of the famous parks is the Serra de Sintra-Cascais Natural Park, which offers plenty of opportunities for outdoor activities such as hiking and bird-watching. You'll notice that this city has a much calmer vibe than fast-paced Lisbon.
Educational opportunities and modern adaptability in the education sector are also a priority here. Gladly, Oeiras is home to some of the most prestigious Universities and Research centers in the country. Two examples are Instituto Superior Técnico and Instituto de Tecnologia Química e Biológica. This attracts a highly educated and skilled population, which then attracts even more of the same.
Living in Oeiras means you will be facilitated with excellent transportation. Residents have quick access to all that the city has to offer. That includes its numerous cultural activities, dining options, and nightlife, thanks to its close proximity to Lisbon.
Additionally, the Oeiras council has been implementing policies to maintain and improve the quality of life in the area. Which also contributes to it being perceived as a high-quality place to live.
Retirees are getting their Passive Income Visas
Unless you are an adventurous person who wants to enjoy partying, Oeiras is a place with the tranquil, serene, and peaceful lifestyle that most retirees want. Portugal's D7 Passive Income Visa is one way to make that possible! To qualify as a passive income earner, you must show proof of income through investments, pensions, or rent. 
Buying a house in Oeiras and living in the same property is one option; the other one is to buy it for investment and rent it out. This allows retirees to earn regular income without having to manage the property actively, all while living somewhere that's much cheaper.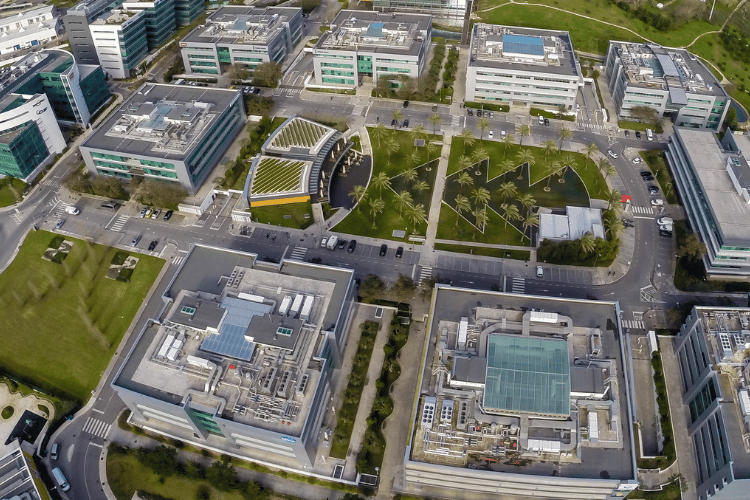 This income can supplement their retirement income to help pay for expenses such as property taxes, repairs, and insurance. And also to save for future expenses or to put toward other investments.
We've discussed the best types of investments plenty of times on our blog. To check them out, read our article 3 Types Of Investments In Portugal You Should Consider Making.
It's a win-win situation.
How to buy a house in Oeiras
So, are you excited to know the process of getting the keys to your new home? The process is simple but might seem a little longer without the right help.
Buying any property will involve loads of paperwork, verifications, and other technicalities. But this is where you need to be extra cautious and skeptical of what's going on. This will help broaden your perspective of what you are looking for and how much you should spend.
One thing that might make the process easier is that Portugal has a well-established legal system and property market, which means that there are many professionals, such as real estate agents and lawyers, who can help guide you through the process. Viv Europe can be your guide throughout, just like it has been for so many others!
Can a foreigner buy a house in Portugal?
Yes, a foreigner can purchase real estate in Portugal. Foreign ownership of property is not restricted in Portugal, and the process of buying a home as a foreigner is similar to that of a citizen.
In order to proceed with the purchase, a foreigner may be required to provide certain documents, such as a Tax number (NIF) and a Portuguese bank account. In addition, if a foreign national intends to stay for an extended period, they may be required to obtain a residence permit.
How can I buy a house in Oeiras?
Buying a house in Oeiras, or any other location in Portugal, can be similar to the process in other countries, but there are some specific details and requirements that you should be aware of. 
Here is a general overview of how you can buy a house in Oeiras:
With Viv Europe your plans for Portugal
will finally come to a reality
Research and choose your investment
Before buying a house in Oeiras, you should have a complete budget in your mind. Once you know how much you can afford, you can start looking for houses that fit your budget and your needs.
You can search online, work with a real estate agent, or attend open houses. It's essential to be familiar with the local property market and be aware of the current market conditions, prices, and trends.
Here are some of the most trusted real estate websites in Portugal that you can browse without leaving your home:
Research deeply into all the options you can consider, talk to other people living there, and study the market trends yourself.
Prepare the paperwork
You will also need to prepare some paperwork to proceed with the purchase.  Firstly, you will need to obtain a tax number (NIF) in Portugal; this can be done with the help of a lawyer.
If you're a non-EU citizen, you need a residence permit to stay in Oeiras permanently. Additional documents include proof of income and a valid National Identity Card.
Visit the property in Oeiras
Before buying a property, you must evaluate the condition yourself. No one other than yourself can truly judge if the property is right for you and your family; hence virtual tours should be avoided unless extremely necessary. A private showing with a real estate agent will allow you to take a closer look at a property and pay attention to details. 
Ask a lot of questions: How far is the home from trains and buses? What is the daytime noise level? Have any offers already been made? Private showing can also be a great way to strike up a conversation with the owner and negotiate a better deal. This will help you address the authenticity of the place and evaluate whether the offer is reasonable for you. 
Get your documents settled in Portugal
Buying a house involves a lot of bureaucracy, but that also means the Portuguese government values your contract. So, make sure you have the following documents to ensure the legitimacy of the process of buying a house in Oeiras:
Certificate of Land Registry (Certidão de matrícula): This document is issued by the local land registry, and it serves as proof of the property's ownership.
License of Use (Licença de Utilização): Obtained from the parish council of the respective house; this document clearly indicates the purpose of the said property.
Building Book (Caderneta Predial): This shows that the property has been tax compliant. You can obtain this document from the local finance office.
Tax Declaration: This will confirm the amount of property taxes, which will be the new owner's responsibility.
Housing Technical File (Ficha Técnica de Habitação): Highlights all the technical descriptions of the house.
Transfer the payment and sign the deed
Just one last step away from obtaining your dream home in Oeiras!
To finalize your purchase, you will need to transfer the payment and sign the deed. It's much easier to make online transfers than it was before. For expats outside the Eurozone, here are some platforms you can use to transfer the payment: 
Wise (Previously known as TransferWise)
Xoom from PayPal
After the reservation contract and obtaining the NIF, you will sign the final sales contract (Contrato de Promessa de Compra e Venda). 
The final sales contract will include the purchase details, such as price, payment schedule, and any contingencies. Once all of the necessary documents are in order, the property transfer can be made at the notary's office. Having a lawyer present is also advisable to ensure everything is done correctly.
Look out for the best time to convert your money during this step. Once this step is done, congratulations; the house is now under your name!
How much does it cost to buy property in Oeiras
The property's price will depend on its location, size, and condition. And it can range from around €200,000 for a small apartment to over €1,000,000 for a larger luxury property. 
Additional expenses include a notary and legal fee of approximately 1% to 2% of the purchase price. Along with that, property transfer taxes (IMT) typically range from 1% to 8%, and property taxes range from 0.3% to 0.5% of the property's value.
Here are some price estimates for different parishes within Oeiras:
| Parish | Price per 100m² |
| --- | --- |
| Oeiras | €3,669 |
| Algés – Linda-a-Velha | €3,758 |
| Porto Salvo | €3,123 |
| Barcarena | €2,666 |
Price estimates are from Idealista (as of January 2023).
How much can you make renting out a property in Oeiras
Investing in Portuguese real estate is an option that many expats look into. Considering the tourist hot spot's popularity, it can be a great way to earn passive income while living somewhere cheaper. 
To get an idea of how much short-term rentals can be listed for, we have some estimates from Airbnb. Two-bedroom apartments can be rented out for anywhere between €60 to €250 per night, depending on the location and the month. Summer in Portugal is packed with tourists; thus, there are endless opportunities for investors!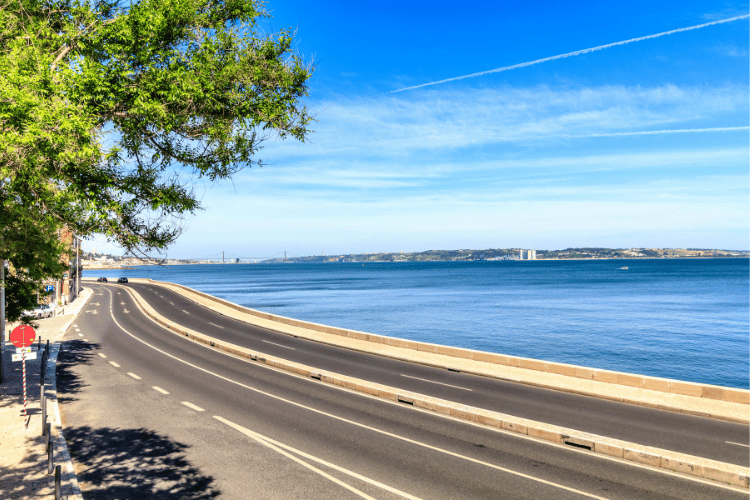 The amount you can make by renting out a property in Oeiras will depend on several factors, including the location and size of the property, the local housing market conditions, and the terms of your rental agreement. You can expect to earn above €3,000 per month for an apartment with a beautiful view.
Some other factors to consider would be:
the type of property (house, apartment, etc.)
the condition of the property (new, recently renovated, older, etc.)
the amenities included with the property (parking, laundry, etc.)
The following are estimates of how much different types of properties cost in Oeiras.
| Residence Type | Rent per Month |
| --- | --- |
| Apartment (1 bedroom) in City Centre | €930 |
| Apartment (1 bedroom) Outside of Centre | €737 |
| Apartment (3 bedrooms) in City Centre | €1,641 |
| Apartment (3 bedrooms) Outside of Centre | €1,075 |
Estimates are from Numbeo (as of January 2023).
Can I apply for a Portugal Golden Visa to invest in a property in Oeiras?
Sadly, no. In light of changes to the Golden Visa in 2022, the Lisbon region is not eligible anymore. Since Oeiras is both a town and a district in the Lisbon metropolitan region, similar guidelines shall apply.
Before the recent policies, it was possible to get a Golden Visa if the property was valued at €350,000 to €500,000 or greater.
Don't fret! There's still nothing to worry about because it does not mean that you won't be able to buy a house in Oeiras. To simplify, this specific property purchase will not make you eligible for Golden Visa. You can look for other places that are still eligible for the Golden Visa, such as the Azores, Madeira Island, and the Alentejo region.
Is making a real estate investment in Oeiras worth it?
Real estate can be a good investment if you are able to find a property that is undervalued or in a location that is expected to experience growth. Oeiras has seen significant growth in recent years due to its proximity to Lisbon, strong economy, and high quality of life.
Due to the presence of numerous multinational corporations in Oeiras, the demand for housing and commercial properties has grown and will likely continue to do so. Additionally, the Portuguese government has implemented various measures to encourage investment in the country's real estate.
Overall, while Oeiras may be a good location for real estate investment, it is important to carefully consider the potential risks and opportunities before making any investment decisions.
When are you coming to Oeiras?
Sounds enticing, doesn't it? Whether it's for personal use, investment purposes, or a holiday home you'll drop by suddenly, buying a house in Oeiras is worth thinking about. Make sure to take your time and evaluate all your options before you make the big purchase! 
If you're confused with the process, and its technicalities, get in touch with real estate professionals at Viv Europe. We've helped numerous families buy a home in Portugal and would love to kickstart the process for you too! 
Ask other expats and investors what they think of buying a house in Oeiras via our Facebook Group – All About Portugal For Expats. Get an inside scoop on where they live, what areas are the best for your community, and how to make the process easier.