Last Updated on August 7, 2023 by Laila Oliveira
Famous for its landscapes, mild climate, and friendly locals, Portugal offers a lower cost of living than many other European countries. And people from South Africa can find it to be a great deal while they work on improving their standard of living. But to do that, you need to take a closer look at the cost of living in Portugal versus South Africa!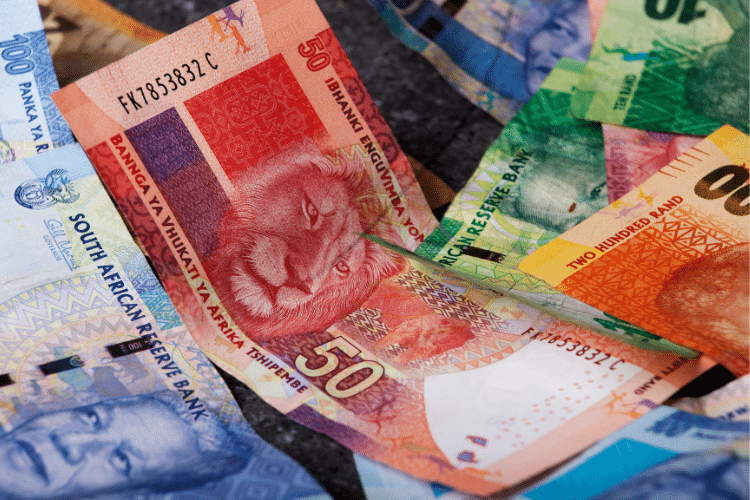 Cities like Lisbon and Porto offer a great lifestyle with reasonable rental prices. You'll also find utilities, transportation, and healthcare prices pretty competitive with Cape Town and Johannesburg. Whether you dream of living in a historic town with cobblestone streets or prefer a coastal retreat, Portugal has plenty to offer without breaking the bank.
South Africa itself is diverse and culturally rich, with budget-friendly accommodation, food, and entertainment expenses. So it's a bit of a tough call. Before you make the decision to stay or move, it's crucial to thoroughly compare and plan your budget to make a smooth transition and fully enjoy your expat experience.
How expensive is living in South Africa?
South Africa is known for its low cost of living compared to many other destinations. Expats find accommodation, in particular, to be pleasantly reasonable. This holds true for both, whether in the city or a tranquil countryside setting.
You'll find various options for any budget in terms of food consumption and grocery expenses. The local markets in South Africa offer fresh produce, and restaurants are known for delicacies that make you come back for more.
Since transport is mainly done through minibusses and ride-sharing services, commute costs are categorized as budget-friendly too. All in all, a single person needs around €500 ( R 10,100) a month without adding rent expenses.
Let's share some price estimates so you can have a clearer idea of the living expenses. What do rent expenses look like in Portugal versus South Africa? And how much should you be making to afford a decent lifestyle in each? 
Cost of living in Portugal versus South Africa
Let's dive into the cost of living in Portugal versus South Africa. While Portugal is loved by expats for its affordability and beauty, South Africa is still catching up. There's no denying that it is 29% cheaper than Portugal, but does that make it a close competitor? Let's find out more about this cost difference. 
Cost of rent
With an average monthly rent of €1,247 (R 24,217) in the city center, Lisbon is one of Portugal's top places to live. Other Portuguese cities like Porto or Faro do offer more affordable options if that's something you're looking for. The rent in those cities ranges from €874 (R 16,973) to €683 (R 13,267) in the city center. 
As mentioned before, accommodation in South Africa is cheaper than in Portugal. You'll find the same type of apartment for €636 (R 12,128) in Cape Town, which costs much more in Lisbon. 
However, expats are ready to pay that amount, and more if needed, to be able to live among the best job opportunities in Europe. It is truly a priceless experience to live around safety, a welcoming environment, and a community of expats!
Check out the comprehensive comparison below:
Residence Type
Rent in Portugal
Rent in South Africa
Apartment (1 bedroom) in City Centre
€787
(R 15,288)
€391
(R 7,604)
Apartment (3 bedrooms) in City Centre
€1,336
(R 25,956)
€735
(R 14,290)
Apartment (1 bedroom) Outside of Centre
€599
(R 11,641)
€321
(R 6,238)
Apartment (3 bedrooms) Outside of Centre
€938
(R 19,123)
€644
(R 12,517)
All price estimates in the article are from Numbeo (as of August 2023).
Utilities
The comparison of the cost of living in Portugal versus South Africa would be incomplete without discussing utilities. In the former, you should expect a monthly utility bill to add up to €109 (R 2,124). An 85m2 apartment would include electricity, heating, cooling, water, and garbage. A pretty good deal, isn't it?
In South Africa, utilities for a similar apartment are €93 (R 1,816). So while the latter is cheaper, the difference doesn't add up to a lot, and Portugal remains affordable. 
Utility
Expense in Portugal
Expense in South Africa
Basic (Electricity, Heating, Cooling, Water, Garbage)
€109
(R 2,124)
€93
(R 1,816)
Mobile Phone Monthly Plan with Calls and 10GB+ Data
€18.50
(R 359)
€28
(R 545)
Internet (60 Mbps or More, Unlimited Data, Cable/ADSL)
€35.25
(R 684)
€41.85
(R 812)
Groceries
The countries have their local specialties to offer when you're grocery shopping. While both are known for their fresh produce, South Africa's groceries may cost less than Portugal's. 
But if you look at individual prices as compiled in the table below, you'll see only a minor cost difference. So regardless of whether you are snapping up in Lisbon's historic markets or shopping from the marts of Cape Town, you'll find budget-friendly options.
Expenses
Cost in Portugal
Cost in South Africa
Milk (1 liter)
€0.84
(R 16.23)
€0.92
(R 17.78)
Loaf of Fresh White Bread (500g)
€1.24
(R 24.02)
€0.82
(R 15.94)
Rice (1kg)
€1.17
(R 22.78)
€1.29
(R 25.11)
Eggs (12)
€2.38
(R 46.20)
€1.62
(R 31.41)
Local Cheese (1kg)
€8.36
(R 162.47)
€6.22
(R 120.90)
Chicken Fillets (1kg)
€6.16
(R 119.73)
€3.99
(R 77.40)
Beef Round (1kg)
€10.08
(R 195)
€6.16
(R 119.73)
Apples (1kg)
€1.76
(R 34.24)
€1.28
(R 24.92)
Banana (1kg)
€1.19
(R 23.20)
€1.20
(R 23.39)
Oranges (1kg)
€1.37
(R 26.58)
€1.21
(R 23.51)
Tomato (1kg)
€1.87
(R 36.30)
€1.27(R 24.68)
Potato (1kg)
€1.17
(R 22.72)
€1.00
(R 19.45)
Onion (1kg)
€1.30
(R 25.22)
€1.06
(R 20.67)
Lettuce (1 head)
€1.12
(R 21.77)
€0.90
(R 17.45)
Water (1.5-liter bottle)
€0.59
(R 11.39)
€0.83
(R 16.04)
Eating out and drinks
Surrounded by Portuguese culture, you will often find yourself at a local cafe, spending your evening with some friends and enjoying life. Much like South Africa's eating-out culture, Portugal's street food, wine, and food festivals will keep you on your toes! 
Don't forget to try the famous local seafood when eating out. Bacalhau (Salted Cod) and Sardinhas Assadas (Grilled Sardines) are the most renowned Portuguese delicacies and will remind you of Snoek Braai and Crayfish from back home.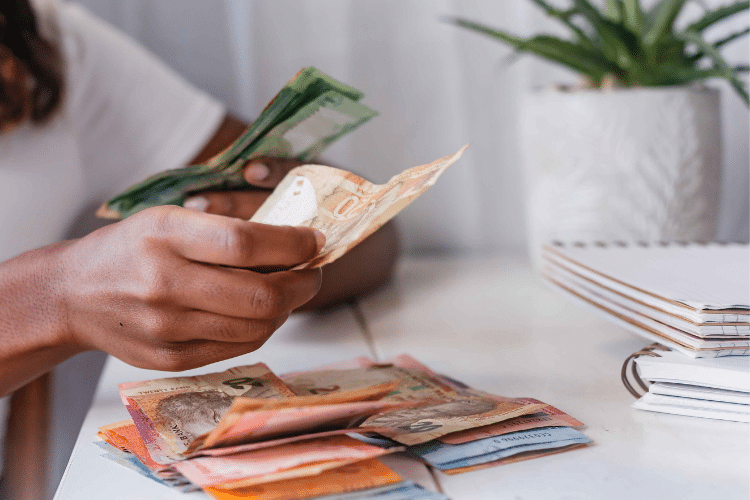 And the best part is these delightful culinary experiences are reasonably priced in both countries. Don't believe us? Check out the price breakdown below!
Expense
Cost in Portugal
Cost in South Africa
Meal at Inexpensive Restaurant
€9
(R 174)
€7.72
(R 156)
McMeal at McDonald's (or Equivalent Combo Meal)
€40
(R 776)
€30
(R 600)
McMeal at McDonald's (or Equivalent Combo Meal)
€7
(R 135)
€4.12
(R 80)
Cappuccino (regular)
€1.43
(R 27.81)
€1.63
(R 31.60)
Bottle of Wine (Mid-Range)
€4
(R 77)
€4.12
(R 80)
Domestic Beer (0.5-liter bottle)
€1.08
(R 20.99)
€1.13
(R 22.95)
Imported Beer (0.33-liter bottle)
€1.87
(R 36.39)
€1.56
(R 30.26)
Transport cost
As an expat, getting around Portugal and South Africa is an exciting adventure in itself. And,  when debating the cost of living in Portugal versus South Africa, it's essential to discuss transport costs and the respective options.
Public transport in Portugal is convenient and affordable. A single ticket for buses or trams costs about €1.70 (R 33.02) in the famous cities of Lisbon and Porto. For unlimited travel, monthly passes are also available for €40 (R 776).
South Africa has a slightly different transport system. Cape Town and other large cities offer MyCiTi buses with fares starting at €0.47 (R8.90) per trip. They also offer travel cards and fare packages to optimize your spending.
Here are some estimates:
Expense
Cost in Portugal
Cost in South Africa
One-way Ticket (Local Transport)
€1.70
(R 33.02)
€1.31
(R 25.50)
Monthly Pass (Regular Price)
€40
(R 776)
€36
(R 700)
Taxi Start (Normal Tariff)
€3.50
(R 67.98)
€1.03
(R 20)
Taxi 1km (Normal Tariff)
€0.75
(R 14.65)
€0.77
(R 15)
Gasoline (1 liter)
€1.86
(R 36.22)
€1.18
(R 22.94)
Leisure expenses
You'll find plenty of leisure opportunities in Portugal and South Africa to stay active and entertained. Expats are commonly interested in fitness clubs or sports complexes in their preferred region.
The fitness clubs in Portugal are known for their state-of-the-art facilities and diverse classes. The Tennis courts, in particular, are ideal for friendly matches and for making new friends. These resources are perfect for keeping you fit while enjoying the Mediterranean vibe.
South Africa isn't far behind. It has fitness clubs with all the proper modern equipment and training programs. Also, the country offers various sports courts, including tennis and cricket, that expats can rent. 
And, of course, there are plenty of comfy cinemas in both countries for our passionate film lovers. How could we forget to mention another favorite leisure activity of our folks from South Africa – wine tasting? The award-winning Portuguese vineyards will keep you entertained for weeks!
Check out the estimated costs of some leisure activities below.
Expense
Cost in Portugal
Cost in South Africa
Fitness Club, Monthly Fee for 1 Adult
€34.69
(R673 )
€29.72
(R 577)
Tennis Court Rent (1 Hour on Weekend)
€11.44
(R 222)
€7.08
(R 137.50)
Cinema – 1 Seat
€7
(R135 )
€5.15
(R 100)
Education
If you have children, you'll be interested to know the educational expenses when comparing the cost of living in Portugal versus South Africa.
Public education is of high standards in Portugal and provides free schooling until you're 18. The country also has private and international schools. These have a higher fee but a more comprehensive curriculum.
Similarly, South Africa has public, private, and international schools with high standards and diverse programs. Before you choose which school is best, research in detail to find the best fit for your little ones.
By detail, we mean education expenses, location, what languages are offered, and the types of extracurricular activities offered.
Expense
Cost in Portugal
Cost in South Africa
Preschool (or Kindergarten), Full Day, Private, Monthly for 1 Child
€357
(R 6,952)
€170
(R 3,312)
International Primary School, Yearly for 1 Child
€7,572
(R 147,083)
€3,756
(R 72,954)
Healthcare
Portugal's public healthcare is accessible to all residents and is mostly free. But if you wish to avoid long waiting, investing in private healthcare facilities might be a good idea. These are costlier, with monthly insurance starting from €20 (R 388) to €50 (R 970), but also more equipped with English-speaking staff. 
On the other hand, the public healthcare sector is often overburdened in South Africa and also faces resource constraints. In times of need, you may find yourself in a private healthcare facility, which can end up costing a lot more.
Free healthcare by European standards is one of the many pros of choosing to live in Portugal. 
What are the cheapest areas in Portugal?
The most loved charm of Portugal, as per expats, lies in its affordability for the standard of living that they get. Smaller neighborhoods like Alfama and Faro offer a budgeted lifestyle, even in expensive cities like Lisbon and the Algarve. If you prefer a charming old-world environment, Alfama is perfect for you, but if you enjoy beaches, choose Faro.
Also, the Bonfim neighborhood is another good option if you wish to minimize your budget. The area is home to a friendly community and is near the Porto city center.
For even cheaper options, the Madeira Islands and Azores Islands are your go-tos! They're islands, so that you won't get the kind of life you'd find in a tech hub like Lisbon. But they're excellent options for retirees and digital nomads looking to live in peace. 
With Viv Europe your plans for Portugal
will finally come to a reality
What are the most expensive areas in Portugal?
Though affordable, the country has posh areas for expats willing to spend on an upscale lifestyle. One such is Chiado in Lisbon, which has upscale boutiques and cultural hotspots for expats with luxurious tastes. Cascais is another city offering an upscale lifestyle for expats who aren't worried about being on a budget.
Also, Foz do Douro in Porto is known for luxury properties with beautiful ocean views. But if you're more into sports, you'll love Quinta do Lago in the Algarve. It boasts prestigious golf courses and luxurious resorts in picturesque Portuguese settings. 
The truth is, there's something for everyone in Portugal.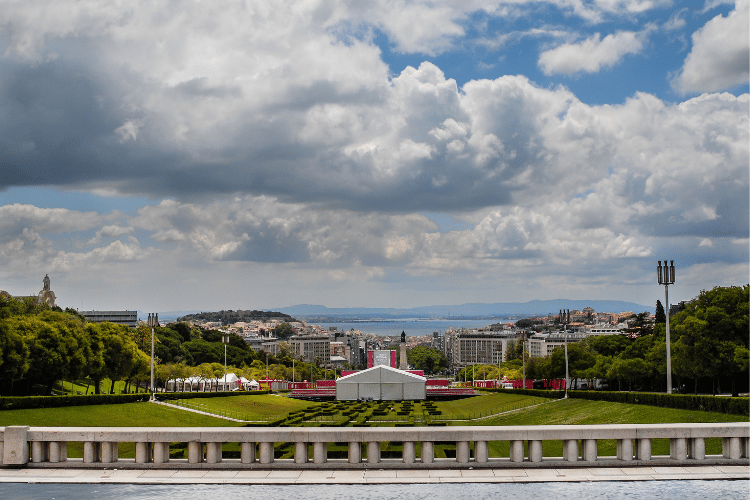 Is Lisbon more expensive than Cape Town?
Lisbon gives a vibrant European capital experience. Its charming streets and cultural attractions have higher living costs, especially for rent and dining.
For example, Lisbon's rent costs are higher by 87.6% than in Cape Town. And the city's restaurant prices are 42.6% higher than in Cape Town. 
And if you're on rent, you'll need €3,831 (R 74,495) in Lisbon for a lifestyle you can have for €2,519 (R 48,000) in Cape Town.
So while Lisbon costs more, some might argue that its experience is worth the investment. If your goal is to move to Europe, Portugal is one of the cheapest ways to do so.
Is Porto more expensive than Johannesburg?
Popularity within the expat community and its large business hub make Porto more expensive than Johannesburg.
If you rent in both cities, you'll need an average of €3,168 (R 61,600) in Porto to maintain a similar lifestyle which you can easily have with € 2,361 (R 45,000) in Johannesburg.
Porto is also more expensive than Johannesburg, much like Lisbon. However, there's also a significant difference in the kind of lifestyle and amenities you'll find in both places.
So, when you're done comparing the cost of living in Portugal versus South Africa, take a look at the quality of life in each. Different things suit different people, and that's okay.
What is the average wage in Portugal and South Africa?
Now let's compare what you'll be able to make in both countries if you're working legally. Portugal's average monthly wage is around €1,025 (R 19,901), depending on the industry. The country's capital, Lisbon, followed by a few other cities, is the leading tech hub and contributes to a lot of success in Portugal. 
South Africa, on the other hand, offers an average wage of €1,328 (R 25,304). The country has a diverse landscape where specific industries pay much more than others. So, your average wage may vary.
Always try to assess your living costs before debating whether your average wage is enough to live by.
Is it worth the cost of living in Portugal?
Though more costly than South Africa, you can't deny that Portugal offers an excellent deal in its living cost. Just think of walking to your workplace through historic streets and houses framed with bougainvillea as the sweet scent of pastéis de nata fills the air. 
Unlike other countries, like Canada or the USA, where the cost of living is drastically different, Portugal offers close competition to South Africa.
More importantly, Portugal is home to a welcoming expat community, top-notch healthcare and educational institutions, and a quality lifestyle at a good price. So, what do you think of starting afresh in this European hidden gem? 
When are you moving to Portugal?
After comparing the cost of living in Portugal versus South Africa, it's easy to see why South Africans are okay with spending a little more money in exchange for a higher quality of life. It will always be hard to pick one between the two, but you'll get there after assessing details that are important to you. 
To get a more detailed perspective and expert advice, reach out to Viv Europe and get the help you need! Our team is here to guide you every step of the way – from budgeting your relocation to picking a place that suits you and your family the most. Let's get started on your dream relocation to Portugal! 
If you need to share experiences or read stories of other expats, join our Facebook Group – All About Portugal For Expats. Ask questions, share stories, and read other people's experiences. Happy moving!