Last Updated on December 30, 2022 by Laila Oliveira
The New Year is often a welcome relief for many people around the world. It is that time of the year when you sit back and reflect on what the previous year was like. You get to look at how far you have come and also give yourself a chance to do better. Is New Year's Eve in Portugal any different from your home country?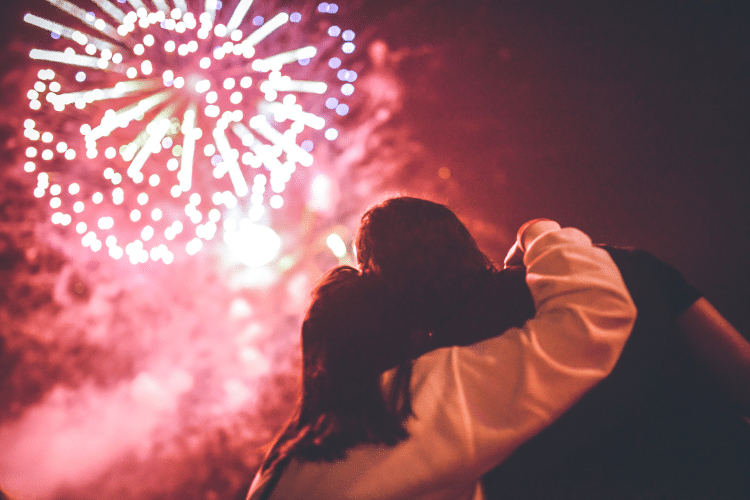 In order to usher in the New Year properly, people from around the world celebrate New Year's Eve in different ways. Some dress up and party the night away, while others stay home with friends and family. So if you visited Portugal during the Christmas holiday and are planning to stay until New Year's, you're probably wondering what New Year's Eve in Portugal looks like.
Well, to give you a sneak peek of what to expect during this time of the year. Let's take a look at some of the popular traditions and where you can spend your new year's eve in Portugal. Tag along to find out more.
How is New Year's Eve celebrated in Portugal?
Like any other place, New Year's Eve in Portugal is a happy time when everyone gathers around. Although there are some traditions that the Portuguese locals share, people celebrate New Year's Eve in different ways in various regions. That said, sharing a meal with friends and family is a tradition that cuts across many celebrations in Portugal.
December 31st: The New Year's Eve
Although new year's eve is not a public holiday in Portugal, this year is quite different. Because it is on Saturday, everyone will have enough time to prepare adequately to welcome the New Year in style. There are various ways the Portuguese celebrate New Year's Eve. However, one thing that will always make an appearance is a nice home-cooked meal. Immediately after welcoming the New Year, now the real new year's celebration begins.
Portuguese New Year's Eve traditions to celebrate
Generally, people choose to celebrate either at home or in different locations depending on the specific city. While this is true, most of the new year's eve celebrations are centered around a few common traditions in the country. Let's take a look at some of the most popular New Year's traditions that you can take part in this year.
Eating raisins at midnight
It goes without saying that Portuguese culture is grounded around food and sharing a meal as a family. With this in mind, you can almost expect some sort of shared meal at most celebrations, including new year's eve.
One of the popular traditions during this time of the year is eating raising at midnight just before the year ends. This age-old tradition involves eating 12 raisins and making 12 wishes while wearing something blue. The 12 raisins represent the coming months, and this tradition is believed to bring good luck and fortune in the coming year. What happens is that everyone participating in this celebratory tradition gets ready with 12 raisins in hand as soon as the clock begins ticking.
So if you want a streak of good luck for the coming year, you better get ready with your raisins. However, if you are at a restaurant in Portugal during this time, fret not; the raising will be handed to you.
Hitting a pan or pot
This is another new year's ritual that is rather unusual. One thing about Portuguese culture is that there are some superstitions that the local folk believe in, which are part of the culture and tradition. One of these superstitions about new year's eve is that you wouldn't want to start a new year without money in your pockets. By doing this, you risk not having money for the rest of the year.
So, to avert this scenario, the locals hit their pans and pots with wooden spoons to scare off the evil spirits associated with this belief. Other than that, the noise from the wooden spoons also indicates the beginning of the New Year as well. This particular activity happens right after eating raising. Do not be surprised if you see people stretching their heads out of the window and making a lot of noise at midnight.
Enjoy the Fireworks
Although watching the fireworks spectacle is not exclusive to Portugal, it is one of the ways the Portuguese people usher in the New Year. Different cities across the country organize such events for everyone to enjoy and marvel at the show. If you want to enjoy one of the best fireworks events in the world, be sure to visit the island of Madeira this year.
The fireworks spectacle is one of the largest in the world and is even recognized by the Guinness book of world records. What makes this show even better is the fact that the explosion of color is reflected in the ocean, making the entire scene appear magical.
During this time, friends and families gather out of their houses and assemble in strategic locations to witness the great fireworks display that is in action. While it is enjoyable to watch this display, you should also keep in mind that not everyone can launch fireworks into the sky. You will need a license before organizing a firework display of your own.
Toasting with sparkling wine/champagne
The Portuguese are not the only ones who raise a glass of wine or champagne in the air to toast the beginning of a new year. This is a common tradition that most people around the world also take part in. In Portugal, however, this is done while enjoying the twelve raising as described above.
During new year's eve, it is a tradition to raise a glass of wine or champagne with friends and family in attendance. Be sure not to cross your hands while toasting and also to maintain eye contact as you wish one another a happy and prosperous new year.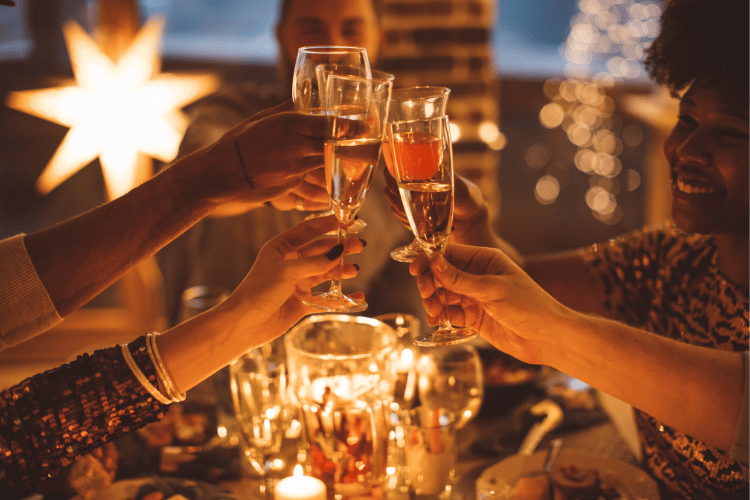 Dip in the ocean
More of a January 1st than a new year's eve tradition, the few individuals who can brave the cold make their way to the ocean and take their first dip of the year on the first day of the first month of the year. Remember, January is a cold month in Portugal; in fact, some regions experience a wet and cold winter, unlike other parts of the world, like Australia, where it is summer.
Let's face it; it takes a special determination to dip in the cold ocean. Perhaps a little bit of the motivation is from the need to shake off the hangover from the previous night. Nonetheless, as they say, if you go to Rome, do as the Romans do. So if you are interested in finding out what is in this particular tradition, be sure to make your way to the nearest ocean and take a dip in the freezing water.
The typical New Year's Eve foods and sweets
By now, you already know that food is part of Portuguese culture, and no celebration is complete without having mouth-watering meals. For New Year's Eve celebrations, there are several foods and sweets that are popular.
Although households are different and may choose to relish different delicacies, it is common to find the following cuisines in most homes during this time of the year. Let's take a look at some of the typical meals that you will find in most homes for new year's eve celebrations.
Codfish
Better referred to as bacalhau in Portugal, salted dried Codfish is one of the most popular dishes in the country. To put this into perspective, the Portuguese eat 20% of cod fish that is produced in the world. There are more than 1,000 ways of cooking cod fish among the locals. The Portuguese have various ways of preparing bacalhau right, from traditional methods to modern approaches that are more flavorful.
Every Portuguese restaurant has at least one dish made of cod fish. Because of this huge popularity, it is common to find this meal in homes during different festivities. Salted dried Codfish is often served with some veggies like potatoes or carrots on the side.
With Viv Europe your plans for Portugal
will finally come to a reality
Seafood
Portugal's geographical position tells you why seafood is the country's national meal. With over 934 km/540 miles of coastline, fish has been a major source of food for thousands of years. You can find all types of seafood in Portugal, right from shrimp, tuna, squid, octopus, and mussels. That said, you should expect some seafood on our table this New Year's eve as well.
King cake
Bolo Rei, also referred to as the king cake, is one of the most popular Portuguese desserts that is associated with Christmas. This is one delicacy that many people wait for all year long and has been appreciated for generations. Similar to most Portuguese cuisines, the king cake has a diversity of flavors and tastes.
Although cuisines vary in regions, King cake is one of those meals that are always there in most homes. Made of various dried fruits and plenty of almonds, this sweat bread is a must-try for anyone new to the Portuguese gastronomic scene.
French toast
Portuguese French toast, also referred to as Rabanadas, is what you are used to. The fact that it is served as a dessert during special celebrations should tell you that it is indeed something special.
These unique French toasts are prepared by soaking the bread in condensed or sweetened milk. And then dipping it into the egg wash and finally frying it in oil. The French toast is then tossed into cinnamon sugar to give it that signature sweet taste. Typically, this dish is served with a glass of wine to wash down the explosion of flavor in your mouth.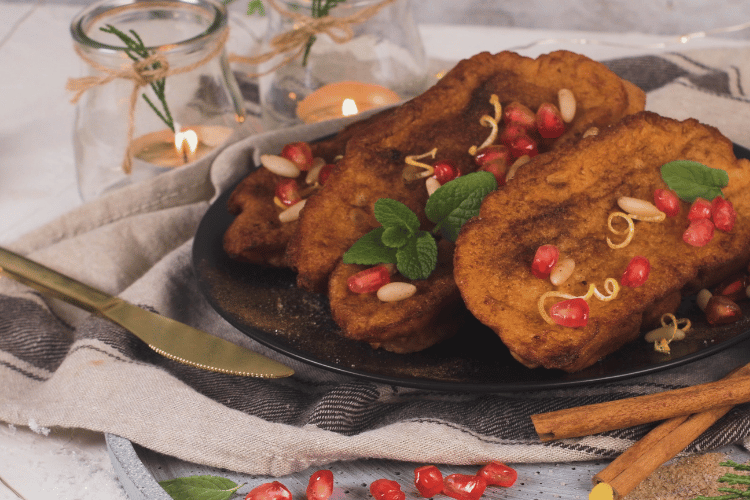 The best Portuguese regions to visit during New Year's Eve
Ideally, there is no better region than the other. Each region in Portugal has its own twist to new year's eve celebrations that make it special and unique. It all comes down to your individual preferences. While you may decide to spend New Year's Eve in the Lisboa region, you can visit other regions for another festivity.
New Year's Eve Celebrations across Portugal
The Christmas and New Year's celebrations are quite important to the Portuguese people. It is a time of fun and entertainment that involves the whole family. As people from around the world prepare to usher in the New Year, Portugal is often a good destination for tourists and expats alike. So if you're confused about where to go for this year's celebrations, keep reading. This should give you a good idea of the right destination for you.
New Year's Eve in Lisbon
Of course, one of the best places to celebrate the year's final night is right in the capital of Portugal, Lisbon. New Year's celebration in the capital is exactly what you would imagine it to be. Plenty of fireworks on display and entertainment, particularly in the  Praça do Comércio location.
In this particular square, there are live bands for your music. However, if you want to witness the spectacular fireworks explosion, be sure to visit the highest place in the city of Castelo de São Jorge. But this is not all; the capital has plenty to offer, especially during this important night of the year.
New Year's Eve in Porto
The final night of the year is graced by many entertainment scenes in the streets of Porto. There are live concerts and the hard-to-miss fireworks display right on the river right above Luiz I Bridge which is often the main attraction. The firework display in Porto is one of the best in the country. It not only lasts for several minutes but also has an explosion of colors that is visible from almost everywhere in the city.
Once the show is over, there are different places where you can go with friends and family to enjoy the night away. There are many nightclubs along the Ribeira of Porto or Gaia stretch, which are quite popular and are often full during such nights.
New Year's Eve in the Algarve
The Algarve region is not only popular during the summer. Many tourists and locals also choose to spend their last night of the year in this beautiful place. January is a cold month in Portugal. But the weather in the Algarve region makes it possible for the celebrations to happen outdoors.
Similar to other cities, the Algarve region has its own celebrations. Some people choose to spend this time in their luxury villas and expensive suites. However, one of the famous places where everyone converges is Praia dos Pescadores in Albufeira. There is plenty of entertainment here, like live bands, concerts, and dazzling fireworks shows to welcome the New Year.
New Year's Eve in Madeira
One of the greatest destinations where you want to be during this time of the year is hands down, Madeira. This beautiful island is small, but the celebrations are big. It is no mistake that cruise ships head to this region just before the New Year's celebrations.
Madeira organizes one of the biggest fireworks shows in the country. Fireworks launch in over 50 locations on the island, lighting up the ocean with many colors for your delight. It is a show you can only appreciate fully if you witness firsthand.
What do expats like to do during New Year's Eve in Portugal?
If it is your first new year's eve in Portugal, it is common to get lonely, especially during the periods when everyone is gathering around friends and family.  However, Portugal doesn't have a shortage of interesting things to do, especially during the last night of the year.
Some expats choose to follow their individual end-year traditions to feel whole and also to keep the homesickness away. However, most expats in Portugal step out of their homes and converge in the various entertainment spaces to enjoy the good vibe common during this time.
Is it worth celebrating New Year's Eve in Portugal?
Absolutely! Portugal is a good destination to visit all year round. In fact, the best time to visit Portugal is just before Christmas, all the way to the New Year's celebrations. This is particularly true for anyone looking to learn more about Portuguese culture and traditions.
During these times of the year, you will get the raw front experience of the rich and diverse Portuguese cuisine that will leave your taste buds craving for more. Also, you will experience just how much the different traditions mean to the locals.
Other than Easter and a few other festivities, New Year's Eve and Christmas are the right times to immerse yourself deep into the traditions.
Are you ready for New Year's Eve in Portugal?
There are many reasons why you would want to visit Portugal for this New Year's Eve celebration. If it is not because of the traditions and food, then it has to be about the wonderful fireworks display.
So whenever you're ready to make the move to Portugal, be sure to reach out to our team at Viv Europe. We are more than ready to make your dreams of moving and living in Portugal a reality. For any further questions, be sure to follow our Facebook Group – All About Portugal For Expats, and ask away.