Last Updated on May 22, 2023 by Victor Queiroz
Imagine strolling along cobblestone streets lined with vibrant tiled facades, savoring freshly caught seafood while listening to the soulful melodies of Fado. The 15 best cities to live in Portugal will give you exactly that.
Portugal is a tapestry of old-world charm and modernity. It offers a plethora of cities that are the perfect amalgamation between city life and country calm. From the picturesque Porto to the medieval enchantment of Aveiro, every corner of this sun-kissed country has its own unique magic.
Keep reading to learn about the 15 best cities to live in Portugal and what life is like in each one. We'll warn you, though, it gets tough to pick your favorite! 
What are the best cities to live in Portugal?
This answer is subjective to your preferences and what you're looking for. Each city has its unique offering, and you'll understand why we're saying this in just a bit. However, we're here to guide you through the most important decision-making process. So, let's do exactly that.
Expats usually love Lisbon as it effortlessly blends historical treasures with a cosmopolitan vibe. Porto, another heavily populated city with its majestic bridges and wine cellars, captures the hearts of expats with its lively ambiance and a strong sense of community.
But if you seek a tranquil coastal retreat, Cascais provides a peaceful haven with pristine beaches and a charming town center. And Coimbra, home to one of the world's oldest universities, weaves intellectualness and architectural splendor together. 
Out of all the best cities to live in Portugal, which one will create the most alluring atmosphere for you? Let's find out one by one!
Lisbon
Lisbon, the capital city, is an irresistible charm for expats. This coastal gem perfectly blends a rich history, breathtaking architecture, and a flourishing tech industry. From strolling through picturesque streets to enjoying lively folk music, Lisbon welcomes you with a warm embrace and many job opportunities. 
As you settle in, you'll see that living costs are generally affordable compared to other European capitals. Without rent, a single person's approximate monthly costs in Lisbon are €668. 
The rent prices vary depending on the neighborhood, but there are options to fit different budgets. For example, a one-bedroom apartment in the city center rents about €1,231 per month, while one outside the city center adds up to €784.
Also, the job market in Lisbon is diverse, with opportunities in tech, tourism, and creative industries. And for fun seekers, there is a bustling nightlife scene, from lively bars in Bairro Alto to trendy clubs in Cais do Sodré. There's something always happening in Lisbon!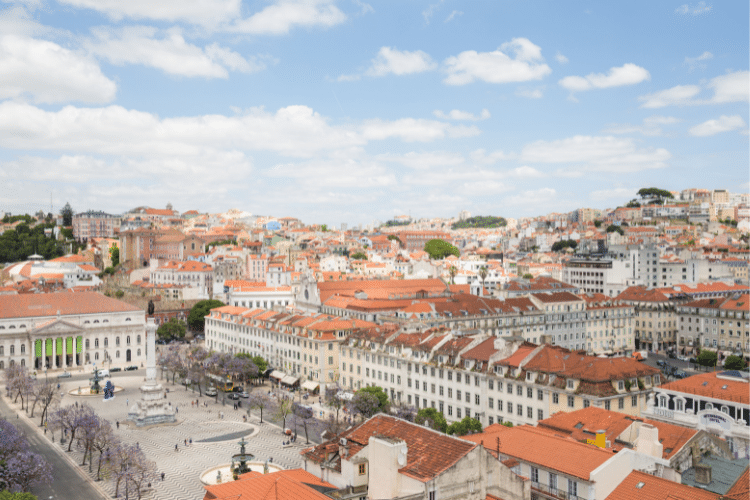 Porto
This second-largest city will surely dazzle you with its unique blend of old-world charm and modern vibrancy. Porto's stunning riverside setting and iconic bridges make it a captivating backdrop for daily life.
The city offers a relatively lower cost of living than Lisbon, making it an attractive choice for those seeking an affordable yet fulfilling lifestyle.
Also, property prices vary in the neighborhood, but options range from charming apartments in the historic center to modern dwellings along the Douro River. If you're interested in buying, you can find 72 m² apartments for €225,000 in the city center. 
Like Lisbon, the job market in Porto is thriving primarily in tourism and wine production. The city's unique blend of affordability, job opportunities, and cultural charm makes it a desirable destination for expats.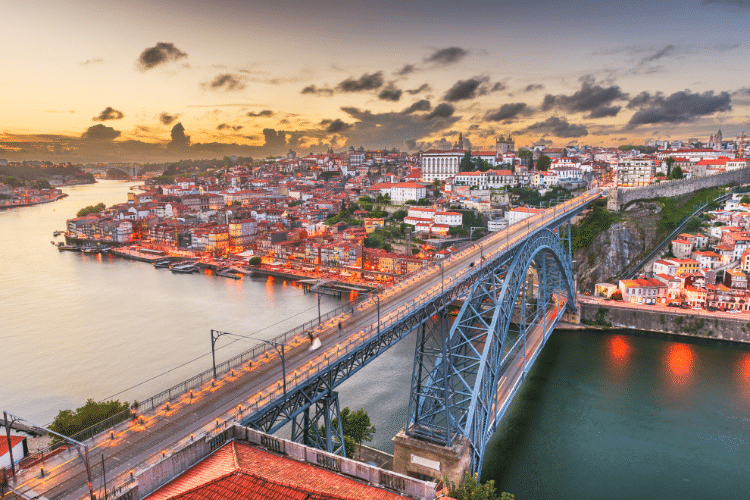 Braga
This city is located in northern Portugal and is known for its rich history, vibrant culture, and stunning architecture. Braga is especially famous for its exquisite Baroque churches, such as the iconic Bom Jesus do Monte.
Apart from that, the city offers a high quality of life with affordable living costs and a strong sense of community. Expats can indulge in delicious local cuisine, explore picturesque parks, and enjoy a thriving arts scene.
Braga has excellent transportation links to other best cities in Portugal, such as Lisbon and Porto. A train ride is approximately 4 hours from Lisbon for €40 and only an hour from Porto for €18.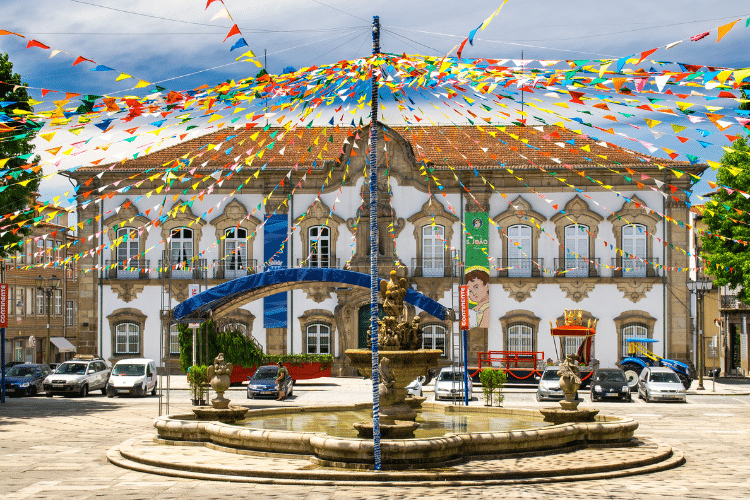 Cascais
This charming coastal town is near Lisbon, popularly known as "Lisbon's cool neighbor". Cascais offers a high standard of living with a wide range of amenities, including upscale restaurants, trendy boutiques, and world-class golf courses.
The town's historic center is filled with picturesque streets, inviting cafes, and cultural events. You can enjoy a healthy outdoor lifestyle thanks to the stunning coastline and nearby natural parks.
Also, Cascais has excellent healthcare facilities, a safe environment, and easy access to Lisbon's international airport. You can say it's perfect for those seeking a blend of coastal charm and urban convenience.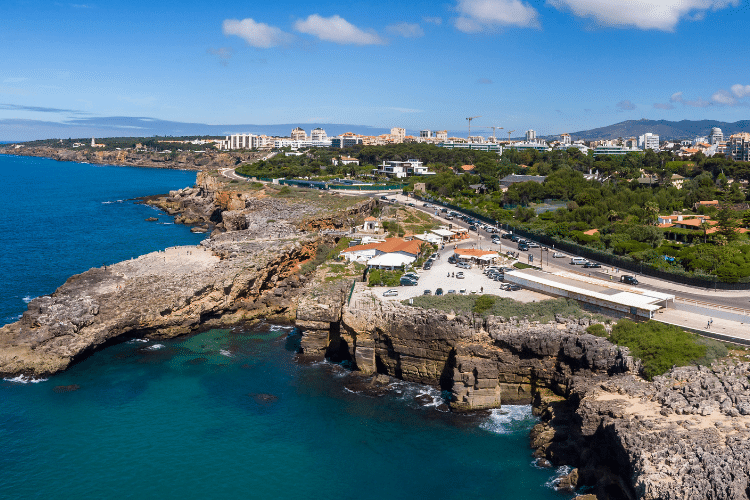 Coimbra
Coimbra is known as the "City of Students" and is home to one of the oldest universities in the world. This creates a vibrant and intellectual atmosphere. The city boasts a rich history and charming architecture, with its iconic university library.
Coimbra offers a high quality of life at an affordable cost, with a range of cultural events, music festivals, and local traditions. To give you an idea of the cost of living, a single person approximately needs to pay €547 monthly, without rent.
This city, too, comes with excellent transportation connections and a welcoming community. Buses are the most common way to travel to another city, and walking to get by within the city. Coimbra presents an enticing option if you're seeking an enriching and culturally diverse experience.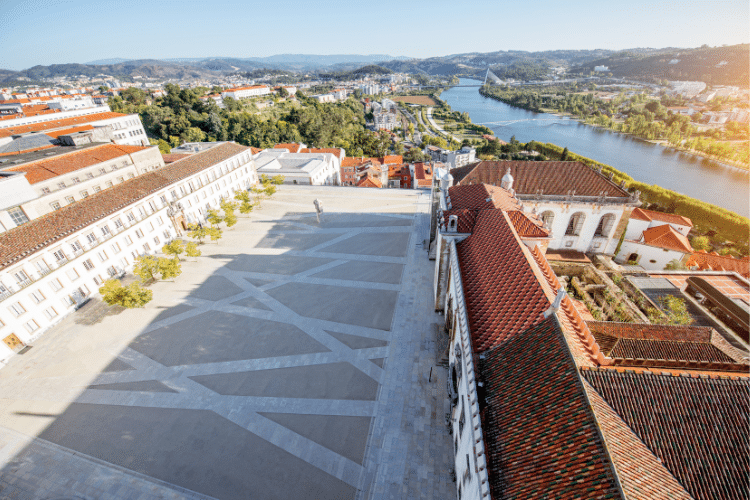 Sintra
Known for its fairytale-like landscapes, historic palaces, and lush greenery, Sintra captivates expats with its beauty and charm. The town's UNESCO World Heritage sites, such as Pena Palace and Quinta da Regaleira, make it one of the 15 best cities in Portugal.
The city offers a tranquil and peaceful environment. It's ideal if you prefer a slow pace life over anything. It also provides expats with excellent access to Lisbon and its international airport.
Sintra's calm environment is also making it easy for Digital Nomads to live and work in Portugal's beautiful city. Taxes are low, travel within Schengen Areas is free, and numerous coworking spaces exist to connect with fellow nomads.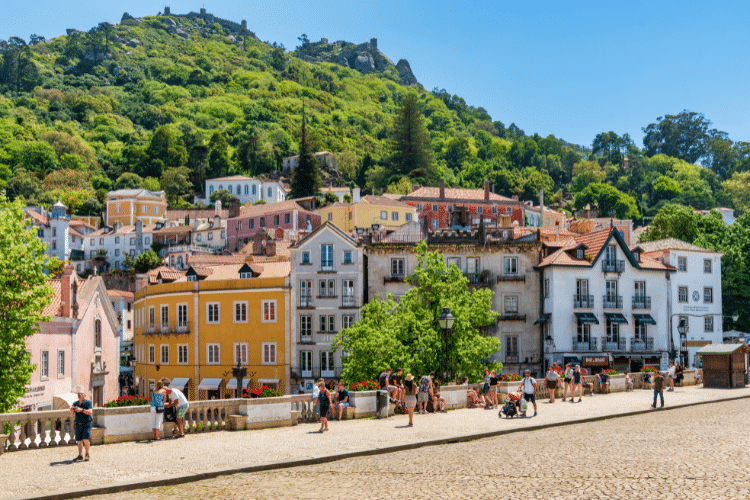 Faro
Faro, the capital of the Algarve region, offers expats an excellent standard of living. The city also has a low crime rate, creating a safe and secure environment, especially for retired expats. On top of that, it has top-notch healthcare facilities which ensure quality medical care for you if you ever need them.
The city has a heavy expat presence, which makes it easier to settle in after you relocate. And although it is a little further away from beaches, it has facilities to keep you entertained and busy.
Also, it has convenient transportation links, including an international airport, which connects it with the rest of Portugal and Europe easily. With reliable healthcare, a safe atmosphere, and efficient transportation, Faro serves as one of the best cities to live in Portugal.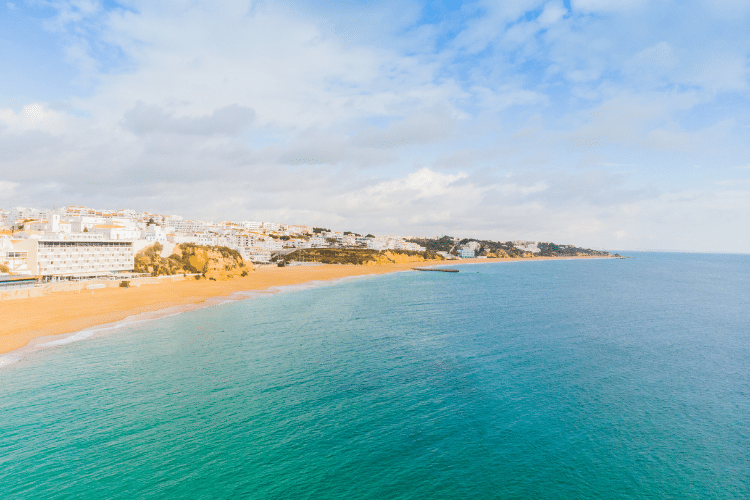 Aveiro
Known as the "Venice of Portugal", this city captures a captivating living experience for expats. Aveiro's charming canals, colorful Moliceiro boats, and Art Nouveau architecture make it an idyllic destination.
Aveiro offers a relaxed and welcoming atmosphere, with a strong sense of community and a rich cultural heritage. Expats can enjoy exploring the picturesque streets, indulging in regional delicacies like Ovos moles, and immersing themselves in traditional festivals.
Also, it has an affordable living cost, excellent healthcare facilities, and convenient transportation links. The city is a delightful choice for expats seeking a harmonious blend of history, natural beauty, and a vibrant lifestyle.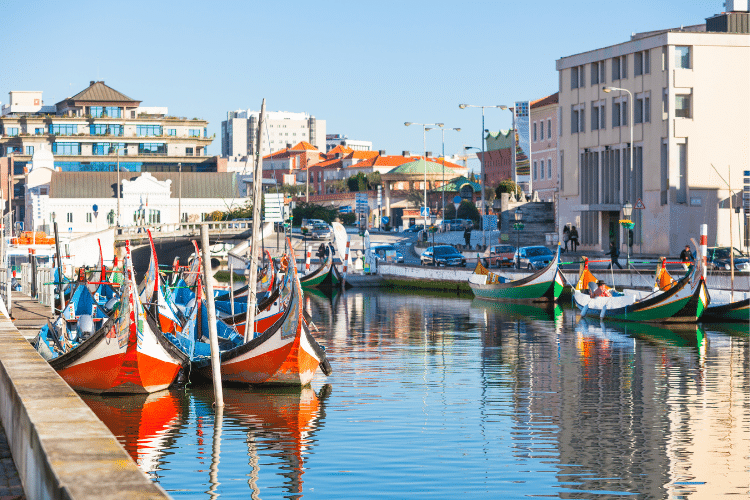 Setúbal
Setúbal is a coastal city that offers expats a fantastic living experience just 30 minutes from Lisbon. The city provides a relaxed and welcoming atmosphere, allowing expats to enjoy a laid-back lifestyle.
Expats can savor fresh seafood, visit local wineries, and explore the charming historic center. Setúbal also offers excellent healthcare facilities, ensuring quality medical care. You can benefit from affordable and comprehensive healthcare services, including specialists, hospitals, and emergency care.
Setúbal is one of the few best cities to live in Portugal, which is also categorized as countryside, with 7.7% of expats living there.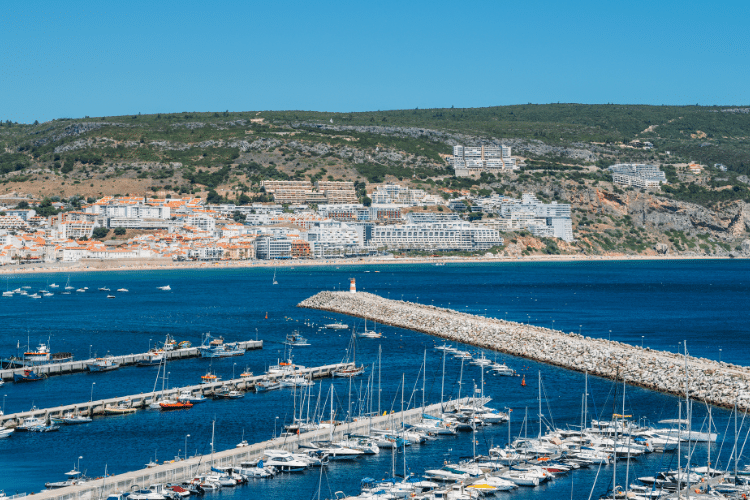 Portimão
Portimão is a vibrant city with stunning beaches as one of its best features. The city is blessed with some of the country's most beautiful and expansive beaches, such as Praia da Rocha and Praia dos Três Irmãos.
Expats can bask in the glorious sunshine, indulge in water sports, or relax on the golden sands. The combination of crystal-clear waters and picturesque coastal cliffs creates a breathtaking backdrop.
This city is ideal for expats if they're retired or have remote employment since there are few job opportunities there. Being the second largest city in the Algarve, you will find a mix of tourist vibes and a corporate environment here.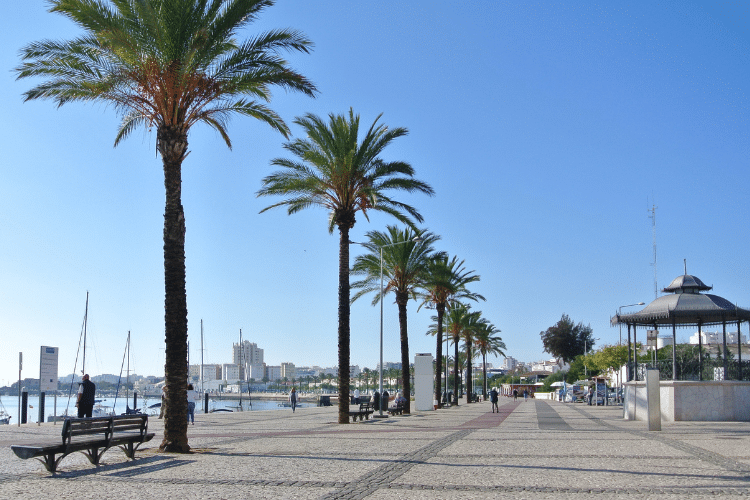 Guimarães
Guimarães is famous as the "Birthplace of Portugal" because of its historical significance and charming medieval atmosphere. Like Sintra, this too has UNESCO World Heritage sites, such as the Historic Center of Guimarães. The well-preserved old town and historic sites attract expats to the city.
This city's convenient and efficient public transportation system makes it an attractive destination. Its well-developed bus network connects various neighborhoods and allows expats to navigate Guimarães with ease.
You can explore the city's cultural landmarks, such as the Guimarães Castle and the historic center, while relying on public transportation for your daily commuting needs. Also, Guimarães benefits from excellent connections with nearby cities, including Porto, through frequent train services.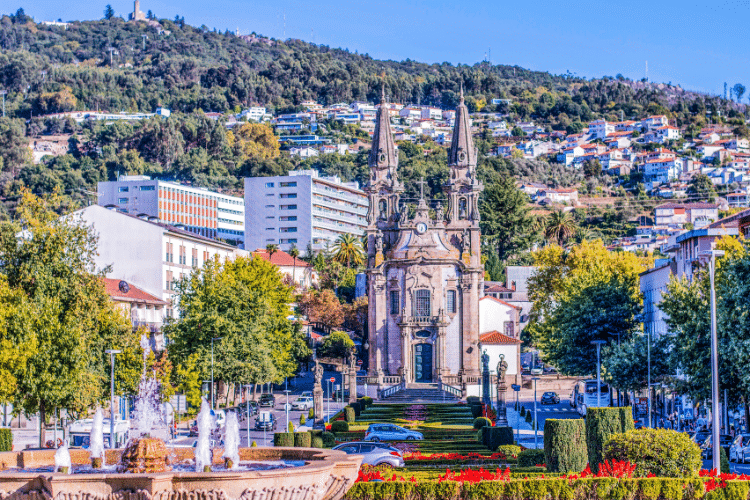 Leiria
Leiria is another picturesque city in central Portugal, but also close to Lisbon. Expats love it for its affordability. Compared to larger cities in Portugal, Leiria provides a lower cost of living without compromising on amenities and quality.
Expats are especially drawn to the city's blend of history, natural beauty, and lively community events. Also, the stunning medieval castle and picturesque historic center are other reasons why expats love living in Leiria.
You can find affordable housing options, enjoy reasonably priced dining and entertainment, and take advantage of cost-effective healthcare services. This allows expat families to stretch their budgets and have more disposable income for travel or savings.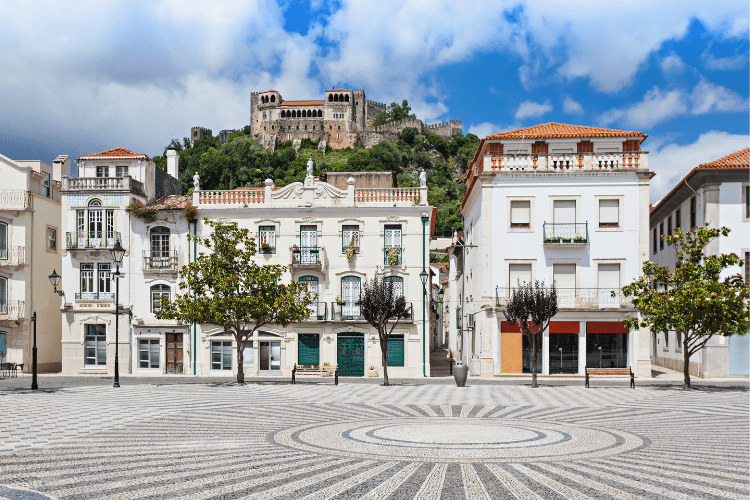 Vila Nova de Gaia
Vila Nova de Gaia's world-renowned port wine cellars add it to the list of the best cities to live in Portugal. The city masters the production and aging of port wine and is a paradise for wine enthusiasts.
Expats can explore the historic wine cellars, learn about the winemaking process, and indulge in tastings of the finest port wines. The proximity to the vineyards of the Douro Valley allows expats to experience the entire journey from grape to glass.
With its rich wine culture and immersive experiences, Vila Nova de Gaia provides a distinctive opportunity for expats seeking to savor the essence of Portugal's famous port wines.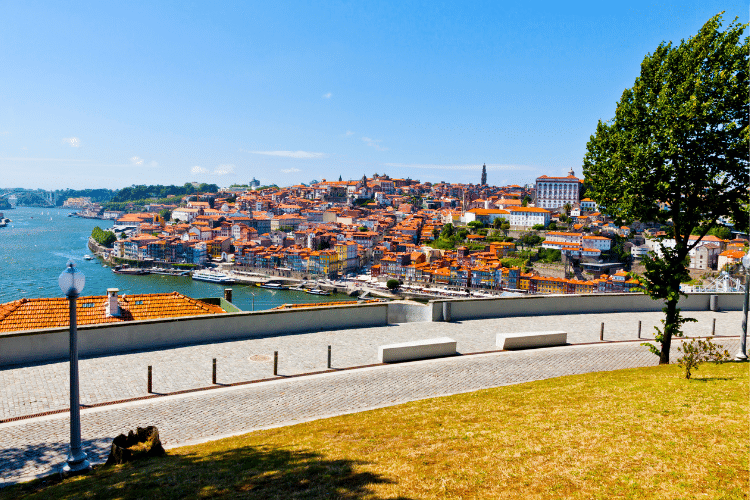 Oeiras
This city's well-maintained urban areas provide a serene and picturesque environment for expats and locals alike. Oeiras' commitment to sustainability and green spaces fosters a healthy and active lifestyle.
You can enjoy a wide range of recreational activities, from jogging along the waterfront promenades to cycling through scenic trails. The city also has several bike rentals, so you don't need to buy one to experience the thrill. 
The standard of living in Oeiras attracts many middle and upper-class people who wish to live somewhere between Lisbon and Cascais. This combination of natural beauty, livability, and modern facilities makes Oeiras an attractive choice if you're seeking a high standard of living in a tranquil coastal setting.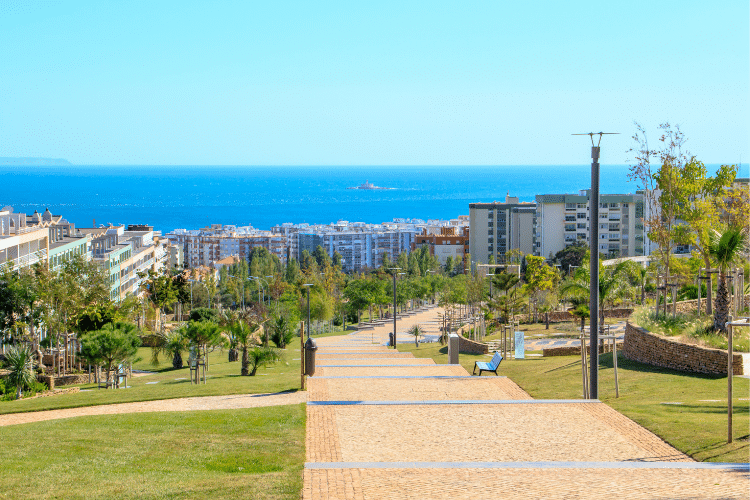 Viseu
This charming city offers expats a rich cultural heritage. Known as the "City of Viriato," Viseu is steeped in history and traditions that captivate residents and visitors alike.
Expats can immerse themselves in the city's historic center, with its well-preserved medieval architecture, museums, and art galleries. Viseu also hosts various cultural events and festivals throughout the year, celebrating its local cuisine, crafts, and music.
This cultural vibrancy creates a unique and enriching experience. It allows you to connect with the local community and appreciate the authentic Portuguese way of life in a culturally significant setting.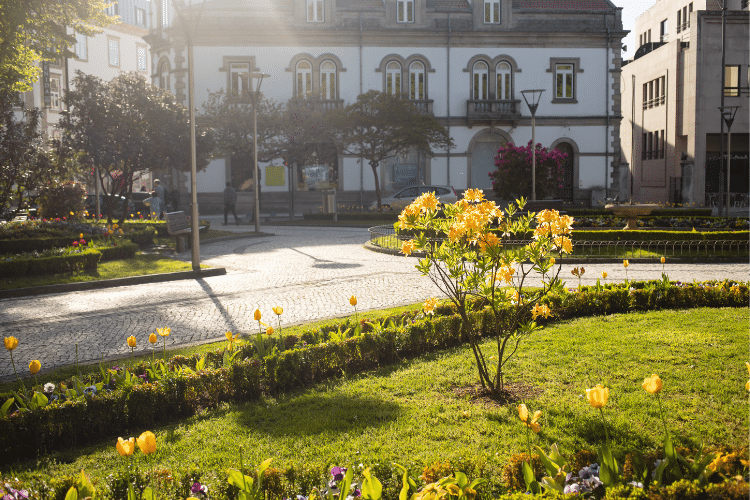 Which city in Portugal has the most expats?
You might have guessed that Lisbon has the most expats. As already seen, the city offers a vibrant cultural scene, a mild climate, and a relatively low cost of living compared to other European cities.
More importantly, it is one of the best cities in Portugal that has seen significant economic growth and job opportunities, attracting professional expats from various industries. Lisbon's well-connected international airport, welcoming atmosphere, and wide range of amenities also contribute to its popularity among expats.
What are the cheapest cities to live in Portugal?
Vila Real, Castelo Branco, and Portalegre beat other cities as three of the cheapest options.
With its vibrant student population and lower cost of living compared to larger cities like Lisbon and Porto, Braga provides an excellent quality of life at a more affordable price. Check out our guide on The 15 Cheapest Cities To Live In Portugal to know more!
Of course, Aveiro and Coimbra are also very budget friendly. As you know by now, these boast charm, cultural heritage, and lower housing costs. These cities offer a balance between a reasonable cost of living and access to amenities, making them attractive options for budget-conscious expats.
With Viv Europe your plans for Portugal
will finally come to a reality
What are the most expensive cities to live in Portugal?
Undoubtedly, Lisbon, Cascais, and Porto take the lead. While they may come with a higher price tag, they are also considered some of Portugal's best cities to live in. The cost of living in Lisbon is higher due to its popularity among tourists, thriving business opportunities for expats, and wide range of cultural attractions.
Since Cascais is Lisbon's cool neighbor, the city's cost of living can be on the higher side, especially property prices.
Porto, known for its historic charm and booming tourism industry, also has a higher living expense for similar reasons. But don't forget that the costs make up for the vibrant lifestyle, infrastructure, and other facilities that make them home.
What are the cities in Portugal with the most job opportunities?
Once again, Lisbon and Porto's metropolitan region have the most job opportunities, followed by Faro and Portimão. Lisbon is Portugal's main economic and business hub. It attracts a wide range of industries, including finance, technology, tourism, and startups.
Porto primarily has a strong presence in textiles, wine production, and creative arts. Both cities offer a diverse job market, attracting professional expats from various sectors.
Also, the vibrant business ecosystems, networking opportunities, and supportive infrastructure add to the job prospects in Lisbon and Porto. Within the Algarve region, Faro and Portimão are very active in the tourism sector, so those two also have job opportunities.
What are the best cities in Portugal to study?
Portugal does not fall short on education. Lisbon, Porto, Coimbra, Braga, and Aveiro are some of the best cities to study in Portugal.
Coimbra stands out as a historic university city and houses one of the oldest universities in Europe. The city provides a rich academic environment, a strong sense of tradition, and a close-knit student community.
Lisbon and Porto, on the other hand, offer a diverse range of universities and educational institutions. It combines vibrant city life with quality education and cultural diversity. This makes it an attractive destination for expat students seeking a well-rounded academic experience.
What are the best cities in Portugal to retire?
Along with jobs and universities, Portugal also has a special place for retired expats. The most popular choices for retirement are the Algarve, Cascais, Évora, Viseu, Guimarães, and Braga.
Cascais is located near Lisbon and offers a pleasant climate, beautiful beaches, and a peaceful environment. Likewise, Faro, in the Algarve, is home to a warm climate, stunning coastline, and a relaxed lifestyle. Both cities provide excellent facilities and high quality of life for retired expats.
Évora, Viseu, Guimarães, and Braga are smaller cities with a tranquil quality of life, nature nearby, and a lifestyle that retirees thoroughly enjoy.
The question is – which of these beautiful cities appeals the most to you and your needs?
When are you moving to Portugal?
All these options make it tough to decide, right? We don't blame you. And we bet you're now one step closer to fulfilling your dream of coming to Portugal. Sort out your doubts by asking questions on our Facebook Group – All About Portugal For Expats, and get new perspectives!
Once you're done with your research, start planning how you wish to relocate. What Visa will you apply for, and how will you make sure you have all the right documents? To plan better and increase your chances of success, get in touch with experts from Viv Europe. Save your time and prepare yourself for a seamless move abroad!