Last Updated on December 27, 2022 by Maryam Siddiqui
Moving 9,000 kilometers away from your homeland is a huge decision. But it's one that could change your life forever. People move from Bangladesh to Portugal in search of better opportunities, a higher standard of living, and to expand their horizons.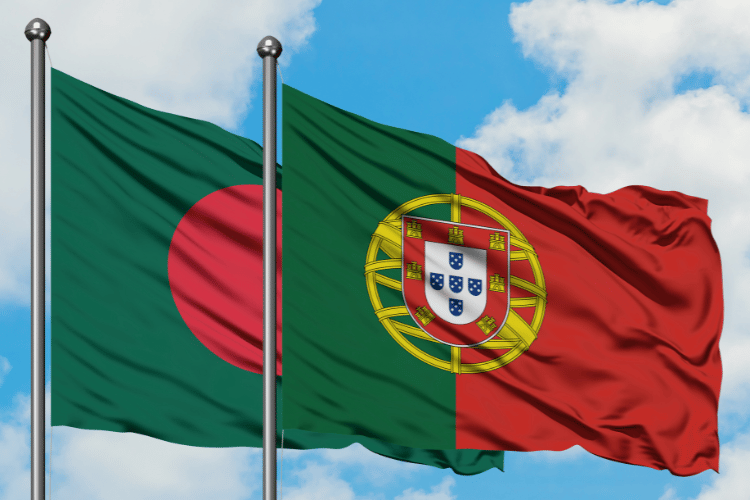 Is it far more difficult for Bangladeshis to do so because of the vast differences? What about language barriers and the application process? You're right about the dissimilarities between the two countries, but it shouldn't worry you while we're here.
This guide will answer all your questions on how to get started, what documents you'll need, and how long it takes to finalize everything. Let's discuss all the information you need on visas, residence permits, the labor market, and health and education. Happy reading!
How to move from Bangladesh to Portugal
Given the major differences, why the process may be unclear is understandable. The first thing to know is that any non-EU national needs a Schengen Visa to move to Portugal. Applications are submitted at the Bangladeshi consulate or embassy of the EU or Visa center located in Bangladesh. But you'll need a few things before you go ahead.
Schengen visas are issued in Bangladesh for many reasons, and depending on your application, you may need to provide additional documentation. At the very least, a Passport that should be valid for a period of three months and biometric data like digital pictures and fingerprints will also be required for facial recognition.
How can I apply for a Portugal Residence Visa from Bangladesh?
Moving from Bangladesh to Portugal may seem daunting, but with the right direction, it can be much easier than anticipated. The first step is to research the requirements for relocation. Requirements may vary depending on one's purpose and length of stay in Portugal.
There are several different types of Portuguese Residence Visas, each with its own set of requirements, so be sure to carefully read the information below and choose the Visa that best suits your needs.
The first step includes gathering relevant travel documents such as a valid Passport, birth certificate, or marriage certificate (if applicable) and financial documents such as bank statements or proof of employment.
It is also necessary to provide a letter stating why you would like to move from Bangladesh to Portugal and any other supporting evidence that may help your application. Depending on the residence Visa type, additional documents may also be required, such as medical or police clearance certificates.
Once you gather all the documents, applicants must submit their application directly at the Portuguese embassy of Bangladesh.
What are the types of Portugal Residence Visas that Bangladeshis may apply for?
Bangladeshis looking to stay in Portugal can apply for a range of residence visas depending on their circumstances and reasons for stay.
Documentation needed in general
The following are some standard documents that you need to submit with your Visa application:
Valid Passport;
Signed Visa application form;
International travel medical insurance;
Proof of livelihood and accommodation in Portugal;
Criminal Records Certificate issued by your country of origin (and other recently visited countries);
Permission to consult the Portuguese criminal registry by SEF.
It's important to highlight that you need to comply with each prerequisite when applying. For example, a D4 Study Visa will require that you enroll at a university first. Similarly, a D1 Work Visa will require that you have a job offer letter from a company in Portugal before applying.
Obtaining a Residence Permit to live in Portugal from Bangladesh
After five years of living in Portugal, holders of a temporary permit can apply for a permanent residence permit.
To obtain a residence permit, you must qualify for one of the following:
Be employed by a Portuguese company or be self-employed with proof of income;
Be enrolled in higher education, research, or volunteer work;
Open a company or a start-up in Portugal;
Have a retirement pension or regulated passive income;
Be a dependent family member of a Portuguese citizen.
The documents will depend on what type of Visa you're applying for. After compiling all documents, you need to submit the application with proof of financial stability and good temperament.
If the application gets approved, the applicant will be issued a residence permit which is valid for two years. You can renew the Visa after maintaining financial stability there.
After getting a residence permit, you will have access to public services such as healthcare, education, and social security benefits.
With Viv Europe your plans for Portugal
will finally come to a reality
What do Bangladeshis need to do to apply for the Portugal Golden Visa?
The famous Golden Visa is for investors who see Portugal's potential and would like to benefit from it! Bangladeshis can get Golden Visa through the acquisition of real estate, transfer of capital, or the creation of jobs.
Benefits include living, working, and studying in the EU with Portuguese citizenship, along with an EU Passport! Here are some requirements:
You must be at least 18 years old to apply.
Invest in property or real estate in Portugal for €280,000 (৳ 31 million);
OR create 10 permanent jobs;
OR transfer capital for €250,000 (৳ 28 million).
Understanding the Golden Visa can be complicated, especially after the Changes in the Golden Visa in 2022. We advise you to talk to a professional to understand it better and see whether it's the right decision for you to move from Bangladesh to Portugal.
What is the cost of living in Portugal compared to Bangladesh?
The cost of living in Portugal varies according to the city. The table below summarises the cost of living in Portugal, and you should be able to execute a plan accordingly.
Living in the capital will be more expensive than living in nearby municipalities. Keep in mind that if you plan to move from Bangladesh to Portugal, you will face a significant difference in expenditures.
You might find yourself comparing the amount of money you'd spend back home, but just remember why you decided to move in the first place. Portugal's quality of life is still very reasonably priced for how much it offers.
Take a look at some monthly estimates:
Expense
Cost in Portugal
Cost in Bangladesh
A single person estimated monthly costs (without rent)
€568
(৳61,880)
€330
(৳36,029)
Family of four estimated monthly costs (without rent)
€1,998
(৳217,629)
€1,159
(৳126,298)
Average 1-bedroom residence rent
€726
(৳79,444)
€93
(৳10,176)
Average 3-bedroom residence rent
€1,308
(৳143,130)
€233
(৳25,496)
Basic Utilities (Electricity, Heating, Cooling, Water, Garbage, Internet)
€110.80
(৳12,124)
€32.86
(৳3,595)
Monthly Transport Pass
€40
(৳4,377)
€13.77
(৳1,506)
Data is from Numbeo (as of December 2022).
How much is the rent in Portugal?
The housing market in Portugal has seen a boom over the last few years. While prices are perceived as affordable to many expats, these may be considered expensive for the general population. Regions with a higher proportion of expats are most likely to be priced higher.
As per trading economics, the price-to-rent ratio has increased in the second quarter of the year 2022 compared to what it was in the first quarter. Rent prices are generally negotiable, but still, negotiating a lower rent price in Lisbon can be more difficult because demand is always high.
| City in Portugal | Average Rent (One-Bedroom Apartment) |
| --- | --- |
| Lisbon | €772 |
| Porto | €600 |
| Algarve | €610 |
| Madeira Islands | €400 |
| Azores Islands | €600 |
Data is from Numbeo (as of December 2022).
What are the best places to live in Portugal?
Portugal welcomes internationals with open arms, and many have thriving expat communities. Here are our top 5 places to live in Portugal, ranging from seaside views to countryside life to cosmopolitan living.
First off, we have Lisbon. A city that provides expats with high quality of life, excellent infrastructure, efficient transportation, and outstanding schools. Lisbon has deep-rooted connections with its culture and history, with excellent museums and clubs.
A calmer and much less expensive city, Porto, is a dream location to live in. Porto may be a cheaper alternative to Lisbon with pleasant weather all year, tax benefits, and a hub of business-oriented people.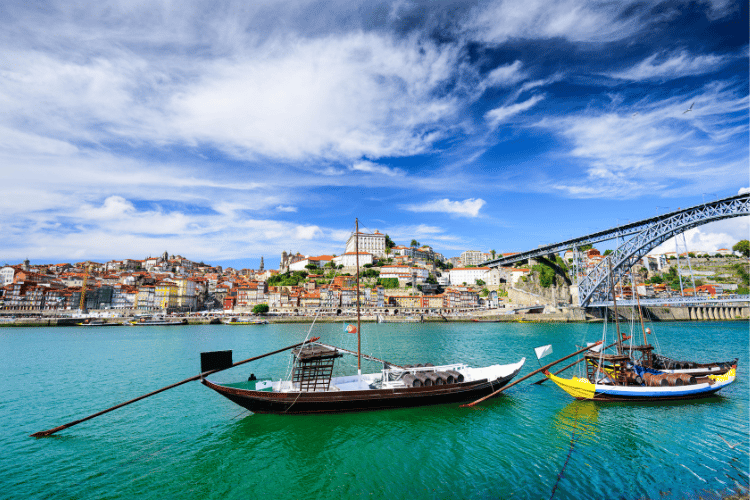 Talking about Lisbon, next up, we have Cascais, a small town but full of luxury. Cascais is famous for its scenic views and incredible beaches. Cascais is the greatest choice for families due to its calm atmosphere and quality schools for kids.
You've probably heard many things about this region because expats love it so much! Algarve offers a high-quality life due to the tranquility, safety, amenities, stunning nature, and blooming real estate industry.
The last city that expats highlight under the best places to live in Portugal is Funchal on the Madeira Islands. Funchal is home to a large number of internationals, particularly retirees. It enjoys some of the best weather on the island owing to its position in the South.
Where do Bangladeshis usually live in Portugal?
Portugal is prominent among immigrants, and since it is quite easy to migrate to Portugal compared to other European countries, many Bangladeshi citizens move from Bangladesh to Portugal for work or to study.
The city of Lisbon is more concentrated with the Bangladeshi population. According to people's time, the city is like a mini-Bangladesh in terms of businesses and exciting nightlife. With over 40,000 living in Portugal, you can easily find your expat community. It makes sense considering everyone is coming to Portugal in search of better opposites.
Bangladeshi people are energetic, business-minded, and have entrepreneurial tendencies. Many restaurant owners in the downtown area of Lisbon are Bangladeshi, and they have been contributing greatly to the economy and social security of the country.
How is the Portuguese Economy?
Portugal currently ranks 48th among major economies, and when purchasing power parity and individual wealth are considered, Portugal ranks 39th among wealthy nations.
Bangladesh has a GDP per capita of $2,503 as of 2021, while Portugal's GDP per capita in 2021 was $24,262. This means that you will be earning more in Portugal, but obviously spending more too. However, the Portugal government has many tax incentives that attract expats.
Portugal has experienced its most significant financial growth in nearly two decades, fueled by a record in the travel industry, a rise in the real estate market, and the development of new products.
The Portuguese government has broadened policies for investors with the right to reside in Portugal, and it also gives skilled migrants tax breaks. The economy is thriving better than before, and the increasing amount of investments speaks for itself!
Is Portugal Safe?
According to the Global Peace Index, the country ranks fourth-safest in the world. Statistics show low crime rates and a stable political scene. The crime rate in Portugal is the sixth-lowest in the world, so you won't ever have to worry about violent street crimes.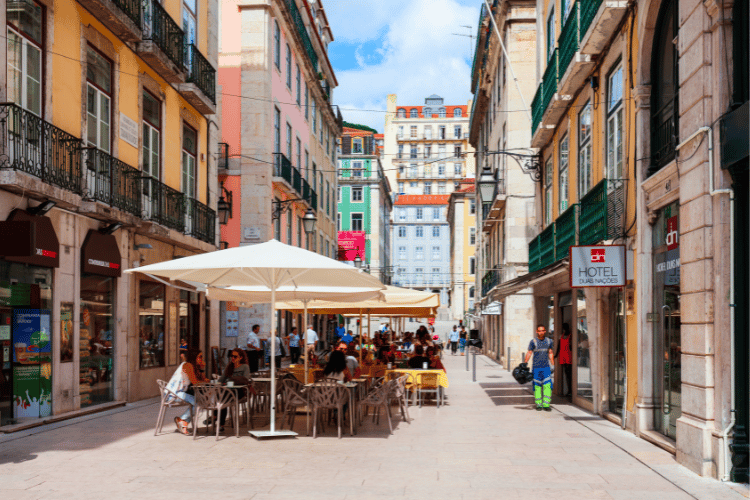 Portuguese people are known to look out for one another. The country as a whole is extremely safe, and the quality of life is comparable to many other European countries. It's a place full of tranquility, peace, and people who love to spread happiness through food. It sounds a lot like Bangladeshi culture, doesn't it?
What is public healthcare like in Portugal for immigrants?
The Portuguese health system is ranked highest, consistently placing it among the top 27 lists of healthcare systems worldwide. Several healthcare insurance plans in Portugal are designed to assist people with their health concerns at a low annual cost.
To register for public healthcare in Portugal, you must first register with SNS. The National Health Service declared public healthcare free for all legal residents in Portugal, which includes immigrants.
Like most European healthcare facilities, the Portuguese public healthcare system is excellent and efficient. However, it can often be crowded and have long waiting lines. Thankfully, private healthcare is also affordable and excellent in terms of quality.
What is the weather like in Portugal?
Portugal has a mild climate with long summers and pleasant winters. Portugal receives most of its rainfall between November and March, with the northern region being greener and more mountainous.
During winter, temperatures average 15 °C in the Algarve, along with significantly less rain than in the north. One of the many reasons for expats to move here includes the mild weather, the breathtaking beaches, parks, historical monuments, and museums.
Take a look at the average temperatures in different regions of Portugal:
Data
Lisbon
Porto
Setúbal
Algarve
Azores
Maximum temperature
27 °C
(80.6 °F)
26 °C
(78.8 °F)
22.9 °C
(73.2 °F)
28 °C
(82.4 °F)
23 °C
(73.4 °F)
Minimum temperature
9 °C
(48.2 °F)
6 °C
(42.8 °F)
11.0 °C
(51.7 °F)
11 °C
(51.8 °F)
13 °C
(55.4 °F)
Average Rainfall
49 mm
(1.9 in)
107 mm
(4.2 in)
538 mm
(21.2 in)
41 mm
(1.6 in)
84 mm
(3.3 in)
Average Humidity
74%
76%
68%
69%
78%
The data was taken from the Climate Data website.
What are the benefits of moving from Bangladesh to Portugal?
To move from Bangladesh to Portugal means widening your horizons like never before! A warm climate near stunning beaches, low cost of living, and the standard of living are just a few benefits.
We'll jot some down to make it easier:
Job opportunities
Quality of education
Tax exemptions
Food and entertainment
Healthcare
Safety
Incredible Infrastructure
Slow pace of life
Expats aren't understating when they say moving to Portugal changes your life forever. Portugal has mastered the art of making itself enticing to expats. It has everything an expat looks for in a new home. Even if you are not eligible for the tax breaks, Portugal is a fantastic place to live due to all of the other advantages.
When are you moving to Portugal from Bangladesh?
There's no rush; moving from Bangladesh to Portugal is a major life change, and we recommend you think about it very thoroughly. It's exciting, nerve-wracking, and most of all, life-altering. If you haven't been on a scouting trip yet, join our Facebook Group – All About Portugal For Expats, and talk to other Bangladeshis who made the same decision you're about to.
Having the right people by your side can help make the process ten times easier. Our team of experts at Viv Europe is here to take care of the Visa process and residence location while you soak up every last bit of Bangladesh before the big move.