Last Updated on May 3, 2022 by Letícia Melo
Well, it is quite easy to move from Australia to Portugal if you know the right things to do, and for those who are not in the know, well that is why I am here, and why this article is made. Here we would dissect the necessities for you to move from Australia to Portugal, the governmental requirements that are required to be matched from both countries will be discussed and the means to easily achieve them would be exposed to you.
What I need from you? Your undivided attention and letting me take you on this cruise as I make difficult-to-understand concepts easy to digest even for the bluntest of tools in the shed. At the end of this article, I want you to get your luggage packed, tickets bought, and tweeting recommendations halfway through your cross of the Mediterranean Sea.
How to move from Australia to Portugal
Anyone who wishes to immigrate from Australia to Portugal must first complete a regular visa application process (unless you have EU citizenship). You can then make plans to travel to the country and find a place to rent or buy once this is completed.
Families are welcome to visit Portugal together, and a special visa, the family reunification visa, is available.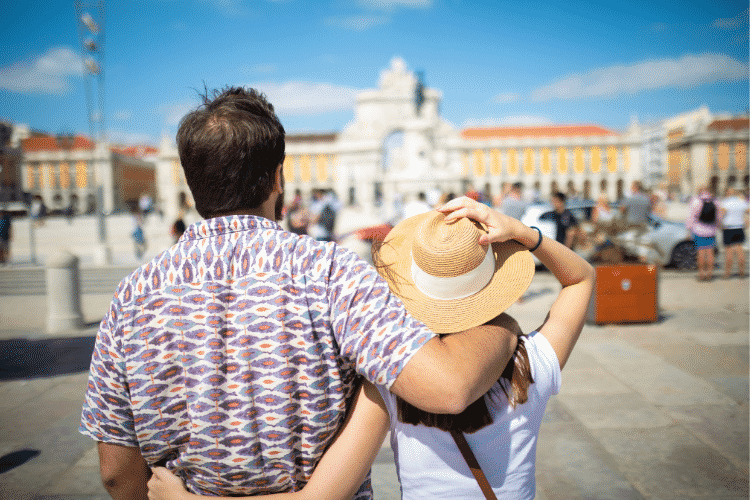 Moving to Europe used to be way more complicated in the old days, but that does not mean that you won't have to deal with bureaucracy.
How can I apply for a Portugal Residence Visa from Australia?
The first step of the relocation process is to get your residence visa on your passport.
For Aussies that are seeking of entering the territories of Portugal, you can simply apply by visiting in person the Portuguese Consulate in Sydney Australia, or visit the official website to fill a visitor visa online.
This will give you permission to enter Portugal and then obtain your national ID card – a residence permit.
What are the types of Portugal Residence Visa that Australians may apply for?
Australians who want to create roots in Portugal must obtain a permanent residence visa in Portugal.
The appropriate visa will be determined by the purpose of the visit. As a result, the following choices are available:
Work: a visa for Australians who want to work in Portugal for a Portuguese firm; also accessible for entrepreneurs who want to do their own thing;
Study or research: visas are offered for university and high-school students, in exchanges or full-time, internships, and volunteer work;
Family reunification visa: a visa that permits families to rejoin Portugal, subject to certain restrictions and approvals;
Passive income visa: for retirees or anyone with passive income who wants to enjoy life in Portugal.
Choosing the right kind of residence visa is key to ensuring that you as an Aussie have no issues with the government officials of Portugal. And in this case, for those who are still wondering which visa to choose, we are going to focus on.
Documentation needs in general
You must provide (together with the completed application form) the following documents for all Portuguese resident visa applications:
Valid ID or a passport;
Two photographs for your passport;
Evidence of medical coverage;
Portugal's immigration authorities have access to criminal records;
Accommodation proof;
Proof of financial self-sufficiency for the duration of your stay.
Obtaining a Residence Permit to live in Portugal from Australia
As a standard, individuals from other countries who desire to work and remain in Portugal for more than 90 days must apply for a Portugal residency permit. The residence permit is normally for a considerable period of time, ranging from one to three years. Depending on why you are moving to Portugal and how long you want to remain, you may be eligible for different sorts of permits.
This part of the process is done in person in Portugal after you've obtained the visa and traveled to Portugal. The residence permit is issued by the SEF (Foreigners and Borders Service), and you must schedule a meeting or submit an application online on the official website. Then, you'll personally visit the regional SEF delegation closest to your address in Portugal, show your documents, and they'll create your ID card. If all documents are according to plan, in less than a month you shall receive your new permit.
What do Australians need to do to apply for the Portugal Golden Visa?
Another popular way to obtain a Residence Permit in Portugal is to get the special Portuguese Golden Visa. Despite the name, this document is not a visa, but actually a Residence Permit for Investment Activities (known as ARI).
You can obtain it once in Portugal, without having to go through any visa process, and get all the benefits the common residence permit gets and more.
However, there are many requirements for an investor to be eligible for a Golden Visa. Such as:
Invest €280,000 (AUD $459K) in a property/real estate in Portugal, or

C

reate 10 permanent jobs, or

C

apital transfer of a minimum investment of €250,000 (Australian Dollar 410K)

The initial year's stay must be at least 7 days, and the following years must be at least 14 days.
Know all about it in our complete article Golden Visa in 2022: Should you still invest in Portugal?
What is the Cost of Living in Portugal?
Portugal has one of the lowest living costs in Western Europe. Almost everything, from lodging to groceries, is within reach.
A couple can live well in the interior of Portugal, or in small cities, for roughly $1,700 per month, including rent.
A monthly budget for a pair in Lisbon starts at around $2,100… Though you may certainly spend more. Singles should budget roughly two-thirds of what a couple does.
How much is rent in Portugal?
Whether you rent or buy your home — the single largest expenditure on any expat's budget — is affordable. For a one- to a two-bedroom apartment, rents in small Portuguese cities and the interior start at around $375 per month. Rents in Lisbon, the capital, start at around $650 per month for areas within a half-hour walk of the Baixa, Chiado, and other popular tourist areas.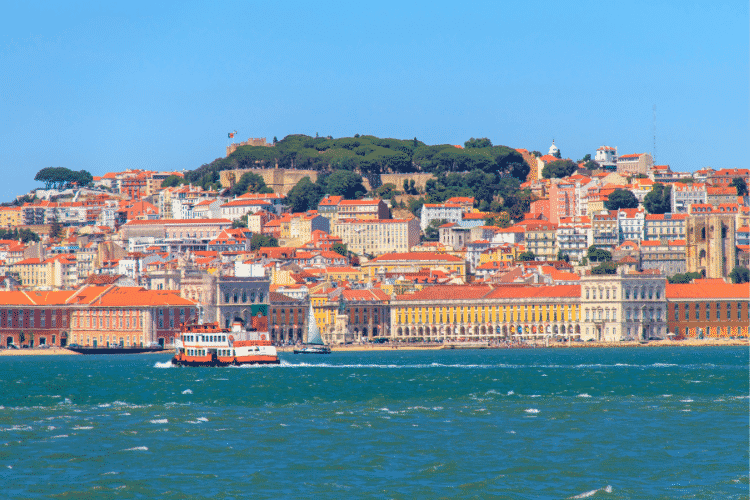 Rents in these neighborhoods start at around $1,000 per month for a nice one- or two-bedroom apartment—still a bargain for a European capital. The Alfama neighborhood, Lisbon's oldest, has slightly lower rents. However, its slopes and cobblestone lanes may not be suitable for all expats.
If you're seeking to buy, there are plenty of affordable apartments in the city's interior for under $100,000. Even in Lisbon, tiny properties in distant neighborhoods can be found for under $150,000. Closing fees on real estate sales in Portugal are typically around 10% of the purchase price.
What are the best places to live in Portugal?
Portugal is becoming more and more popular among expats from around the world. To assist you in deciding where the finest place to live in Portugal is, we've compiled a list of the top places to live in Portugal.
Lisbon
Porto
Braga
Funchal (Madeira)
Ponta Delgada (the Azores)
Aveiro
Coimbra
Portimão
Where do Australians usually live in Portugal?
Lisbon is the state with the most immigrants from Australia settling in according to the government of Portugal's Immigration list, this is because of the very fine weather that has been witnessed over the years in this beautiful area of Portugal.
How is the Portuguese Economy?
Portugal's economy is ranked 31st in the 2022 Index for economic freedom, with a score of 70.8. Portugal is placed 21st out of 45 European countries, and its overall score is higher than the regional and global averages.
In 2020, the Portuguese economy shrank, but growth resumed in 2021. A significant expansion of economic freedom has proceeded over the last half-decade. Portugal has gained an amazing 8.2-point overall gain in economic freedom during 2017, aided by significant score increases for fiscal health and rule of law, and has climbed into the "Mostly Free" category for the first country in the Index's 28-year existence.
Is Portugal Safe?
Portugal has one of the lowest crime rates in the world, with violent crime being very uncommon and usually limited to a few problematic neighborhoods. Nonviolent crime, on the other hand, continues to be an issue, notably in Lisbon, the capital.
However, not enough to make Portugal stop being the 4th safest country in the world, according to the Global Peace Index. So in other words, Portugal is quite a safe country to reside in.
What is the Public Healthcare like in Portugal for Immigrants?
The public health system in Portugal is known for being of good quality. Especially in Lisbon, Porto, and the cities on the Silver Coast, expats usually find no problem in accessing good doctors and treatments for free or at very low rates. Immigrants in Portugal have the same rights to access public healthcare as a local would, as long as they have their legal situation taken care of.
Once you've moved to Portugal, you must visit the health center closest to your new home address and create your Número de Utente – the ID number to access healthcare in the country. Then, you'll be assigned a Family Doctor who will be responsible for checking in with you, and to who you'll reach out whenever you need.
However, if you're moving to the Algarve or Alentejo, you may feel the need to use private healthcare – since there aren't that many public hospitals and waiting times can take too long. But do not fash, there are also various health insurance options in Portugal – still quite affordable and easy to get.
What is the Weather like in Portugal?
Portugal has a wide range of weather conditions. While many people think of the popular beaches of the gorgeous Algarve when they think of Portugal's climate, many don't realize that there are ski resorts just a few hundred kilometers north.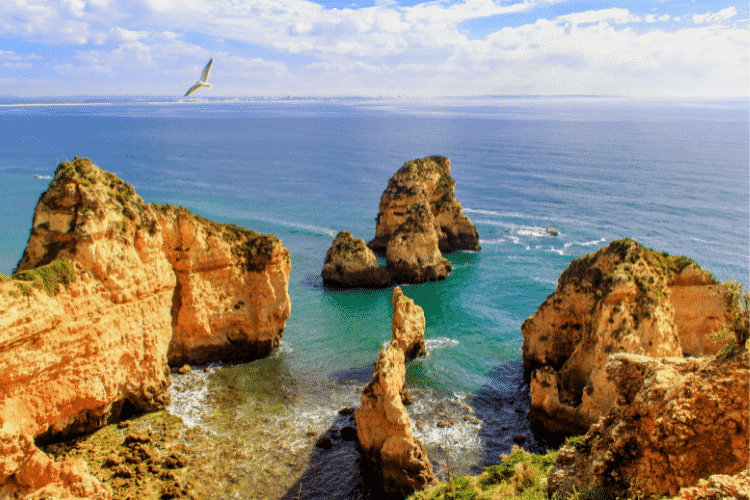 Despite its tiny size, the country sees some weather fluctuations. The climate of mainland Portugal is Mediterranean, with typical temperatures of 10-12°C in the north, which is mostly mountainous, and 16-18°C in the south. Insular Portugal, which includes Madeira and the Azores, is wetter and hotter due to its geographical location. More information about the average temperatures in Portugal can be found here.
What are the Benefits of moving from Australia to Portugal?
There is no requirement for a minimum level of participation.
Permanent residency approval in three months.
There is no worldwide tax remittance basis.
A Schengen resident card is a document that allows you to travel within the Schengen
There is no real estate tax.
Permanent Residency (certificate) or Permanent Residency (permanent residency) for life.
Within Schengen area, there is no need for a visa.
When are you moving to Portugal from Australia?
Moving to a different country is a life-changing decision. And although Portugal is so far away from Australia, you might feel at home here sooner than you think. Portugal offers its residents amazing quality of life, scenery, and sunny days.
The Portuguese people are excellent neighbors, and their lifestyle is much like the one in Australia. Also, the expat community in Portugal is growing by the day, so you won't be the only stranger in a strange land.
If you feel that you need any help with your visa application process or anything related to your move from Australia to Portugal, you can contact Viv Europe. Our team is very experienced in making expats' dreams come true in Portugal. We know all there is to know about applying and obtaining residence permits, investing in real estate, and simply starting life over in Europe.
Join our online community on the All About Portugal For Expats Facebook group to get to know other brave people discovering Portugal.