Last Updated on July 10, 2023 by Laila Oliveira
Picture this: sun-drenched shores, charming cobblestone streets, and a relaxed Mediterranean lifestyle. As you approach your golden years, the allure of retiring abroad becomes irresistible. But two enticing destinations stand out, and you have to choose between spending your retirement in Portugal or Malta. Which one holds the key to your ideal retirement?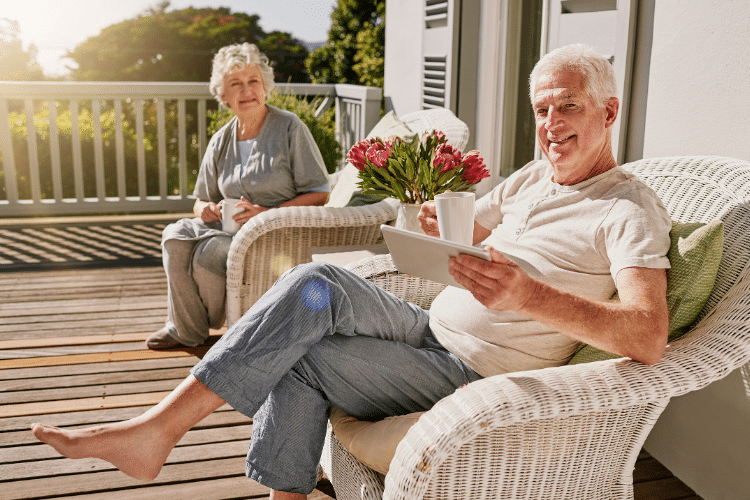 Whether you're seeking a warm climate, rich cultural experiences, or a thriving expat community, these two European gems promise to check all the boxes. With its mesmerizing coastlines, historic cities, and affordable living, Portugal beckons to those searching for a tranquil retirement.
Meanwhile, Malta blends old-world charm and cosmopolitan living, surrounded by the sparkling Mediterranean Sea. So, grab a cup of coffee, and let's embark on a journey that will ignite your imagination and help you make an informed choice for your post-work paradise. Happy reading!
Retirement in Portugal or Malta? Why expats choose them
Now to answer the question. Is it worth spending your retirement in Portugal or Malta? These two destinations have captivated expats from different parts of the globe, each offering its unique blend of charm and amenities.
In Portugal, retirees love to bask in the sun-drenched shores of the Algarve or immerse themselves in the vibrant culture of Lisbon. At the same time, Malta has its island lifestyle, captivating architecture, and English-speaking population. Read more to find out which of these is made for you!
Similarities between the countries
Let's start with the similarities. Portugal and Malta boast an enviable climate, with plenty of sunshine to brighten your days. Whether you prefer Portugal's mild winters and sunny summers or Malta's year-round Mediterranean bliss, you'll find yourself around great weather.
Portugal's captivating history and vibrant arts scene and Malta's ancient temples and diverse heritage immerse expats in a world of fascinating traditions and captivating experiences.
So, whether you're drawn to Portugal's laid-back lifestyle or Malta's island allure, you'll find a warm expat community and a tapestry of experiences awaiting you. The choice is yours to make, and we're here to guide you!
Portugal vs Malta for expats
Portugal allows expats to enjoy a high standard of living at an affordable cost. The country offers a range of housing options, from vibrant cities like Lisbon to tranquil islands like the Madeira and Azores.
Malta offers expat retirees a smaller but equally captivating setting. With its Mediterranean climate, residents can enjoy outdoor activities year-round.
Both countries provide expat-friendly environments, making connecting with fellow retirees and building a supportive community easy. It's worth noting that Portugal offers a very retiree-friendly Passive Income Visa along with tax incentives. Keep reading to learn more about retirement in Portugal or Malta.
About living retired in Portugal
Living retired in Portugal as an expat offers a plethora of delightful options. The Algarve is a popular choice, with its picturesque coastal towns Lagos and Albufeira. And then there is Cascais, near Lisbon, which offers a mix of stunning beaches and proximity to the vibrant capital.
In terms of healthcare, Portugal boasts a reliable and accessible system with both public and private options. You can enjoy affordable healthcare services and excellent medical facilities, ensuring peace of mind during your retirement.
Let's not forget that experts have recently named Portugal as the Best Country For Retirement in Europe! 
About living retired in Malta
Living retired in Malta also offers a charming experience. While Malta is only 316 km² in area, compared to Portugal's 92,152 km², this small island country is full of surprises.
Sliema and St. Julian's are popular neighborhoods famous for their bustling waterfront promenades, restaurants, and shops. And Mellieħa, in the north, is home to a tranquil and picturesque setting, ideal if you seek a peaceful retirement.
Malta's healthcare is high quality, with a mix of public and private facilities. Medical treatment in state hospitals is free for citizens, and other EU nationals can also receive some types of treatments for free.
So far, which sounds more appealing, Portugal or Malta?
Differences between the countries
Aside from the similarities, retirement in Portugal or Malta has some essential differences that you should consider.
Regarding the cost of living, Portugal generally offers a more affordable lifestyle, with lower prices for accommodation, groceries, and dining out. Malta is slightly more expensive; keep reading to know more details!
As for taxes, Portugal's Non-Habitual Resident program provides significant tax benefits for retirees for up to 10 years. But Malta also offers attractive tax incentives for foreign residents, with a slight difference.
So, whether you're choosing affordability in Portugal or seeking a quieter lifestyle in Malta, both countries have their enticing perks for expat retirees to explore. Let's dive into more details, judging each category one by one.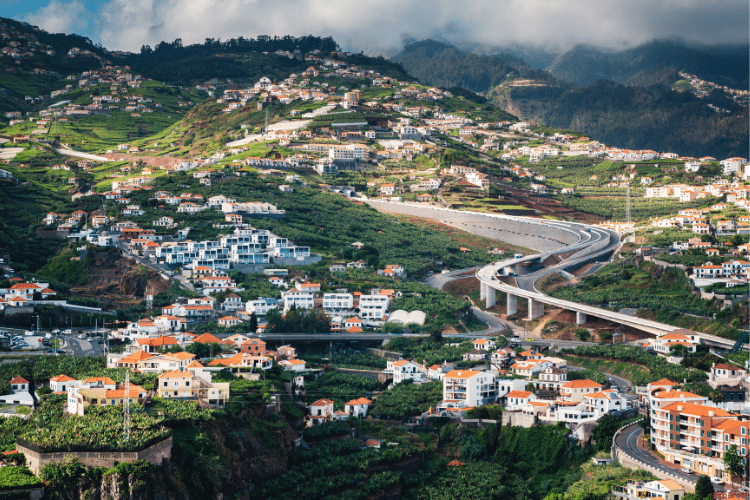 Cost of living in each country
As mentioned earlier, Portugal's cost of living is generally lower than many other Western European countries, including Malta.
This affordability makes it an attractive choice for most retirees. The cost of living varies in the region, but the country generally offers reasonably priced housing, transportation, and dining options.
Malta also provides a comfortable lifestyle with affordable groceries, utilities, and healthcare, compared to other European countries.
But it is important to note that grocery prices in Malta are 31.8% higher than in Portugal, and its rent prices are also 20.7% higher. If you're interested in spending your retirement on an island but also want to save as much as possible, consider exploring the Madeira Islands and the Azores too.
Even so, both countries promise a comfortable retirement without breaking the bank. Check out the estimates in the table below:
| Expense | Cost in Portugal | Cost in Malta |
| --- | --- | --- |
| Apartment (1 bedroom) in City Centre | €774 | €860 |
| Apartment (1 bedroom) Outside of Centre | €589 | €724 |
| Apartment (3 bedrooms) in City Centre | €1,319 | €1,628 |
| Apartment (3 bedrooms) Outside of Centre | €970 | €1,181 |
| Utilities | €109 | €96 |
| Groceries | €250 | €270 |
| Transport (Monthly pass) | €40 | €26 |
| Tennis Court Rent (1 Hour on Weekend) | €11.36 | €21 |
Estimates are from Numbeo (as of July 2023).
Taxes
Something that's as equally important as rent and housing is to understand the financial implications of your chosen destination. 
In Portugal, expats can benefit from the famous Non-Habitual Resident (NHR) Regime. The NHR offers a flat tax rate of 20% on certain foreign income for ten years. This includes pensions, capital gains, and rental income, most of which retirees qualify for.
On the other hand, Malta offers a Residence Programme, which provides a flat tax rate of 15% on foreign income remitted to the country. And the minimum tax liability is €15,000 per year.
Before you decide which tax system appeals to you, we recommend consulting with a tax advisor to ensure you maximize your retirement funds and enjoy your golden years to the fullest.
With Viv Europe your plans for Portugal
will finally come to a reality
Transport
Surely, you didn't think we'll leave out transport, did you? You should know which transport system is more accessible for you!
Both countries offer efficient and convenient public transportation systems for expat retirees to move around quickly. You'll find an extensive network of buses, trams, and trains connecting cities and towns in Portugal.
Significant cities like Lisbon and Porto also have metro systems, making urban travel much more accessible. The rates are affordable, and schedules are generally reliable, allowing you to reach your destination and not worry about buying a car.
For example, a 24-hour metro ticket in Lisbon costs €6.60, and a regular Municipal Navigator monthly pass is €40. Most metro stations have elevators for those who cannot use stairs and escalators. And other forms of public transport are also leveled near the ground for easy access.
To compare, Malta has a well-connected bus system that serves the island with frequent routes and reasonable fares. Also, since Malta is a small country, it makes it easy to navigate on foot, offering a more intimate way to discover its hidden gems.
So whether you're hopping on a historic tram in Lisbon or catching a colorful Maltese bus to explore Valletta's grandeur, public transport in both countries will ensure an enjoyable retirement.
Climate
Regarding the climate for expat retirees, Portugal and Malta offer slightly distinct options.
Portugal's climate is diverse, with mild winters and warm summers. Coastal regions like the Algarve boast a Mediterranean climate with hot, dry summers and mild, wet winters, perfect for beach lovers.
In contrast, Malta has a Mediterranean climate all year round, with hot, dry summers and mild, wet winters. The island's sunny weather is ideal for those seeking a perpetual summer vibe with slightly higher temperatures.
Imagine savoring a glass of wine under Portugal's golden sunset or basking in Malta's turquoise waters. Whether you prefer a slightly cooler Portuguese breeze or the consistent Mediterranean warmth of Malta, both countries offer a climate to suit your retirement dreams.
Here are the average temperatures during different seasons:
Country
Spring
Summer
Autumn
Winter
Portugal
15.4 ºC
(59.72 ºF)
22.4 ºC
(70.52 ºF)
18.1 ºC
(64.58 ºF)
11.8 ºC
(53.24 ºF)
Malta
14.2 ºC
(57.6 ºF)
26.3 ºC
(79.3 ºF)
18.5 ºC
(65.4 ºF)
13.5 ºC
(56.3 ºF)
Data is from Climate Data.
Security
The two countries rank favorably among global destinations for expat retirees in terms of security. According to the Global Peace Index, Malta and Portugal are safe and secure.
Portugal is the 6th safest country as per the Global Peace Index, with a crime rate of 26.6. And the level of crime in Malta is at 35.6, which is also considered low, but it's higher than in Portugal.
Portugal, in particular, is known for its low crime rates and welcoming atmosphere. The country has a well-established police force that ensures the safety of its residents and visitors.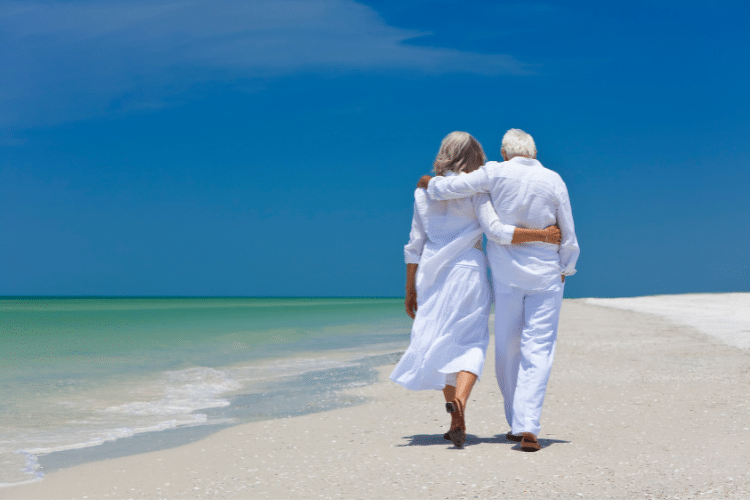 Malta, too, boasts a strong security presence, with a reliable police force and a peaceful environment.
So whether you're captivated by Portugal or Malta, rest assured that both countries prioritize safety and offer a peaceful retirement haven.
Entertainment
That's enough about practical stuff; what about fun and entertainment for the best years of your life? 
There's something for all kinds of adventurous retirees. Portugal is famous for its vibrant cultural scene, with music festivals, art exhibitions, and performances that showcase traditional and contemporary talents. But also equally famous for its brilliant golf courses and beach resorts that make every day feel like a vacation.
Another famous activity is the vibrant senior social club, "Universidades Seniores", in Santarem, Portugal. There, older adults can participate in various activities like language classes, art workshops, and dance lessons. The country also hosts various cultural events, such as classical music concerts and theatre performances, which often cater to mature audiences.
Similarly, Malta provides various activities tailored for older generations, including senior fitness programs, hobby groups, and community gatherings.
You can enjoy leisurely walks along Malta's scenic promenades or join social clubs for card games, book clubs, or gardening activities. The annual Malta International Arts Festival and various street festivals add an extra flair to the cultural calendar.
So, whether you prefer dancing to Fado music in Portugal or attending open-air concerts in Malta's historical sites, both promise abundant entertainment options to enrich your retirement years.
How to get a visa in each country
Let's move on to another extremely important aspect you should consider before choosing your retirement destination. 
The Passive Income Visa is a popular choice among expat retirees in Portugal. If you have sufficient passive income, the Visa allows you to live in Portugal for an extended period and enjoy your stay with all the amenities that any legal resident receives.
You will need the following documents to secure this Visa:
Proof of regular passive income (pensions, investments, or rental income);
Bank statements;
Proof of health insurance;
Criminal record certificates;
Valid Passport.
It's also advisable to secure suitable accommodation before you apply for the Visa, like rental agreements or property ownership documents.
For Malta, the Residence Program for retirees is how you can receive residence permits for a specific period. However, there are some requirements to qualify:
You must be 65 years old;
You must own or rent a property in Malta. The value of the property should be at least €275,000, or €220,000 in the regions of Gozo and South Malta. For renting a property, the annual rent should not be lower than €9,600, or €8,750 in Gozo and South Malta;
You should not be employed in a regular salaried position, but you're allowed to hold non-executive roles in various companies, foundations, or other organizations;
You need to ensure that at least 75% of your taxable income is derived from your retirement while residing in Malta;
Have good health condition;
Pay the administrative fee of €2,500;
You don't intend to settle in Malta within five years permanently. 
As you can tell, there's a lot that you need to take into account for both countries, but even more so for Malta. However, it all becomes worth it if you've decided which destination to choose.
Bottom Line: retirement in Portugal or Malta?
Now that you're familiar with the highlights of the two countries, have you decided which one resonates with you more? To be fair, it's not our place to choose a place for you, because only you can decide which one you like more. 
Whether you're drawn to the sunny beaches or the island charm, both countries promise a fulfilling retirement. Remember that Visa requirements may change over time, so consult a professional before applying. Feel free to reach out to Viv Europe for questions, concerns, and guidance!
While you're preparing for the big move, check out our Facebook Group – All About Portugal For Expats. Read other expats' stories and ask them questions. You'll find numerous others who made the same decision you're about to make!