Last Updated on March 25, 2022 by Letícia Melo
When looking for a nice place to retire, Portugal always comes into people's minds, and the reasons are quite obvious nowadays. Do you want to know why Portugal is so popular among retirees? Let's check ten reasons why you should retire in Portugal. We're pretty sure that the 10th reason will blow your mind.
If you plan to enjoy the best of Europe in a single country don't skip this article as we'll show a concise list of reasons (believe me, we could list many more reasons) why retiring in Portugal may be a good idea.
So, without further ado, let's begin.
10 reasons why you should retire in Portugal
1. Excellent weather
If you had the chance to live in countries like the UK, Ireland or even France, you will understand why having good weather is an important factor for expats. And also know why people from these countries choose to retire in Portugal.
Portugal has an average of more than 300 sunny days a year. That means you'll be able to enjoy having a nice walk across the beaches for more than one-third of the year. Isn't that nice?
Portugal is situated in southwestern Europe, in the Iberian Peninsula.
This country has approximately 92 thousand km² and is bounded to the south and west by the Atlantic Ocean and the north and east by Spain.
That means that even hot summers are not that hot, especially in the coastal regions.
This country's average temperature revolves around 20°C as presented in the table below:
Western Coast
Month
Air
Sea
Jan – Mar
17.1 °C
(62.8 °F)
14,9 °C
(58.8 °F)
Apr – Jun
21.8°C
(71.2 °F)
17.5 °C
(63.5 °F)
Jul – Sep
26.3 °C
(79.3 °F)
19.5 °C
(67.1 °F)
Oct – Dec
17.2 °C
(53.0 °F)
16.1 °C
(60.0 °F)
Southern Coast
Month
Air
Sea
Jan – Mar
17.0 °C
(62.6 °F)
15.9 °C
(60.6 °F)
Apr – Jun
22.4 °C
(72.3 °F)
19.4 °C
(66.9 °F)
Jul – Sep
27.3 °C
(81.1 °F)
22.6°C
(72.7 °F)
Oct – Dec
17.7 °C
(63.9 °F)
17.0 °C
(62.6 °F)
So, what does that mean? A very pleasant feeling during the whole year, especially if you live in the south region.
Put on your swimming suit because Portuguese beaches are waiting for you. Talking about beaches. If you're the kind of open-minded person that enjoys each moment to the fullest, take a look at our article: The best nude beaches in Portugal to visit in summer.
Ok, but beaches don't come along with rain, right?
If you live in the northern region, such as in Porto, Braga or Viana do Castelo, you will see lots and lots of drops of water, especially in the period between October and February. No wonder why Braga is called the potty of Portugal.
On the other hand, you will hardly see any rain at all during the rest of the year.
If you move south, you will face less rain and the temperatures are less extreme. That's why the Algarve region is one of Portugal's most desired places to live on earth.
2. Tax Benefits
Portugal and tax benefits (for expats) come hand in hand. Why's that?
This country has one of the most desired tax regimes for expats: the all-famous Non-Habitual Resident Tax Regime.
In short, if you're an expat and move to Portugal you'll be able to apply for this regime (but only if you do it quickly, as your deadline is next year's March 31th).
This regime grants the newly resident some of the most desirable tax benefits in the world, that comprises:
A 10% flat tax rate on most of the incomes originated outside Portugal.
A 20% flat tax rate on most incomes obtained in Portugal.
Keep in mind that your income tax rate can reach an incredible 48% if you don't apply for the NHR regime, although most Portuguese people pay a 23% tax rate.
Check below Portugal's current tax rate table:
| | | | |
| --- | --- | --- | --- |
| Taxable income (EUR) – Over | Taxable income (EUR) – Not Over | Tax rate (%) | Deductible amount (EUR) |
| 0 | 7,112 | 14.5 | 0 |
| 7,112 | 10,732 | 23.0 | 604.54 |
| 10,732 | 20,322 | 28.5 | 1,194.80 |
| 20,322 | 25,075 | 35.0 | 2,515.63 |
| 25,075 | 36,967 | 37.0 | 3,017.27 |
| 36,967 | 80,882 | 45.0 | 5,974.54 |
| 80,882 | | 47.0 | 8,401.21 |
When you start reading about the NHR questions will rise, I can guarantee that. That's why a good FAQ about the Portuguese tax system can be your best friend when studying the Portuguese tax system.
3. The most beautiful locations
Green areas, mountains, and even snow can be easily found in Portugal. Don't we all agree that retirees should spend most of their time enjoying beautiful landscapes?
Yes, Portugal is a small country that hides small little secrets such as paradisiac Peneda-Gerês. You can even find those very relaxing natural pools such as those found in Poço da Gola and Lagoas da Serra d'Arga.
So, guess what country is on the CNN list about the 40 most beautiful countries in the world?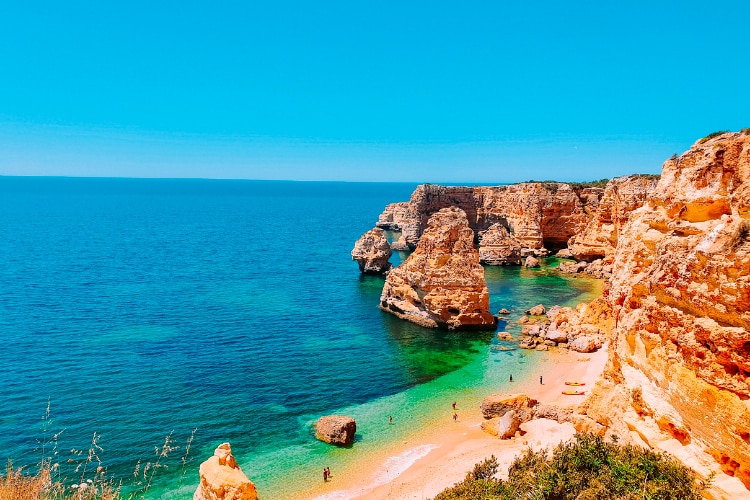 You can find some of the most fantastic green places in Portugal, such as:
Alvão natural park
Douro International natural park
Serra da Estrela natural park
Serras de Aire e Candeeiros natural park
Sintra-Cascais Natural Park
Gardens of the Queluz National Palace, Sintra
Estrela Gardens, Lisbon
Southwest Alentejo and Vicentina Coast Natural Park
The golden Algarve coast
Did I mention you'll be blown out by the outstanding Douro and Tagus rivers? After all, to retire in Portugal, with such beautiful places, isn't that hard.
4. Nicest people in Europe
Portuguese people are some of the nicest people on the planet. Believe me, I'm also an expat who has lived in other countries before.
Once I needed to find witnesses to comply with the formalities to issue my residence statement. Believe me, two very friendly people that I met on that same day volunteered to be "lucky ones". Such a relief for me.
This is just one example among many other situations where Portuguese people saved my day.
If your neighbor is Portuguese, you're a lucky person. They will probably consider you as family.
There are some nuances among people from the north and south of the country, rural areas or big cities, etc., but overall they're all such nice people. It really made my relocation experience much easier.
When you're retired, you're looking for peace of mind, good people to chat with, and feel part of the community. That's why Portugal is the best place to make good and lasting bonds.
Read also: Expat family in Portugal: how to make adaptation easier for everyone.
5. Good food and good wine
Bacalhau (codfish), Arroz de Sarrabulho, egg-based desserts of all types. When you arrive in Portugal be sure you will gain some pounds.
Portuguese cuisine is simply delicious. It's a heavy type of food that will make your stomach smile.
Portuguese regional dishes include:
Lots of meats, especially in the north region, such as pork, beef and chicken.
On the coast you'll find the most delicious seafood, such as many types of fish (such as the famous Portuguese codfish), lobster, shrimps, prawns, octopus, and scallops.
Vegetables and legumes from all sorts and types.
The most delicious desserts, mostly egg-based.
Yes, I'm a fan of Portuguese cuisine.
In terms of types of restaurants, you will find:
Traditional Portuguese restaurants, normally associated with good traditional food.
Tasquinhas where you can find the most regional and family made food. This kind of place is spread throughout the country. It's a good and cheap option.
The tabernas, a place that serves small portions of traditional food along with lots and lots of wine and beer.
You will be well served when you come to retire in Portugal.
6. Low cost of living
Portugal is one of the most affordable countries in western Europe.
It's commonly known that Portugal's economy is not that strong compared to the Spanish, French, or Germany. But on the other hand, you will also find some good reasons to choose Portugal as your destination country.
Check below a minimal wage comparison between Portugal and other European countries.
| Data | Hourly | Monthly | Annually |
| --- | --- | --- | --- |
| The minimum wage in Portugal | 4.40 € | 705€ (12+2) | 9,870 € |
| EU average minimum wage | 6 € | 967.41 € | 11,608.92 € |
| The average salary in Portugal | 12.12 € | 1,940.54 € | 27,167.60 € |
| EU average salary | 19.26 € | 3,082.72 € | 36,992.70 € |
That's why Portuguese people always look for good and affordable options for everything.
Recently the Portuguese economy has grown a lot due to the conditions that this country has offered for expats and big companies.
Therefore, especially in the Lisbon area, the prices have also been impacted by this change, which means a more expensive cost of living compared to other Portuguese regions. See also the cheapest cities to live in Portugal on another article.
7. Safe streets
Portugal is widely known for being a safe country. Another great reason why anyone should retire in Portugal.
According to the 2021 Global Peace Index, Portugal is the 4th safest country in the world and the 2th one among the European Union countries.
Of course, you need to always be vigilant. As Portugal grows as a developed country it's expected that crimes will follow this trend.
But the Portuguese government has been doing a good job in preventing certain types of crimes, especially violent ones.
You can check below the Portuguese crime rates between 1990 to 2020, according to MacroTrends research: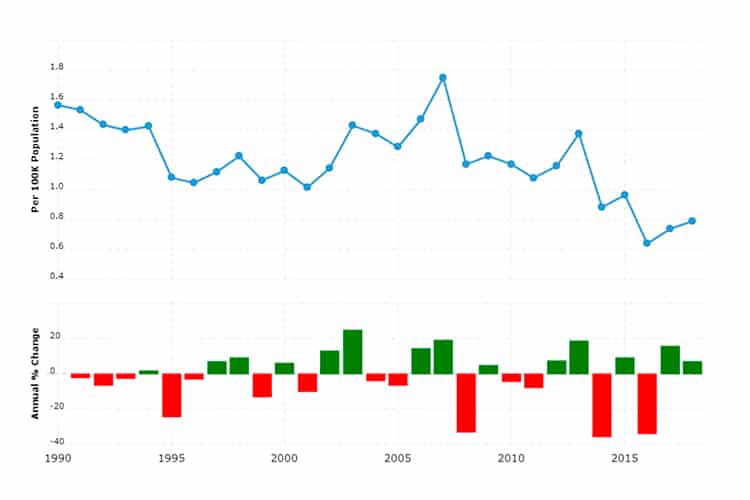 As an expat I was afraid to take calls on the street, or to drive in places that are not so bright, but little by little our confidence grows and you forget what it is like to live in a dangerous place.
8. Healthcare
Healthcare is definitely an important topic for pensioners.
Everyone should be confident that, if something happens, they'll have the required medical treatment they expect. Luckily, Portugal offers high-quality and cheap (often free) public healthcare.
Moving to an affordable country with nice people would be nothing if the public health system wasn't good enough.
So, here comes the question: What expats need to know about the Public Health System in Portugal?
You need to obtain your Numero de Utente to have access to the public healthcare system;
Even if you're an expat (with your Residence Permit) you'll have access to the public health system;
You will be appointed a family doctor to be your personal physician;
Before being treated with a specialist doctor, you need to have a consultation with your family doctor;
Public hospitals and clinics are of high standard;
You can rely only on the public healthcare system to deal with your health situation.
Keep in mind, however, that some expats also decide to have private health or travel insurance to avoid having to wait for treatment.
It's true. The public healthcare system is incredible, but you may need to wait for a while to be consulted, as you must consider the service vacancies.
But what are the best public hospitals in Portugal? Below you can find a list:
So, especially in Lisbon and Porto, there are a wide variety of hospitals in case of need.
9. Large expat community
Portugal became popular, that's the reality.
Many are the aspects that made Portugal reach this standard, some of which were already mentioned in this article.
The recent efforts to make Portugal a country so sought after by those looking for a career in the IT sector have also aroused the interest of those working in the field.
Below you can find the list of the biggest expats communities in Portugal (updated in 2018):
Brazil: 105,423;
Cape Verde: 34,663;
Romania: 30,908;
Ukraine: 29,218;
United Kingdom: 26,455;
China: 25,357;
France: 19,771;
Italy: 18,862;
Angola: 18,382;
Guinea-Bissau: 16,186;
Spain: 14,066;
Germany: 12,817;
India: 11,393;
São Tomé and Príncipe: 9,153;
Mozambique: 3,005.
Even though this is the most updated data related to expats in Portugal, since Brexit took place we saw an increase in the number of British people moving to this country.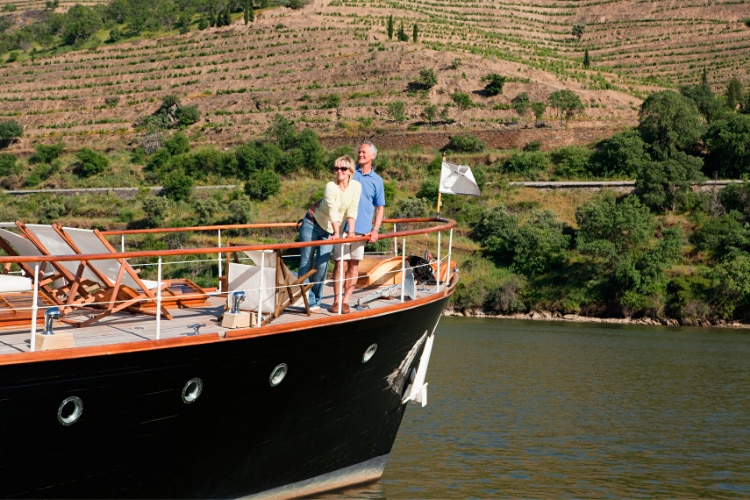 A noticeable consequence of the increase of expats in Portugal is the increase in the number of people speaking English. Nowadays you can easily find people speaking this language on the street, be it in Lisbon, Porto and especially in the Algarve.
We can also find a quite relevant community of Americans who chose Portugal as a destination. Just type on Google "how to move to Portugal from" and check out the most researched terms.
The American community discovered Portugal quite recently and is definitely enjoying living there.
10. It's easier to get a Residence Permit
If you compare Portugal with other countries such as Spain, France, and Germany, you will find that the visa application process to Portugal is the easier one. And so it is to obtain a Residence Permit.
One of the reasons for this scenario is that the local government encourages people to move and retire in Portugal.
More people living in Portugal means, after all, more commerce and, therefore, more jobs and a stronger economy.
Obviously, only those who comply with the visa procedure can legally reside in this country and, therefore, enjoy Portugal to the fullest.
Don't forget, living in Portugal for 5 years can also grant you Portuguese citizenship.
Are you ready to retire in Portugal?
So, if you have already chosen Portugal as a destination, just contact Viv Europe. We will assist you with everything related to your move.
And if you're interested in knowing more about life in Portugal, make sure to like us on Facebook and join our group. Our expat community is always sharing new experiences about living in this beautiful country. Join us, and we'll see you in Portugal.