Last Updated on September 12, 2022 by Laila Oliveira
Before you start packing your bags, consider doing one last step and checking the average temperatures during your stay. Even if you've heard of the everlasting pleasant weather in Portugal, it's always best to be fully prepared on your end. 
The country is already super famous for having one of the best climates in Europe, with moderate temperatures and a cool breeze lightly touching your skin. But a question pops up when you hear about climate change all over the world – is the weather still as pleasant as it used to be? 
This article will tell you all about the weather in different cities; the average temperature, rainfall, days of sunshine, and what each season is like. Keep reading to know the best time to visit Portugal for holidays and what it's like to live here as an expat. Happy reading!
What is Portugal's climate like?
If you're visiting Europe's oldest state, it may come as a surprise to you that the weather in Portugal is considered to be varied from North to South. 
What if we tell you that you can bathe in the sun and ski on the mountain tops a few hundred kilometers towards the North? Unbelievable right? But true nonetheless. Portugal has a Mediterranean climate, like Greece and Spain, and is influenced significantly by the Atlantic Ocean. This means that the country is met with warm, dry summers and mild, wet winters.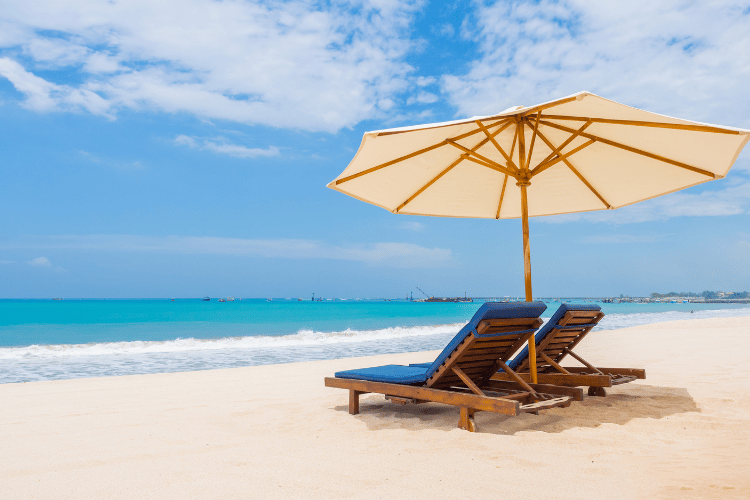 The northern side usually has a cool climate with frequent spells of rain, while the southern side is generally more warm and sunny.
The north central region has sky-high mountain ranges, the highest of which is Serra da Estrela, which gathers large crowds in the winter. Each of Portugal's cities has a unique climate altogether – meaning you are bound to find a place with a climate that best suits you! The weather in Portugal sure does not disappoint.
Weather in Lisbon and surroundings
Tourists have a great fondness for Lisbon, particularly because it's economical, exciting, and most of all, it has a lovely climate. You can expect hot, dry summers and mild winters in the capital of Portugal. 
This makes it a great opportunity to have fun at the beach, sunbathe, and enjoy the high tides. The temperature generally ranges from 8°C to 29°C in the capital city. Truth be told, Lisbon has the warmest winter nights out of all the other major European cities. This is a plus point if you like midnight strolls with pleasant breezes.
If you wish for a short getaway to escape the city's heat, you can opt to go to Sintra forest. This is a popular point for Portuguese families to spend some leisure time with their loved ones. The evergreen forest has relatively cooler temperatures in the summer, along with cultural offerings that everyone can experience. 
Weather in the Algarve
Algarve is home to some of the best beaches in the country, with a warm microclimate and the lowest cost of living in Western Europe. The region gets around 3,300 hours of sunshine annually, making it a top summertime destination. It's also regarded as a great winter retreat for those looking for a getaway from Northern Europe's freezing cold. 
Algarve is known to have the best climate in all of Europe. It gets the sunniest days along with prevailing winds. The region is hardly ever humid or unbearably scorching. The temperature ranges from 15°C to 32°C. Don't forget to pack your shorts and tank tops to enjoy the Algarve. Over here, you will typically find savannah-like topography with rocky beaches on the coastline, waiting to be delved into.
Weather in Porto and North
Porto is known to be one of the wettest cities in Europe, with a Mediterranean climate. It's met with frequent rains and heavy showers throughout the year, particularly in winter. The region still looks breathtaking under the stormy skies. 
The temperature ranges from 6°C to 24°C during this time period. Make sure to grab your umbrella and a raincoat if you step outside your home. The city also faces warm and dry summers. Due to low humidity, even Porto's hot summer is pleasant.
Cities in the northern region like Braga and Viana do Castelo are met with wet, cool winters and dry summers. The chilly climate gives you the perfect excuse to cozy up with a bowl of Caldo Verde, a traditional vegetable soup usually devoured in wintertime.
August is the warmest month, with January being the coldest and December the rainiest. You can visit these ancient cities in July if you wish for a drier climate. 
Weather in the Alentejo region
A coastline of beautiful seashores, bright sunflower fields, tall oak trees, and tranquility – these are what make Alentejo the glorious region it is today. It has hot and dry summers along with dry winters, making it a home for various expats. 
Inhabitants here can mostly be seen indulging in a friendly game of golf, surfing the high waves, and savoring succulent Sardinha Assadas (Barbecued Sardines) in the beaming twilight.
Temperatures in this particular region vary between 7°C to 35°C. This area is known for its luscious flower range. There's a huge flower festival that also takes place, showcasing the fresh, aromatic flowers adorned in Alentejo. 
Weather in Central Portugal
Central Portugal is home to some notable landmarks such as the renowned University of Coimbra and the highest mountain top, i.e., Serra da Estrela. The climate here is relatively more hot and dry than in its counterpart regions. 
From pine forests and glacial valleys to wine tasting spots and home town of Portugal's acclaimed Serra da Estrela cheese, central Portugal is bound to give you an enriched experience. Summertime makes a great surfing spot at Ericeira, while spring brings out a surge in vegetation like lemon trees. Exploring the heart of Portugal is something we highly recommend!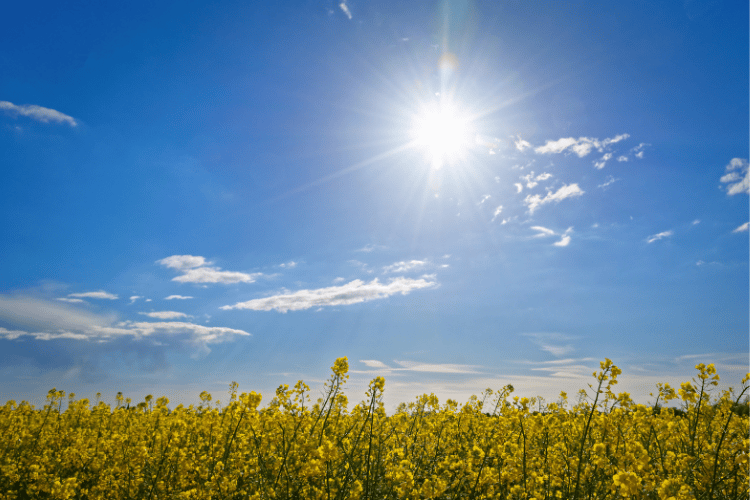 Weather in Madeira
Hometown to renowned football star Christiano Ronaldo, Madeira Island has a lot more to offer. With a tourist population of 1.4 million yearly, the locality has a subtropical climate. This makes it a great place to enjoy the weather throughout the year. 
Madeira Island owes its beauty to its gorgeous landscape, evergreen vegetation, and crystal-clear waters. This makes the visitors fall in love with the place as soon as they see it. The warm hospitality adds a cherry on top. The temperature varies from 25°C to 13°C throughout the year, with around 90 days of rain. 
Weather in the Azores
This may come as a surprise to you, but the weather in main Portugal is quite distinct from the weather in the Azores due to its oceanic atmosphere. The Azores is classified as an untapped wild land with volcanic craters, aquamarine lakes, and dairy farms. The landscape is known to have a way of life that is devoted to both land and sea. 
The temperature here ranges from 16°C to 23°C during the year. If you're lucky, you may even find whales here, so stay on the lookout! Islands like Terceira and São Miguel are greeted with large crowds of natives and tourists every year due to their tranquil meadows and beautiful lagoons. 
What is Portugal's climate average?
Now that you know what the weather feels like, let's give you some data to look at. We've combined some temperature and rainfall averages for the regions expats seem to love the most. 
Let's take a look one by one!
The temperatures
Take a look at the average temperatures of the weather in Portugal for some of the most renowned regions:
Data
Lisbon
Porto
Algarve
Madeira
Azores
Maximum temperature
27 °C
(80.6 °F)
26 °C
(78.8 °F)
28 °C
(82.4 °F)
21.2 °C
(70.2 °F)
23 °C
(73.4 °F)
Minimum temperature
9 °C
(48.2 °F)
6 °C
(42.8 °F)
11 °C
(51.8 °F)
13 °C
(55.4 °F)
13 °C
(55.4 °F)
Data is from Climate Data.
Average rainfall
Although it doesn't rain a lot, here is the average rainfall for some of the most renowned regions in Portugal.
Data
Lisbon
Porto
Algarve
Madeira
Azores
Average Rainfall
49 mm
(1.9 in)
107 mm
(4.2 in)
41 mm
(1.6 in)
49 mm
(1.9 in)
84 mm
(3.3 in)
Average Humidity
74%
76%
69%
73%
78%
Data is from Climate Data.
How many days of sunshine?
Want to know a fun fact? Portugal gets around 300 days of sunshine on average. Mind-boggling, right? This depicts that the weather is generally pleasant throughout the year. Summertime does not involve scorching heat and is rather enjoyable.
The Portuguese love to reap the benefit of this weather by sitting at a cafe, sipping on coffee, while the golden sun warms up their soul. A vibe you definitely don't want to miss out on. 
Does it snow in Portugal?
Unlike other European countries, Portugal receives little to no snow in the winter. It only snows on the highest mountain top, i.e., Serra da Estrela, in Northern Portugal.
Apart from that, it hardly ever gets below freezing point, and lakes and rivers freezing has never occurred. This is a pro for tourists and the inhabitant as one can thoroughly enjoy the weather without having to worry about getting frostbite!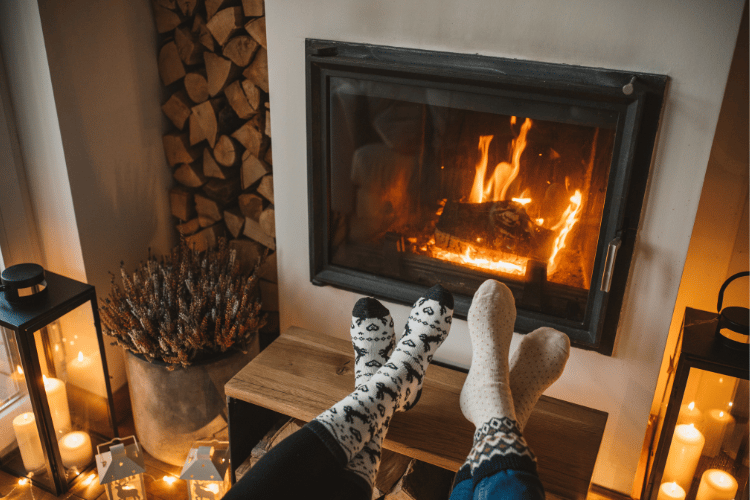 The seasons in Portugal
From high tides to blossoming trees, every season in Portugal brings a special essence. The weather in Portugal primarily consists of hot and dry summers with cold and wet winters – an optimal climate providing lots of opportunities for an outdoorsy lifestyle. 
It is primitive to take note that the seasons in Portugal aren't synchronized with those in Brazil. Hence, if the sun is blazing in Brazil, the breezes are fairly chilly in Portugal. The country is also met with famous cultural and music festivals that attract large crowds from around the world in the Portuguese nation. These festivals take place during the year, depending on the season. 
Summer
The much-anticipated summertime normally ranges from June to September, involving glistening beaches, refreshing sea breezes, and radiant sunshine. Seasoned surfers are seen hitting the colossal waves.
This season typically has an average temperature of 30°C, with 20°C being the lowest and 40°C the highest. Sunscreen and sunglasses are your go-to essentials if you wish to beat the heat!
Make sure not to miss a dip in the pools of Leça da Palmeira, located on the North coastline. These tidal pools are seamlessly curated to blend with the beach's natural landscape, giving a chance to savor the scenic beauty of the seashore. 
Moreover, the Portuguese are usually seen migrating to the Algarve beaches during this time, located in the Southern region. If you prefer to enjoy a more peaceful summertime, it is recommended to go at the beginning of July or September. These are considered more tranquil periods of the season.
Spring
The icy-blue Scilla flowers and blossoming pink peonies embellished in the regions of Portugal are a sight you absolutely cannot miss. With a beautifully curated view of native flora, the weather is greeted by pleasant breezes – perfect for a nice walk in the open air!
The spring season is regarded as mild, with temperatures ranging from 11°C to 20°C. It usually makes its way by March 20 and lasts till June 21. Golfing and hiking are some of the activities enjoyed during this lovely time. 
Portugal is home to some of the widely acclaimed music festivals that take place during the year. If you are a fan of rock, alternative, or even classical, Portugal has it all! You can relish the essence of music at the NOS Primavera Sound Festival in Porto, Rock in Rio Lisboa in Lisbon, and Viseu Spring International Music Festival in Viseu.
Fall
Fall, more commonly known as the "wine season," is another great time to visit Portugal. Hues of crimson and burnt orange with dropping temperatures and roasted chestnuts form a cozy atmosphere. It's the perfect time to wander the streets and sip earthy wine while the sun sets on the horizon. 
Autumn here typically commences on September 21 and lasts till December 20. The days gradually get shorter, making more time to enjoy the frosty evenings. Temperatures range between 17°C to 24°C and may even drop to 10°C in the higher regions, so make sure to bring a jacket for those chilly nights!
Numerous farms in the country welcome people from all over the world who wish to experience real winemaking or "vinification." You can harvest the grapes to crush them to taste the exquisite blend of flavor you just created. Taste some of the most delectable wines Portugal has to offer and enrich your experience!
Winter
As temperatures begin to plummet during this season, rain seems to be constant, creating a chilly ambiance. On certain days, one can encounter light storms and strong winds during this time. Hence, make sure to carry an umbrella or a raincoat whenever you step out.
Winter time starts from December 21 and continues till March 20, with temperatures ranging from 8°C to 14°C. Temperatures drop below zero in mountainous points like Serra da Estrela, making it a popular place to enjoy the snow. The region has many hiking trails that Portuguese families reap the benefit of during this time. 
If you are not a fan of the cold, you can always turn on your heater, stock up on some luscious wine, and warm up! You can also visit the Algarve and Madeira coasts to escape the chills of Lisbon and Porto. Algarve and Madeira tend to have a milder climate with more sunny days.
Holiday seasons in Portugal
Here's a list of some popular holidays during different seasons in Portugal:
These holidays bring tons of joy and a feeling of togetherness between family and loved ones during every weather in Portugal. Easter is a widely devoted celebration held in spring. It's the perfect occasion to fill your belly with chocolate almonds and eggs that are decorated with multicolored hues. 
The Santos Populares Festival is a highly awaited celebration for the summer that commemorates the three saints; St. Anthony, St. John, and St. Peter.
Fall is awaited for the popular Saint Martin's Day, which takes place on November 11. A large gathering takes place with a blazing bonfire, merry singing and dancing, roasted chestnuts along with Água-Pé. 
Halloween is celebrated on October 31, when you'll find a few trick-or-treaters knocking on your door. Christmas, or Missa do Galo, is a joyful time spent with friends and family adorning a Christmas tree, indulging in some Bolo Rei, and exchanging presents. 
When is a good time to visit Portugal?
The best time to visit Portugal is whenever you're ready! Quite honestly, the weather in Portugal is always pleasant, and tourists love to spend their days here no matter what time or month it is. The different seasons are hardly ever a reason to stay away from this peaceful country. 
Of course, people come to Portugal in flocks during summer break from May to August is pretty popular among tourists. It's especially popular among those living in colder regions of the world or those that like to relax on a beach while on vacation. 
You can also ask expats what they think of living here and which season is the best time to visit. Our Facebook Group – All About Portugal For Expats, was made to make life easier for expats looking to relocate and those who have already relocated. We've helped bring 8,000 people closer to living their dream life here! 
If you need any help with your visa application or finding the right property, you can rely on Viv Europe and our experts. We've helped many families before you and would love to make your dream a reality. Contact us now and tell us how we can help.