Last Updated on May 4, 2022 by Letícia Melo
Portugal is getting so much attention now more than ever among travel communities and also those looking to retire in an affordable country. Portugal has quite a long list of advantages but quality, and affordable living happens to be at the top of the list.
For those looking to immigrate to Portugal, buying a house is a dream. However, for the past couple of years, the real estate industry has changed quite a bit, and also due to the pandemic, house prices have also gone up significantly.
Nonetheless, it is worth mentioning that Portugal has plenty of other affordable areas where you can buy a house, that it is not possible for us to mention them all in this article.
So this post is focusing on the top 5 areas to buy property in Portugal. Also, we are going to let you in on the benefits of buying property in these regions as well.
Let's have a closer look!
What are the cheapest areas to buy property in Portugal?
As an expat in Portugal, we reckon that it can be quite difficult for you to identify the regions that are cheap as far as real estate investment is concerned.
So in an effort to point you in the right direction here is a rundown on the 5 cheapest areas to buy property in Portugal
Central Portugal and the Silver Coast
The Silver Coast and Central Portugal are among the many places that often fly under the radar of most tourists and expats.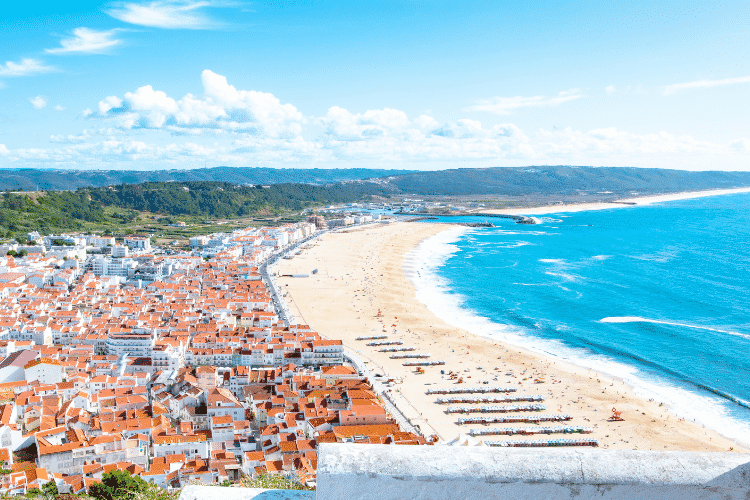 Often referred to as the "Costa de Prata", it is a long stretch of old coastal towns that largely remains unexplored.
The rugged coastline with clean sandy beaches is just the perfect space for a lot of water sports.
When it comes to real estate prospects, this particular region is home to three districts that remain to be among the most affordable places to buy property in Portugal. The three cities include: Aveira, Coimbra and Leiria.
To put it into perspective, in the Coimbra district, the average cost of property is 1,217 €/m2 as compared to other major cities like Lisbon where the price per square meter is 3,773 euros as per data from Idealista.
| District | Price per m2 |
| --- | --- |
| Aveiro | 1,468 €/m2 |
| Coimbra | 1,217 €/m2 |
| Leiria | 1,320 €/m2 |
Alentejo
If you are looking for a tranquil place to settle away from the hustle and bustle of the major cities in Portugal, then Alentejo might just be the place for you. 
The long plains and the medieval castle is where tradition meets nature in Portugal. It is only recently that the world is noticing how beautiful this region is and expats are getting interested.
One unique factor about Alentejo is that it is the region with the lowest population density in Portugal.
Real estate prospects are great in Alentejo thanks to the recent changes in the Golden Visa program. Here is a breakdown of the cost of buying a property in the different districts in Alentejo.
| District | Price per m2 |
| --- | --- |
| Santarém | 872 €/m2 |
| Portalegre | 581 €/m2 |
| Évora | 1,121 €/m2 |
| Setúbal | 2,029 €/m2 |
| Beja | 826 €/m2 |
Northern Portugal
The northern part of Portugal is among the most populous regions in the whole country. The second-largest city of Portugal, Porto, is home to a majority of the population in this part of the country. Buying a house in Porto is a common profitable real estate investment.
However, other than Porto, there are other towns in Northern Portugal that offer plenty of opportunities for cheap real estate investment.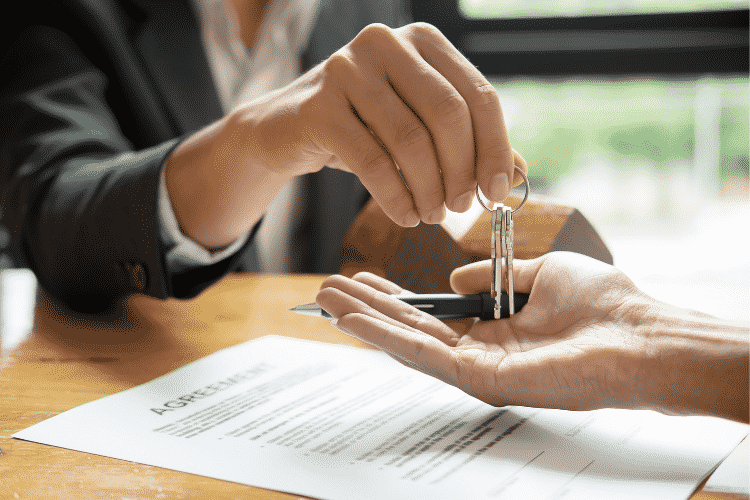 Data from Idealista shows that the average price for property in the northern region of Portugal is 1,962 €/m2.
Madeira
This autonomous region of Portugal easily qualifies as one of the most attractive regions in the country. Living in Madeira is without a doubt a privilege.
It is home to some of the most beautiful landscapes and is eventually getting the recognition it deserves.
This tropical island right in the middle of the Atlantic ocean has so much to offer to expatriates.
It is among the least expensive places to live with an easy pace of life. The real estate industry in this region of Portugal is doing quite well.
In fact, real estate prices have risen by 17.4% in the past 2 years. Here is a breakdown of real estate costs in the popular neighborhoods in Madeira.
| Town | Price per m2 |
| --- | --- |
| Câmara de Lobos | 1,726 €/m2 |
| Funchal | 2,270 €/m2 |
| Ponta do Sol | 1,551 €/m2 |
| Calheta | 2,063 €/m2 |
Azores
Similar to Madeira, the island of Azores is found in the Atlantic ocean. The lush green hills and the iconic black volcanic sandy beaches are what make this region famous. Investing in real estate in the Azorean islands may also turn out to be very good.
The Azores archipelago is a paradise for nature lovers. The rugged terrain and beautiful scenery will give you so much to explore.
The 9 islands that make up the Azores are not inhabited by many people, the population is small with only 1.7% making for expatriates. Which may or may not be an advantage for those looking to live in the Azores.
There are plenty of opportunities for buying land and houses here! Here is a breakdown of property prices on this island.
| Island | Price of the sale of rustic property | Price of the sale of urban property |
| --- | --- | --- |
| Flores | €5,143 | €44,585 |
| Graciosa | €1,791 | €40,674 |
| Santa Maria | €4,736 | €57,522 |
| São Jorge | €6,108 | €40,882 |
| Faial | €2,679 | €75,969 |
Are the cheapest areas in Portugal any good?
Contrary to most beliefs, Portugal has so much to offer other than Lisbon, Porto, or the Algarve.
It is almost unbelievable how a relatively smaller country like Portugal is packed with so much beauty.
Having said that, investing in real estate in the cheaper regions in Portugal is absolutely worth it. In fact, you stand to benefit from Golden Visa Programs since most of these places are considered rural areas.
What's more, regions like the Islands of Madeira and Azores, give you quality slow-paced life away from the noise and busy city life.
Property is relatively cheaper and more investors are also getting interested in these regions. Here is a tip, if you want to get a real bargain in Portugal, focusing on the inland rural regions, everything is more affordable as compared to the city and coastal towns.
Are they better than the most expensive areas in Portugal?
Well, every region in Portugal has its fair share of challenges and also advantages. So it is not fair to make a blanket remark as to whether the cheaper regions are better or not.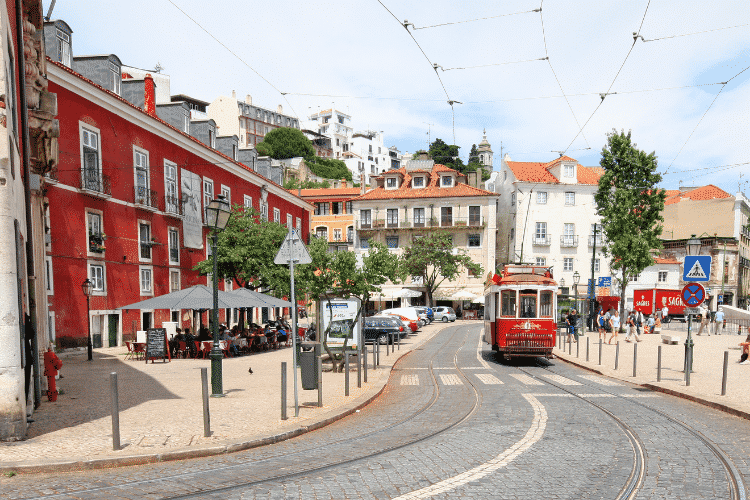 However, to put things into perspective, let's look at the major advantages and disadvantages of the cheaper regions to buy property in Portugal.
Pros of investing in the cheapest places in Portugal
Good future real estate prospects: With the new changes in the Golden Visa Program, a lot of investors are turning away from the major cities and looking to the rural towns. Also, the real estate industry is booming in Portugal as a whole, so it is likely that property will appreciate it significantly in the near future.
Overtourism is a real problem in major cities like Lisbon or Porto. These cities are too small to handle the volume of tourists that flock each summer. The peak of tourism months often causes a strain on the public resources (via Portugalist). Choosing to settle in the more inland and rural parts of Portugal will mean that you don't get bothered by too many tourists.
Affordable cost of life: The cost of living in the major cities can be quite high compared to the other areas. So if you are the frugal type, then the cheaper areas will make more financial sense for you.
Cons of buying property in the cheapest areas in Portugal
Return on your investment may take some time. Yes, it is true that there is an increasing interest in these regions because of the new Golden Visa program regulations. However, it is going to take some time for you to get a good return on your investment.
Can I apply for a Golden Visa by purchasing any property in Portugal?
The Golden Visa Program has been an incentive for several years now used to attract foreign investors to Portugal.
However, 2022 has seen some changes to this program that is meant to encourage foreign investment in the rural and densely populated regions of the country.
So it is no longer possible to qualify for the Golden Visa program if you choose to buy property in major cities like Lisbon, Porto, or the Algarve.
So in order to qualify for this program, you need to invest in real estate in the autonomous regions of the Azores and Madeira or any other inland region that is considered rural and with a low population density.
Is it worth investing in the cheapest areas to buy property in Portugal?
There are plenty of reasons why it is a good idea to invest in Portugal, whether it is in the cheap areas or in the cities.
The economy is slowly looking up and the country is also politically stable. Other than that here are a few other reminders of what Portugal has to offer:
Affordable cost of living
Quality lifestyle
Tax benefits for expats
Good weather all year round
A lot of attraction sites fit for tourism
So the choice of whether to invest in Portugal remains entirely up to you. Do your due diligence extensively and look at the pros and cons, it's only then that you will be in a position of making an informed decision.
Do you need help investing in real estate in Portugal?
If you are ready to invest in real estate in Portugal, then we recommend getting professional help.
The public system in Portugal has a lot of bureaucracies and it can be quite overwhelming for anyone new to the process.
Our team at Viv Europe, have been around the block a couple of time and have the right skill and knowledge to help you through the process.
Also, be sure to take a look at other blogs on our website and find out more about life experiences in Portugal.
Consider following our Facebook page All About Portugal for Expats for up-to-date information on events that are important to expat life in Portugal.