Last Updated on June 12, 2022 by Victor Queiroz
Choosing between Portugal's metropolis can be a tough call. We've been there, done that, and while it's difficult, the process is quite gratifying, to say the least. What starts from being a tough decision results in some beautiful memories along the way. Whether you choose Lisbon or Porto, we're sure you'll fall in love with Portugal either way!
By the end of this article, you'll have much more clarity on how your routine fits each city. Moving to any new city is a big decision; it can impact your job opportunities, living expenses, and overall lifestyle. We've kept everything in mind. Take a look at our guide for what kind of people live in each and whether that fits your preferences.
What it's like living in Lisbon
The capital of Portugal is a vivacious city! There are cafes full of laughter, streets buzzing with business dealings, and stunning beaches where you can unwind.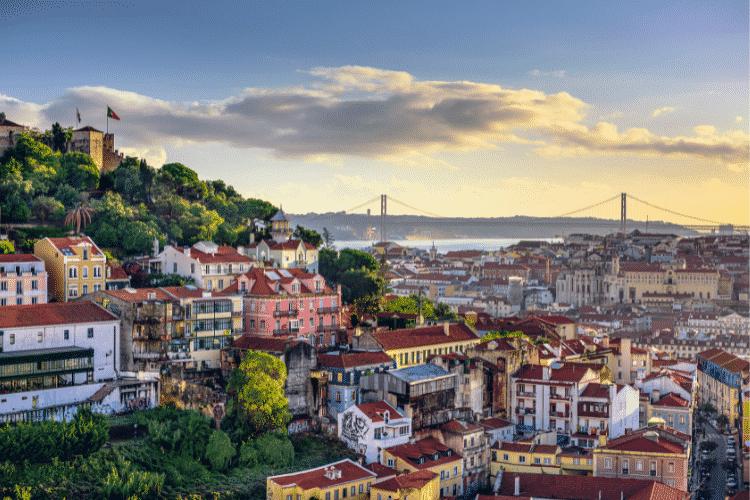 The city is a massive technology hub, so you'll find lots of coworking spaces all around. The readily-available public transport makes it easier to get around the city, which is great if your job requires that. But it's also great if you don't want to buy a car or drive, because Lisboetas often don't.
You'll also find many digital nomads sitting in a corner at a cafe, sipping some delicious Portuguese coffee. There's a rise in digital nomadism, and people in Lisbon are excited to make connections and work on unexplored opportunities.
Read Living In Lisbon and get a feel of an expat's point of view of the capital of Portugal!
What type of people are moving to Lisbon?
Perhaps one of the first questions that come to mind is, "How many people live in each city?". It's an excellent question! According to statistics, Lisbon has 517,802 residents, while Porto has almost half of that, with 249,633 residents.
An explanation for this population difference is the fact that one city is almost double in size of the other. Lisbon is approximately 100 km² in area, and Porto is nearly 41.42 km².
Coming onto the type of people living in each of Portugal's municipalities. Lisbon is home to some of the best technology companies and start-ups. So, it naturally attracts numerous business owners and entrepreneurs – 21% of the city's residents are expats like you.
People here have the highest purchasing power and educational qualifications in the country. If you're someone who prefers a developed city with business opportunities left, right, and center, Lisbon is for you.
What it's like living in Porto
Many expats describe Porto as a work of art, thanks to the picturesque River Douro and beautiful architecture. It feels like a small town, rich in culture and history, yet home to diverse communities from all over the world.
However, if you ask a local, they will probably tell you that people from the north of Portugal are the true hard workers of the country, with their many businesses. It's true that Porto has a strong economy and production, but it also has space for art and culture.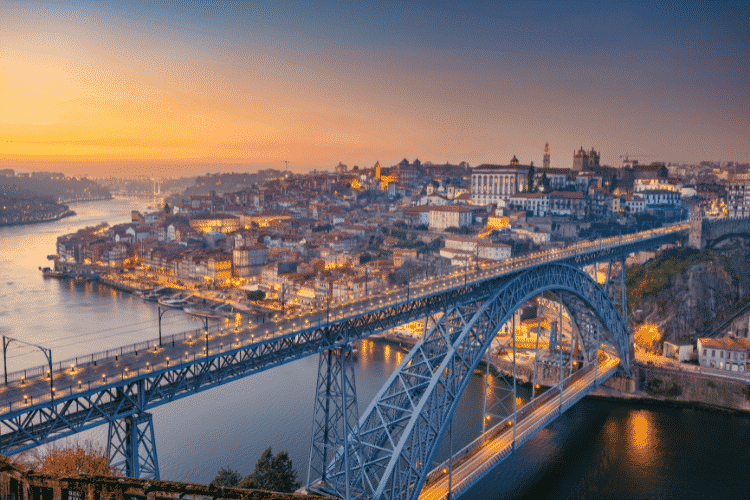 Porto is a great place to spend your nights having fun. There are concerts, malls, hip bars, and wonderful restaurants to keep you busy. Oh, and let's not forget the world-famous Port wine!
People in this city enjoy a calmer lifestyle in comparison to Lisbon. It's not as business-centric as Lisbon, but it still has some of the best workplaces.
Read Also: Living In Porto: See What It's Like To Live In The North Of Portugal. Discover what attracts people from all over the world!
What type of people are moving to Porto?
Porto is similar to Lisbon in many ways, but has its own essence and heritage. Home to many international communities, Pordata shows that 7.9% of the residents are foreigners. A big chunk of these Residence Permit holders were tourists who fell in love with views of the Douro River.
Alike that of the country's capital, Porto is the second-largest industrial and economic center in Portugal. The residents enjoy the perks of a developed city but at a lower cost of living than Lisbon.
The difference between Lisbon and Porto is the lower intensity of bustling in the latter. The type of people to enjoy Porto more have been those that value art, a digital nomad lifestyle,
With that being said, people are equally welcoming and warm whether you live in Lisbon or Porto!
Culture and things to do in each Portuguese city
Contrary to what you might think, it's not all work and no entertainment – even in the business hub! Portugal is full of tourists, especially in the summer, and with good reason.
There's much to explore, whether you like culture and history, art and music, connecting with nature, or shopping around town.
You can drive thirty minutes south of Lisbon to Costa da Caparica and enjoy Portuguese beaches to cool off. Or, if you're in Porto looking for some classical music with delectable food, be sure to visit Café Guarany.
The cost of living in Lisbon and Porto
You might've heard about Lisbon and Porto's expensive cost of living. But did you know it's drastically lower than many European and North American countries? Yes, that's true!
These are the two most expensive cities in Portugal, but one is relatively more affordable. Consumer prices, including rent, are 8.65% lower in Porto than in Lisbon because rent is 22.84% lower too. The difference in purchasing power isn't drastic, around 5%, but you'll be able to save more if you choose Porto.
However, it's important to understand that Lisbon also offers a lot of conveniences, like having an airport in the city. So, there are perks to both areas, of course with an added financial cost.
Here's a comparative table of expenses you're most likely to incur in Lisbon or Porto:
| Expenses | Lisbon | Porto |
| --- | --- | --- |
| Apartment rent (1 bedroom) in City Center | €850.67 | €686.18 |
| Apartment rent (3 bedrooms) in City Center | €1,729.04 | €1,253.46 |
| Groceries | €250 | €210 |
| Utilities (Electricity, Heating, Cooling, Water, Garbage) | €119.07 | €106.53 |
| Internet | €34.24 | €33.67 |
| Monthly Transport Pass | €40 | €30 |
| Gasoline (1 liter) | €2.02 | €2.03 |
Estimates are taken from Numbeo in May 2022.
Want to get a job? Explore the labor market in Lisbon and Porto
Landing a job in the top two business centers in Portugal isn't too much to ask for. There are many opportunities to explore, especially in the IT, Pharmaceuticals, Tourism, Digital Marketing, and Construction sectors.
Some of the best multinationals are also located here, such as:
Farfetch;
Capgemini Engineering;
Microsoft;
L'Oréal;
Deloitte;
The average wages range from around €1,400 to €1,700 in Porto and Lisbon, respectively. If you're interested in knowing more, we have a complete guide on Finding A Job In Portugal.
Real estate prices in Lisbon and Porto
Whether it's Lisbon or Porto, real estate is almost always high in demand. They sell like hotcakes, so you'll have to be very vigilant to find a suitable place for your needs.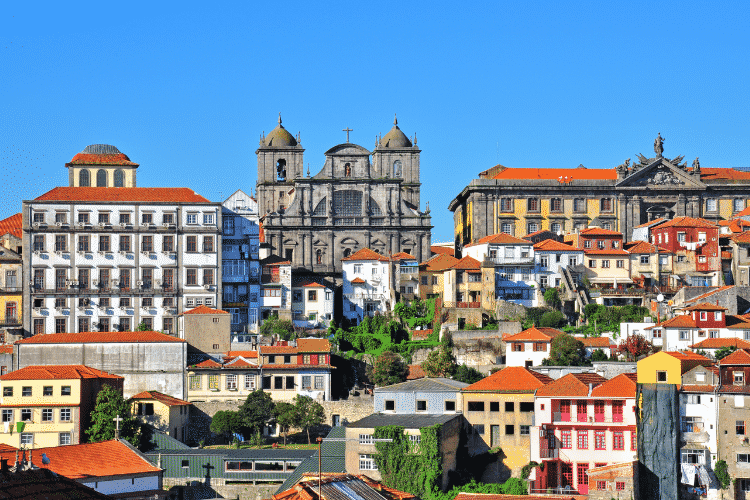 On top of that, the bureaucracy can get a little confusing. If you require any professional assistance with finding your new home, Viv Europe provides infallible Property Acquisition services.
The usual size of a one-bedroom apartment is around 60 m², which is suitable for two people. Below are the average prices for real estate options in both cities:
| Real Estate Options | Lisbon | Porto |
| --- | --- | --- |
| Cheapest Parish per m² | €3,197 | €2,399 |
| Most Expensive Parish per m² | €7,000 | €3,876 |
| Cheapest Parish per 60 m² | €191,820 | €143,940 |
| Most Expensive Parish per 60 m² | €420,000 | €232,560 |
Property prices are taken from the Portuguese real estate website; Idealista, in May 2022.
The weather in Lisbon and Porto
Portugal is known for its pleasant weather all year round. With 300 days of beautiful golden sunshine and moderate temperatures during winter, expats and locals love living here.
However, weather conditions like heavy precipitation can be a deal-breaker for some. So we've summarized a table with all you need to know about the weather in both cities:
| Weather | Lisbon | Porto |
| --- | --- | --- |
| Average temperature | 16.7 °C(62.1 °F) | 15.1 °C(59.2 °F) |
| Maximum temperature | 27 °C(80.6 °F) | 26 °C(78.8 °F) |
| Minimum temperature | 9 °C(48.2 °F) | 6 °C(42.8 °F) |
| Average Rainfall | 49 mm(1.9 in) | 107 mm(4.2 in) |
| Average Humidity | 74% | 76% |
The data was taken from the Climate Data website.
Should I move to Lisbon or Porto? How you can decide
Speaking from experience, let's break it down into three basic steps that helped us:
Step 1: Decide what it is you are looking for
We know you can never leave the love for your home country behind. But Portugal has a piece of your heart, doesn't it? Indeed there's something valuable you're chasing after.
What is it that will add value to your current life? A secure family-friendly neighborhood? Or a compact city with rich culture and traditions? Maybe a bigger cosmopolitan with like-minded entrepreneurs?
Knowing what you want and what you want to stay away from allows you to make better-informed decisions. There's something for everyone in Portugal, but you'll need to know what you're looking for.
Step 2: Go on a scouting trip to Lisbon and Porto
If you haven't yet had the chance to explore the beauty of Portugal's serene atmosphere, now is your chance!
No one else can choose the perfect city for you other than yourself. After you've identified what you're looking for, narrow down the options that fit your criteria list. For example, if you're on a tight budget, living in Cascais would be out of the question, right?
Similarly, there are so many neighborhoods to explore within Lisbon and Porto itself. There's Boavista, great for families; Massarelos, perfect for university students; and Bonfim, the coolest neighborhood in Porto.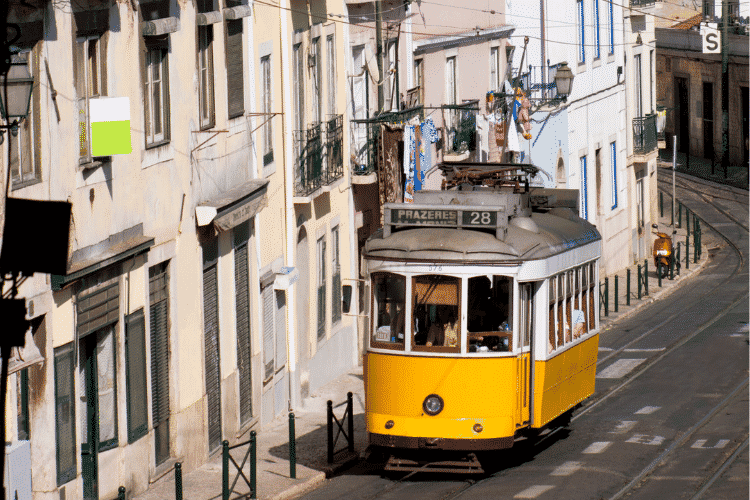 In Lisbon, there's the uber-modern Parque das Nações; Estrela, the calming and family-friendly neighborhood; or Saldanha, the central business district. So, you see, it's a good decision to go on a scouting trip and experience each area yourself.
Step 3: Compare how your routine fits in each city
The last step before making your final decision is comparing how your routine fits in each city. It might even be helpful to make a pros-and-cons list to help you out. Additionally, you can observe the kind of people living there and see if you'd fit in.
Portuguese people are incredibly welcoming and friendly, so don't be afraid to reach out for some one-on-one conversations! They can be very insightful. And don't worry, even if you don't speak Portuguese, many of them speak English as well. Keep reading till the end to know how you can connect to expats if you don't know anyone in Portugal.
Here's an example: If you're someone who values living near nature and parks, Ribeira in Porto might not suit you. Even though Ribeira is an excellent place to live and attracts many expats who love movement. Comparing your routine to fit each city will help you narrow down your list further.
It's time to choose your favorite Portuguese city
Which one is it going to be – Lisbon or Porto? It's now up to you to decide! By now, you should have some clarity pertaining to the differences between Portugal's metropolis. They're both marvelous options, but the final decision depends on your personal preferences.
In case you want to connect with people who've shared the same experience as you, we have something to help. Our Facebook Group – All About Portugal For Expats has a community of five-thousand people ready to share their experiences. Read their stories, ask as many questions, and share your thoughts!
And remember, our team of professionals at Viv Europe are always here to help you out. Contact Us now and kickstart your relocation journey.