Last Updated on October 25, 2023 by Laila Oliveira
As you approach your golden years, the allure of retiring abroad becomes irresistible. At the same time, it's essential to do thorough research to be confident that the country you choose mirrors your ideal retirement paradise. And you've come to the right place if you are thinking of retiring in Portugal. From Visa processes to healthcare, this article is the complete guide to your retirement journey.
With its mesmerizing coastlines, historic cities, and affordable living, Portugal beckons to those searching for a tranquil retirement. Let's embark on a journey that will ignite your imagination and help you make an informed choice for your post-work paradise. Happy reading!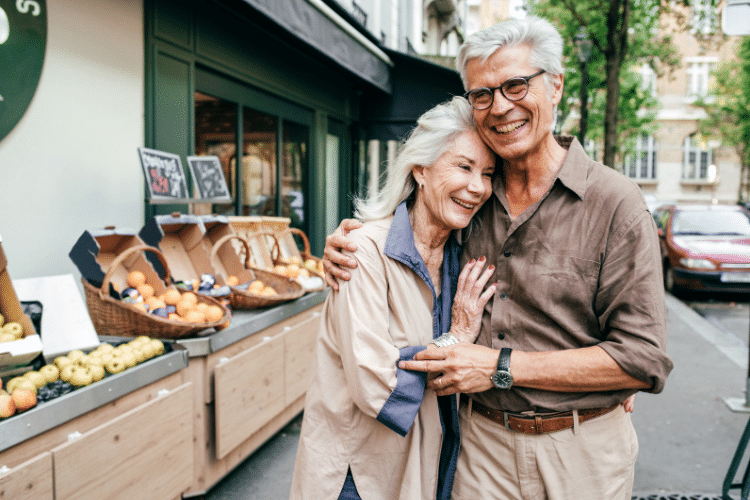 Why retire in Portugal?
Portugal's landscapes, rich history, and warm Mediterranean climate have made it a magnet for retirees. People love to bask in the sun-drenched shores of the Algarve or immerse themselves in the vibrant culture of Lisbon.
The country has specific tax and Visa schemes to accommodate expat retirees so they don't have to go through laborious legal processes. 
The D7 Visa is a special Visa for retirees with a passive income. It is for individuals who don't work but have investments or savings to support their living in Portugal. Almost all retirees relocate to Portugal on the basis of the D7 Visa. 
Living in Portugal on the D7 Visa means you get access to the renowned free public healthcare that is accessible to all legal residents. So rest assured that your health will be well taken care of. And you'll also have lots to do in your free time, such as music festivals, art exhibitions, and social clubs. 
Who can retire in Portugal?
Both EU citizens and non-EU citizens can retire in Portugal. EU citizens may have the upper hand as they have the freedom to move and reside within the EU without additional visa processes. This makes it straightforward to retire in Portugal.
But if you're a non-EU citizen, you can apply for a residence permit. Portugal has inclusive policies, so don't worry too much about the legal processes.
EU Citizens
You don't need a Visa or residence permit to move to Portugal if you're an EU citizen. Just remember to register at your local town hall for the Certificate of Residence. 
You can avail of Portugal's facilities like healthcare via your European Health Insurance Card. And since the country has tax agreements with many EU countries, your pension will be taxed under those.
Non-EU Citizens
Moving to Portugal will be slightly more challenging if you're not an EU citizen. You'll have more paperwork to submit and permits to apply for. For example, you'll need to submit a list of documents to apply for the D7 Visa. 
You may also have to apply for comprehensive health insurance. If this process is unclear to you, consult with Portuguese immigration authorities or your Viv Europe representative to properly navigate the legal requirements.
Continue reading to learn more about the Visa and application process to retire in Portugal!
How is the Visa process?
The passive income Visa, or the D7 Visa, is a popular choice among expat retirees in Portugal. If you have sufficient passive income, the Visa allows you to live in Portugal for an extended period.
Check out the list of documents you need to secure this Visa:
Proof of stable and regular passive income (pensions, investments, or rental income);
Bank statements;
Proof of health insurance;
Criminal record certificates;
Valid Passport.
You can even explore the Golden Visa and see if it works better for you. To apply for this, you need to invest at least €500,000 in Portugal. There are many ways to do so, and the most popular one for now is the Investment Funds route.
How is the healthcare for retirees in Portugal?
It'll interest you to know Portugal boasts a reliable and accessible healthcare system, with up-to-date facilities for a reasonable price. The healthcare has both public and private options, with the former being largely free. 
To access it, you simply need a Social Security number to be registered with your local health center. Be sure to have your Visa or residency permit on you. That would be the proof of legality and the key to getting your Número de Utente – user number for access to healthcare.
Also, the public health system covers emergency care, hospitalizations, and medications prescribed by doctors within the system. Some medical services, such as dental care and elective procedures, may require additional fees or private insurance coverage.
Your peace of mind during retirement is ensured thanks to affordable healthcare services and excellent medical facilities.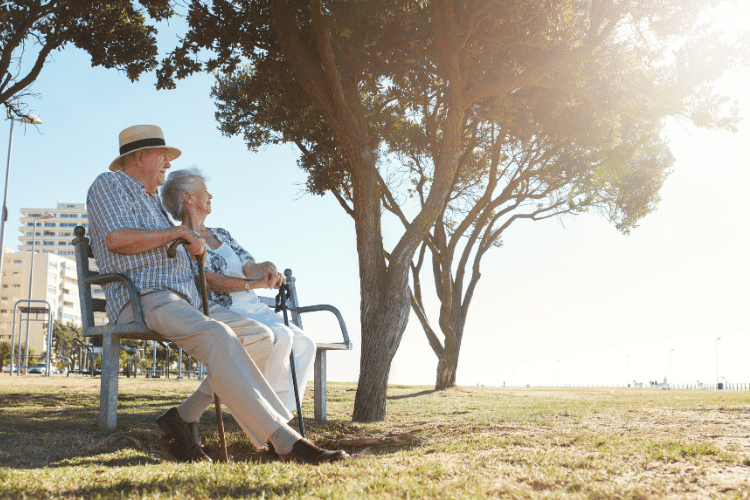 How much money do you need to retire in Portugal?
You don't need a fortune to retire in Portugal. The country is famous for being affordable, with property prices, groceries, and entertainment all being budget-friendly!
We'll give you a breakdown of how much you need per month, but this is different from what your Visa application will require. Your D7 Visa application will require you to deposit additional money as a safety net to prove means of subsistence. 
As far as living costs are concerned, keep reading to learn about the specific costs of living in the country.
The cost of living and housing
The cost of housing, as we all know, can depend on where you want to live. If you want to retire in Lisbon, you'll need significantly more money, But if you want to retire in the Azores, you'll need significantly less. 
If you take a look at The 15 Best Cities To Live In Portugal, you'll understand why Portugal is a growing retirement destination! But hey, don't expect boredom, empty streets, and no social activities here. The top cities for expats are full of color, excitement, and lots of fun things to do, even for expat retirees.
Here's an estimate of your main monthly expenses, which include rent, utilities, groceries, and public transport. The only thing that significantly varies according to location is the rent because even utilities and groceries are priced more or less the same everywhere. 
Take a look:
| Expense | Cost |
| --- | --- |
| Apartment (1 bedroom) in City Centre | €803 |
| Apartment (1 bedroom) Outside of Centre | €615 |
| Apartment (3 bedrooms) in City Centre | €1,337 |
| Apartment (3 bedrooms) Outside of Centre | €1,009 |
| Utilities | €108 |
| Groceries | €250 |
| Monthly Transport Pass | €40 |
Price estimates are from Numbeo (as of October 2023).
The cost of real estate
Many retirees decide to buy their own house; it's an investment worth making! 
Despite the popularity, you don't need to be a millionaire to make this wish come true. As you can see in the table below, the cost of real estate varies greatly. The most expensive area is Lisbon, followed by the Algarve, and then Madeira. 
All of which, by the way, are the top three destinations for retirees in Portugal!
But even then, you can secure really good deals if you search for a property in some of the lesser-known neighborhoods. If your plans are to do exactly that, getting help from a real estate expert will help save you time and money that you can use elsewhere.
| Area | Property price per m2 |
| --- | --- |
| Lisbon | €3,841 |
| The Algarve | €3,230 |
| Madeira | €2,704 |
| Porto | €2,457 |
| Azores | €1,571 |
| Silver Coast | €1,382 |
| Évora | €1,308 |
Price estimates are from Idealista (as of October 2023).
The cost of dining and entertainment
Apart from groceries, you'll want to dine out every once in a while. Portuguese culture doesn't promote dining out and ordering fast food, but we sure do love sitting in a cafe and spending time chit-chatting on a beautiful day.
Here are some expenses you'll incur if you're interested in dining out and staying busy with recreational activities:
| Expense | Cost |
| --- | --- |
| Three-course meal for 2 at a mid-range restaurant | €40 |
| McMeal at McDonald's | €7 |
| Imported Beer (0.33-liter bottle) | €2.23 |
| Cappuccino (regular) | €1.46 |
| Fitness Club | €34 |
| Tennis Court Rent (1 Hour on Weekend) | €11 |
| Cinema | €7 |
How is the banking system in Portugal?
The banking system in Portugal is connected through a network called Multibanco. This network system provides one of the most used and accepted methods in the country. But what does it mean for retirees in Portugal?
We'll walk you through the steps of figuring out the banking system as an EU citizen and as a non-EU citizen. 
So, a lot of banks will require you to be physically present when you're opening up a bank account. But that isn't the first step. The first step is getting your NIF Number, which is your tax identification number. 
Let's divide this into two steps.
Tax identification number
Your Número de Identificação Fiscal, or your NIF Number as we call it, is the most important thing you'll need. Not only because you're planning to retire in Portugal but because everything you will do is connected to this number. 
From renting or buying a property to getting a SIM contract and even setting up utilities in your house. And, of course, to open your bank account in Portugal.
You can apply for your tax identification number in 2 ways: in-person and online.
Applying in person means going to the Finanças office and submitting your identity card, a photograph, and proof of residency. 
This process can only be done through an online tax representative, like our experts at Viv Europe, who can sort this out for you. The only additional document needed will be the Power of Attorney, and you'll have your NIF Number in no time! This is what most expats do. It's also preferred to do so because you need someone who can communicate with Finanças for you.
With Viv Europe your plans for Portugal
will finally come to a reality
Opening a bank account
Once your NIF Number is sorted, on to the next step!
To open a bank account as a retiree, you must have the following documents with you:
Valid identification, for example, a Passport;
Proof of your current residence;
Proof of your income;
Your NIF Number.
Next, you will visit the bank of your choice and schedule an appointment. If you're doing this on your own, you may ask to see if they have an English-speaking representative to help you. Some banks offer online account opening, but the process can be complicated for those who aren't residents. 
It may seem excessive to visit the bank physically, but remember why you're retiring here in the first place! This is your gateway to freedom, safety, and an excellent standard of living.
To complete the process, you must deposit at least €250 when you open the account. 
What are the taxes for retirees in Portugal?
As we write this, in October 2023, the Non-Habitual Tax Regime has been scrapped after a decade of being super popular among retirees.
But does that mean you'll spend thousands in taxes every month? Nope. 
Portugal does not have wealth tax or taxes on foreign income if you're paying taxes in the country of origin and which has a double taxation treaty. Double taxation treaties ensure that you don't end up paying double the tax for no reason. 
Portugal has an additional property tax, which is in addition to the council tax. However, this is only applicable if you own property worth €600,000 as an individual or €1.2 million as a couple. The tax rate of 0.7% is charged up to €1 million to €2 million for a couple.
There's also no inheritance tax, but there is a tax called Stamp Duty, which is 10% on assets upon transference. This is only applicable if you pass the property beyond the lineal line. 
Once you are a tax resident in Portugal, your pension will be charged at 14.5% for income up to €7,479 and up to 48% for income over €78,834.
How to move retirement funds, pensions, and social security contributions to Portugal?
With an NIF and a bank account, you can conveniently shift your pension and other funds once you retire in Portugal.
Your home country's pension providers, retirement fund managers, and social security authorities will help and guide you in the transfer process. In a nutshell, you'll need the following documents to get through the process:
Valid Passport or identification card;
Portuguese NIF;
Proof of address in Portugal;
Documents from pension providers: pension statements and details of a pension plan;
Social Security documentation;
Tax-Related documentation;
Proof of Income: You'll have to show documented proof of some cash flow;
Your pension providers require other specific documentation.
Once the paperwork is clear, you should maintain clear and organized records of all your financial transactions concerning your retirement income in Portugal.
Regularly check your Portuguese bank account and associated deposits to verify that the transfer is smoothly proceeding. Also, stay in touch with a tax advisor to optimize your financial arrangements and avoid legal mishaps in the process.
Where can I find retirement communities in Portugal?
You'll be thrilled to learn that there are commendable retirement communities in Portugal to ensure comfort and companionship for expats. 
Monte Da Palhagueira and the Cork Tree Residences are the two most popular retirement communities in Portugal. The former is located near Faro, Algarve, and the latter is found in Comporta near Lisbon.
These residences are known as retirement villages, where great care and leisure are available for you to relax in your golden days.
You can also check out and join our Facebook Group – All About Portugal For Expats. The group is an online community where you can connect with fellow retirees and expats. You can even ask the members for recommendations on cities, housing, and popular retirement circles.
Where is the best place to retire in Portugal?
As an expat, you would like the whole package of being with retirement communities in Portugal and enjoying an excellent standard of living. No matter where you are, you can expect efficient healthcare and delight in the beautiful landscapes everyone keeps raving about.
Don't worry; many places in the country allow you to have the best of both worlds. We have listed the best places you can retire in Portugal below:
The Algarve
The Algarve's mild climate and beautiful beaches create ideal weather for outdoor activities and relaxation – perfect for expat retirees. You can find many golf courses to spend your mornings on, among other outdoor sports like fishing.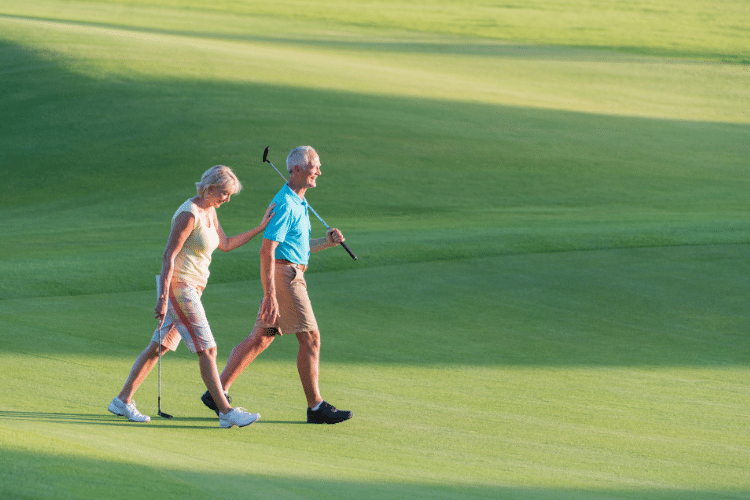 And, of course, the region offers all necessary amenities, from laundromats and massage spas to hospitals. The healthcare facilities are exceptionally splendid, with modern equipment and English-speaking staff.
Here, Lagos is a popular choice among expat retirees as it is a picturesque old town with a welcoming atmosphere. But if you wish to mix up traditional culture with modern entertainment opportunities, Albufeira is the town for you. It is next to the sea and offers plenty of amenities, which makes it an older expats' favorite.
Lisbon
Lisbon offers tonnes of cultural attractions like museums and theatres if you have an artsy personality. The city is also brimming with expats, so you won't have much trouble settling in.
The city has efficient healthcare and a user-friendly transport system – probably the best one in all of Portugal. So you can live well knowing your health is in good hands and there's a bus or train to help you with your travels.
One thing you should be aware of is that Lisbon is a very busy city because it is a business hub. So, you can imagine traffic on the roads and a bustling vibe. It's not something all retirees look for, but some do! 
Porto
Porto's lifestyle is more affordable than Lisbon and the Algarve. Though it also has plenty of amenities, including healthcare and transport, Lisbon and the Algarve precede it in terms of quality. 
But the city does have its own selling points. For example, Vila Nova de Gaia is known for its wine cellars, so you can spend time in activities like wine tours. And enjoy the slow pace of lifestyle every day while strolling the coastline or parks.
Silver Coast
This area is even less costly than Porto and allows retirees to enjoy a serene and authentic Portuguese lifestyle. Retirees specifically choose the Silver Coast for a slower pace of life in a picturesque setting.
Its scenic beauty appeals to retirees as it serves as the perfect background to their peaceful and quiet lifestyle. There are three districts: Aveiro, Coimbra, and Leiria. Leiria is the one closest to Lisbon. Aveiro and Coimbra are less populated but absolutely beautiful.
Cascais
Unlike the Silver Coast, Cascais is known for its fast-paced life and luxurious lifestyle. Expat retirees usually settle here for various activities such as golf and walking trails.
This town is very close to Lisbon, which means easy access and a fast commute if you've got things to cater to in Lisbon. 
Cascais is very well-known for its luxury and exclusivity. You can expect an even higher standard of living and, subsequently, cost of living. It's a city that's chosen mainly by retired business owners and the affluent. 
Do you want to retire in Portugal?
If you've reached the end, we bet you want to! To retire in Portugal is a dream of many, but it also becomes a reality if you plan correctly and take the right actions. It's not a distant dream but an accomplishable goal. 
To kickstart the D7 Visa process and get help from relocation experts, Book A Call with Viv Europe! You can sit back and relax while we work on your Visa application, housing, legal complications, and all that follows. 
Trust us; this is a ride you don't want to miss out on. Whether you start today, next week, or next month, it will be worth every minute you spend on it. Let's make your retirement goals come true!