Last Updated on September 17, 2023 by Maryam Siddiqui
Moving from New Zealand to Portugal is a journey across the world that's completely worth it. Portugal is a popular destination for expats and has so many reasons to be so! But how can you move from New Zealand to Portugal?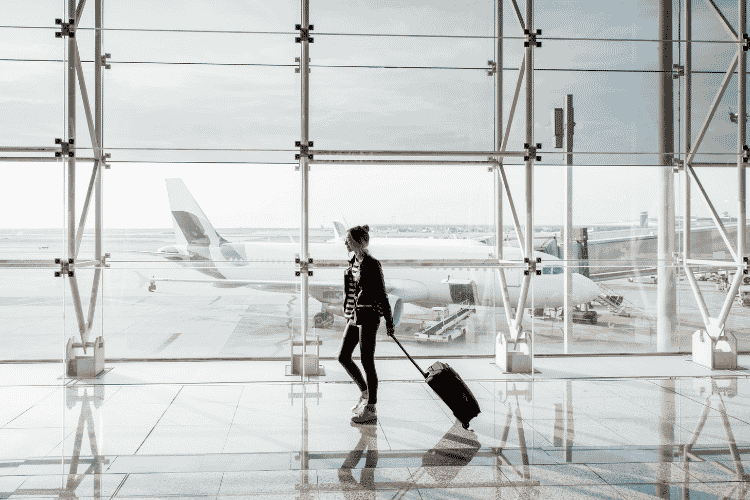 From beautiful beaches to a promise of better weather all year round, it doesn't come as a surprise why expats choose Portugal as a retirement destination. This article will help you understand everything you need to know before making this major move.
By the end, you'll know the legal technicalities, types of visas, the difference in living costs, and other details. Stick around to find out more!
How to move from New Zealand to Portugal
The process of moving from New Zealand to Portugal begins by getting the proper documentation to guarantee your stay in Portugal. You'll need to get a residency permit through the residency visa process.
Let's look at how you would apply for a Residence Permit from New Zealand.
How to apply for a Portugal residence Visa from New Zealand
There are several types of visas that guarantee every non-EU citizen entry into Portugal. Getting a residency visa is the first step that allows entry into the country. Later, you can apply for a residency permit, especially if you want to stay in Portugal for over 90 days.
Start the visa application process by contacting a Portuguese consulate in New Zealand. However, an alternative route is obtaining a residency permit before getting a Visa. Investors can take advantage of the Golden Visa in this case. We'll discuss that later in the article, so keep reading till the end!
What are the types of Portugal Residence Visa that New Zealanders may apply for?
Essentially three types of Visas guarantee you entry into Portugal:
The Schengen Visa guarantees you a short stay in Portugal for up to 90 days.
The Temporary Stay Visa gives you a legal stay in Portugal for up to 1 year.
The Residence Visa is for anyone looking to stay in Portugal longer than 1 year.
Regarding the Residence Visa, there are several types of this visa you can apply for in New Zealand, depending on your reasons for relocating to Portugal. The good news is that each one of these types of residency visas gives you the chance to apply for a residency permit once you arrive in Portugal.
Read Also: All About Visas To Portugal: Full Guide To Relocate To Portugal In 2023.
Documentation needed to move from New Zealand to Portugal
There are many documents that you'll need to present depending on the type of residence visa you apply for. For instance, if you're applying for the D1 and D3 visas, you must provide proof of a work contract from your prospective employer in Portugal.
On the other hand, for you to get a study visa or the D4 Visa, you'll need to secure admission to a university in Portugal and be able to show proof of admission.
Generally, for every type of residence visa you apply for, you'll need to present a different set of documentation because the reasons for relocation are also diverse.
The following are some standard documents that you'd need to submit with your Visa application:
Valid Passport;
Signed Visa application;
Proof of job/business and accommodation in Portugal;
Criminal Records Certificate issued by your country of origin (and other recently visited countries);
Permission to consult the Portuguese criminal registry by SEF.
Obtaining a Residence Permit to live in Portugal from New Zealand
While New Zealand nationals don't need to have a visa for a short-term visit to Portugal, you'll need a residence permit to live and stay in Portugal. New Zealanders must meet the following requirements to get a residence permit:
Must have an employment contract or be self-employed in Portugal;
Must possess a valid student visa and show proof of enrollment to a university;
Must have a business visa, a company, or a startup;
Must make the minimum prerequisite investment according to the Golden Visa requirements;
Must have a retirement pension or a regulated passive income investment scheme.
However, in the event that you're already in Portugal and want to live permanently, you need to present a statement of interest. Additionally, you need to be on the social security program and have a job or a promise of one.
What do New Zealanders need to do to apply for the Portugal Golden Visa?
The Golden Visa program is an incentive for investors to consider investing in Portugal with a promise of other benefits that come with Portuguese citizenship. Essentially this program is open to non-EU, EAA, or Swiss nationals; therefore, as a New Zealander, you're also eligible for this program.
The very first thing to do is determine what qualifying investment you wish to start in Portugal, for instance, real estate, capital transfer, or subscription to a fund.
The Golden Visa route is quite intense compared to the other types of visas. Nonetheless, here are some requirements for the Golden Visa qualifying investments:
Create job opportunities through a company or a startup;
Donate €250,000 to a Portuguese national heritage of your choice or €500,000 to an R&D project based in Portugal;
Make a capital transfer of €1.5 million;
Purchase €500,000 worth of property in certain regions in Portugal.
The process for this specific Visa isn't that straightforward. It's been subject to many debates; hence, laws can change frequently. If you're interested in the Golden Visa, it's best to stay in touch with an expert from Viv Europe for updates on regulations. 
What is the cost of living in Portugal compared to New Zealand?
Chances are, your reasons to move from New Zealand to Portugal are the prospects of quality of life and the relatively lower cost of living. But how does the cost of living in Portugal compare to New Zealand though?
According to Numbeo, consumer prices inclusive of rent are 45.1% higher in New Zealand compared to Portugal. Of course, the real cost of living differs from household to household. Your spending habits and the choice of city will heavily influence how much you spend monthly.
One rule of thumb that you should be aware of is that major cities and neighborhoods with a huge expat community are more expensive than smaller regions. Although, rent in New Zealand is 32.7% higher than in Portugal. 
Here are some comparisons:
Expense
Cost in Portugal
Cost in New Zealand
Apartment (1 bedroom) in City Centre
€791
(NZ$ 1,430)
€1,023
(NZ$ 1,850)
A single person estimated monthly costs excluding rent
€617
(NZ$ 1,116)
€914
(NZ$ 1,653)
Apartment (3 bedrooms) in City Centre
€1,329
(NZ$ 2,403)
€1,686
(NZ$ 3,049)
A family of four estimated monthly costs excluding rent
€2,164
(NZ$ 3,914)
€3,294
(NZ$ 5,958)
Utilities
€109
(NZ$ 197)
€124
(NZ$ 224)
Gasoline
€1.86
(NZ$ 3.36)
€1.54
(NZ$ 2.79)
Estimates are from Numbeo (as of September 2023).
How much is the rent in Portugal?
When it comes to renting, different cities have different costs for rent. It goes without saying that bigger cities like Lisbon and Porto cost more to rent than smaller regions like the Madeira Islands.
Having said that, here's how rent compares in some popular cities:
Estimates are from Idealista (as of September 2023).
What are the best places to live in Portugal?
Anyone choosing to move from New Zealand to Portugal without a scouting tour may get overwhelmed by the many beautiful cities that Portugal offers. Here are a few popular choices to get you started:
Lisbon
The capital of Portugal has a lot to be desired, and it doesn't come as a surprise that it's the most popular destination in the country.
This beautiful city has everything you wish for; a rich history, excellent cuisine, a huge expat community, and growth opportunities. It's also a great option if you want to enter the corporate world since Lisbon is a tech hub. 
Porto
This is the second-largest city in Portugal. It's famous among expats who are looking to live in a city setting that is relatively cheaper than Lisbon. The infrastructural developments are pretty similar to Lisbon's.
Living in Porto is a great choice if you're looking to live in a relatively busy city but with a lower cost of living.
With Viv Europe your plans for Portugal
will finally come to a reality
Algarve
If access to some of the most beautiful beaches in the world means something to you, then you ought to consider the Algarve as your possible destination. There are a lot of smaller towns within the Algarve region that have everything that the bigger cities offer, but with less chaos. 
Madeira
Dreamt of living on an island deep in the heart of the Atlantic? Then Madeira is calling. This city is home to some of the most attractive landscapes you can find. What's more, the cost of living is not as high as in other bigger towns like Lisbon and Porto.
Where do New Zealanders usually live in Portugal?
Like many other expats, New Zealanders have found a home in the two biggest cities in Portugal; Lisbon and Porto. Besides these two cities, you'll also find many expats from New Zealand in popular tourist destinations like Albufeira in the Algarve region. 
How is the Portuguese Economy?
The Portuguese economy is ranked 21st among 45 European countries despite the global inflation crisis. That's quite above the regional and world averages. The country's economy has been on the rise since the financial crisis of 2008, which saw a downfall in unemployment. 
Portugal remained a secret for many years, but it's slowly attracting hundreds of foreign investors who can see the potential.
According to the 2022 Index of Economic Freedom data, the Portuguese economy has been recovering rapidly since the COVID-19 recession. Travel bans are no longer a hindrance, and the economy continues to flourish.
If we talk about business and work opportunities, Lisbon and Porto are the top 2 cities where expats flock to grow professionally. The economy is heavily linked to tourism, and with Portugal becoming so popular lately, the economy is progressing.
Is Portugal safe?
The Global Peace Index 2023 ranked Portugal as the 7th safest country to live in. 
The country is not only safe but peaceful as well; the Portuguese locals are friendly no matter who you are and go out of their way to offer help.
Violent crime is rare, thanks to the strict firearm regulations in Portugal, and so
is any form of discrimination. However, there are incidents of petty crimes like pickpocketing and phone snatching.
What is public healthcare like in Portugal for Immigrants?
Public healthcare in Europe is amazing, and Portugal is right up there when it comes to quality healthcare. The public healthcare system Sistema Nacional de Saúde (SNS) offers proper healthcare to locals and expats. 
You should know that public healthcare in Portugal is absolutely free (in most cases) for locals and expats with legal residence in Portugal. However, if you're a tourist and fall ill, you'll have to pay for medical expenses if you don't have travel insurance.
What is the weather like in Portugal?
As far as weather is concerned, different regions have different weather patterns. Despite that, you can always rely on enough sunshine all year round in Portugal.
The Atlantic Ocean greatly influences the climate of this nation; it regulates the temperatures in the summer and winter beautifully. The winters are mild, while the summer is nice and hot, as expected.
Let's take a look at the average weather statistics from the table below:
Lisbon
Porto
Algarve
Azores
Maximum temperature
27 °C
(80.6 °F)
26 °C
(78.8 °F)
28 °C
(82.4 °F)
23 °C
(73.4 °F)
Minimum temperature
9 °C
(48.2 °F)
6 °C
(42.8 °F)
11 °C
(51.8 °F)
13 °C
(55.4 °F)
Average Rainfall
49 mm
(1.9 in)
107 mm
(4.2 in)
41 mm
(1.6 in)
84 mm
(3.3 in)
Average Humidity
74%
76%
69%
78%
The data was taken from the Climate Data website.
What are the pros and cons of moving from New Zealand to Portugal?
Moving from one country to another is a life-altering decision you must consider carefully. While moving from New Zealand to Portugal is good, you should know that there are a few downsides that you should expect. 
Here are a few pros and cons to consider before you move from New Zealand to Portugal:
Pros
Portugal is 45% cheaper than New Zealand
Nice weather all year round
The local population is welcoming
Numerous incentives for investors in Portugal
Expat community
Cons
Language barrier initially
The public system is too bureaucratic
When are you moving to Portugal from New Zealand?
So are you ready to make this major life-changing move? It's not easy to move from New Zealand to Portugal, but it sure is worth it! Think of all the new experiences, a much safer and more affordable lifestyle, and numerous beaches to relax at.
Consider joining our Facebook Group – All About Portugal For Expats to talk to more expats like yourself. It's a platform where you can ask questions, clear your doubts, and learn from others' experiences. 
If you require professional assistance at any point in time, feel free to contact Viv Europe and turn your dream into a reality. We'd love to help!